8 Big Moves Dolphins Could Make in 2013 NFL Free Agency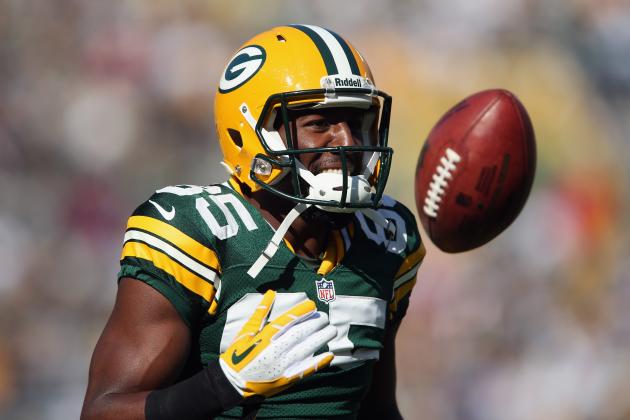 Jeff Gross/Getty Images

Miami Dolphins owner Stephen Ross recently said that he plans to continue building his team through the draft. In the same breath, he criticizes free agency, claiming that the failures of free agency far outweigh the successes.
A lot of Miami fans took this as worrying news that the Dolphins would not be active in free agency, despite their abundance of cap room, but I didn't quite take it that way.
Ross is absolutely right: The Dolphins should continue to build through the draft. That's where a franchise is built, not free agency. A franchise is supplemented through free agency. In case you haven't noticed, the Dolphins require a good deal of supplementing.
Miami enters the 2013 offseason wielding roughly 35.8 million dollars in cap space. With the right management (we're looking at you, Jeff Ireland), the Dolphins could make more than a few huge splashes in free agency.
Bearing in mind what Mr. Ross said, let's take a look at eight potential big free agency moves Miami could make in 2013 and examine whether the Dolphins should make those moves or not.
Begin Slideshow

»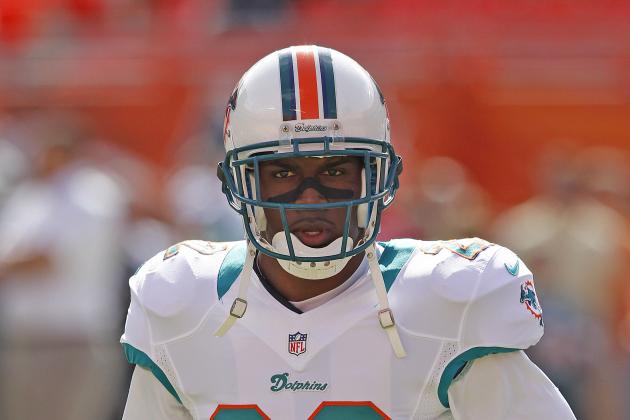 Joel Auerbach/Getty Images

Re-signing Reggie Bush would be a huge move. The Dolphins haven't had a running back as potent as Bush since Ricky Williams, before he prematurely quit. True, Bush isn't a pure runner or considered an every-down back, but he's proven that he can be a 1,000 yard rusher in addition to his outstanding abilities as a receiving back.
With Bush lining up behind Ryan Tannehill, the Dolphins would already have two pieces in place for a successful offense. Keeping Bush also gives Miami an additional wrinkle in certain packages—imagine Bush stretched out at receiver with Lamar Miller in the backfield. Options like that would terrorize opposing defenses and open up a wealth of options for the still-developing Tannehill.
Should Miami re-sign Bush?
Absolutely. I've spoken out a few times now about why Miami should get Bush a new deal.
I understand that Jeff Ireland doesn't want to overpay for Bush and I agree with that plan. But it's important to understand how much money Ireland would consider to be overpaying for Bush.
Bush's first contract with Miami was for two years and $9.75 million. For starters, don't expect Miami to pony up any more than that number for a new deal. The question is, how close to that number is Ireland willing to get?
For now, all we can do is wait and see.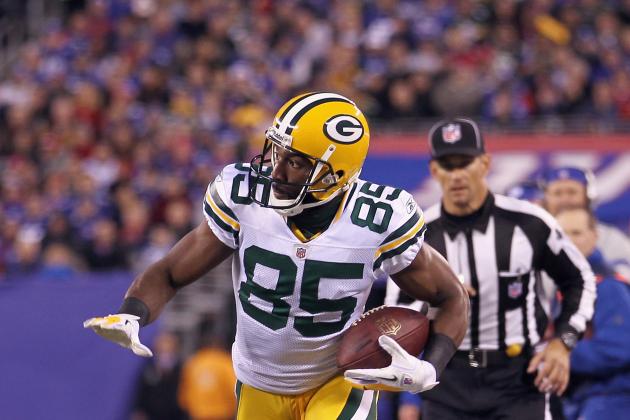 Nick Laham/Getty Images

The Dolphins desperately need a dominant receiver. Whether it's coincidence, fate or just luck, 2013's free agency pool looks to be flooded with dominant receivers.
Greg Jennings is one free agent who has been linked to Miami a lot this season. Even his own sister has implored him to take his talents so South Beach.
Should Miami sign Greg Jennings?
The big three free agent receivers are Dwayne Bowe, Mike Wallace and Jennings. We've seen all the debates about which of these mighty three Miami should bank on and we've all formed our own opinions. Each guy certainly brings something to the table and would benefit Tannehill, but Jennings is the clear best fit for the Dolphins.
Bowe's occasional caustic personality and off-the-field issues all but guarantee he won't fit in Joe Philbin's locker room.
Wallace may not suffer from disciplinary issues (unless you count his holdout prior to this season, which I don't), but he's mainly a speed demon. Yes, his speed is lethal and he could easily blow the top off any defense, but he's not the tight route-runner or refined receiver that Miami's offense requires.
Jennings is the full package. He's got fairly good size and speed, can run all the routes, his hands are impeccable and his familiarity with Philbin's offense make him the best fit for the Dolphins. Throw in the fact that Jennings is a standup guy who never gets in trouble, and you've got the recipe for Miami's perfect receiver.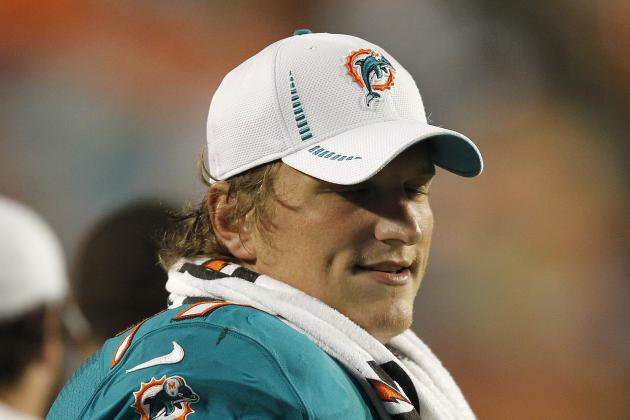 Joel Auerbach/Getty Images

Miami's biggest free agent is the former first-round pick Jake Long. Long is a four-time Pro Bowler and two-time All-Pro. He has been widely considered to be one of, if not the best, left tackle in the NFL.
Long is due a very substantial payday this offseason, despite his recent injury problems. Long is likely to receive his desired deal, but will it be the Dolphins who foot the bill?
Should Miami re-sign Jake Long?
Unless Long takes a huge pay cut, no way.
Long has been riddled with injuries in the last two seasons, forcing him to miss time. Even when he has been in, Long's play has declined to a level that doesn't warrant the gigantic check he'll be expecting.
Simply put, with a young player already in place to take over left tackle in Jonathan Martin, the Dolphins should let another team pick up Long's check.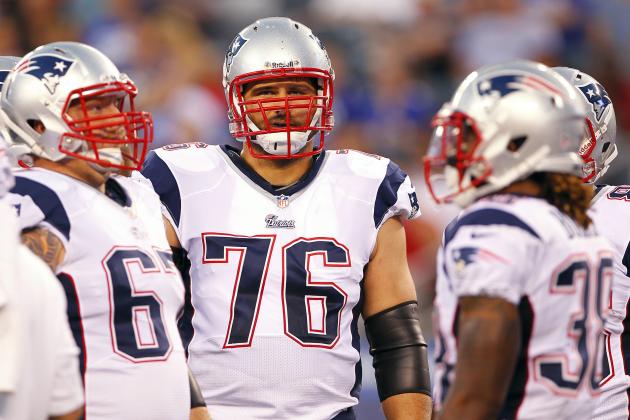 Rich Schultz/Getty Images

A handful of high-profile offensive tackles will be ripe for the picking in free agency. Assuming the Dolphins elect to not re-sign Jake Long, they could have plenty of opportunities to fill his vacant position in free agency.
Players like Jermon Bushrod, Sebastian Vollmer and Ryan Clady are likely to be available. Either player could be plugged in at right or left tackle and immediately improve Miami's sometimes problematic offensive line.
Should Miami sign a free agent OT?
Probably not, for the same reason they shouldn't re-sign Long. The three tackles listed above are top-flight free agents and also all will probably command top-flight player money.
Miami would be better suited looking for a new offensive tackle in the draft where it can find a quality player for much cheaper.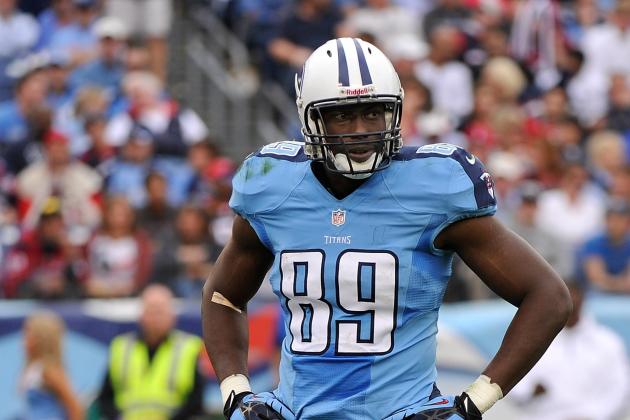 Frederick Breedon/Getty Images

With New England getting unreal numbers out of Rob Gronkowski and Aaron Hernandez and the Jets finding production with Dustin Keller, one thing is clear for Miami: it needs a more dynamic tight end to compete in the AFC East.
Anthony Fasano has been a nice red zone option and was good for the occasional third down conversion, but he's not the seam-stretching threat that the Dolphins—and Ryan Tannehill—need.
The aforementioned Keller will be available, as will Tennessee's Jared Cook.
Should Miami sign Jared Cook?
Yes, yes and yes again. Behind signing an elite wide receiver, picking up an athletic tight end is probably Miami's biggest need this offseason. Keller's contract is up with the Jets, but I don't really think New York will let him get away.
Cook, on the other hand, appears to be all but gone from the Titans. Cook's numbers this past season may not be overly impressive with 44 receptions, 523 yards, four touchdowns, but he was underutilized in Tennessee's offense. He possesses the skills to be a dynamic threat for any team.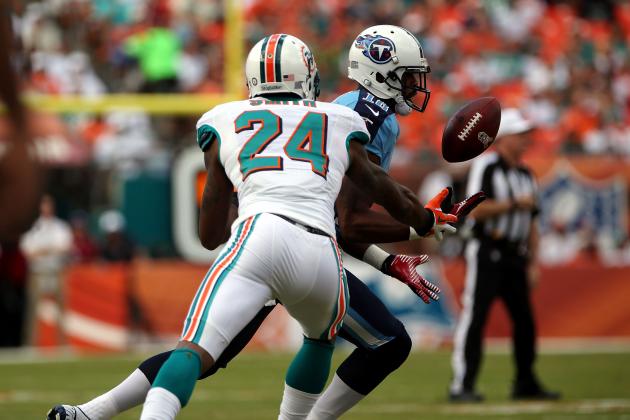 Marc Serota/Getty Images

Sean Smith played his first season as the No. 1 corner in 2012. From that experience, we learned that Smith is not best suited as a No. 1 corner.
His performance from prior seasons suggests that he's a lock for No. 2. He seems to excel when outside the spotlight of the top position. His stats this year (59 tackles, 12 deflections, two interceptions) reflect that notion.
Should Miami re-sign Sean Smith?
Rumors of Miami using the franchise tag ($10-11 million) on Smith have surfaced. Other rumors suggest tagging is not an option and that Smith and the Dolphins are far apart in negotiations.
Depending on which rumor you believe, Smith's future in Miami appears either bright or bleak.
All that being said, I still believe Miami should bring Smith back, with one stipulation: Smith should not be paid No.1 corner money. His play simply doesn't match that dollar amount and the Dolphins would be absurd to sign Smith to a deal that lucrative.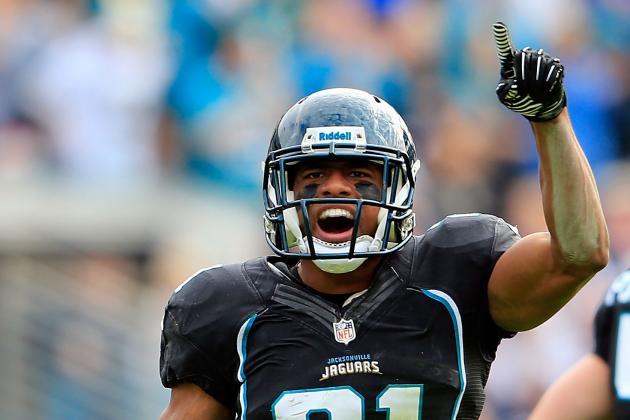 Sam Greenwood/Getty Images

Another position of need for Miami should be well-stocked in free agency. Guys like Derek Cox, Dominique Rodgers-Cromarite, Brent Grimes, Tracy Porter and Chris Houston could be looking for a new home.
With a wealth of corners to choose from, Miami could easily go this direction in free agency.
Should Miami sign a free agent corner?
Yes. Even if Sean Smith is signed to a new deal, Miami would still need to add another corner in free agency and probably even the draft.
Players like Grimes and Rodgers-Cromartie will garner a lot of attention. With attention comes bidding wars, and the Dolphins may not want to get caught up in one of those. If that's the case, lower-profile guys like Cox or Houston could be right up Miami's alley.
Cox and Houston may not get the level of attention their peers receive, but they're both very talented young corners who could fill a the void in Miami's secondary.
Of course, if the Dolphins can't come to an agreement with Sean Smith, they could very well make a push for one of the big names. At that point, they would probably be left with no choice.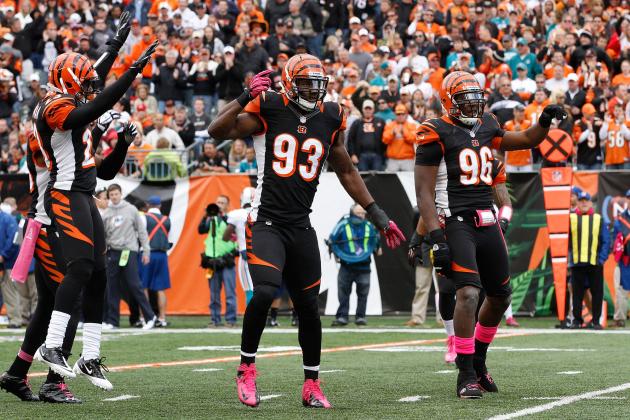 Tyler Barrick/Getty Images

The Dolphins' defensive line may be stout against the run, but it could use another pass-rusher. Cameron Wake led Miami with 15 sacks. The second-highest was Jared Odrick with just five.
A few impressive defensive ends will hit free agency in 2013, including Michael Johnson, Cliff Avril and Dwight Freeney. Miami could potentially make a run at one of these players to improve its pass rush.
Should Miami sign a free agent defensive end?
Probably not. While any one of the aforementioned ends would immediately improve Miami's pass rush, their price tags will likely be high. With a handful of other positions that are a higher priority in free agency than defensive end, the Dolphins may not have the money to drop on an end.
Additionally, the Dolphins could elect to use their first-round or second-round pick to take a talented rookie defensive end.