5 Reasons Why Alabama Will Be Dethroned by Texas A&M in the 2013 Season
Ronald Martinez/Getty Images
Nick Saban and his staff must feel good about their national championship run, but they better not celebrate for too long because Kevin Sumlin's getting his Aggies prepared to officially take over the SEC in the 2013 season.
In just their first season in the nation's premier powerhouse conference, Texas A&M proved they can not only compete, but came within in arm's reach of taking over as top dog.
Here are the five components A&M will put together to "roll" over the Tide in 2013.
Kevin Sumlin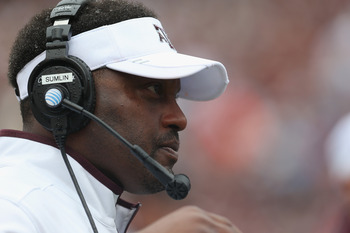 Ronald Martinez/Getty Images
Kevin Sumlin is to college football what Mike Tomlin is to the NFL. Not only does he provide a winning atmosphere, but he also provides the swag that makes fans and players love him (the two coaches also look like they could be twin brothers).
Sumlin and Tomlin do differ though. The A&M coach uses a spread-option attack that is far from the pro style.
It may not be a pro-style offense, but it was definitely a pro for the Aggies this season as they ended the season No. 14 in passing offense, No. 11 in rushing offense and ended the season with a total 7,111 yards, which ranked third nationally.
I want to know Nick Saban's reasoning for despising the spread-option offense. My guess is because when it is run well, Alabama struggles, as it did in its loss against the Aggies.
Recruiting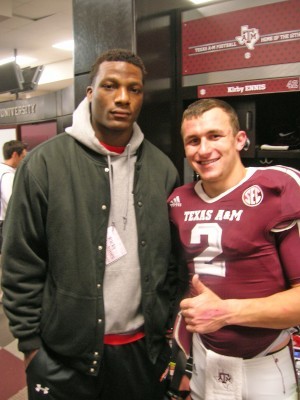 Although Alabama is putting together a very talented recruiting class, so is Texas A&M. With a total of 34 commits, Sumlin and his crew have bagged up 11 of ESPN's top 300 prospects.
Pictured above is highly-touted receiver, Ricky Seals-Jones. Not only is Seals-Jones a fierce competitor, but he also holds a frame that is 6'5", 230 pounds. Joining him in the program is 6'4", 185-pound wideout Tony Stevens.
We all thought Johnny Manziel was dangerous in his freshman season. Imagine the possibilities for TAMU with these two receivers lining up on the outside.
Not only will Seals-Jones and Stevens play big roles catching the ball, but think of how easy it will be for them to push cornerbacks around and create space for Manziel to run like a gazelle into the end zone.
Oh yeah, I forgot to mention that they are also adding ESPN's No. 1-ranked tight end in Derrick Griffin—another weapon to catch balls and pancake SEC defenders with.
I'm sure Alabama will have no problem, though.
Home-Field Advantage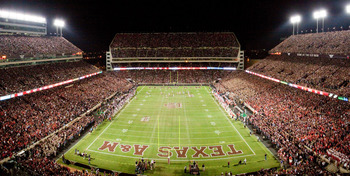 If Johnny Manziel can go into Tuscaloosa and come out with a win, then he can sure as hell can do it on his own turf in College Station.
In only its second game of the season, Alabama will head into Gig'em Nation where the crowd will be rockin' every single down.
If 'Bama doesn't use its bye-week to prepare mentally for this matchup, noise could become a problem for them when signaling in calls.
Get'em, Gig'em!
Momentum
Ronald Martinez/Getty Images
Yes, yes, I know, Alabama won the national championship, but don't they always? The program is expected to win championships, so when they do, it's not to far off the beaten path. It's a normalcy for Tuscaloosans.
A&M's Cotton Bowl season was a huge success for the program and Aggie faithful. With only two losses in their first season in the SEC, the Aggies will ride the momentum they've gathered into next season.
With the Rice Owls and Sam Houston State as TAMU's first victims on the list next season, the Aggies will already be comfortable on the field and more than likely healthy going into the showdown with 'Bama on September 14.
Johnny "Football" Manziel
Mike Stobe/Getty Images
Let's now get to the most important component in Texas A&M's beating of the Tide next season.
Johnathan Paul Manziel.
He is the only freshman quarterback to ever win the Heisman Trophy, and the kid did it in the SEC. Now you may correct me on this, but, that's not easy to do!
I wasn't joking when I said Manziel runs like a gazelle. Did you all see that leap into the end zone for his first score of the Cotton Bowl?
Manziel is so smooth and subtle that defenders slide right by him. Combine that ability with perfect touch passes that land perfectly in the hands of striding receivers and you have Johnny Football.
Manziel is a winner and he will take this team to the promised land.
In other word, Manziel and A&M will dethrone Alabama as SEC champs in 2013.
Keep Reading

Texas A&M Football: Like this team?