WWE Raw 20th Anniversary: Fan Reaction and Reflections from Within the Crowd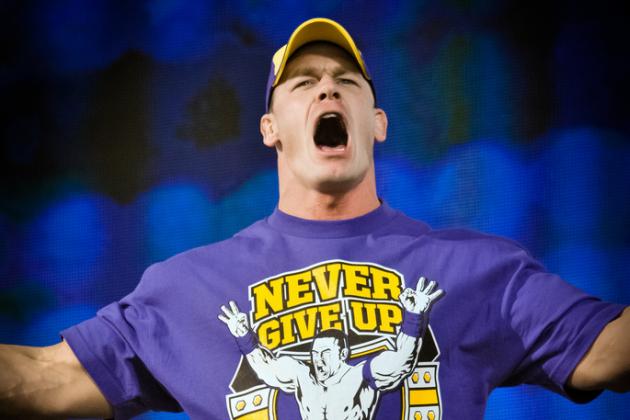 John Cena (photo by Reckless Dream Photography)
Raw celebrated its 20th anniversary and Houston fans left their feet for some superstars and shrugged for others.
The Rock earned a mighty pop from the crowd despite coming on last and having to follow a main event in a steel cage. John Cena and CM Punk received very passionate responses. Kaitlyn got a volume boost from being in her hometown of Houston.
A Houston WWE audience is as diverse as the city itself.
Kids, teens and grandmas filled the seats. Latinos and African-Americans, white and Middle Eastern folk cheered for their favorites.
How feverishly or meekly did all these fans react to all the champions, old-timers and promising youngsters who performed in the Toyota Center? What did the crowd sound like from Section 411?
Fan reaction (pop rating) will be rated on a 1 out of 10 scale. A 10 is what happened when Stone Cold stomped his way down the aisle circa 1999. A score of one is what one of Ryback's early no-name jobber victims got out of a crowd.
Begin Slideshow

»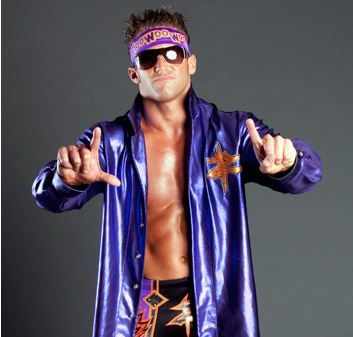 Zack Ryder (photo from wwe.com)
Zack Ryder-Pop Rating: 5/10
JTG-Pop Rating: 2/10
Zack Ryder and JTG fought in a quick match to get the crowd warmed up.
JTG walked in to near silence. It's no wonder, with how rarely he's seen on WWE programming these days.
Ryder had quite a few people echoing his catchphrase, "Woo, woo, woo, you know it." Still, the enthusiasm for him has seemed to have died down. There were only the rare fans with any Ryder garb on at all.
Ryder won with the Rough Ryder with much of the crowd still filing in.
Lilian Garcia sang an excellent rendition of The Star-Spangled Banner and the fun could officially begin.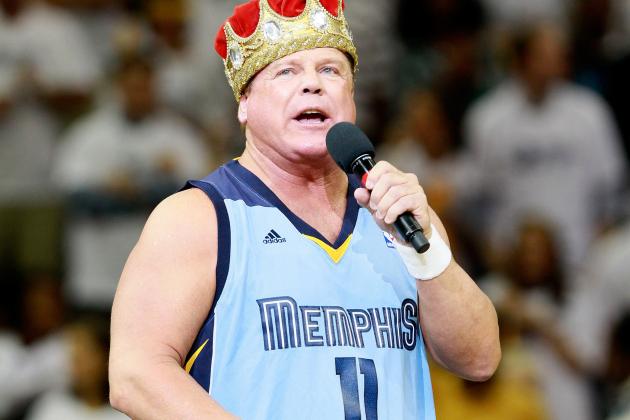 Kevin C. Cox/Getty Images
Jerry "the King" Lawler
JBL-Pop Rating: 3/10
Michael Cole-Pop Rating: 1/10
Jerry Lawler- Pop Rating: 6/10
Jim Ross-Pop Rating: 6.5/10
Jim Ross didn't join the announce team until the Dolph Ziggler vs. John Cena match.
He didn't get the welcome a man of his talent deserved. Blame it on being so close to Longhorn Country and having a proud Sooner waltz in.
JBL, Michael Cole and Jerry Lawler all entered before the cameras were on.
Fans seemed confused as to how they were supposed to react to Cole. Not long ago, they would have booed him until their throats went sore. Now his character is far less hate-worthy.
JBL got a minimal buzz and Lawler will no doubt continue to get a warm welcome in every city he travels to, the memory of his medical emergency still fresh.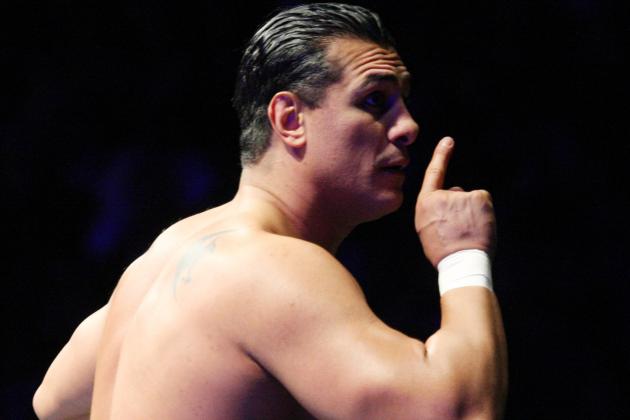 Gallo Images/Getty Images
Alberto Del Rio
Vince McMahon-Pop Rating: 7/10
Big Show-Pop Rating: 5/10
Alberto Del Rio-Pop Rating: 8/10
Vince McMahon got his regular, strong response. The crowd seemed disinterested in Big Show at first, but reacted to him more once he got talking.
At one point, he insulted the crowd by saying that Houston was no place for a championship rematch. The jab had a lot of people smiling.
Alberto Del Rio is certainly over in Houston.
He had one of the biggest reactions of the night, most fans seemingly well-immersed in his new face role. Houston is a largely Spanish-speaking city and Del Rio's Spanish insults went over with more than half of the crowd.
The WWE sign guy (aka Rich Achberger) sat right up front and instigated a "Si, Si, Si" chant.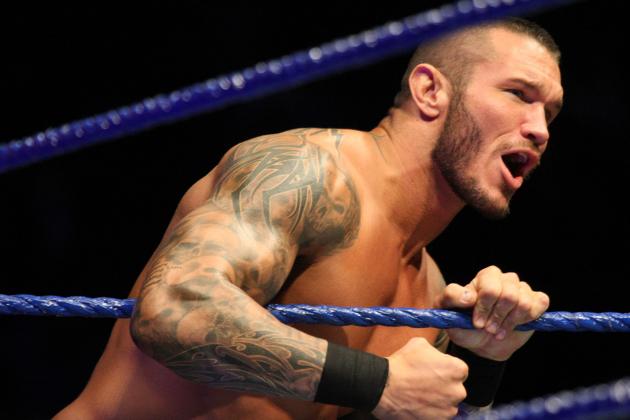 Gallo Images/Getty Images
Randy Orton
Wade Barrett-Pop Rating: 5/10
Randy Orton-Pop Rating: 8.5/10
If Randy Orton ever feels down on himself, he should walk into a ring in Houston and get re-energized. The crowd lit up when his music hit and they spent the majority of the match starting and stopping "RKO!" chants.
Wade Barrett inexplicably only received a mix of disinterest and half-hearted booing.
Barrett is one of the most talented all-around stars on the roster and deserves either a round of palm-stinging claps or genuine booing.
A rowdy group of younger guys pushed for "Let's go, Barrett" chants, but this only confused all the surrounding children decked out in John Cena gear.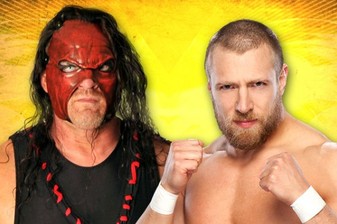 Kane and Daniel (photo from wwe.com)
Kane-Pop Rating: 6/10
Damien Sandow-Pop Rating: 2/10
Cody Rhodes-Pop Rating: 2/10
Daniel Bryan-Pop Rating: 7.5/10
After a funny Dr. Shelby segment, Kane walked out to a decent reaction. His opponent must have thought he was going deaf.
Damien Sandow only garnered the odd boo.
Houston, it's worth mentioning, isn't the kind of rebellious, rowdy wrestling town that Philadelphia or Chicago is. For the most part, fans stick to the script of cheer the good guy, boo the bad guy.
So it's not surprising that Sandow didn't get the "I know you're a heel, but I'm going to cheer for you anyway because I like the way you wrestle" treatment. The complete lack of reaction is surprising, though.
Perhaps everybody was simultaneously distracted by their kids saying, "I'm still hungry" when The Intellectual Savior of the Masses walked down to the ring.
That same goes for Cody Rhodes.
When he came out later to get crushed by Daniel Bryan, it was almost as if nobody realized a match was starting.
Daniel Bryan got folks to start chanting "Yes!" but not as intensely as they've done in the past.
The "Yes! No!" routine's momentum may be winding down.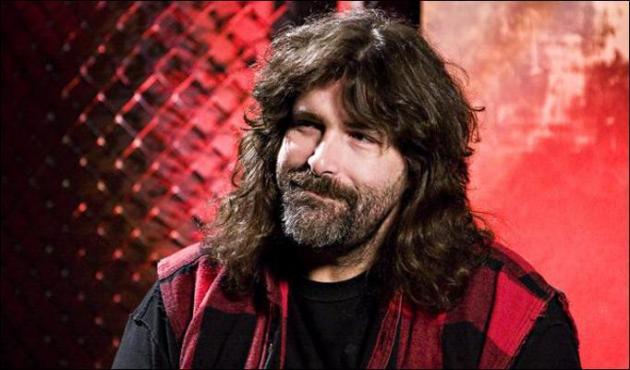 Mick Foley (photo credit: WWE)
Mick Foley-Pop Rating: 7.5/10
The Shield-Pop Rating: ??/10
Ryback-Pop Rating: 9/10
Mick Foley was set to discuss his selection for the WWE Hall of Fame. The Shield entered, trouble following.
The audience didn't know how to react to The Shield's entrance.
The Shield's music came on, but the three members weren't in sight. Fans looked around in confusion. One kid even peeked under his seat.
No, Roman Reigns isn't hiding next to the popcorn you dropped, kid.
Foley earned a reaction of respect and adoration, some solid chants billowing right before he began his speech.
The crowd's reaction to Ryback is proof positive of Houston being the kind of wrestling town that Vince McMahon must love. While some places are going to tell WWE who they like, by way of chants or signs. Houston fans are generally happy to glom onto the guy who WWE chooses for the spotlight.
The folks in the Toyota Center were fully behind Ryback, mimicking his trademark arm motion with gusto.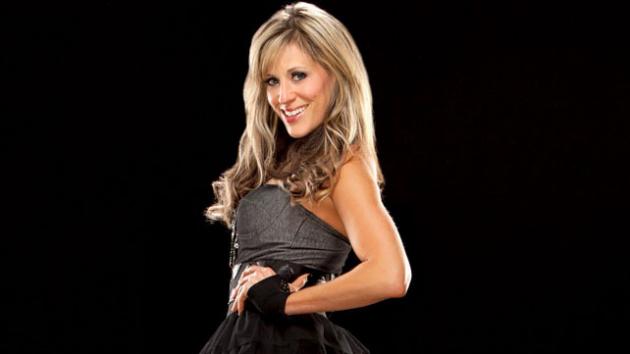 Lilian Garcia (photo from wwe.com)
While Raw was on one of its breaks, Lilian Garcia hosted "Sign of the Night." The kiss cam-like diversion had various fans' homemade signs featured on the Jumbotron.
There were a lot with The Rock's catchphrases plastered on them.
Others featured various artistic interpretations of "cookie puss." One read, "Ryback ate my sign."
And one fan clearly enjoys watching Botchamania as he brought along a sign with just the words, "Super Dragon!"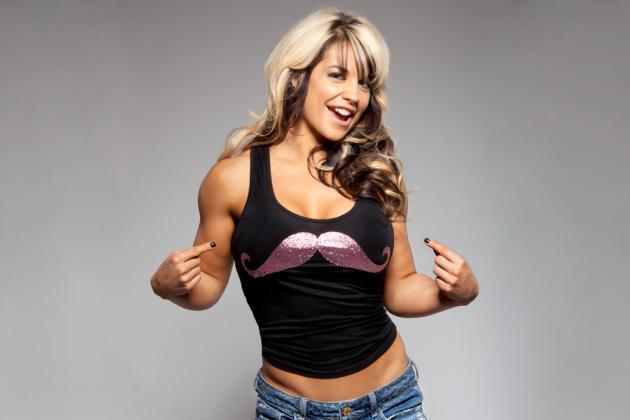 Kaitlyn (photo from wwe.com)
Eve-Pop Rating: 4/10
Kaitlyn-Pop Rating: 7.5/10
Kaitlyn got a relatively passionate response. Being a Houston native scores her points, even with the most casual of fans.
Eve's reaction for her entrance and for her ringwork was, as Stephen A. Smith from ESPN would put it, "so disrespectful."
Perhaps if the crowd knew that Eve would only moments after losing her title announce that she was quitting WWE, they would have given her a bit more love. Perhaps not.
As good as her match with Kaitlyn was, the crowd was the most quiet and motionless during this Divas title bout.
Kaitlyn's win earned a good pop, though. The reaction felt like the title change mattered.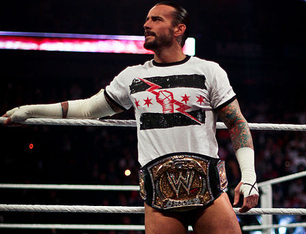 CM Punk (photo by Steve Wright Jr.)
Brodus Clay-Pop Rating: 5/10
CM Punk-Pop Rating: 8.5/10
Only the children reacted to Brodus Clay.
The youngest members of the audience danced to his music, bobbed their head and screamed for him. Everyone over 13 sat in annoyed silence as Clay funked it up under the disco ball.
The reaction for CM Punk serves as the exception to the "Houston follows the rules" rule.
Punk, in spite of his recent dastardliness, received passionate cheering. John Cena had the clear edge in fans wearing his merchandise, but Punk wasn't far behind.
The crowd must have realized that the bad guy is just cooler.
Cobra Commander was the coolest character on the G.I. Joe cartoon and Punk is WWE's Cobra Commander.
No matter how bad Punk gets, he'll still be cheered.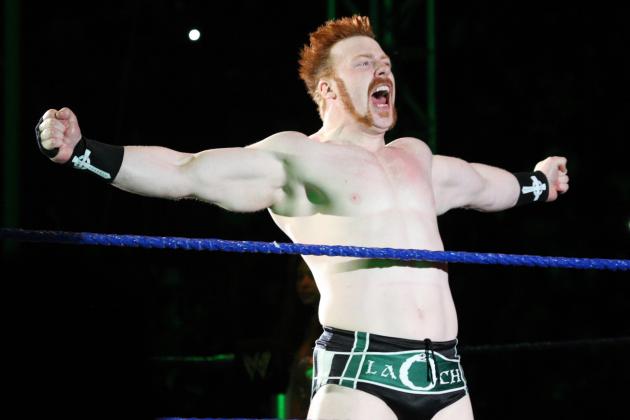 Gallo Images/Getty Images
Sheamus
Sheamus-Pop Rating: 8/10
3MB-Pop Rating: 4/10
3MB met with a tepid response. They garnered a few unenthused thumbs-down.
Sheamus lit the crowd up with both his entrance and his Brogue Kick barrage on Heath Slater and Drew McIntyre. Sheamus isn't in Randy Orton's or John Cena's class in terms of crowd reaction yet, but Houston appeared to be all in with him.
Though the handicap match was short, a few kids ended up nodding off.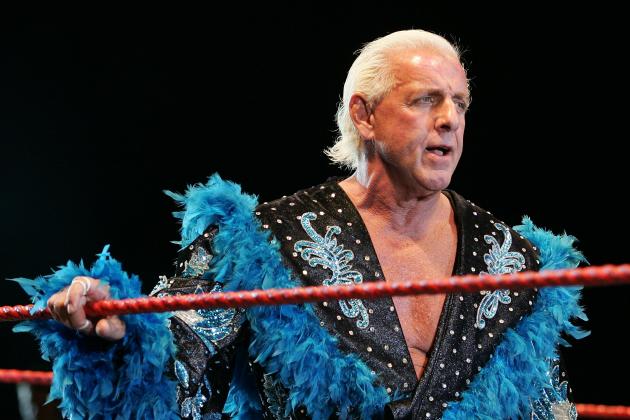 Paul Kane/Getty Images
Ric Flair
The Miz-Pop Rating: 7/10
Ric Flair-Pop Rating: 7/10
Antonio Cesaro-Pop Rating: 5/10
Long before Raw went on the air, long before Miz introduced Ric Flair as his guest, the Houston crowd was shouting "woo!"
Even so, when Flair finally came out, the response was reserved. Some folks seemed to be awed. Younger fans whispered to their parents, asking who this old man was.
Antonio Cesaro got little reaction upon entering but warmed up the crowd with his mic work, insulting the legendary Flair.
The segment showed off what Cesaro can do with a worthy verbal opponent, introducing himself to casual fans in a big way.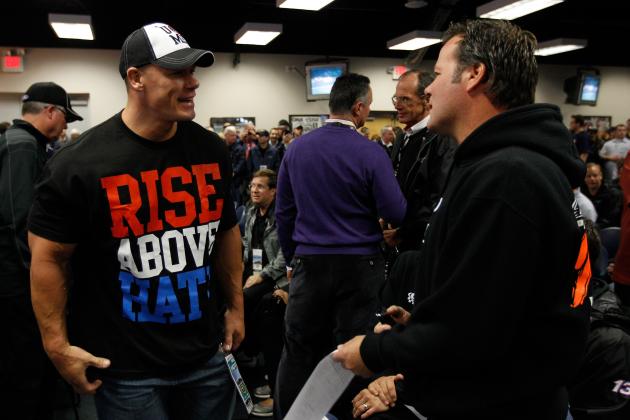 Chris Graythen/Getty Images
John Cena
Dolph Ziggler-Pop Rating: 7.5/10
John Cena-Pop Rating: 10/10
Dolph Ziggler had a small section cheering and chanting for him. Everyone else gave him a hearty set of boos.
It's hard to compete with John Cena, though.
You could probably clothe a developing nation with all the Cena gear in the Toyota Center on Monday. Children squealed, women shot their hands in the air and members of the Cenation proudly announced themselves upon Cena's entrance.
Throughout the match, fans oohed and aahed at his every move.
A few children nearly burst into tears when they were sure Ziggler was going to win.
It was clear that a significant portion of the crowd only came to see Cena. His victory may have frustrated purist fans, but the Houston crowd ate it up.
This is why Vince McMahon continues to have Cena be the face of the company without a championship, why he seems hesitant to trust anybody else to main event.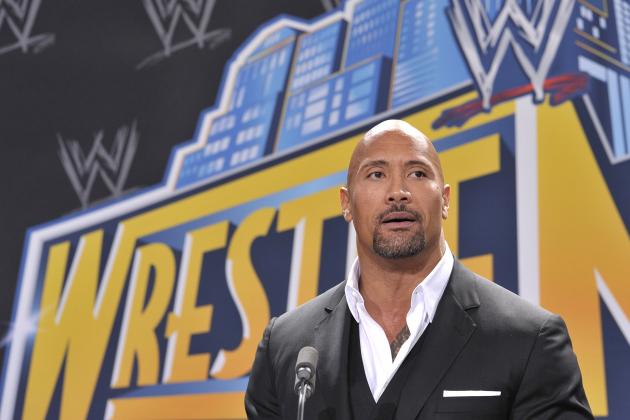 Michael N. Todaro/Getty Images
The Rock
The Rock-Pop Rating: 9.5/10
The Rock met with an enamored crowd. They hung on his every word and laughed red-faced at all of his jokes.
Still, Cena just beat him in terms of crowd reaction.
Why didn't Houston fans tear the roof off the place and leave the Rockets without a place to play? Why didn't Rock earn a 11/10 rating?
Maybe everyone was drained after the exciting Cena and Dolph Ziggler match. Maybe all the families had pushed far beyond their bedtimes.
While The Rock was away for all those years, young fans were just getting into wrestling. Rows of seats were occupied by fans too young to remember or appreciate The Great One.
To them, Cena is the biggest thing going.
The Rock is that guy from the movies.
That's all nitpicking, though. The Rock made the price of tickets worth it. He was every bit as entertaining as we expect him to be.
He and Cena earned the biggest pops.
The only way Rock and Cena could have been topped on Monday was if at some point fans heard the sound of glass breaking and a certain rattlesnake popped his head out.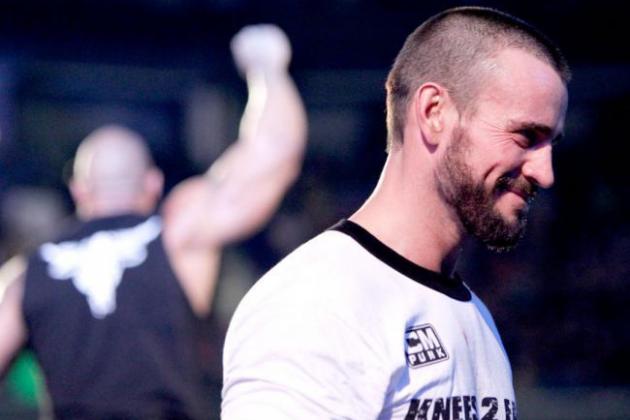 Punk and Rock (photo from wwe.com)
When the cameras went off, CM Punk stood in the center of the ring and challenged The Rock.
"Thirteen days, my ass. I say, just bring it," he said.
He and Rock slugged it out with a herd of referees around them. The Rock managed to get Punk up for a Rock Bottom.
It must have been one mighty version of the finisher.
Punk had trouble walking afterwards, mimicking Ric Flair with a face-first flop outside the ring.
The crowd then filed out into the chilly, foggy night, beaming with excitement. Houston had the honor of hosting the 20th anniversary of Raw and loved it...well, most of it anyway.