Pittsburgh Penguins: 5 Biggest Questions in 2013 Training Camp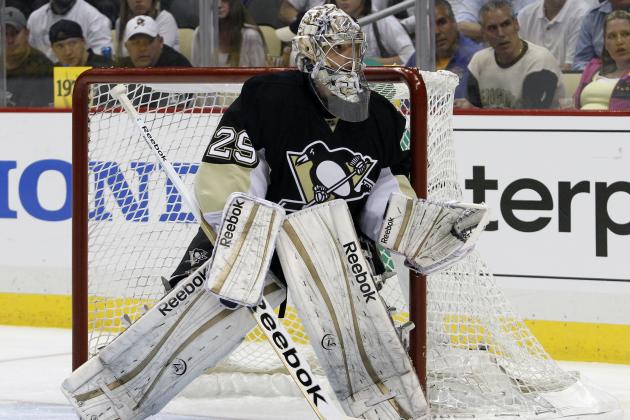 Justin K. Aller/Getty Images

Sidney Crosby and the Pittsburgh Penguins have reassembled for the team's 2013 training camp before starting an abbreviated hockey season. Many questions, from the goaltending situation to James Neal and Evgeni Malkin's mystery linemate, will be answered by the end of this camp.
The Penguins invited 26 players to the camp, but only 18 will be allowed to dress during the season. It should be interesting to watch and see which AHL standouts will earn a jersey.
While the third player on Neal and Malkin's line is a big focal point, some defensive pairings and depth forward lines are still up in the air.
Here are the five biggest questions surrounding the Penguins' preseason training camp.
Begin Slideshow

»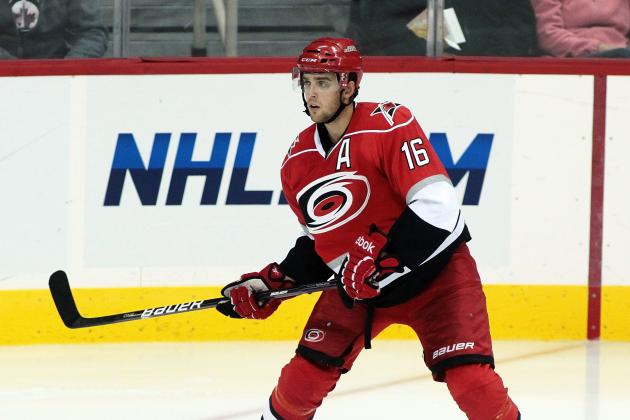 Marianne Helm/Getty Images
Sutter could be used as more than just a depth center.
The Penguins acquired center Brandon Sutter in a draft day trade that sent Jordan Staal to the Carolina Hurricanes.
It was assumed that he would spend the entire season as a depth center on the third line, but coach Dan Bylsma told NBC Sports he wouldn't eliminate the possibility of him taking shifts with Evgeni Malkin and James Neal.
I also feel like I wouldn't anchor (new acquisition Brandon) Sutter to that third-line center position. If he is winning a lot of the right-hand draws he could conceivably go take the draw and be on Geno's line. There could be some movement.
His performance during camp will likely decide how many opportunities he's given to skate with Malkin and Neal.
That said, Sutter will probably spend most of his time on the third line. His linemates will somewhat depend on who ends up playing with Malkin and Neal full time. Tyler Kennedy and Eric Tangradi are the two top candidates. Whoever doesn't get the job will skate with Sutter and Matt Cooke.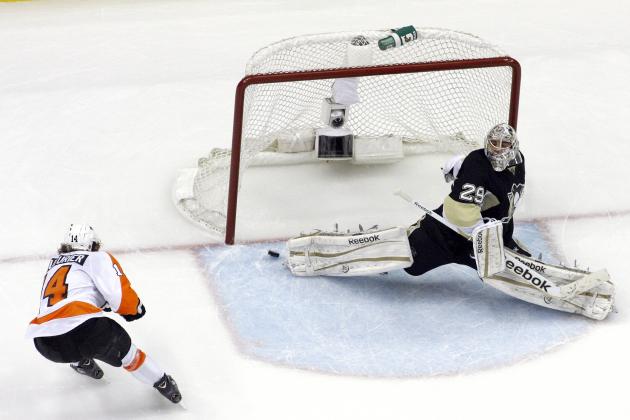 Justin K. Aller/Getty Images
Fleury during the 2012 playoffs.
Bringing in Tomas Vokoun was looked at as a way to light a fire under Marc-Andre Fleury. With such elite talent serving as his backup, Fleury will have to compete more than usual for his starting netminder role.
As of Monday's camp, Bylsma said Fleury would be starting more often than not and that Vokoun will play between 18 and 20 games.
Of course, depending on how the two perform at training camp, the two goaltenders could end up splitting net time more evenly.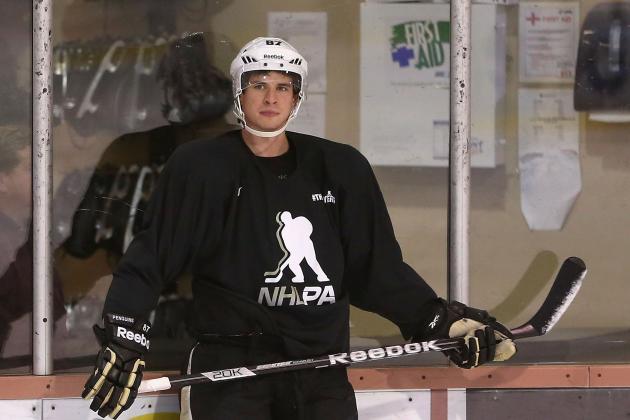 Christian Petersen/Getty Images
Crosby practicing during the lockout.
Sidney Crosby elected to wait out the lockout and help the NHL Players' Association any way he could. The downside is that he lost out on playing competitive hockey like some of his teammates have.
So far, it doesn't seem like he's missed a step.
Brandon Sutter said, "To see him out there healthy and feeling well, it's very encouraging. As a teammate, it's special to be out there."
The team's newest forward doesn't seem to think Crosby is behind the curve. In fact, simply having him out there is uplifting for the whole team.
Wednesday night's Black vs. Gold scrimmage game should give a definitive answer on whether or not Crosby missed out by not finding another club to play with during the lockout.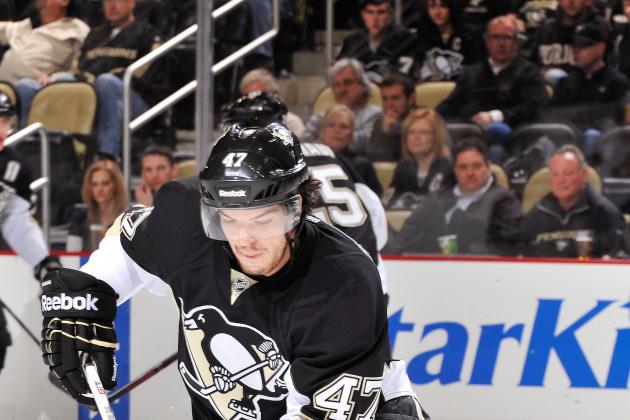 Jamie Sabau/Getty Images
Despres skated with the Penguins at the end of the 2011-12 season and in the playoffs.
The Penguins invited a total of 26 players to their camp—five of which are rookies gunning for a jersey.
Forwards Eric Tangradi, Beau Bennett and Jayson Megna will be competing for a spot on James Neal and Evgeni Malkin's line. Tangradi is considered a favorite for the position, but Bennett and Megna are still competing for a chance to showcase their talents on the NHL stage.
Robert Bortuzzo and Simon Despres are two young defensemen fighting for a chance to defend the Penguins' blue line.
Despres has been impressive—so much so that Bylsma and company are discussing pairing him with Kris Letang should he make the cut. However, one big thing working against Despres is that he is the only one of the nine defensemen at the camp who doesn't need to clear waivers to be sent down to the AHL.
There's still plenty of time for these youngsters to standout and earn some NHL ice time in this abbreviated season.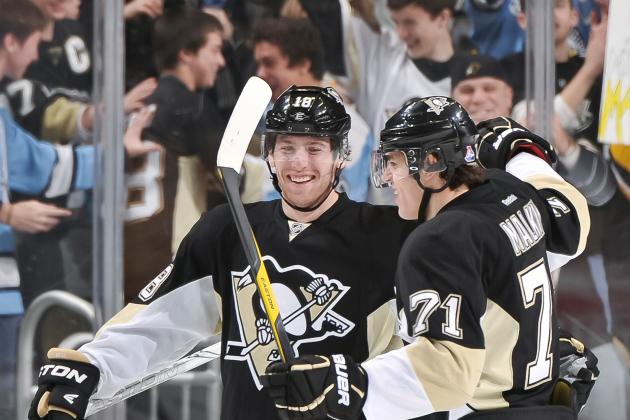 Jamie Sabau/Getty Images

The Penguins website names Tyler Kennedy, Eric Tangradi, Beau Bennett and Jayson Megna as the top candidates for the job—Bennett and Megna being sleeper picks.
Bennett's speed and passing skills have the potential to add a lot to Malkin and Neal's offensive production.
Megna is a young player who has been very impressive at the 2012 prospect development camp and with the Wilkes-Barre/Scranton Penguins in the AHL. He's a fast and skilled skater with plenty of playmaking upside.
Kennedy is a favorite because of his knack for opening up the ice to create scoring plays for himself and others. He'll shoot just as soon as he'll pass. He also has value as a two-way forward in that he's able to defend in his own zone.
Even though Kennedy offers a lot on both offense and defense, Tangradi may be the best option.
At 6'4" and 221 pounds, Tangradi is a very physical player. He can use his size and strength to hit hard and battle for pucks. He probably won't be able to make plays like the other candidates for this role, but his value comes in his ability to force turnovers, fight for pucks and push his way into the offensive zone.
However, Bylsma has decided that, for the time being, "different players will play alongside Malkin and Neal depending on game situations."
Michael Prunka is a Bleacher Report Featured Columnist. Stay up to date with him by liking his Facebook page and following him on Twitter.