Australian Open 2013: Under-the-Radar Players Looking to Make Deep Runs
Use your ← → (arrow) keys to browse more stories
Michael Dodge/Getty Images
Will Juan Martin Del Potro make a deep run?
While all eyes will be on Novak Djokovic, Roger Federer and Andy Murray, some of the under-the-radar players at the Australian Open will quietly be making their way through the tournament.
There's still plenty of tennis left for one of the top remaining seeds to get upset, opening the door for someone else to advance through their side of the bracket. With the way the brackets are setup, there's plenty of time for one of the lesser-known players to keep winning, meet a star in the quarterfinals and potentially advance past that as well.
Let's take a look to see who could turn some heads and make it into the final instead of one of the three aforementioned stars.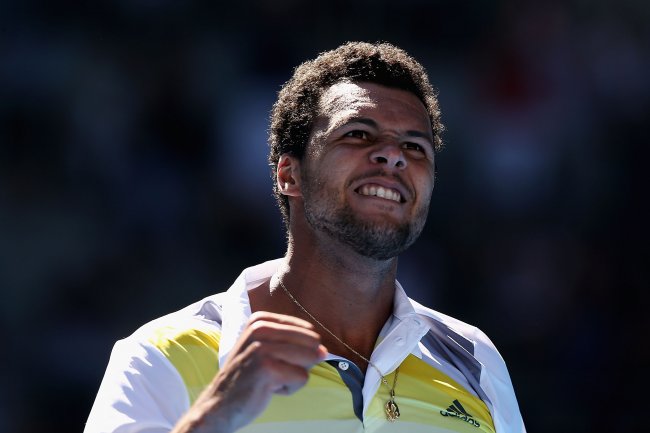 Michael Dodge/Getty Images
The seventh seed at the Australian Open, Jo-Wilfried Tsonga has one of the easier routes through the Australian Open. If he continues to win, he wouldn't have to play the top seed in his quarter of the bracket—Roger Federer—until the quarterfinals.
Wilfried opened up the tournament with a relatively easily win over Michael Llodra and will face Go Soeda in the second round. He really shouldn't have any trouble until the potential matchup with Federer. And if Federer is knocked out by that time, Tsonga is in fantastic shape.
Tsonga has had some trouble making his way through the Australian Open in the past—having failed to advance past the fourth round since 2010—but this year looks to be the year where he avenges his finals loss from 2008.
Andrey Kuznetsov
If you haven't heard about Andrey Kuznetsov, it's time to start paying attention. Of the few upsets from the opening round, one of them was credited to Kuznetsov. He took down 11th-seeded Juan Monaco in straight sets to advance to the second round.
When will Andrey Kuznetsov be eliminated?
Kuznetsov is ranked 79th in singles and is not expected to make a name for himself in Australia, but it's certainly possible. He's lined up to face Kevin Anderson in the second round and would go on to face Xavier Malisse or Fernando Verdasco in the third. In order to win his quarter of the bracket, though, he'll have to take down Djokovic.
Kuznetsov only has six career wins on his resume and hasn't played well in Grand Slams in the past. In 2010, he was eliminated in the first round at Wimbledon. He saw the same result two years later and also lost in the first round in 2012 at Roland Garros. He's already off to a good start at the Australian Open and don't be surprised if he wins a couple more matches throughout the tournament.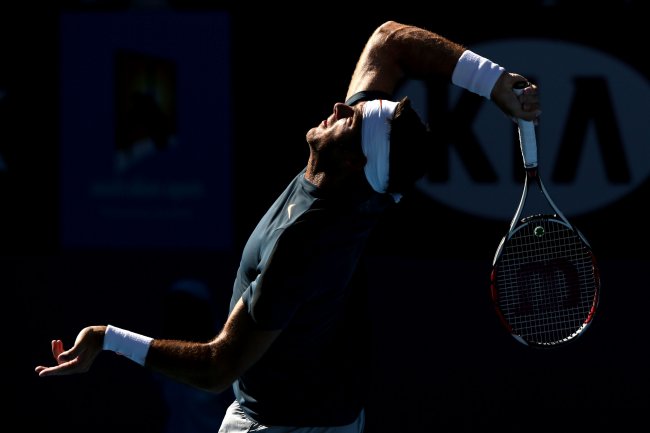 Michael Dodge/Getty Images
Juan Martin Del Potro may be the sixth seed at the Australian Open, but because his last name isn't Djokovic, Federer or Murray, we're going to consider him under-the-radar. Although he has better odds at winning the entire tournament than many, he's still not one of the favorites to take it all.
Del Potro took down Adrian Mannarino in the first round and looks for a similar result in his next scheduled match against Benjamin Becker. If Del Potro is going to go very deep in this tournament he's going to have to get through Murray—which isn't great, but he probably has a better chance against him then Djokovic or Federer.
Del Potro has had a decent amount of success at the Australian Open in his career. He's made it to the quarterfinals twice, including last year, but has yet to advance into the semifinals. Getting there this year would mean that he'd have to defeat the man he's 1-5 against in his career, Murray.