25 College Football Stars Who Will Be NFL Draft Combine Sensations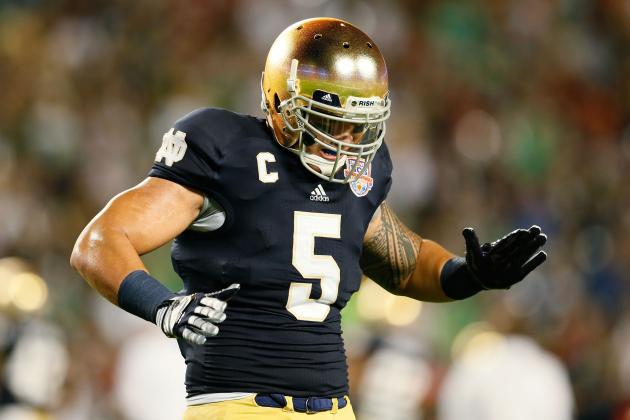 Kevin C. Cox/Getty Images

With their college days now in the rear-view mirrors, the future of the NFL has one last task remaining before the 2013 NFL draft, lucrative contract signings and putting on that new NFL uniform for the first time.
As the 2013 NFL Scouting Combine (February 20-26) approaches, there are a plethora of players just hoping to attract someone's attention. But these 25 stars won't need any help in that department. The only question that remains for these guys is how high they can boost their draft position at the combine.
Regardless of who goes No. 1 in the NFL draft, or even who goes No. 10, these 25 college football stars are sure to be the talk of the league after the combine.
Begin Slideshow

»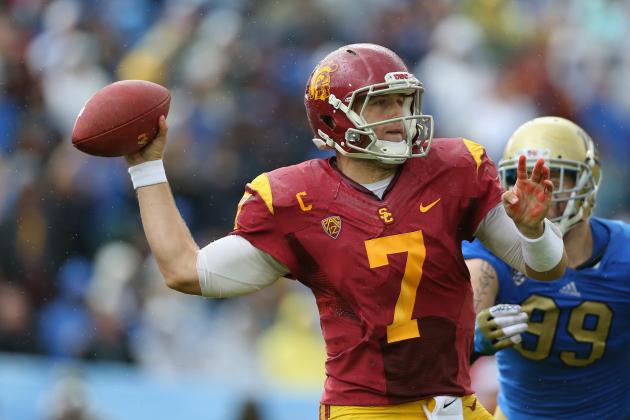 Jeff Gross/Getty Images

It's been a while since we've seen Matt Barkley throw a football.
After suffering an injury against UCLA, Barkley missed the season finale against Notre Dame and the Sun Bowl against Georgia Tech—both Southern California losses. Now that Barkley's on the mend, you can expect every team in the league to at least take a peek at this once sure-fire first-round pick—who could easily slip to the second round if scouts even sniff any lingering difficulties.
Positive or negative, Barkley is sure to generate some buzz.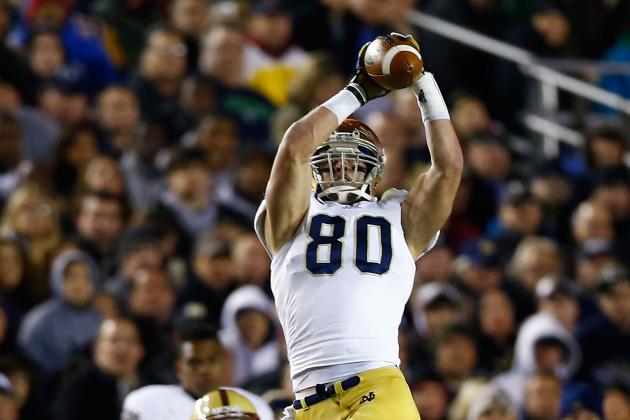 Jared Wickerham/Getty Images

Easily the nation's top tight end this season, Notre Dame's Tyler Eifert was a huge reason the Irish put together a 12-0 regular season and BCS National Championship Game berth before getting flattened by Alabama.
Eifert's biggest problem isn't his pure athleticism but rather the position he plays. Most NFL teams just won't spend a lofty first-round selection on a tight end these days.
Still, Eifert is huge, and he's powerful. Add in some surprising quickness for such a behemoth, and you'll see some jaws drop at the combine.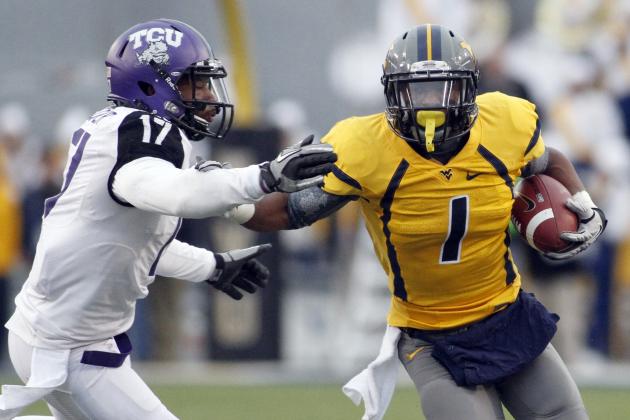 Justin K. Aller/Getty Images

West Virginia was the beneficiary of several explosive players on offense in 2012, including wideout Tavon Austin. His 99 receiving yards per game ensured a top 15 spot in FBS receiving yards, but his hands were only part of the equation.
The real head-turning ability Austin possesses is his speed. If you're looking for a guy who has the potential to turn some heads with impressive 40 times at the combine, keep your eye on Austin.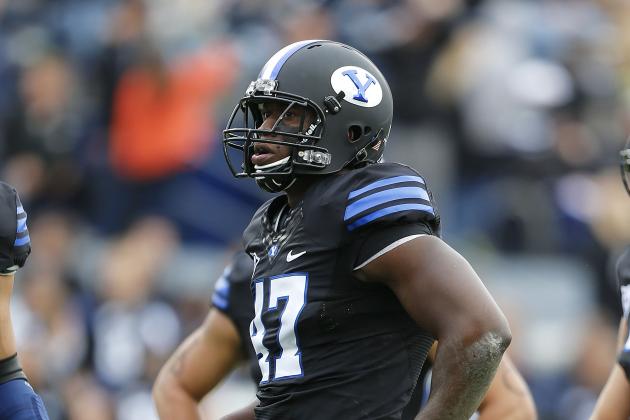 George Frey/Getty Images

Brigham Young may not have had the kind of successful season it was looking for in year two of its experiment with conference independence, but that doesn't mean there weren't some impressive standouts for the Cougars.
Ezekiel Ansah is one of the nation's very best at this position, and the tough kid from BYU will have plenty of opportunity to make a name for himself at the combine. Not only is this 270-pound defensive end strong, he's also lightning quick. His 40-time is currently listed at 4.74, but he's been recorded at times nearing sub-4.6 as well.
So where does all this speed (for a defensive end) come from? Originally, Ansah was a track athlete. Ansah was a member of the BYU track team in 2009 where he caught the eye of the football coaches. He joined the football team in 2010 and in his senior season recorded 62 tackles, 4.5 sacks, nine pass breakups, six QB hurries, a forced fumble and an interception.
Not too bad for a guy who has only been playing football for three years.
Justin K. Aller/Getty Images

When the 2012 season began, Geno Smith was widely viewed as one of, if not the top quarterback of the upcoming 2013 NFL draft class. Even with a disappointing finish for the Mountaineers, things haven't changed much in terms of Smith's draft potential.
Everyone is pretty familiar with Smith and what he can do with a football, but the reason he'll be causing a commotion at the combine is pretty simple, if not apparent.
Kansas City holds the top pick in the 2013 NFL draft, and is in desperate need of a quarterback. While the question still remains whether the Chiefs will use that coveted top spot to select Smith, it's clear that this Mountaineer will be the first quarterback selected in this year's draft. That alone will cause a sensation.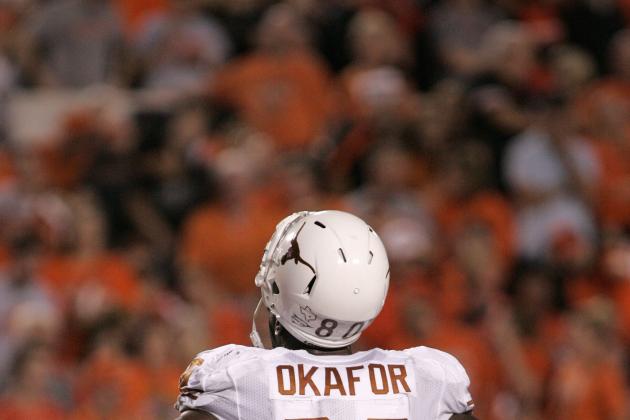 Brett Deering/Getty Images

It wasn't a stretch to believe Oregon State would be able to get the better of Texas this past bowl season. Had it not been for Alex Okafor and his defensive compatriots, the Beavers may have very well come out on top.
But constant pressure on the quarterback from Okafor and the rest of the Longhorns' defense prevented the Beavers from ever putting Texas away, and it allowed the Longhorns' offense to do its thing, leading to a 31-28 Texas victory.
Don't think for a moment that performance will be lost on anyone at the combine.
Okafor is a solid late first-round prospect, and he'll get a lot of looks from teams looking to beef up the defensive playmaking. His agility and strength combine to make him a real asset to whichever team he suits up for next fall.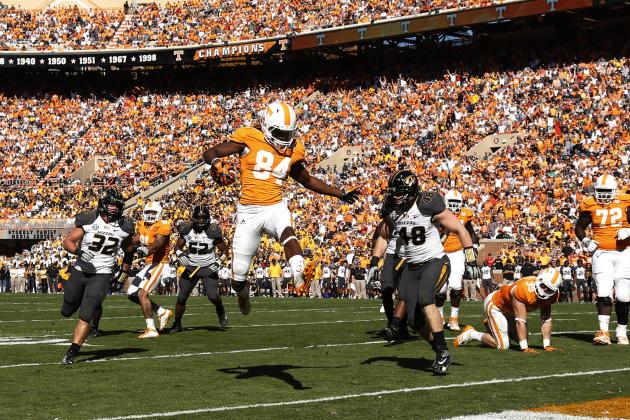 Joe Robbins/Getty Images

Snicker all you like at the recent performance—or lack thereof—from Tennessee in the SEC, but don't think that means there won't be some top NFL talent coming down Rocky Top this season. Wide receiver Cordarrelle Patterson is clearly one of the top few receivers of the 2013 draft class, and he's a fairly solid pick for a first-round selection.
The real benefit Patterson will give his eventual NFL team is his versatility. Sure, he's a wide receiver at heart, but he doesn't shy away from running with the ball. But most likely, he'll break into the league as a dynamite return specialist (where he earned second-team all-SEC honors in 2012).
If you want to see a player wow NFL scouts with explosive speed, great vision and ankle-breaking agility, make sure you watch Patterson at the combine.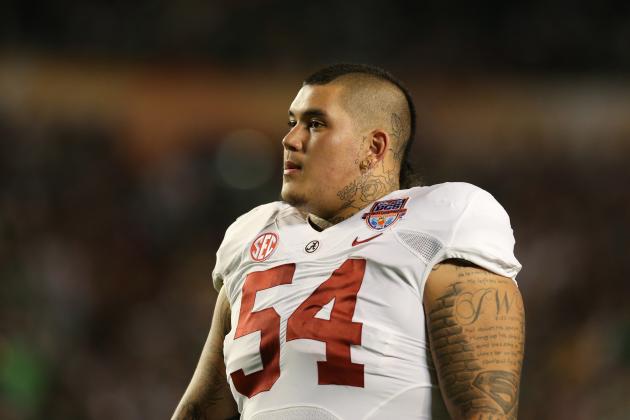 Matthew Emmons-USA TODAY Sports

There will be no shortage of Alabama linemen on this list. Jesse Williams is just one of a plethora of first-rounders coming from Tuscaloosa this year, and although he may not be the top defensive lineman to go in the draft, he has the ability to jump into the middle of the first round if the Steelers take him with their 17th pick (Pittsburgh should be shopping for a defensive lineman in the first round).
This 320-pound Aussie nose guard is one of the very best at stopping the run, and he's going to have an excellent shot at putting up some all-time combine numbers on the bench press this year.
He may not break the all-time mark of 51 repetitions (at 225 pounds) set by Justin Ernest of FCS Eastern Kentucky back in 1999, but a number in the high 30s or even low 40s shouldn't be beyond Williams' abilities.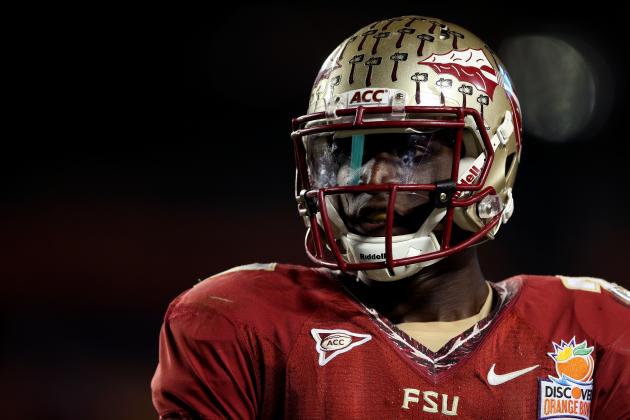 Streeter Lecka/Getty Images

Xavier Rhodes, the standout corner from Florida State, should have ample opportunity to cause a stir at the 2013 combine. Not only can Rhodes keep up with many receivers with a 40-time approaching 4.4, but at 6'1" and 217 pounds, he's big enough to help out in run support when needed.
Rhodes should be a good middle-to-late first-round pick, but if he can improve his 40-times to the mid-4.4 range, it will not only raise some eyebrows, but raise his asking price.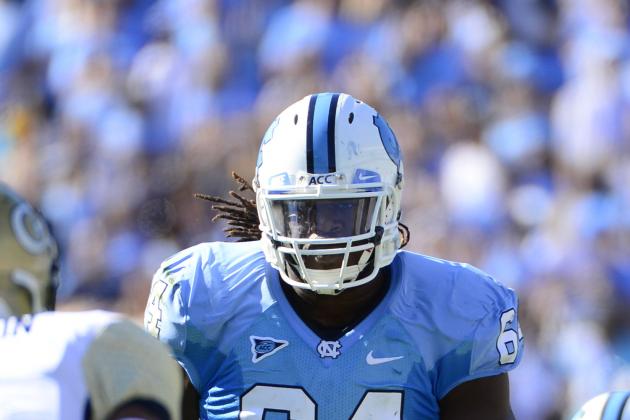 USA TODAY Sports

This 2012 first-team All-America suffered this season due to circumstances beyond his control. Since non-traditional power North Carolina suffered through a season of NCAA sanctions which included a postseason ban, the national media have even more incentive to not pay much attention to the Tar Heels.
But if the pundits had tuned in, they would have seen a top offensive lineman dominating the ACC competition this past season. Even without the media spotlight, we still believe Cooper is a solid first-round pick after playing a pivotal role in the UNC running game that averaged nearly 200 yards per game.
Cooper also had 10 or more knockdown blocks on the offensive line this season in nine of the Tar Heels' 12 games. That kind of strength and consistency will guarantee his name being called on draft day.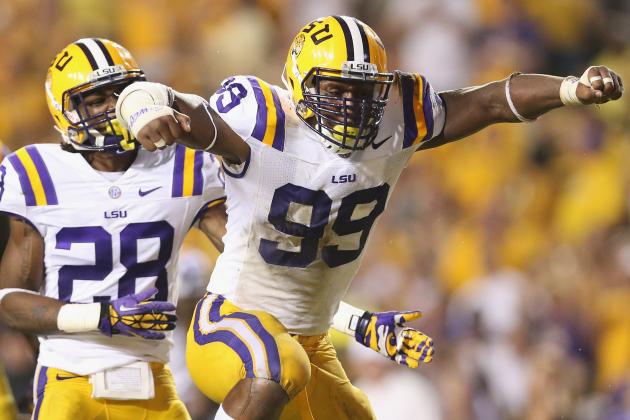 Ronald Martinez/Getty Images

Sam Montgomery has opted to forgo his senior season at LSU for early entry into the NFL. While that's sure to provide a big benefit to his bank account, we're still not convinced Montgomery wouldn't have benefited from another season in Baton Rouge.
Still, Montgomery is a good late first-round candidate for a team that's looking to beef up their defensive line depth. For a defensive end, Montgomery possesses some great speed. His most recently reported 40-time was just under 4.6 at 4.59. Look for that to improve further at the combine. If it does, we may have to reassess our opinion on Montgomery's decision to leave school early.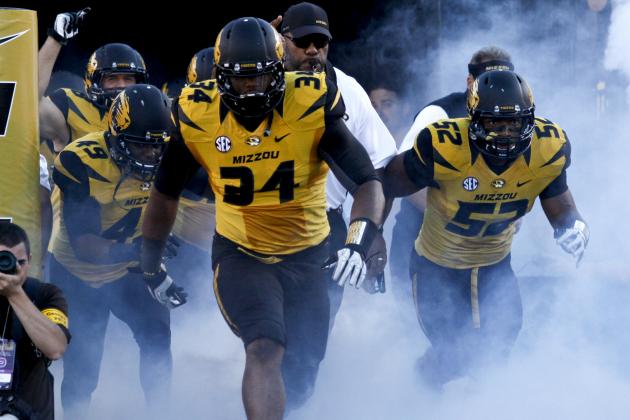 Ed Zurga/Getty Images

Missouri had a rough go of things in its first SEC season. Not so for defensive tackle Sheldon Richardson who earned first-team all-SEC honors from the conference's media elites.
Richardson led the defense-heavy conference's interior linemen with 75 tackled in 2012, and he still has a ton of upward potential. He's a naturally big guy, but his weight is evenly distributed across this frame, giving him almost unparalleled balance and stability.
For the combine, he'll need to prove to NFL teams taking a look that he can take his performance from the 2012 season into the next level. He only has one real FBS season (started just 13 games in two seasons at Missouri) after starting his career at the JUCO level (due to his inability to meet academic requirements).
Teams might be wary to gamble on Richardson, but if he turns heads at the combine, he might be lucky enough to catch the attention of Tennessee—and their 10th pick in the first round.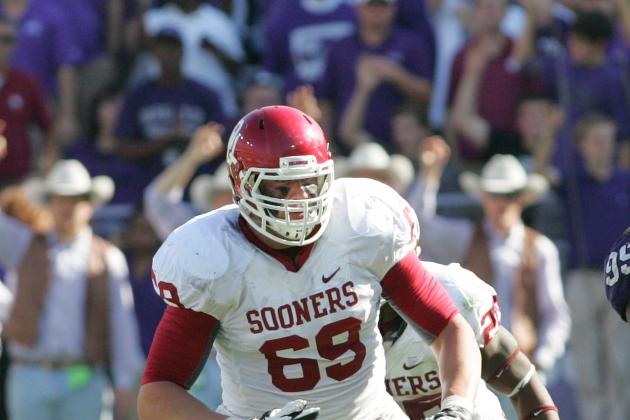 R. Yeatts/Getty Images

At 6'6" and 305 pounds, Lane Johnson looks every bit like the prototypical offensive tackle. He also has the wingspan to match.
With just two years of starting experience on the offensive line, Johnson is still raw, but there are a lot of teams out there that don't mind teaching a lineman to play the game their way. His positional-specific drills will be his bread and butter at the combine, where he'll be able to prove to scouts that he can control his hands enough to be a force in the NFL.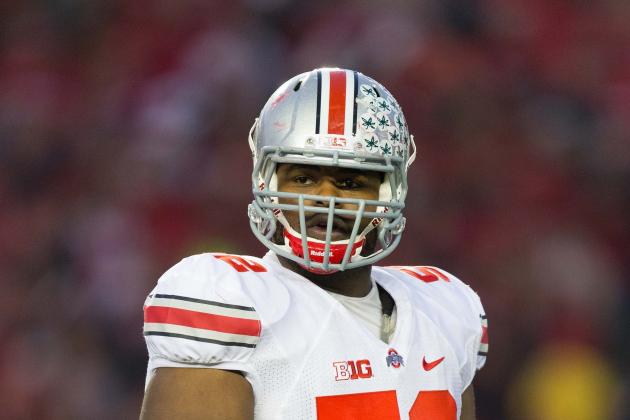 Jeff Hanisch-USA TODAY Sports

A rather unheralded recruit out of high school, Hankins chose Ohio State over Michigan and Michigan State. He impressed coaches enough to earn some playing time as a true freshman in 2010, and he turned that into a two-year starting gig with the Buckeyes through 2011 and 2012.
A second-team AP All-American in 2012, Hankins is just simply a big guy. His 6'3", 320-pound frame supports a lot of muscle, and he has surprisingly quick feet for a defensive tackle. Look for people to rave over his performance in agility drills, such as the three-cone drill.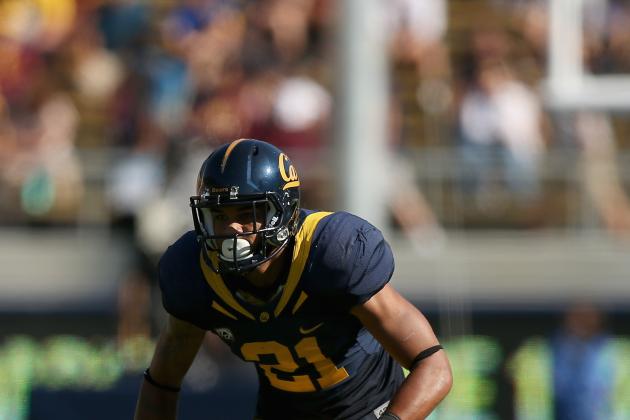 Ezra Shaw/Getty Images

Keenan Allen doesn't possess the classic, NFL-typical size-plus-speed frame of a wide receiver. That's probably why Nick Saban recruited him to play safety at Alabama.
Still, after transferring to Berkeley to play with his brother, quarterback Zach Maynard, Allen emerged as one of, if not the top-rated wide receiver prospects for the 2013 NFL draft.
Allen is tall enough to play the position, and his initial burst off the line combined with good lateral movement will mean he'll make a solid middle-first-round pick.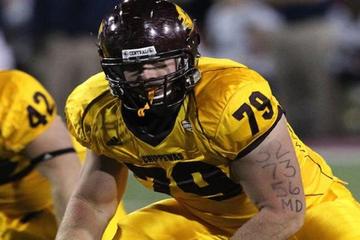 (Photo: Central Michigan University)
The MAC isn't always the first conference that pops into mind when thinking about first-round draft picks, but Central Michigan's Eric Fisher is a bona fide first-rounder in 2013.
Not only will Fisher go in the first round, he'll likely go in the first half of the first round as San Diego, with the No. 11 pick, should have its sights set squarely on Fisher—assuming everything goes as planned at the combine.
At 6'7" and 305 pounds, Fisher has the same size as any top FBS lineman these days, and he also possesses better-than-average movement for such a big guy. He was dominant for the Chippewas this season, especially in the run game, and CMU only suffered because they failed to surround Fisher with really any noteworthy talent anywhere on the roster.
His strong core, excellent fundamentals and killer instinct when run-blocking will make him one of the nationally unknowns to keep an eye on at the combine.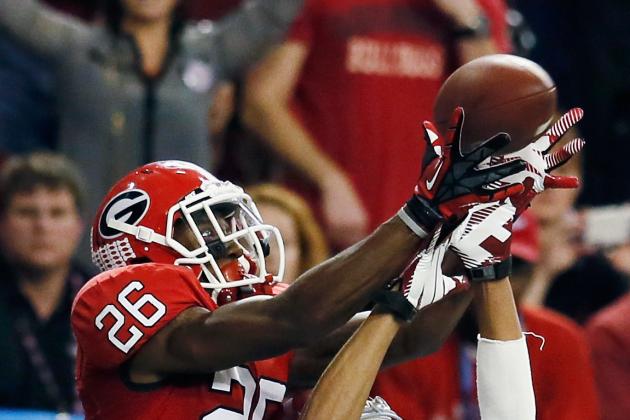 Kevin C. Cox/Getty Images

If you had any doubts about Dee Milliner when the regular season ended, his performance in the BCS National Championship Game probably smoothed things over a bit.
Milliner is built perfectly for a cornerback and his hip movement is as smooth as you could possibly expect from a junior. His coordination makes his already great leaping ability deadly for quarterbacks and receivers, but he lacks truly great speed—especially for the NFL.
If he can show some improvement on his 4.47 40-time at the combine, he'll not only be a sensation, he'll cause a minor media circus.
Still, expect him to go early.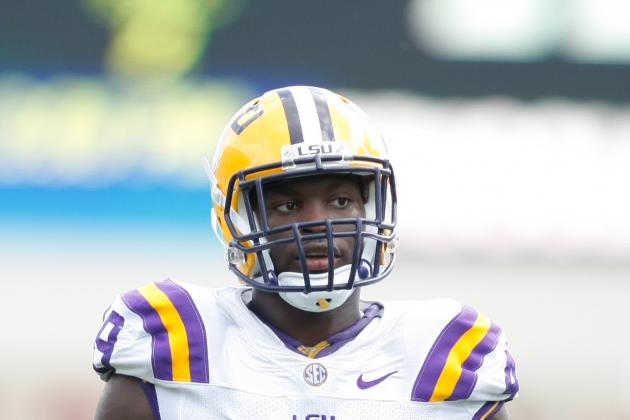 Brett Davis-USA TODAY Sports

In a draft class that includes some of the best linebackers we've seen come out of college in quite some time, Barkevious Mingo is among the best of the best.
Mingo's biggest drawback is his inexperience. He's shockingly raw for a first-round prospect, but he's exactly the kind of athletic specimen NFL scouts drool over when it comes to their linebackers. He has an explosive ability to attack the ball that will prove to be a huge asset once he learns better pass-run anticipation.
While there is definitely some room for improvement, Mingo can still expect an early—possibly top 10—selection because of his size and potential. Not only could any NFL team utilize him as a linebacker, he could also fit in as a hybrid defensive end given the right situations and scheme.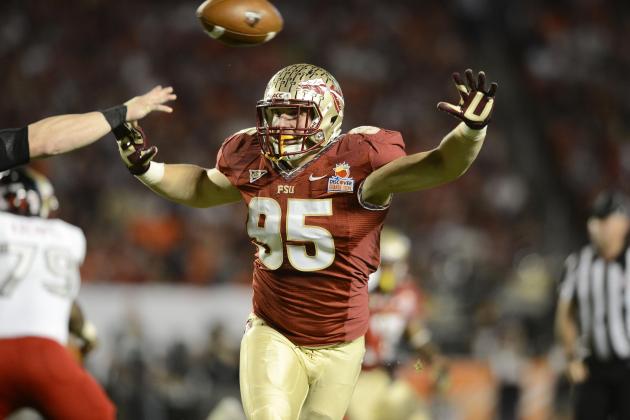 Ron Chenoy-USA TODAY Sports

A native of Berlin, Germany, Bjoern Werner hadn't even picked up a football—an American football—until he was 15. A few years down the road and he's preparing for a top 10 selection in the 2013 NFL draft.
Werner is as twitchy as they come, getting off the line the instant the center snaps the ball. He's strong and agile with a solid, low center of gravity giving him an unrivaled ability to beat blocks.
He also has crazy-good instincts for someone who has been playing the game for just over a half decade.
If Jacksonville doesn't take him in the No. 2 spot, he might fall as far as fifth. But there's no chance he's not a top 10 pick, especially with what is expected to be a stellar outing at the combine.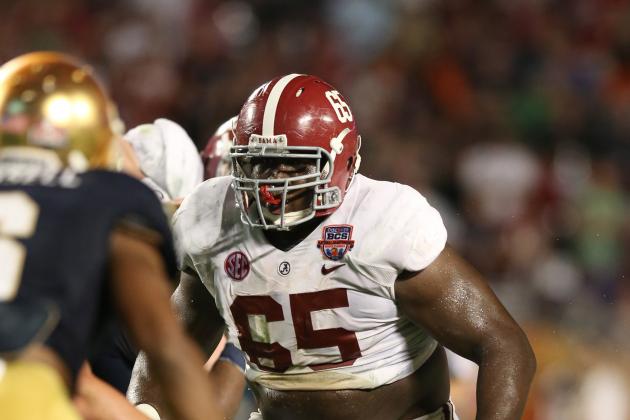 Matthew Emmons-USA TODAY Sports

Offensive linemen have become the new hot commodity in the pro drafts of today, and the 2013 edition won't be much different. There are plenty of linemen ready for the picking, and NFL teams are lining up to get every last one of them.
Chance Warmack might not be the top lineman rookie of 2013, but he'll be the top one participating in the 2013 NFL Scouting Combine (Barrett Jones is out three-four months following foot surgery).
Warmack is a stout guy, even for a lineman. He weighs in at 322 pounds, but he is considerably shorter than many of his fellow buffet-busters at just 6'2". Still, you'd be surprised at how agile he can be. He has nearly unmatched sliding ability, and his initial hit is strong enough to contain even the best defensive pass rushers.
If you want some entertainment, check out his agility tests at the combine. It also wouldn't hurt you to watch this guy bench press 225 pounds over and over and over again.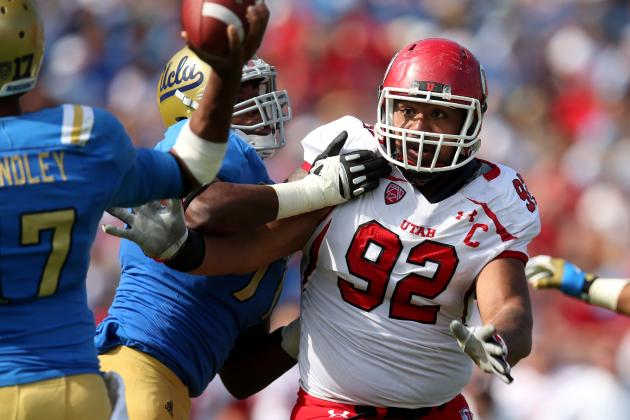 Stephen Dunn/Getty Images

We can't help but wonder if his first name was intentionally prophetic.
Star Lotulelei played for his home-state Utes, and he was one of the few positives to emerge from the 2012 season. At 6'3" and 320 pounds, Lotulelei possessed not only great size for a defensive tackle, he also seems to have a solid grasp of the skill set needed to become one of the truly great NFL defensive linemen.
The biggest thing scouts will look for at the combine is whether Lotulelei can grow in technique. His biggest downfall was his reliance on his freakish physical talents. Unfortunately, that led to some inconsistency in 2012, and if he continues to shrug off technical improvements in his game, his future stock price could plummet.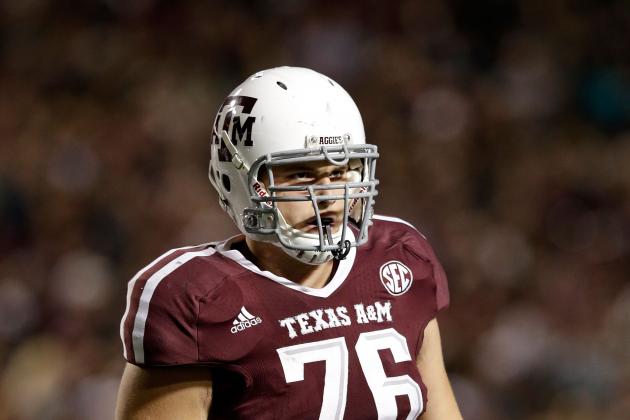 Scott Halleran/Getty Images

Luke Joeckel has started for three years at the left tackle position, and for three years, the left tackle position has not been a concern for Texas A&M. His raw athletic ability and his 6'6", 310-pound frame combine to make him one of the best in the nation. His lower body is built like a brick foundation and his tree trunk-like arms are capable of slowing even the most ferocious pass rush.
His tenacity has been a question mark at times, but if he can bring some killer instinct and intensity to the combine, he may convince Kansas City he's worth the No. 1 pick.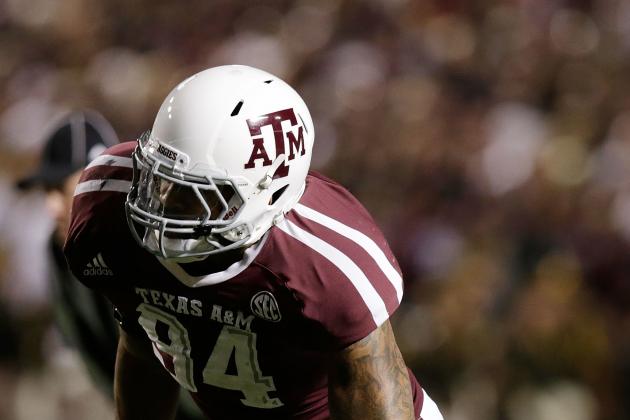 Scott Halleran/Getty Images

Damontre Moore was as close to unstoppable this season as a defensive end gets these days. With 12.5 sacks, Moore was among the top 10 in the FBS in 2012, and with the NFL becoming a more pass-happy league players like Moore will be worth their weight in Lombardi Trophies.
At 6'4" and 250 pounds, Moore is pretty lean by NFL standards. That means he has plenty of room to add the kind of weight his eventual team wants him to add—most likely some added muscle, or "good" weight. He has a great first step and possesses that extra gear often needed to close the last few steps to the quarterback before he lets the ball loose.
If he improves on his snap reaction and explosiveness at the combine, don't expect him to fall much out of the top five as the Lions—in need of a defensive end—probably won't pass him over.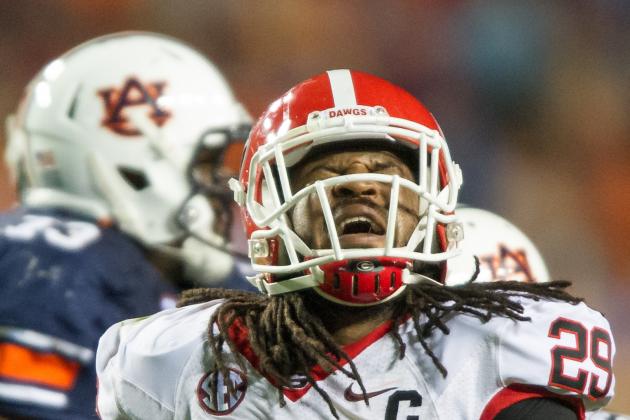 Michael Chang/Getty Images

Jarvis Jones is another impressive linebackers the scouts are eagerly awaiting to see at the combine. Jones was a big reason Georgia won back-to-back SEC East titles in 2011 and 2012, and he can have the same kind of impact for an NFL franchise.
Jones is every defensive coordinator's dream. He can rush the pass with the best of them, but he's also a great run defender, too. And just when you think you've seen it all, he'll drop back into pass coverage and take the middle of the field out of the quarterback's playbook.
Any team with a top-10 pick will be very interested in his combine performance, and with the Raiders holding onto the No. 3 pick along with their need for a linebacker... well, you see where we're going with this.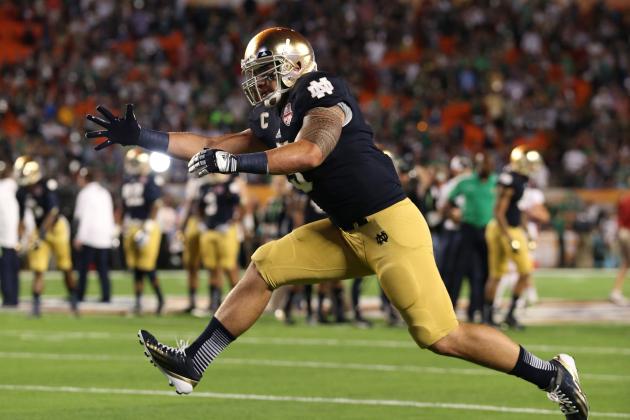 Matthew Emmons-USA TODAY Sports

Following Notre Dame's loss to Alabama in the BCS National Championship Game, much of the press surrounding Manti Te'o has been how much the Irish failure will hurt Te'o's draft stock.
Some say he has "tumbled" down draft boards while others believe he won't be punished at all. Either way, it's clear there aren't many players being talked about more heading into this year's combine.
Te'o was clearly the best defensive player of the 2012 season, but that doesn't mean we don't have the epic failure of the BCS National Championship Game seared into our collective memory. The combine will offer Te'o one last chance to dispel any doubts, and no one can benefit more from a standout performance.
Te'o was already going to be entertaining to watch irrespective of the title game turnout. With something to prove and perhaps a little chip on his shoulder, there may be no bigger spectacle at the 2013 NFL Scouting Combine than Manti Te'o.