WWE Raw Results & Report Card 1/14/13: Grading Raw's 20th Anniversary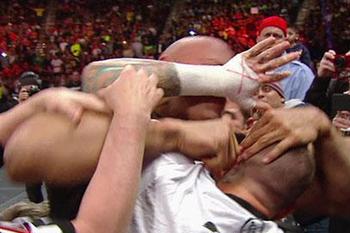 Rock and Punk Brawl to close the show. via WWE.com
Twenty years ago the WWE debuted a brand new flagship program, a live wrestling show designed to take the wrestling industry into the modern era. Filled to the brim with energy, enthusiasm and the fashion of the 1990's, Raw immediately became the most important wrestling show on television.
Today, that much at least hasn't changed and everything has changed. Of the wrestlers on the first Raw, only one remains with the company, the seemingly immortal Undertaker. But the spirit and ingenuity that made the show an immediate success has carried the promotion through two decades worth of Raws.
Of course we all expected the WWE to pull out all the stops for this anniversary extravaganza. Some of the promotion's biggest stars seemed destined to make special appearances, including the biggest star of them all, Stone Cold Steve Austin.
No one showed. We got Ric Flair. We got Mick Foley. But the big guns all stayed home, or at least in the back. Overall, it was quite a disappointing show, especially after last week's masterpiece.
But, of course, not everything was awful. That's part of the fun of watching wrestling. For hardcore fans following the scene behind the cameras, as well as the action in front of it, wrestling is a meta experience, trying to figure out who is getting the job done and who is on their way to the independent circuit. Who's cutting it and who doesn't quite have what it takes?
Those judgments are made match by match and segment by segment. How did your favorite do? We'll grade them after each show and keep a running tab throughout the year to see who is making the grade and who is failing miserably.
Vince McMahon/Big Show and Alberto Del Rio Promo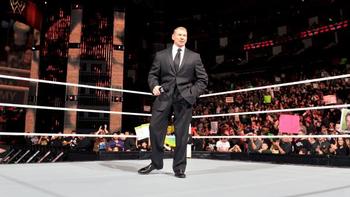 via WWE.com
Segment 1
The Chairman himself comes out to open the show, but Vince McMahon doesn't stick around for long. Perhaps he knew this show from Houston's Toyota Center wasn't going to live up to expectations and didn't want his character associated with it for too long.
He's interrupted by the Big Show, who accuses Alberto Del Rio with all kinds of skullduggery before the new champion comes out to defend his own honor. Show wants Del Rio stripped of the belt. Del Rio calls him names in Spanish.
I didn't think these two are going to be able to solve their problems in a non-violent manner. Sure enough, it comes to blows, with Del Rio getting the better of things thanks to his personal ring announcer Ricardo.
Key Quote: "Welcome everyone to the 20th Anniversary of Monday Night Raw!" — Vince McMahon
Grade: B-. This was probably a C- segment with all things being equal. But I'm so glad to see a new pairing, I'm willing to give these two a chance to find their rhythm.
Wade Barrett vs. Randy Orton (WWE Intercontinental Title Match)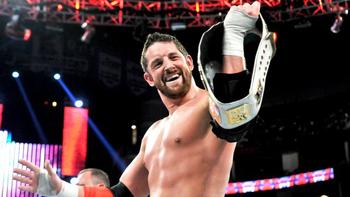 via WWE.com
Segment 2
Wade Barrett is the future of this company. If not the future, certainly a major part of it. If you doubted that for a second going into this show, surely the clean finish here changed your mind? Orton is still a major player. And in the WWE, big stars rarely do clean jobs—and Orton laid down for Barrett clean as a sheet.
Key Quote: "What an incredible statement Wade Barrett has just made," JBL
Grade: B Not only is Barrett looking like a star, the Bull Hammer is going to get over as a legit finisher if he can keep using it to beat big names..
Eve and Booker T Skit/Daniel Bryan + Kane with Dr. Shelby/Kane vs. Damien Sandow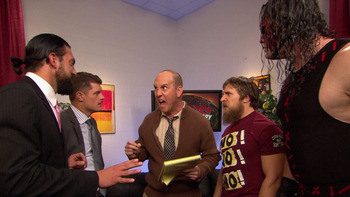 via WWE.com
Segment 3
Booker T is laying down the law. If Eve gets counted out or DQ'ed, the Divas title will change hands. Hey, that's not how wrestling works, Booker T!
Eve tries to use her feminine wiles to get Booker T to change his mind, but it doesn't begin to work. She takes out her righteous anger on poor Teddy Long with a slap to the face.
Then Daniel Bryan and Kane attempt to graduate from Anger Management class. We learn that Bryan appreciates Kane's height and the Big Red Machine likes Bryan's agility and beard. It feels like real progress is being made.

Hijinks ensue when Damien Sandow and Cody Rhodes are brought into the session to put them to the test. The tag team champs keep their cool, but poor Dr. Shelby can't keep a lid on his temper when Sandow questions his credentials, comparing the good doctor to...gasp...Doctor Phil!
Finally, Doctor Shelby can't stand it any more and turns Team Hell No loose on the Rhodes Scholars. Wackiness!
Kane and Sandow hit the ring. Not much happening here. Michael Cole tells us Rhodes Scholars will get a title shot at the Rumble, but it's hard to build much excitement when the side that is already less respected and established loses in a squash like this.
Probably a pretty good sign that Rhodes Scholars are going over at the Rumble, probably beginning the Bryan vs. Kane feud. Also a pretty good sign they won't really get over in a major way as merely the backdrop of another team's "feuding partners" gimmick.
Key Quotes:
"Who wants a group hug?" Dr. Shelby.
"I like that he can set things on fire by lowering his arms...somehow," Daniel Bryan.
Grades: Skit: B, Match: C-. Bryan and Kane have good chemistry, but it feels like a team that is just spinning its wheels. At some point, and everyone is waiting for it, one of them has to turn. I'm hoping it's Bryan and it leads to a major run in 2013.
The match was here to fill five minutes. That, at least, happened.
Mick Foley Promo/The Shield vs. Ryback/Randy Orton/ Sheamus Brawl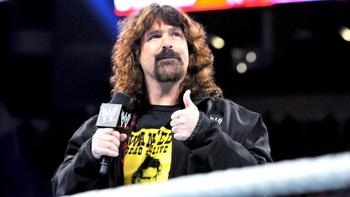 via WWE.com
Segment 4
Ryback came storming out to take on The Shield, who had seconds earlier come storming out to disrupt a Mick Foley speech. Maybe they hate Dewey?
Even the mighty Ryback couldn't take on three men, so Orton and then Sheamus ran in. Do I sense a six-man tag match coming between Ryback/Orton/Sheamus and The Shield? I could be on board with that.
It's a shame we didn't get to see more of Foley. One of the best promos of his generation, I was hoping for a heartfelt speech. What happened here was plenty fun. But did it have to come at Foley's expense?
Key Quote: "Every time I step into the ring with CM Punk, the Shield have allowed Punk to escape...I will not rest, I cannot rest, until I give back to the Shield what they have taken from me. Feed me Shield. Feed me Shield. Feed me Shield." - Ryback.
Grade: B. JBL did a really, really good job putting over Ryback as a guy who wasn't afraid to take a beating to give one in return.
Eve vs. Kaitlyn (WWE Divas Title Match)/Brodus Clay Interview
via WWE.com
Segment 5
Kaitlyn wins the title in her hometown of Houston. That's kind of a surprise. Normally the WWE forces people to humiliate themselves in terrible ways when their friends and families are around. Kaitlyn must have done something right backstage.
After the match, Josh Mathews confronts Brodus Clay with CM Punk's interview from last week in which he was accused of embarrassing himself for the fans' approval. Clay, well, he didn't seem to care for that one little bit.
Key Quote: "I don't shuck and jive because I have to. I shuck and jive because I was born to." — Brodus Clay.
Grades: Divas: C-, Clay: D The match itself doesn't even qualify as average. Eve is a fairly skilled worker but Kaitlyn just isn't there yet. I do like how JBL put over Eve's jiu-jitsu training with the iconic Gracie family in Los Angeles.
As for Clay, there was just nothing there. Maybe he wasn't into it because it was accompanied soon after by a squash match.

CM Punk vs. Brodus Clay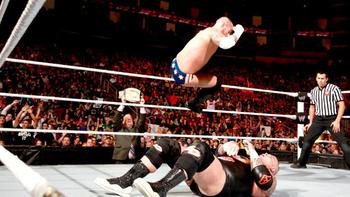 via WWE.com
Segment 6
We hear a lot about how great a manager Paul Heyman is. He's guided Brock Lesnar and CM Punk to great success, that much can't be denied. And yet, for unknown reasons, he let his client Punk get booked in a match with the monstrous Brodus Clay.
What were Clay's credentials for this title match? Who has he beaten? What does Punk gain from it? Maybe Drew Rosenhaus is taking on new clients? This is gross mismanagement, Heyman!
Key Quote: "The most important title in the world. Fact. It belongs to me. Fact. For 421 days, no one has beaten me for it. Fact." -CM Punk.

Grade: B. Not much of a match here. They tried to attempt a "big man vs. little man" match, but eventually just gave up the charade that this was anything but a squash. The promo that followed saved the segment, as Punk continued to draw distinctions between himself and the Rock.
Rock N Sock Connection Reunited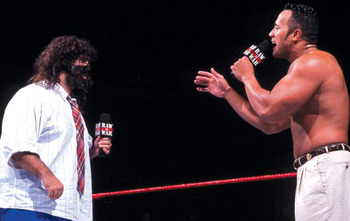 Rock N Sock in the old days. via WWE.com
Segment 7
I can't lie to you, people. As a huge fan during the Attitude Era, it felt pretty good to see the Rock n Sock Connection reunited backstage. Rock congratulated Foley on making the WWE Hall of Fame, but wasn't feeling the love enough to let Foley run through his iconic catchphrases together.
Vickie Guerrero interrupts and tells them to keep the noise down already. Foley is shocked that Rock doesn't tell her where to get off—but he explains there is a time and a place for everything.
Key Quote: "Please. I like doing it by myself." -The Rock to Mick Foley.

Grade: B. These guys just have chemistry. You can try to create it in a writer's room, but often times it's either there or it's not. It's there.
Sheamus vs. 3MB (Over the Top Rope Match)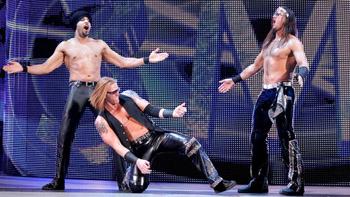 This is what jobbers look like. via WWE.com
Segment 8
In a warmup for the Royal Rumble, Sheamus is forced to take care on all three members of 3MB. On paper, this isn't fair. But, does the paper also tell you 3MB are glorified jobbers? Because that changes things significantly.
Sheamus is eventually eliminated. 3MB must be so proud!
Key Quote: "This match isn't fair?" -JBL
"To Sheamus?" - Jerry Lawler
"No, to 3MB. They need more guys." - JBL

Grade: D. This was awful. JBL referring to 3MB as Spirit Squad with an air guitar is all that saved it from failing.
John Cena Promo/Miz TV with Ric Flair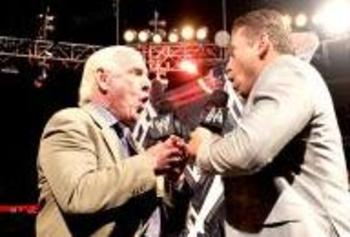 Woo. via WWE.com
Segment 9
Cena isn't interested in discussing his recent past. Instead, he runs down the history of RAW, only stumbling once in a complicated speech his writers put together. It loses some steam when you realize it's not from the heart. He doesn't seem super interested in his cage match with Dolph Ziggler tonight. Okay then.
The Miz brings Ric Flair out for Miz TV. Flair is talking about his biggest moments on Raw, but I'm distracted by my wife's contention that Ric Flair looks like Vice President Joe Biden.
Holy Crap that's true.
Anyway, Miz and Flair get into a "Whoo off" and start doing the Fargo strut around the ring. This is mildly comical, I'll say that. The two watch a package of the big catchphrases over the years.
Eventually Miz gets Flair to bust out his own iconic catchphrase but they are interrupted by some jabroni named Antonio Cesaro talking noise about the good ole US of A. Miz and Flair take him out and Flair passes the figure-four on to young Miz.
The segment closes with Flair taking off his jacket and dropping an elbow on it. YES!
Key Quotes: "Three may be company in Jack Tripper's apartment. But that ring belongs to me." -John Cena.
"Just like America, no matter how great you once were, you have nothing to show for it right now. Except for a bar tab you can't pay. And the only thing this (holds up four fingers) stands for now is your four ex wives." Antonio Cesaro on Ric Flair.
John Cena Grade: B. Cena is good at what he does. Not great here, but rarely less than "good."

Miz TV Grade: A. Great segment here. Miz and Flair were entertaining enough on their own, but them laying the Smackdown on Cesaro took it up a notch. Best thing on the show so far. I really like the way Cesaro ripped into Flair. He's got a nice understated menace to him. Could have a decent future as a heel.
Miz is no Flair. He couldn't even pretend to be. Of course, that's what made the segment so funny. We got a Miz fail, a Cesaro win, and Flair dropping bows on an inanimate object. I don't need much more than that in life.

Daniel Bryan vs. Cody Rhodes/Eve Quits WWE/ AJ Promo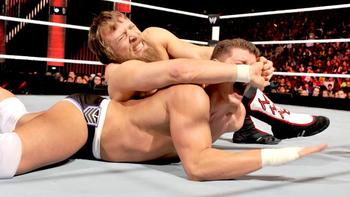 via WWE.com. Bryan is covering the mustache here.
Segment 10
Daniel Bryan submits Cody Rhodes almost immediately. This sure is putting butts in seats to see Team Hell No vs. Rhodes Scholars!
That scintillating 30 seconds is followed up by Eve quitting the company after her loss earlier in the evening. A storyline lawyer is probably preparing a storyline lawsuit as we speak, desperately looking for Trish Stratus vs. Vince McMahon in Nexus-Lexus and not understanding why it isn't showing up.
Finally, AJ calls jilting Daniel Bryan at the altar and becoming the General Manager of Raw the greatest moment of her life. And that darn John Cena took it all away. She seems like a nice girl. I'm going to have to side with her and Dolph Ziggler here.
Key Quote: "It looks like an anorexic caterpillar set up camp under his nose." - Jerry Lawler on Cody's mustache.
Grades: Bryan: D, Eve: D, AJ: C. If you're going to have a squash, make it entertaining. If you're going to quit the company, make it interesting. In short, make whatever you do interesting!
Dolph Ziggler vs. John Cena (Steel Cage Match)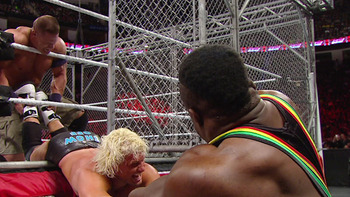 via wwe.com
Segment 11
Jim Ross replaces Michael Cole on commentary and suddenly it sounds like a wrestling show and not amateur night at the improv. I have to confess to hating the WWE style cage match where the guys spend the whole time trying to climb out of the cage.
It only really works if the wrestlers are willing to take hideous, life-transforming bumps. And in the age of CTE and increased science revealing the risks of head injuries, we aren't allowed to love those anymore.
Pretty blase match until Ziggler chokes Cena out, while the WWE ace is climbing the cage to escape. Cena collapses from the choke, but that means bad news for Ziggler as he takes the brunt of a fall to the mat.
Cena has the match won twice, but "Big E" Langston prevents him from escaping the cage. Life needs rules, people! Eventually all sense of decorum breaks down and both "Big E" and AJ hit the cage. Not even that can stop Cena, still manages to pin Ziggler with the F.U.
Key Quote: "This is the John Cena we know and half the universe loves" - Jerry Lawler on Cena as the crowd engages in dueling Cena chants.
Grade: B. If you don't believe either man can win, there's only so much you can enjoy a match.
The Rock Concert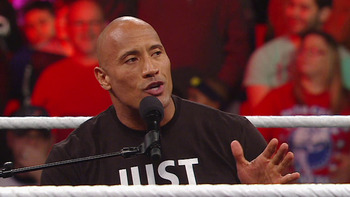 via WWE.com
Segment 12
Finally the moment we've all been waiting for—the Rock concert. After taking down Paul Heyman a peg or two, taking on his ponderous breasts and the "penis he hasn't seen in years," it was Vickie Guerrero's turn to face the music.
After sending her off, screeching of course, the Rock gets down to business, calling out CM Punk. After the Rock says his piece, Punk charges and the two go after it. Four officials weren't enough to break it up. It took a veritable bevy of them to separate the two hot heads.
Key Quotes: "I looked like an escaped mental patient trying to audition for the Backstreet Boys." The Rock on his first appearance on Raw.
"Beyotch, you look horrible tonight." Rock, to Vickie Guerrero in the tune of Eric Clapton's "You Look Wonderful Tonight."
"Fact, that man beside you, your manager, has Twinkie tits." The Rock on Paul Heyman.
"You ain't God. But as God is my witness, in 13 days I will beat you for the WWE title." Rock to CM Punk.
Grade: A. This segment was disappointing until Rock called Punk out. Before that, I was wondering how any of this was leading to a compelling Rumble. Then the heat picked up and I remembered why I was so excited last week—in 13 days, we'll get Punk one on one with the great one. Should be something worth waiting for.

Keep Reading