UFC Rankings: Power Ranking Every Fighter in Every Division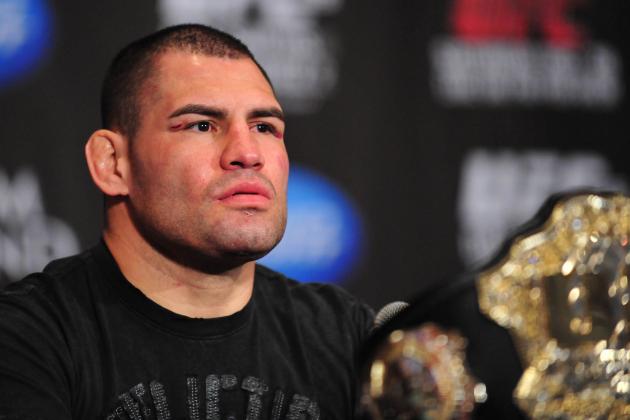 Gary A. Vasquez-USA TODAY Sports

The reliability of MMA rankings has long been debated due to its subjective nature.
However, with the help of math, personal opinions can be removed from ranking systems as much as possible. That is the aim of the following monthly UFC ranking system, which orders fighters in each division based on a formula that heavily weighs results against similar competition.
By removing non-UFC fighters from the equation, many of whom have not proven themselves against elite competition, these rankings eliminate much of the guesswork that goes into personal rankings. That is not to say there are not elite fighters competing outside of the Octagon, but the UFC has become the major league of MMA, and there is no denying that.
Take a look at the complete UFC rankings and leave your opinions in the comment section below. Alterations to the ranking formula will be made based on the response from the Bleacher Report community.
Begin Slideshow

»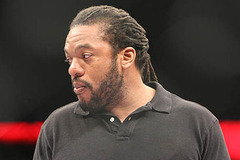 Laron Zaugg/MMAWeekly.com
The following rankings are computerized based primarily on comparing similar competition among fighters. Exhibition bouts are not considered in determining rankings.
All fighters will be ranked in their current division as long as they have competed in that division within the past calender year. However, champions who compete outside the division in which they hold a belt will be ranked in both divisions unless one year has passed since they have defended their title.
Changes will be made to these guidelines at the overwhelming request of Bleacher Report readers.
Note: Rankings for the women's bantamweight division will be included once competition in the class begins.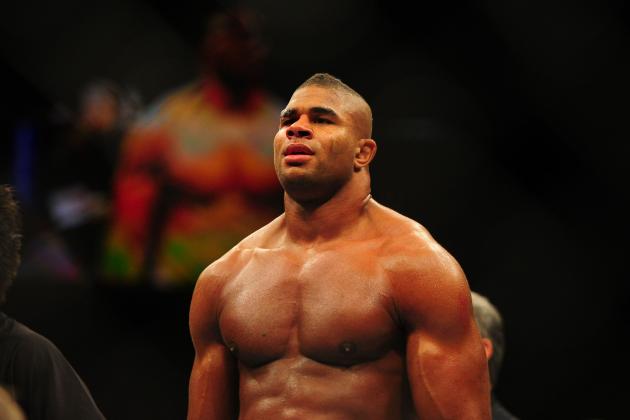 Mark J. Rebilas-USA TODAY Sports

Alistair Overeem has been out of action since beating Brock Lesnar in his UFC debut, but he's finally about to leap back into title contention.
At UFC 156, Overeem will meet Antonio Silva in a bout that could earn him a shot at heavyweight champion Cain Velasquez. Overeem had previously been booked for a title shot against Junior dos Santos, but that fell through when the former Strikeforce champion failed a pre-fight drug test (via MMAJunkie.com).
Silva, meanwhile, recently bounced back from a loss to Velasquez with a first-round stoppage of Travis Browne. An upset win against Overeem would move Silva a step closer to an unlikely rematch with the current heavyweight titleholder.
Heavyweight Rankings
Cain Velasquez
Junior dos Santos
Fabricio Werdum
Roy Nelson
Antonio Rodrigo Nogueira
Antonio Silva
Mark Hunt
Ben Rothwell
Travis Browne
Cheick Kongo
Brendan Schaub
Stefan Struve
Shawn Jordan
Matt Mitrione
Gabriel Gonzaga
Dave Herman
Mike Russow
Lavar Johnson
Todd Duffee
Stipe Miocic
Pat Barry
Shane del Rosario
Phil De Fries
Christian Morecraft
Cain Velasquez has returned to his spot atop the heavyweight class after a dominant performance in a rematch with Junior dos Santos. A rubber match is inevitable, but Dos Santos will likely have to earn his way back to a championship bout first.
After a surprising release from the UFC in 2010, Todd Duffee recently returned to the Octagon and added some much needed depth to the division. A win over Phil De Fries was a good start for the physically gifted heavyweight, but Duffee still has some work to do in order to reach the potential many believe he has.
Non-ranked Heavyweights
Shane Carwin
Geronimo dos Santos
Alistair Overeem
Shane Carwin had been expected to return to the cage following a coaching appearance on The Ultimate Fighter. However, another injury forced the former interim champion out of a scheduled bout with opposing coach Roy Nelson and further delayed his return.
Paul Abell-USA TODAY Sports

At UFC 156, Rashad Evans will compete for the first time since losing to former teammate and current rival Jon Jones. Despite speculation that he would make a move to the middleweight division, Evans has opted to stay at 205 pounds for a fight with Antonio Rogerio Nogueira.
Quinton Jackson is also set to fight in the coming month. In the last fight on his UFC contract, Jackson is hoping to engage in a slugfest with the rising Glover Teixeira. Teixeira battered Kyle Kingsbury and Fabio Maldonado in his first two Octagon appearances, but he'll be taking a big step up in competition against a motivated Jackson.
Furthermore, Ryan Bader will try to bounce back from a brutal knockout loss to Lyoto Machida when he squares off against MMA veteran Vladimir Matyushenko.
Light Heavyweight Rankings
Jon Jones
Alexander Gustafsson
Rashad Evans
Mauricio Rua
Lyoto Machida
Phil Davis
Ryan Bader
Quinton Jackson
Thiago Silva
Matt Hamill
Glover Teixeira
Ryan Jimmo
Vinny Magalhaes
Jimi Manuwa
James Te Huna
Igor Pokrajac
Kyle Kingsbury
Brandon Vera
Anthony Perosh
Cody Donovan
Cyrille Diabate
Fabio M

aldonado

Roger Hollett

Joey Beltran

Wagner Prado

Chad Griggs

Nick Penner
In late 2012, Alexander Gustafsson emerged as one of the UFC's top light heavyweight contenders. However, with Jones on the shelf until his April title fight with Chael Sonnen, Gustafsson will likely compete again before getting a title shot.
Joey Beltran picked up a big win over Igor Pokrajac in his second UFC bout at light heavyweight. However, that victory will likely be stripped from him after news broke that he failed a pre-fight drug test (via MMAWeekly.com).
Non-Ranked Light Heavyweights
Ildemar Alcantara
Dan Henderson
Vladimir Matyushenko
Eddie Mendez
Antonio Rogerio Nogueira
Ednaldo Oliveira
Wanderlei Silva
Chael Sonnen
Krzysztof Soszynski
Brian Stann
Coming off of long layoffs, Nogueira and Matyushenko are set to return to the Octagon in the coming month. In respective fights with Evans and Bader, neither fighter will be welcomed back to competition warmly.
Previously ranked in the middleweight division, Wanderlei Silva and Brian Stann are expected to fight one another at light heavyweight at UFC on Fuel TV 8. The future is uncertain for Silva, but Stann has said he'll return to middleweight following the bout.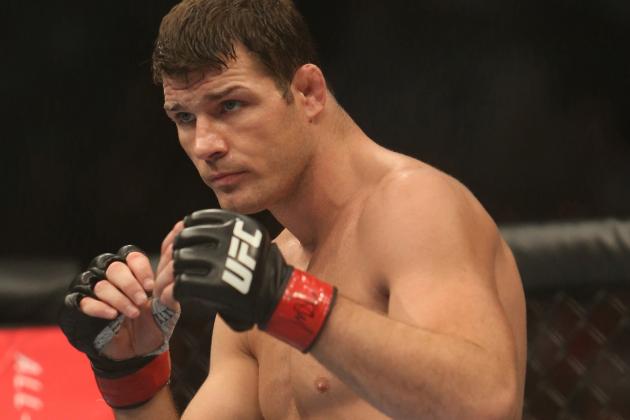 Tom Szczerbowski-USA TODAY Sports

Michael Bisping is one fight away from finally becoming the middleweight division's top contender. With a win over Vitor Belfort in the UFC on FX 7 main event, Bisping would earn himself a shot at long-time middleweight champion Anderson Silva.
The same prize is not at stake for Belfort, who has already been knocked out by Silva. However, a win over Bisping would put Belfort's name back in the conversation regarding the best fighters in the 185-pound division.
On the same fight card, The Ultimate Fighter: Brazil standout Daniel Sarafian will make his official UFC debut against C.B. Dollaway.
Middleweight Rankings
Anderson Silva
Chris Weidman
Vitor Belfort
Michael Bisping
Costa Philippou
Tim Boetsch
Hector Lombard
Yushin Okami
Mark Munoz
Alan Belcher
Jake Shields
Cung Le
Derek Brunson
Chris Leben
Rich Franklin
Nick Ring
Rousimar Palhares
Riki Fukuda
Brad Tavares
Tom Watson
Ed Herman
Andrew Craig
Rafa

el Natal

Michael Kuiper

Jared Hamman

CB Dollaway

Francis Carmont

Tom Lawlor

Ronny Markes

Chris Camozzi

Clifford Starks

Buddy Roberts

Alessio Sakara

Karlos Vemola

Jason MacDonald

Cezar Ferreira

Thiago Perpetuo

Caio Magalhaes

Magnus Cedenblad
At UFC 155, two blossoming middleweight contenders were thwarted.
Yushin Okami used his wrestling to break the long winning streak of Alan Belcher in a rematch. Also, Tim Boetsch's improbable run at a 185-pound title fight finally hit a road block in the form of Costa Philippou, who himself broke through and became a contender with the win.
Non-Ranked Middleweights
Tim Credeur
Josh Janousek
Stanislav Nedkov
Daniel Sarafian
Stanislav Nedkov opted to move to the middleweight division after a rough outing against Thiago Silva. The Bulgarian is set to make his 185-pound debut against Tom Watson at UFC on Fuel TV 7 in February.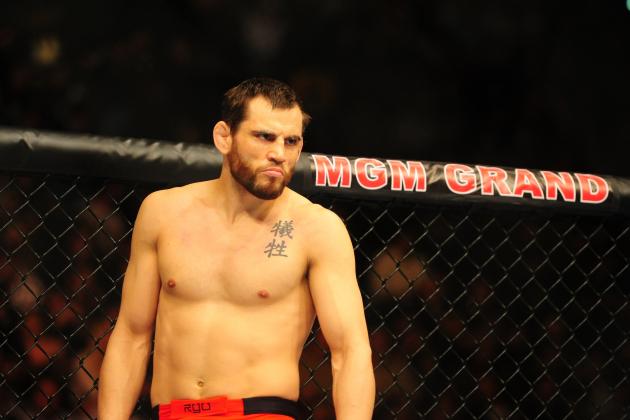 Mark J. Rebilas-USA TODAY Sports

With his most recent win over Erick Silva, Jon Fitch is back in the hunt for a welterweight title shot. A win over Demian Maia at UFC 156 would go a long way toward Fitch gaining ground on the 170-pound fighters who have surpassed him since his knockout loss to Johny Hendricks.
Maia will also be looking to make a statement in the upcoming matchup after winning his first two welterweight fights in the first round. The former middleweight contender is one of the best grapplers in the world, so he has the uncommon ability to challenge Fitch on the ground.
Also, former Strikeforce fighter Tyron Woodley has been booked for his first Octagon appearance, which will come against Jay Hieron at UFC 156.
Welterweight Rankings
Georges St-Pierre
Carlos Condit
Nick Diaz
Rory MacDonald
Johny Hendricks
J

osh Koscheck

Mike Pierce

Demian Maia

Jon Fitch

B.J. Penn

Martin Kampmann

Jake Ellenberger

Rick Story

Thiago Alves

Erick Silva

Kyle Noke

Siyar Bahadurzada

Dong Hyun Kim

Jay Hieron

Mike Pyle

Sean Pierson

Seth Baczynski

Lance Benoist

John Hathaway

Matt Riddle

John Maguire

Justin Edwards

Matt Brown

Paulo Thiago

Dan Hardy

Josh Neer

Che Mills

James Head

Brian Ebersole

TJ Waldburger

Duane Ludwig

Mike Swick

Amir Sadollah

Stephen Thompson

Gunnar Nelson

Simeon Thoreson

Dan Miller

Aaron Simpson

Pascal Krauss

Colton Smith

Robert Whittaker

Ben Alloway

Sergio Moraes

Marcelo Guimaraes

Chris Clements

Keith Wisniewski

Yoshihiro Akiyama

Kenny Robertson

Brock Jardine

Nick Catone

Besam Yousef

Papy Abedi

Mike Ricci

Brad Scott

Manuel Rodriguez
Following Georges St-Pierre's win over Carlos Condit, Nick Diaz was named the next opponent for the welterweight champion. Though he's coming off of a loss and suspension, Diaz has gotten under St-Pierre's skin, which led the Canadian to ask the UFC brass for the matchup.
Considered the deserving top contender by many, Johny Hendricks will now have to defend his position on the welterweight ladder in a fight against Jake Ellenberger on the same fight card that will see St-Pierre battle Diaz.
Non-Ranked Welterweights
Patrick Cote
Robbie Lawler
Hyun Gyu Lim
Neil Magny
Jon Manley
Court McGee
Jordan Mein
David Mitchell
Claude Patrick
Mike Stumpf
Bobby Voelker
Tyron Woodley
Court McGee and Patrick Cote have opted to make the cut from middleweight to welterweight in an effort to boost their careers to the next level. McGee will meet Josh Neer in February, while Cote will welcome Bobby Voelker to the Octagon in March.
In addition to Voelker, fellow Strikeforce veterans Woodley, Robbie Lawler and Jordan Mein are all expected to compete for the UFC soon.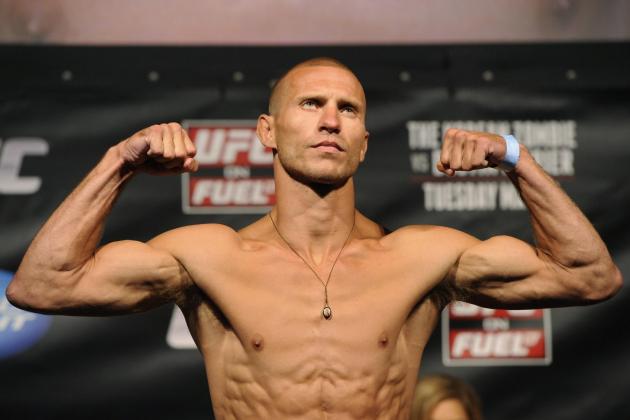 Rafael Suanes-USA TODAY Sports

Donald Cerrone and Anthony Pettis could be fighting for a lightweight title shot next month.
However, if the winner is named the next top contender, they will likely have to sit out a few extra months, as champion Benson Henderson is booked to fight Strikeforce champion Gilbert Melendez in April.
With rising lightweights Matt Wiman and T.J. Grant also set to fight each other soon, the 155-pound title picture is beginning to become cloudy once again.
Lightweight Rankings
Benson Henderson
Gray Maynard
Nate Diaz
Anthony Pettis
Donald Cerrone
Jim Miller
Joe Lauzon
Matt Wiman
Jamie Varner
Melvin Guillard
Paul Sass
Myles Jury
Takanori Gomi
Mac Danzig
Jacob Volkmann
Fabricio Camoes
Khabib Nurmagomedov
TJ Grant
Michael Johnson
Gleison Tibau
Rafael dos Anjos
Edson Barboza
Ross Pearso

n

Evan Dunham

Tony Ferguson

Danny Castillo

Anthony Njokuani

Mark Bocek

Terry Etim

George Sotiropoulos

John Makdessi

Thiago Tavares

Sam Stout

Yves Edwards

Jeremy Stephens

Ramsey Nijem

Tim Means

Jon Tuck

Rustam Khabilov

Francisco Trinald

o

Joe Proctor

Tiequan Zhang

Abel Trujillo

Daron Cruickshank

John Cholish

Cristiano Marcello

Reza Madadi

Justin Salas

Rafaello Oliveir

a

Mike Chiesa

Mike Rio

Norman Parke

Mike Wilkinson

Marcus LeVesseur

Henry Martine

z

Anton Kuivanen

Mitch Clarke

CJ Keith

Colin Fletcher

Brendan Loughnane

John Cofer

Al Iaquinta

Vinc Pichel

Jeremy Larsen
The UFC's 2012 schedule closed with a number of important lightweight bouts.
Jim Miller bounced back from a loss to Nate Diaz to beat Joe Lauzon and return to title contention. At the same event, Jamie Varner proved he's still a top lightweight by beating Melvin Guillard in a closely contested bout.
In one of the bigger surprises in the lightweight division during 2012, Myles Jury brought Michael Johnson's three fight winning streak to an end, showing he might be much more talented than he showed while appearing on The Ultimate Fighter.
Non-Ranked Lightweights
Caros Fodor
Renee Forte
Bobby Green
Mizuto Hirota
Lucas Martins
Aaron Riley
Diego Sanchez
Paul Taylor
Kazuki Tokudome
Isaac Vallie-Flagg
James Vick
After three years at 170 pounds, Diego Sanchez's highly anticipated return to the lightweight division is set. In March, Sanchez will meet Takanori Gomi in a matchup that could catapult the former top lightweight contender back into the mix for a title shot at 155 pounds.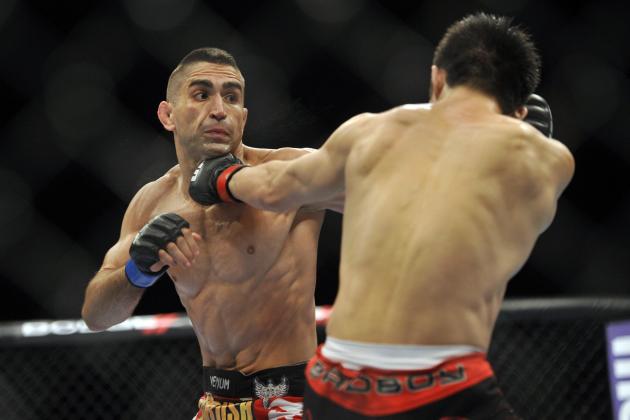 Joe Camporeale-USA TODAY Sports

Ricardo Lamas is coming off of a win over Hatsu Hioki and is now booked to compete against Erik Koch, who had been pegged as the top featherweight contender in 2012 before he lost his position due to injury.
Since 145-pound titleholder Jose Aldo is set to defend his title against former lightweight champion Frankie Edgar very soon, the winner of the bout between Lamas and Koch could set themselves up as the next challenger in the featherweight division.
The coming month will also see another former 155-pound fighter, Nik Lentz, attempt to take a step closer to the top of the featherweight class in a fight against Diego Nunes.
Featherweight Rankings
Jose Aldo
Chad Mendes
Chan Sung Jung
Dennis Siver
Ricardo Lamas
Dustin Poirier
Cub Swanson
Rani Yahya
Diego Nunes
Hatsu Hioki
Hacran Dias
Bart Palaszewski
Nik Lentz
Manny Gamburyan
Felipe Arantes
Milton Vieira
Marcus Brimage
Maximo Blanco
Darren Elkins
Antonio Carvalho
Rodrigo Damm
Jimy Hettes
Mike Brown
Diego Brandao
Steven Siler
Daniel Pineda
Nam Phan
Cole Miller
Matt Grice
Max Holloway
Leonard Garcia
Robert Peralta
Charles Oliveira
Dennis Bermudez
Jason Young
Pablo Garza
Jonathan Brookins
Eddie Yagin
Rony Jason
Sam Sicilia
Justin Lawrence
Akira Corassani
Andy Ogle
Josh Grispi
Joey Gambino
Cody McKenzie
Yaotzin Meza
Godofredo Castro
Chad Mendes and Dustin Poirier finished 2012 with stoppages in their respective fights with Yaotzin Meza and Jonathan Brookins. Though those wins didn't move either featherweight contender forward, they padded their records and put them in position to take more meaningful fights in 2013.
Non-Ranked Featherweights
Stephen Bass
Josh Clopton
Frankie Edgar
Clay Guida
Erik Koch
Dustin Neace
Two of the best lightweights in the world over recent years, Edgar and Clay Guida, will jump right into the featherweight title scene after dropping to 145 pounds. Edgar has been given an immediate title shot against Aldo, while Guida has a chance to quickly emerge as one of the division's top contenders in a bout against Hatsu Hioki.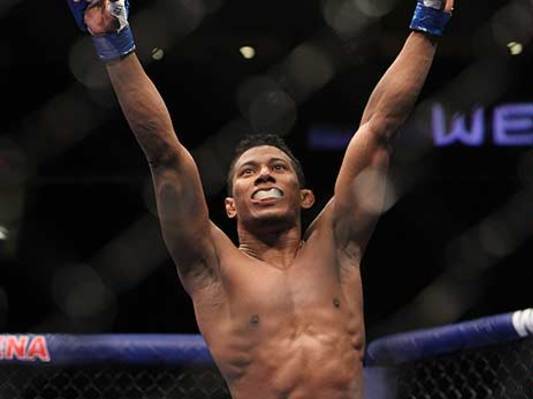 Scott Peterson/MMAWeekly.com
Yuri Alcantara had a lot of success in the featherweight division, but a recent loss to UFC newcomer Hacran Dias led him to decide to try out the bantamweight class. At UFC on FX 7, he'll make his 135-pound debut against Pedro Nobre.
If Alcantara can cut the weight properly, he could quickly become a solid addition to a weight class that has lost some of its most talented fighters to the newly created flyweight division.
Another recent addition to the UFC's bantamweight division, Chico Camus is set to compete again within the next month. Camus will welcome Dustin Kimura to the Octagon on the preliminary card at UFC 156.
Bantamweight Rankings
Renan Barao
Urijah Faber
Eddie Wineland
Brad Pickett
Michael McDonald
Raphael Assuncao
Scott Jorgensen
Erik Perez
Mike Easton
Johnny Eduardo
Bryan Caraway
Ivan Menjivar
Hugo Viana
Mitch Gagnon
TJ Dillashaw
Yves Jabouin
Vaughan Lee
Edwin Figueroa
Alex Caceres
Motonobu Tezuka
Takeya Mizugaki
Reuben Duran
John Albert
Chico Camus
Ken Stone
Dustin Pague
Roland Delorme
Issei Tamura
Johnny Bedford
Francisco Rivera
Norifumi Yamamoto
Jeff Hougland
Byron Bloodworth
Marcos Vinicius
Azamat Gashimov
With back-to-back wins over Scott Jorgensen and Brad Pickett, Eddie Wineland has solidified himself as one of the five best bantamweights in the world. However, a loss to Urijah Faber is preventing him from making an accelerated run at a shot at the 135-pound belt.
Erik Perez is one fighter who is accelerating quickly in the bantamweight division. New to the UFC in 2012, Perez has already picked up three wins inside the Octagon and could be getting a shot at an elite 135-pound fighter in 2013.
Non-Ranked Bantamweights
Yuri Alcantara
Brian Bowles
Dominick Cruz
Kyung Ho Kang
Dustin Kimura
Pedro Nobre

George Roop
Two of the bantamweight division's most talented fighters Dominick Cruz and Brian Bowles have been out of action for more than one year.
Cruz had been booked for a rubber match with Faber this past summer, but a knee injury has put him on the shelf for awhile, and an interim title held by Renan Barao has been created in his absence.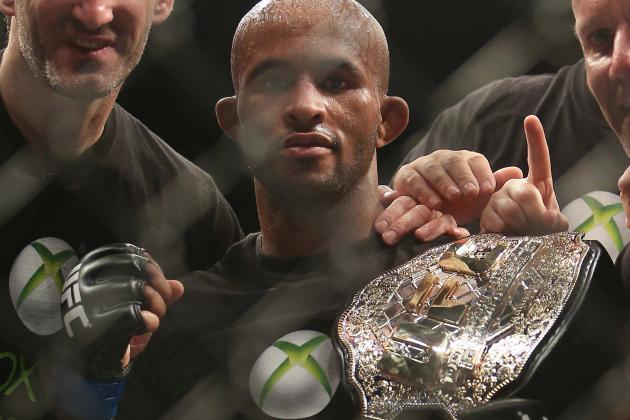 Tom Szczerbowski-USA TODAY Sports

Over the next month, the four best UFC flyweights will all step into the Octagon.
Champion Demetrious Johnson will defend his belt against The Ultimate Fighter winner John Dodson at UFC on Fox 6, and Joseph Benavidez will try to earn a rematch with Johnson by beating Ian McCall on the UFC 156 main card.
For a division that is still developing with only 15 competitors, the flyweight class has become one of the most active and entertaining divisions to follow.
Flyweight Rankings
Demetrious Johnson
Joseph Benavidez
John Dodson
Ian

McCall

Louis Gaudinot

John Lineker

John Moraga

Darren Uyenoyama

Tim Elliott

Yasuhiro Urushitani

Jussier Formiga

Chris Cariaso

Phil Harris

Ulysses Gomez

Jared Papazian
While Benavidez and McCall have a good chance at earning a title shot with their bout against one another in February, John Moraga is quickly working his way toward being one of the next fighters in line for a shot at the flyweight belt.
In 2012, Moraga introduced himself to UFC fans by knocking out Ulysses Gomez and submitting UFC veteran Chris Cariaso.