Louisville Rallies in Second Half to Top UConn 73-58 in Big East Action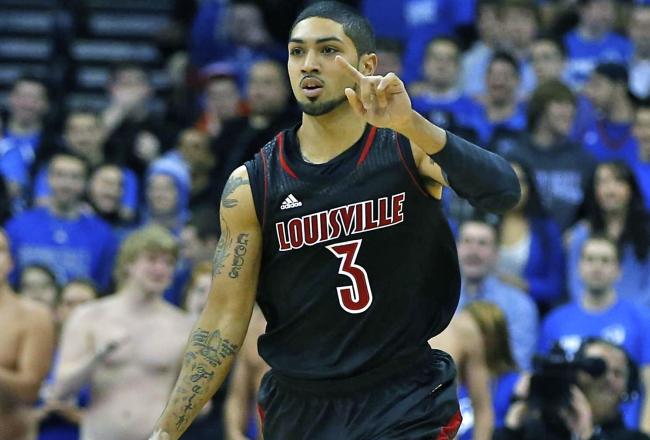 The No. 1 Louisville Cardinals (16-1, 4-0 Big East) overcame a tough first half to top the UConn Huskies 73-58 Monday night in Hartford.
The Huskies came out of the gate strong, leading by as much as 10 in the first half, and carried a six point lead into the half.
But Louisville came out in the second half with a new gameplan, built around the press, which forced UConn into several costly turnovers.
These allowed Louisville to cap a 45-24 surge which turned a once close game into a blowout.
The Cardinals were led by guard Russ Smith who had 23 points, and forward Gorgui Dieng who had six points and a career-best 16 rebounds.
The Huskies (12-4, 2-2 Big East) were led by freshman Omar Calhoun who had 20 points including 3-4 shooting from behind the arc.
Well folks that'll do it for us tonight. A big come from behind win for Louisville which will solidify their standing as the No. 1 team in the nation heading into a big showdown with No. 6 Syracuse on Saturday.
For Kevin Ollie's Huskies it's back on the drawing board, but the time to sulk is short, as they will face another stern test on Saturday at Pitt.
As always keep checking in with us here at Bleacher Report for the latest on the Big East and all things college basketball!
Bilas: "I think Louisville is the best team, but the margin is paper thin."

— Eric Crawford (@ericcrawford) January 15, 2013
I'd buy that...
Sorry tweeps,thought UConns guards would attack better and keep it tight #URNWA

— Doug Gottlieb (@GottliebShow) January 15, 2013
They did in the first half...shame it didn't end there.
MBB: No.1 #Louisville rallies from down 10 points for the 4th time this season (12/15 Memphis(16), 12/1 IllSt(13), 1/2 Providence(10). #L1C4

— Louisville Athletics (@UofLsports) January 15, 2013
Seems like you don't wanna go up by double-digits against this team...
A tough loss for the young Huskies. A strong first-half, followed by as bad a second as you could ask for doomed them tonight.
Too many turnovers, too sloppy and passive to beat the No. 1 team in the nation.
But give credit to the Cardinals. They were bigger, faster, more physical and dominated in the paint. It's not often that a UConn team gets beat down-low but this team is built different than years past.
You just can't win when you let Gorgui Dieng grab 16 boards. Not with a team as good as Louisville.
Russ Smith was downright unstoppable for the Cardinals and led the team with 23 points. He showed why he's one of the nation's best and why he's well ahead of UConn's combo of Ryan Boatright and Shabazz Napier.
Boatright and Napier combined to shoot 9-24 from the field and just 24 points. By contrast Omar Calhoun had 20 himself in his most impressive performance to date.
While it's a let-down after beating Notre Dame, there is still no shame in getting beat by the best team in the nation. It shows some things the Huskies need to work on and will give Kevin Ollie plenty of sleepless nights.
FINAL: Louisville 73, UConn 58
Behanan with a garbage time, and unnecessary dunk with seven seconds left, followed by a Napier even more garbage time layup. Good thing it was waved off after review.
Great second-half for the Cardinals who showed why they were the better team. UConn will need to learn and grow from this one.
Louisville 71, UConn 56 (13.5 second half)
Boatright nails his first shot in forever, a meaningless three in garbage time.
Louisville 69, UConn 53 (1:00 Second Half)
It comes down to this: Boatright/Napier a combined 7-21 from the field. Dieng for Louisville with a career-best tying 16 boards.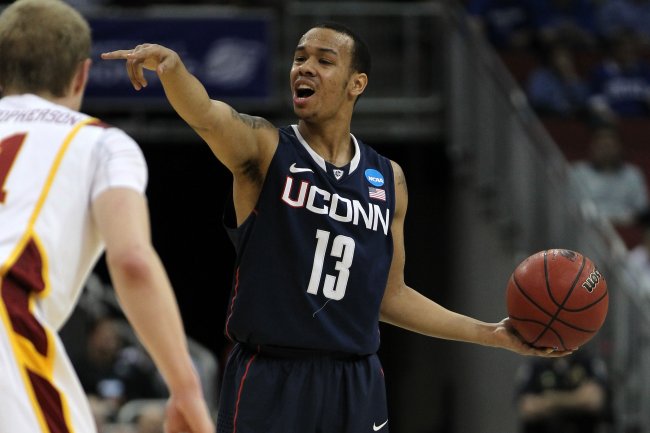 Jonathan Daniel/Getty Images
Louisville 67, UConn 51 (2:27 second half)
Want a telling stat? Napier had 10 points at the half. With just over two minutes left in the game he has 12...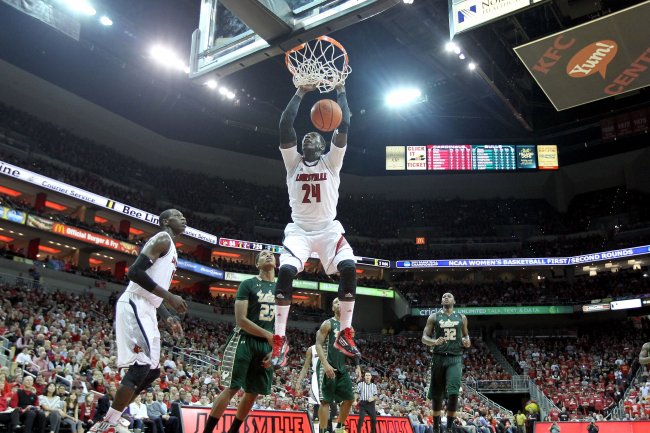 Andy Lyons/Getty Images
Louisville 67, UConn 49 (3:01 Second Half)
The Huskies just can't play at this pace. Boatright and Napier just not on the level of Louisville. The Cardinals outscore the Huskies 39-15 in the second half.
U-4 MT: @uconnmbb 49, UL 64. 3:57 to play. Cards winning the game in the paint, lead rebs (31-21) & pts in paint (38-18) #UConn #BleedBlue

— UConn Huskies (@UConnHuskies) January 15, 2013
Dieng with 14 boards and Behanan with seven more. Killer flaw for UConn all year.
Louisville 64, UConn 49 (4:10 Second Half)
Just sloppy, undisciplined play by the Huskies in the second half. I understand Louisville is more talented but you need to protect the basketball. You can't beat anyone with these turnovers, much less the best team in the nation.
Louisville 64, Uconn 47 (5:27 Second Half)
Just an amazing second half for Louisville. That's why they're No.1.
32-10 run for the Cards. UConn's backcourt has met its match.

— Kevin Duffy (@KevinRDuffy) January 15, 2013
You could certainly say that...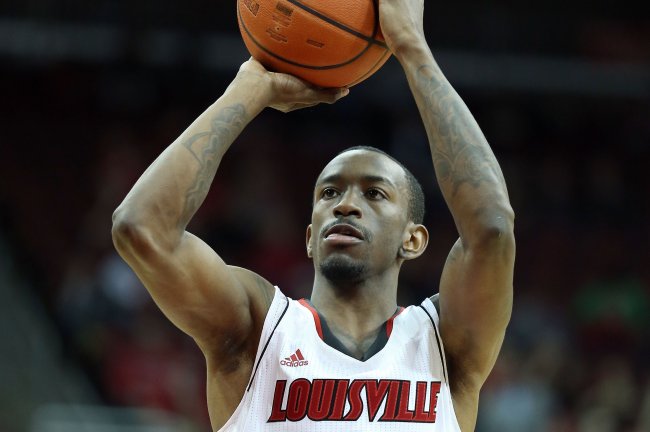 Andy Lyons/Getty Images
Louisville 60, UConn 44 (7:14 Second Half)
This one is getting UGLY. UConn hasn't hit a shot...seemingly in the second half and the Cardinals are shooting a ludicrous 67 percent from the field since the break.
Shabazz Napier has missed his last six shots. Louisville in control, 56-44.

— Kevin Duffy (@KevinRDuffy) January 15, 2013
Worse yet he appears mentally rattled. Not in the game. Bad news if you're a UConn fan.
Louisville 56, UConn 44 (8:00)
Ten straight missed field goals for UConn. All falling apart in Hartford as Lousville is on a 17-3 run. They've outscored the Huskies 24-10 in the second half.
Louisville 52, UConn 44 (8:50)
Siva with a Louisville three so easy it looked like pre-game warmups. They're a much better team with him on the floor. Danger zone for UConn as Louisville has their largest lead of the game.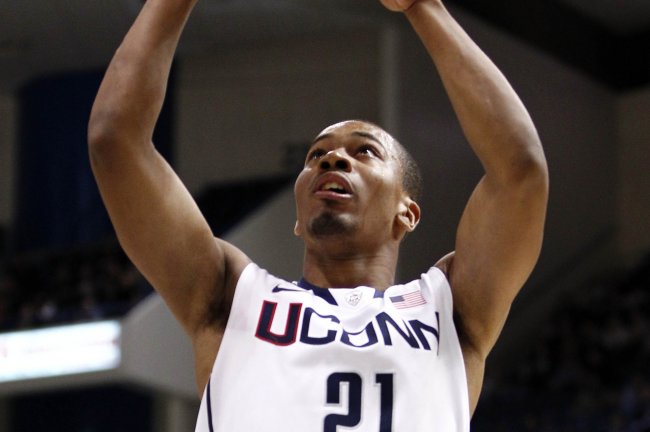 USA TODAY Sports
Louisville 47, UConn 44 (10:07)
Omar Calhoun fouled behind the arc. Nails all three free throws to give UConn some much needed points. HUGE points to break an over five minute drought. Crowd back into it.
Louisville 47, UConn 41 (10:52 Second Half)
Seems like UConn hasn't scored in...forever. Credit Louisville press and second half adjustments.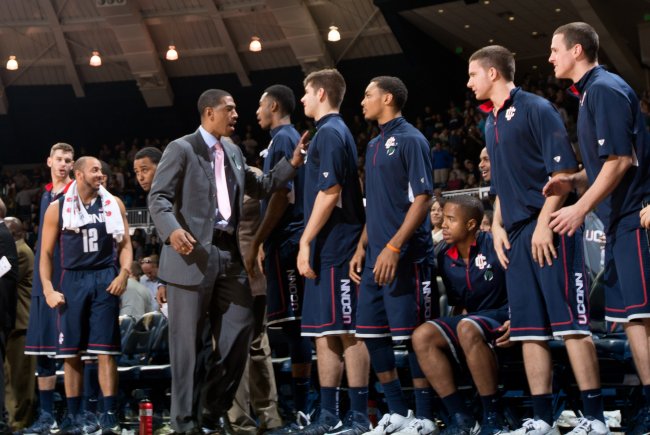 USA TODAY Sports
Louisville 46, UConn 41 (11:53 Second Half)
Just about as bad a second half start as UConn could've possibly put together. Amazing this is only a six point game. Louisville could be blowing the doors off here.
Louisville 47, UConn 41 (12:18 second half)
Dieng absolutely killing the Huskies on the boards. He leads all players with 12 rebounds.
The Cardinals are forcing turnovers, and exploiting UConn's sloppy second half play outscoring them 19-7 thus far.
Louisville 46, UConn 41 (13:08 second half)
Napier with a lazier than necessary lay-up attempt blocked from behind by Blackshear. That kind of half thus far for UConn.
Louisville 46, UConn 41 (14:21 Second Half)
With Siva on the floor for Louisville this is a different game. 18-5 run for the Cardinals and UConn is on the verge here. Gut-check moment.
This article is
What is the duplicate article?
Why is this article offensive?
Where is this article plagiarized from?
Why is this article poorly edited?