5 Things Carmelo Anthony Must Still Do to Become NBA's MVP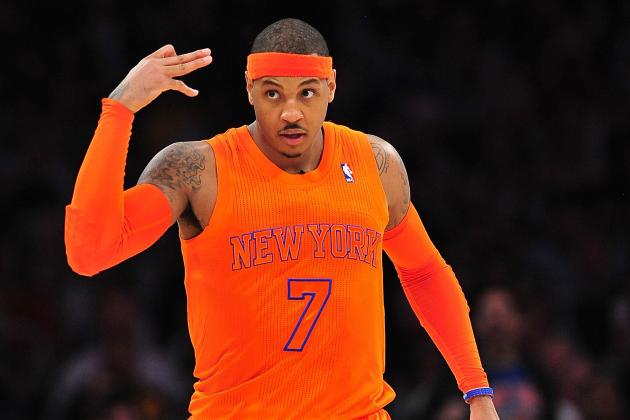 Gary A. Vasquez-USA TODAY Sports

Carmelo Anthony is considered one of the top NBA performers in the game, however, he's got no hardware to show for it.
Okay, he had an All-Rookie first team selection, and he's been selected to the All-NBA team five times. He's a five-time All-Star, and Anthony's even won gold medals with Team USA.
Unfortunately, he's missing two accolades that go a long way in the NBA: a championship ring and an MVP award.
Despite the All-Star forward playing at a high level and putting together dominant season after dominant season, he's yet to be named the NBA's Most Valuable Player.
This season, it's hard to go against giving Carmelo the award, but there are still some things Melo needs to do to lay claim to the title of the NBA's MVP.
Begin Slideshow

»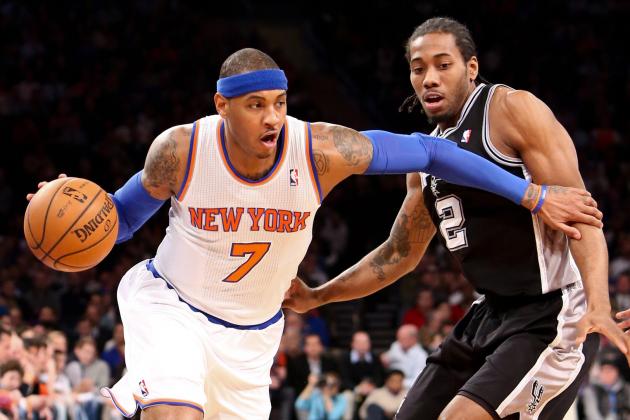 USA TODAY Sports
Carmelo Anthony is scoring at will this season; he's averaging 29.3 points per game.
As the New York Knicks' centerpiece, Carmelo Anthony has to distinguish when his scoring is needed or when his assistance is required. There will be nights when Melo must explode for 30-plus points, but there will also be nights when he's off and needs help.
The Knicks forward is undoubtedly one of the best scorers in the game. He's currently second in the league in scoring with 29.3 points per game—only Los Angeles Laker Kobe Bryant has a higher average with 29.8 points per game.
Anthony has to keep scoring to remain in the running, but he's also got to share the ball some more. He's only averaging 2.4 assists per game, while his competition—Kobe Bryant, Kevin Durant and LeBron James—all average over four assists.
This will be one of Anthony's biggest challenges to claiming the MVP award, especially when you consider that throughout his career he's always been criticized for being too selfish with the ball.
Melo constantly draws the double team.
He has tons of options available when this happens, particularly because he's a good passer. He could kick the ball out to a shooter like J.R. Smith, or he could feed Tyson Chandler under the basket where the center can have his way.
If the Knickerbocker is willing to make this adjustment and refocus on the play-making end, he'll earn some extra nods when voting time comes around.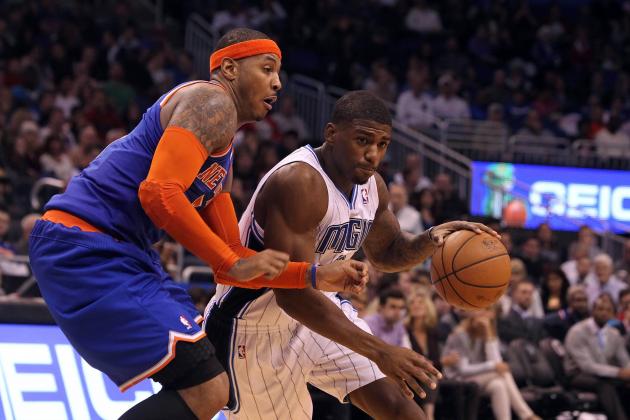 Kim Klement-USA TODAY Sports
Not really known for his defense, Carmelo Anthony has significantly stepped it up.
Throughout his career, Carmelo Anthony has been known as a one-dimensional player—an offensive threat and nothing more. However, under the defensive guidance of Coach Mike Woodson, Carmelo has committed himself to playing on both sides of the ball.
This season, we've seen Carmelo Anthony running up and down the court like never before. Not only that, but he's hustling a lot more to get back on defense or gain an extra possession. You may recall seeing him jump in to the stands a few times in the earlier part of this season.
He's become one of those well-rounded and complete NBA athletes, and a lot of people are noticing. If Anthony is playing defense, the team will play defense because they see that Melo understands everyone needs to buy into this defensive mind state.
This is an excerpt from the Marc J. Spears article on November 21.
[Spike] Lee thinks Anthony's improved defense is because of the time Anthony spent playing with Kobe Bryant and LeBron James at the London Olympics this past summer. Knicks guard J.R. Smith, who also played with Anthony in Denver, believes it's because Anthony is just tired of losing in the playoffs. Anthony credits Knicks coach Mike Woodson for bringing a more disciplined mindset to the team since he replaced Mike D'Antoni in March.
The Knicks' forward has to remain consistent on the defensive side, and that would be a step in the direction of the MVP title.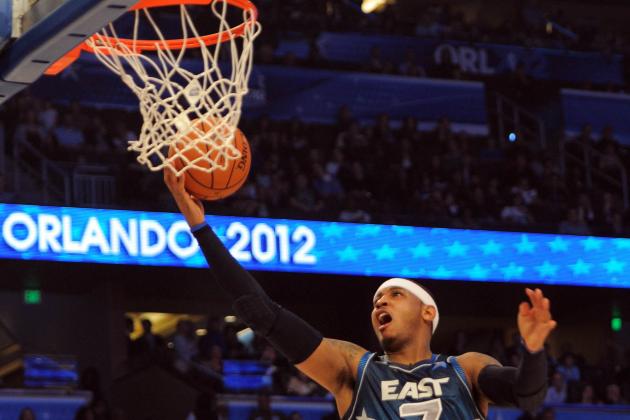 Bob Donnan-USA TODAY Sports
Carmelo is going to need the voters to get him to the All-Star game to be on the way to an MVP award.
If Carmelo Anthony can be named to the All-Star team this year, he'll be in good shape to claiming the MVP award.
There's nothing like the NBA's Most Valuable Player award going to an NBA All-Star.
While the final results will be announced on January 17, Carmelo Anthony has the fourth most votes among all players as of right now. He's also among the top-three vote-getters in the Eastern Conference front court along with LeBron James and—this should be interesting—Kevin Garnett.
Carmelo has a stockpile of All-Star team accolades—he's a five-time NBA All-Star—however, an appearance in the 2013 All-Star Game would raise awareness and help his campaign.
And if we know Carmelo well enough, he'll have a great game!
In last year's outing, Melo went 7-15 from the field for 19 points to go with his nine rebounds, but if he can come closer to his performance in 2009 when he scored 27 points and grabbed 10 rebounds in 29 minutes, he'll gain some votes from those sportswriters of the Houston faithful .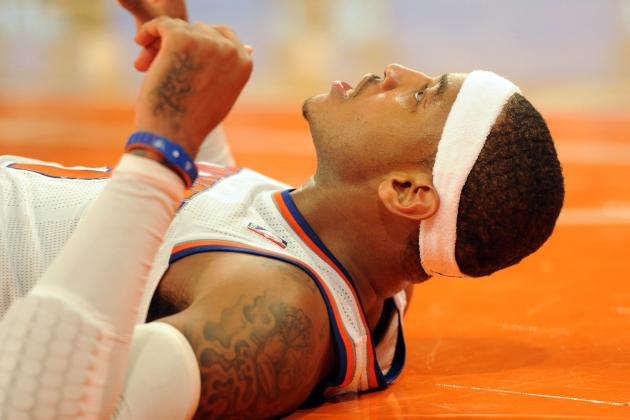 Joe Camporeale-USA TODAY Sports
You may recall Anthony diving into the stands on a few occasions in the beginning of the season. He can't risk injuries if he wants to be named MVP this year.
In order for Anthony to remain in contention for the NBA MVP award, he's got to stay healthy. The last thing the Knicks need is for Carmelo Anthony to be out for an extended period of time.
He's missed seven games thus far because of injuries, and if this keeps up, it's going to hurt his attempt at winning. He's hurt his ankle, hand and knee this season, and all of those injuries could come back and bite Melo in the rear in the long run if not nursed properly.
Over the course of his career, Carmelo has had three seasons, not including last year's shortened one, where he hasn't reached 70 games played, and this is a cause for concern, especially when you consider what No. 7 is enduring for the sake of winning this time around.
He's playing in 37.2 minutes per game, and over the course of a full NBA season, this can take a toll on the human body, especially the way Carmelo plays—a game that requires a lively pop from the legs.
If Anthony can remain healthy enough to play in at least 70 games, he'll be able to build up his statistics and image to win the MVP.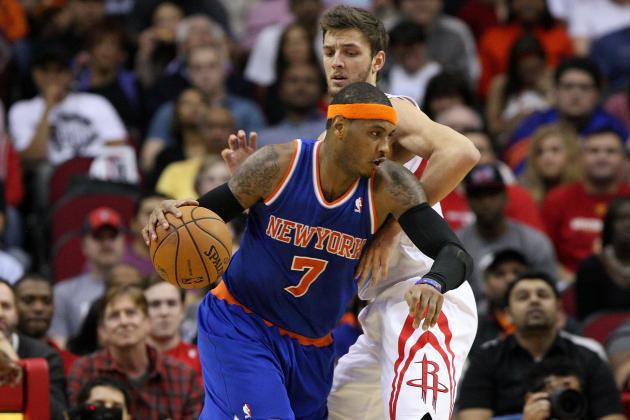 Troy Taormina-USA TODAY Sports
Carmelo is the Knicks' leader, so he's got to lead them to the NBA Finals to be considered for the MVP award.
Although Amar'e Stoudemire said it's championship or bust for the New York Knicks, Carmelo Anthony can still win the MVP award by just getting his team to the NBA Finals.
Anthony received a ton of praise just by ending the Knicks' drought of winless playoff appearances last season, so a run at the title could help his chances here.
The last time the New York Knicks made it to the NBA Finals, Bill Clinton was still in office and gas was under two dollars a gallon—that was in 1999, and the Knicks squared of against the San Antonio Spurs. This could very well be a matchup we see this year, but only time will tell.
While winning an NBA title almost guarantees Melo the MVP, a Finals' run could be just as rewarding—that is in terms of the MVP race.