5 Reasons the 2013 Stanley Cup Is a Lock for the NY Rangers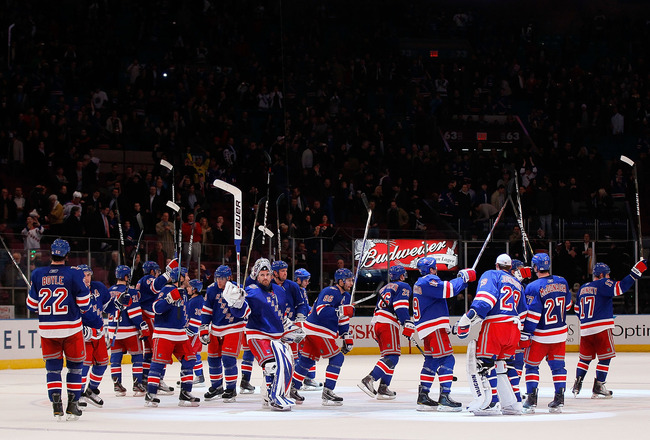 Mike Stobe/Getty Images
The New York Rangers are one of the preseason favorites for the 2013 Stanley Cup, but that's selling them a bit short. In fact, they are a lock for the Cup.
How can I make such a bold claim? The season hasn't even started yet!
Taking a deeper look at the team reveals, in reality, how good they are and that they are primed for a Cup run.
Here are five reasons why this Rangers team is a lock for the Cup.
Brad Richards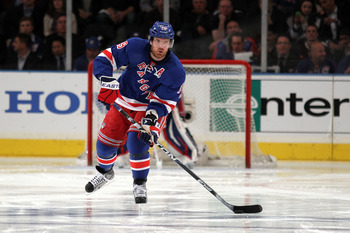 Bruce Bennett/Getty Images
Brad Richards was the big-ticket signing a year ago and he delivered in his first season on Broadway. Richards scored 25 goals and had 41 assists.
But he's capable of doing much more, as evidenced by his 91-point campaign in 2005-06. While it was a good season, last year was not his best.
The 2013 campaign should be better. For one, he'll be adjusted to the New York lifestyle and the pressures of playing for the Rangers.
For another, he'll be playing alongside Rick Nash, giving him an elite winger to finish his passes.
Playing with Nash and Marian Gaborik will mean that defenses will focus on stopping those wingers, which will open up more opportunities for Richards to score.
Richards is in for a huge year and will help lead the Rangers to a Stanley Cup.
Defense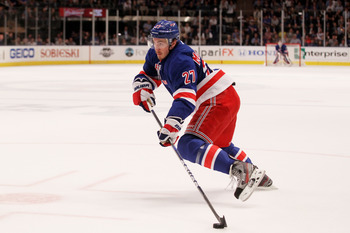 Ryan McDonagh
Bruce Bennett/Getty Images
The Rangers have one of the youngest defenses in hockey. Normally, that's a problem, but not for the Blueshirts. They may be young, but they're really, really good.
Led by Ryan McDonagh, who is an emerging superstar, this defense was fifth in the league in goals allowed and were a total of plus-32 last season.
To illustrate the power and depth of this defense, consider this: Marc Staal is an All-Star and one of the best defensemen in hockey. He plays on the second pair.
Dan Girardi is a shot-blocking, gritty player who will do anything to sacrifice for the team. Newly re-signed Michael Del Zotto is an offensive force who excels on breakout passes and is improving in his own end.
Anton Stralman provided solid play last year, and the combo of Steve Eminger and Stu Bickel is competent on the third pair.
Yes, they're young, but this mostly homegrown crew has completely bought into the mindset and philosophy of this Rangers team: Whatever it takes. If that means laying down in front of a Shea Weber slapshot, so be it. If it means banging in the corner, playing with injuries, so be it. They are workhorses.
Defense is critical in a Stanley Cup run and the Rangers have the best combination of youth and skill on the blueline. They'll be able to withstand the rigors of the playoffs, all while playing top-notch hockey.
There were fantastic in last year's run to the Eastern Conference Finals and that experience will benefit them greatly as they look to advance to the Cup Finals and beyond.
Rick Nash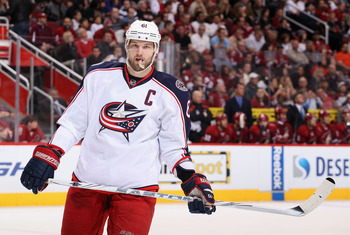 Christian Petersen/Getty Images
Months of flirting are over and the deal was finally consummated, as the Rangers acquired Rick Nash from the Columbus Blue Jackets for Brandon Dubinsky, Artem Anisimov, Tim Erixon and draft picks.
A deal for Nash was rumored at the trade deadline last year, but never materialized. The theory was that Nash was the missing piece, the elite scorer who could provide offense at critical moments.
The Rangers' offense didn't exactly sputter in the playoffs, but they were never able to score at the right time and were never able to capitalize on a multitude of glorious chances.
Well, enter Nash, an elite scorer who can capitalize on those glorious chances. Playing for an awful Columbus team last year, Nash still put up big numbers. He scored 30 goals and added 29 assists.
Many have thought that Nash would really hit his stride when playing with elite talent. That idea does have merit. Nash has excelled with Team Canada in international play, scoring 26 goals and adding 27 assists in only 54 games.
Now, Nash will team up with Brad Richards, one of the very best centers in hockey. Richards will be able to dish the biscuit to Nash and he'll have plenty of opportunities to finish.
The teams that have won the Cup in recent years have had multiple offensive stars. The Los Angeles Kings had Anze Kopitar, Mike Richards, Jeff Carter and Dustin Brown. The Boston Bruins had Milan Lucic, Patrice Bergeron and Brad Marchand. The Chicago Blackhawks had Patrick Kane, Marian Hossa and Jonathan Toews.
The Rangers can finally match that. In addition to Nash and Richards, they have Marian Gaborik, Ryan Callahan, Derek Stepan and more.
This is a team primed for greatness and Nash really is the missing piece. If he delivers as expected, then the team will go a long way.
Penalty Kill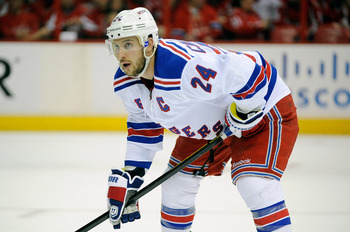 Greg Fiume/Getty Images
A great hockey team needs a great penalty kill. Penalties will be taken and you need to kill them off. A power-play goal can provide an incredible amount of momentum for the opposing team. Killing them off can provide an equal amount of momentum.
Luckily for the Rangers, they have an excellent penalty kill. Last season they had the fifth-ranked penalty kill, killing off 86.2 percent of all penalties.
Led by Ryan Callahan, this team has a multitude of penalty killing options. Whether it's Brian Boyle, Derek Stepan, Rick Nash, Taylor Pyatt, Jeff Halpern or Arron Asham, the Rangers can roll out players to kill off the man advantage.
While the team did lose key penalty killers in Brandon Prust and Ruslan Fedetenko, the additions of Pyatt and Halpern more than makes up for that.
And of course, as they say, the best penalty killer is a great goaltender, and the Rangers certainly have that.
They won't be perfect, but they'll come pretty close and kill off most of the penalties that come their way.
Henrik Lundqvist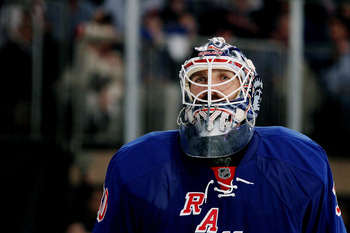 Bruce Bennett/Getty Images
And here we are, perhaps the best and most convincing reason for the Rangers' Cup hopes. His name is Henrik Lundqvist. And last we checked, he's a pretty good goaltender.
Lundqvist was remarkable last season, posting a 39-18-5 record, a 1.97 goals against average and a .930 save percentage.
Those numbers earned him his first Vezina Trophy as the best goalie in hockey.
That will serve him well in the postseason. Most teams win a Cup because they have a dominant goalie. In fact, you need a dominant goaltender to advance in the playoffs and win a championship.
Lundqvist is dominant and as he goes, so go the Rangers. He's capable of backstopping them all the way to the promise land.
He's the best goalie in hockey and is still very much in his prime. He'll be just as good this year and will be the reason why the Rangers will win the Stanley Cup.
Keep Reading

New York Rangers: Like this team?