50 Things You Need to Know About 2013 NHL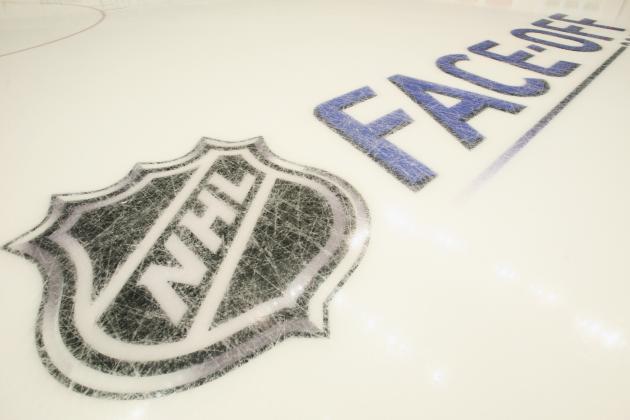 Bruce Bennett/Getty Images

The NHL is back. The season gets under way this weekend and for hockey fans, it couldn't come soon enough. Fans also have plenty of questions, so here are 50 things you need to know about the upcoming 2013 NHL season.
Because of the lockout, some of these items are league-wide and some are team specific, but after reading this slideshow, you will have a better idea of what to expect in this 48 game race to the NHL playoffs.
Begin Slideshow

»
Doug Pensinger/Getty Images

Matt Duchene was the third overall pick in the 2009 NHL Draft and many scouts had him rated as the best player available in that draft.
While Duchene has played well at times, he has yet to become the elite player he was projected to be.
Last year, the Haliburton, Ontario, native was limited to 58 games by injury and scored just 14 goals and 28 points.
Look for Duchene to take his game to the next level this year. He will turn 22 this month and is now physically mature, healthy and ready to be a legitimate first line forward.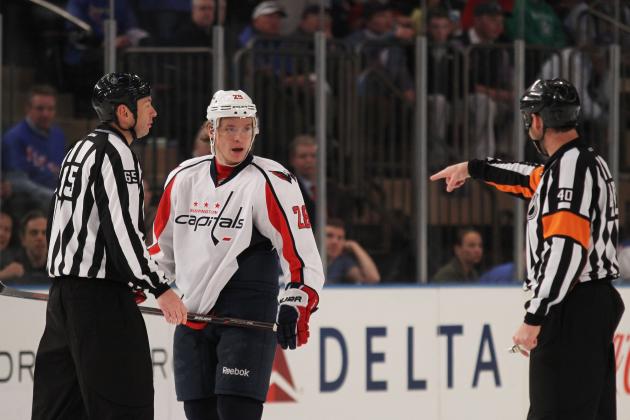 Bruce Bennett/Getty Images

There is a lot of pressure on Alexander Semin this year.
The Russian sniper is playing on a one-year contract with a new team that has expectations of contending.
Semin has a world of talent but his production has been uneven. He has three seasons of 30 or more goals including a career-high 40 in 2009-10.
In the past two seasons, however, he has only scored 28 and 21 goals.
Expect Semin to come through under pressure with the hope of signing another big deal for next season. Whether or not that is with the Hurricanes or some other team remains to be seen.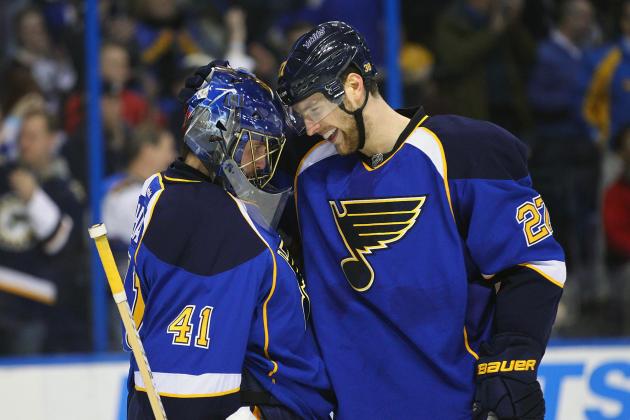 Dilip Vishwanat/Getty Images

The St. Louis Blues led the NHL in goals against last year. The goaltending duo of Jaroslav Halak and Brian Elliott allowed only 1.89 goals-per-game.
Coach Ken Hitchcock plays a defense-first system so the Blues should be strong in that area again, but it is unlikely they match last year's outstanding numbers simply by the law of averages.
Blues fans need not worry, though, because the St. Louis offense should be more productive than it was a year ago. A healthy season from Andy McDonald and David Perron and the addition of rookies like Jaden Schwartz and/or Vladimir Tarasenko should improve the Blues' offensive output.
Overall, St. Louis should contend again even they give up a few more goals than they did a year ago.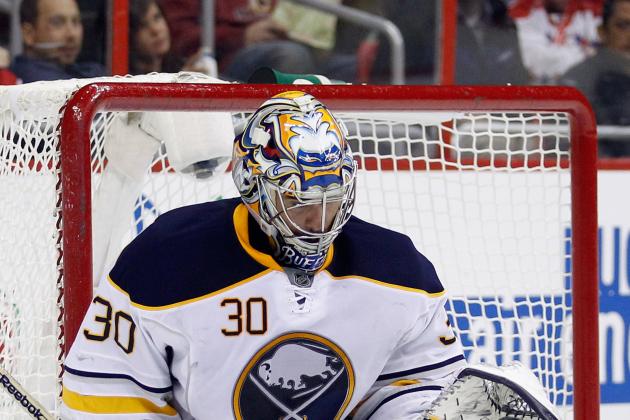 Rob Carr/Getty Images

Ryan Miller won the Vezina Trophy in 2010 but hasn't played at that very high level since then.
In 2010, he had a .929 save percentage, but since then, he has posted back-to-back seasons with .916, respectable numbers but not outstanding.
This season, he should have a better team in front of him. The additions of gritty Steve Ott and enforcer John Scott will make the Sabres tougher to play against.
Players like Christian Ehrhoff, Tyler Myers and Ville Leino should also improve on subpar seasons.
Add it all up and it looks like Miller should be better this season than he was the past two years.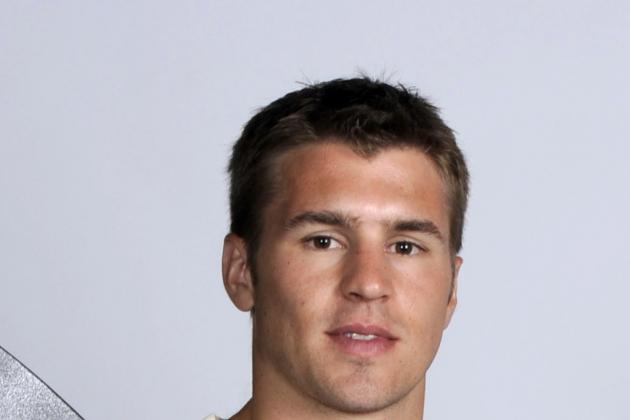 Hannah Foslien/Getty Images

The Minnesota Wild are adding two major pieces to their puzzle in Ryan Suter and Zach Parise. As a result, most fans consider the Wild contenders and most experts pick them as a playoff team.
Because of the lockout, all NHL teams have no exhibition games and an abbreviated training camp. That gives Parise and Suter less time to acclimate to their new teammates and their new team's system.
Both of these high-priced stars will shine eventually, but the lockout will result in Suter and Parise getting off to a slow start and their team also struggling for the early part of the season. The Wild should make the playoffs, but they won't be in first place or even close to it after the season's first 10 games.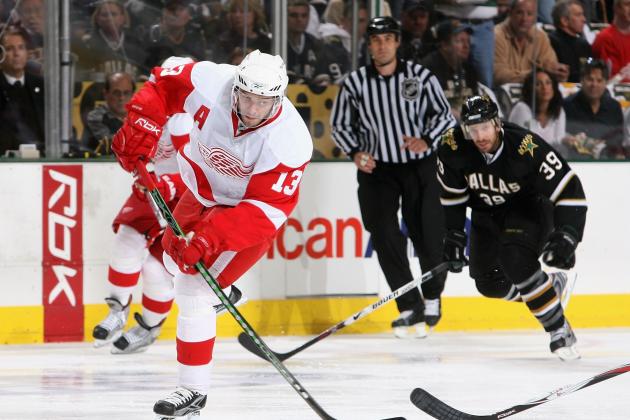 Christian Petersen/Getty Images

Pavel Datsyuk had back-to-back 97 point seasons in 2007-08 and 2008-09, but hasn't revisited those elite numbers since.
In 2009-10, Datsyuk slipped to 70 points, followed by 59 points in 2010-11 and 67 a year ago.
At 34, it may look like the Russian star is starting to show his age and may be past his prime.
The good news for the Red Wings is that even over the last two years, Datsyuk averaged a point-per-game despite missing time due to injuries.
Datsyuk will put more responsibility on his shoulders with the retirement of Nicklas Lidstrom and should score at least a point-per-game this season.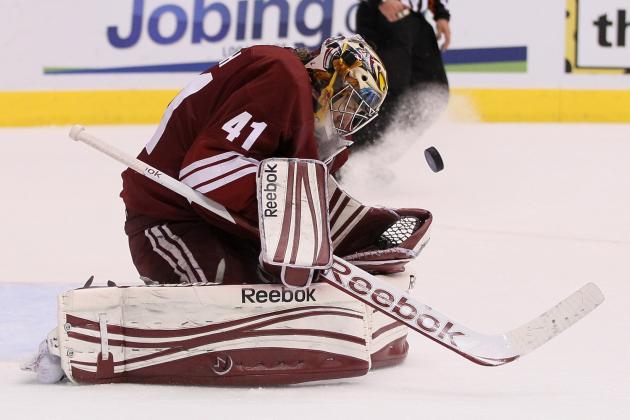 Jeff Gross/Getty Images

The Phoenix Coyotes should finish in the top five in goals against again this season after finishing fifth a year ago.
The Coyotes have a great goalie in Mike Smith who 2.21 GAA and an impressive .930 save percentage.
While he may not match .930, he has a strong group of defensemen in front of him led by Keith Yandle, Zbynek Michalek and Oliver Ekman-Larsson. The Coyotes' defense corps is strong and deep and should reduce the shots faced by Smith.
They also have a coach in Dave Tippett who believes in a defense-first system.
The Coyotes may not surprise anybody this season, but they have a still should be one of the toughest teams to score against.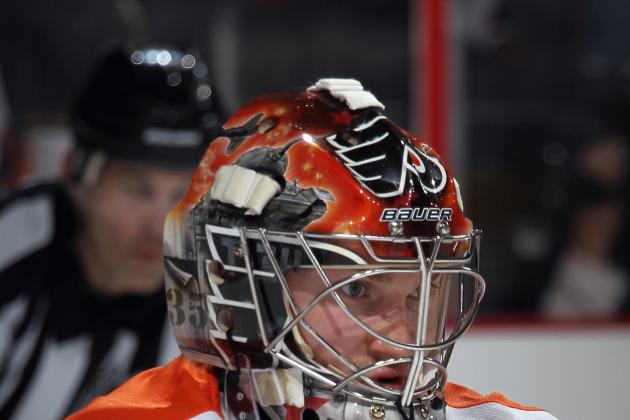 Bruce Bennett/Getty Images

The Columbus Blue Jackets have not had consistent goaltending since Steve Mason's Calder Trophy-winning season in 2008-09.
The Jackets traded for Flyers' backup Sergei Bobrovsky during the offseason and while he won't be an all-star, expect "Bob" to be an upgrade over Mason's recent inconsistency.
Bobrovsky is only 24 and will established himself as a bona fide starter this year. The competition should also improve Mason's performance as well.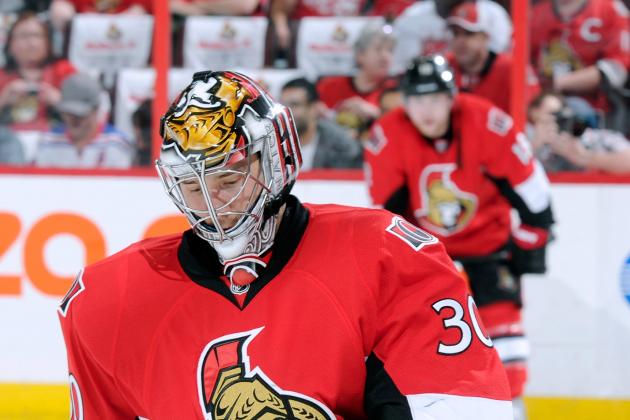 Richard Wolowicz/Getty Images

Craig Anderson had a great season for the Senators last year and helped them to an unexpected berth in the playoffs.
But Ottawa's brass is impressed by big Ben Bishop, a 6'7" tall goalie who played very well in the AHL during the lockout.
Before the season is over, expect Bishop to win the starting job in Ottawa as he outplays Anderson.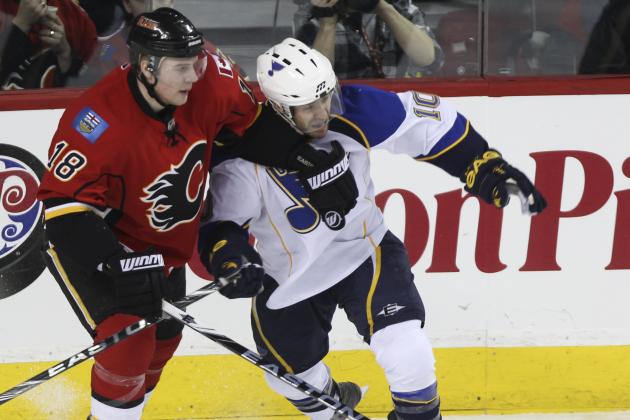 Mike Ridewood/Getty Images

After the last lockout, the NHL cracked down on obstruction and scoring went up.
Since then, the league has gradually let up on obstruction calls and the game has featured a little more obstruction and a little less scoring each season.
Don't to be reversed this season. Unlike 2005-06, the NHL has not announced any major rules changes or tweaks to the game.
Without a new initiative to officials to call more obstruction-related penalties, the current trend will likely continue.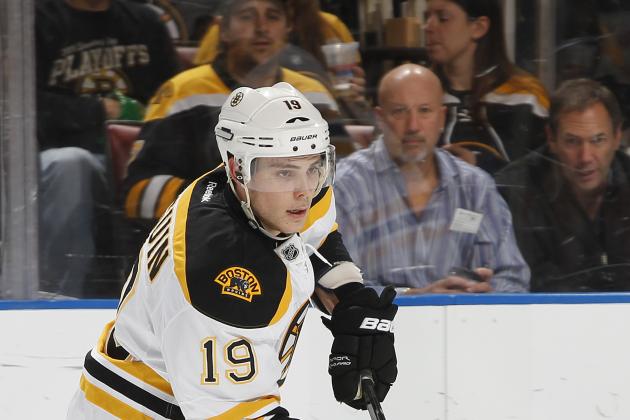 Joel Auerbach/Getty Images

Tyler Seguin's point totals increased from 22 in his rookie season to 67 last year and he narrowly missed the 30 goal mark.
During the lockout, Seguin scored 40 points in 29 games. He won't match those numbers against the tougher competition in the NHL, but a point-per-game or slightly better is a very likely.
Seguin has great natural ability and he will turn 21 at the end of this month. He is just starting to reach physical maturity and should be entering the most productive years of his career now.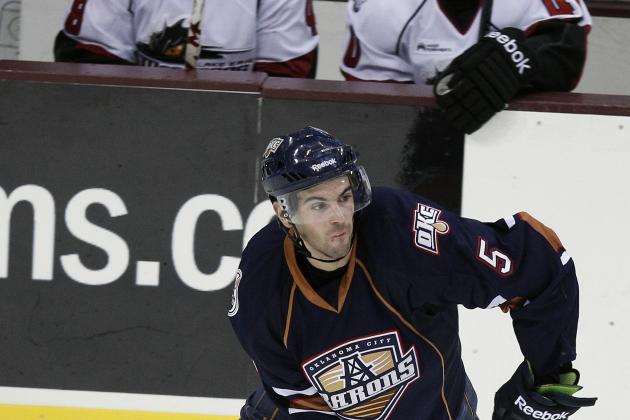 David Maxwell/Getty Images

Rookie Justin Schultz tore up the AHL during the lockout, scoring 18 goals and 48 points in 34 games with the Oklahoma City Barons.
Schultz has great vision and hockey smarts. Playing minor pro should help him get ready for his NHL debut with the Oilers this season.
The 22-year-old former University of Wisconsin star should have a fine rookie year with the Oilers and will be a finalist for the Calder Trophy as the NHL's top rookie.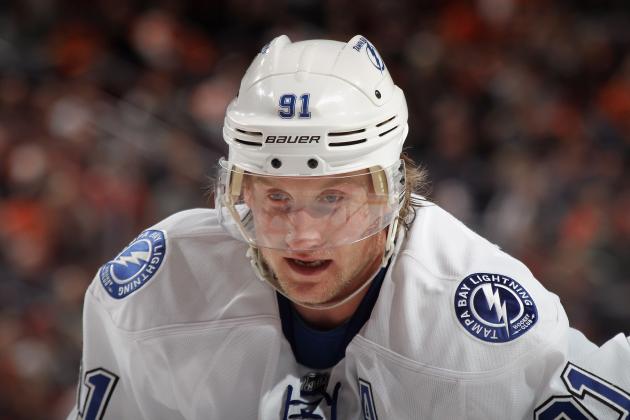 Bruce Bennett/Getty Images

Steven Stamkos led the NHL with 60 goals last season while no other play had more than 50.
While nobody will score 60 goals or even 50 in a 48 game season, Stamkos will once again lead the league in goals scored.
Nobody has Stamkos' natural scoring ability and set-up man Martin St. Louis has at least one quality season left in him.
Look for the Tampa Bay Lightning sniper to have another great season this year.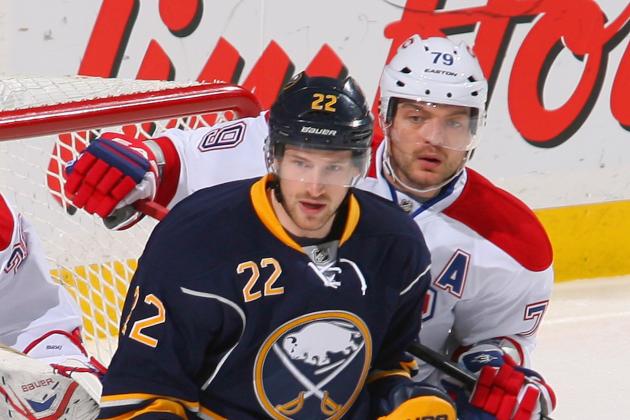 Rick Stewart/Getty Images

Brad Boyes had 43 and 33 goal seasons for the St. Louis Blues in 2007-08 and 2008-09 but hasn't sniffed the 20 goal mark in a season since.
Boyes realizes this may be his last chance to prove he can be a top-six forward in the NHL. He is on a one-year contract with the Islanders and should see time on the second line and second power play units.
Urgency plus opportunity should equal improvement for Boyes who is still only 30. Expect him to score at least 15 goals and 40 points in this abbreviated season.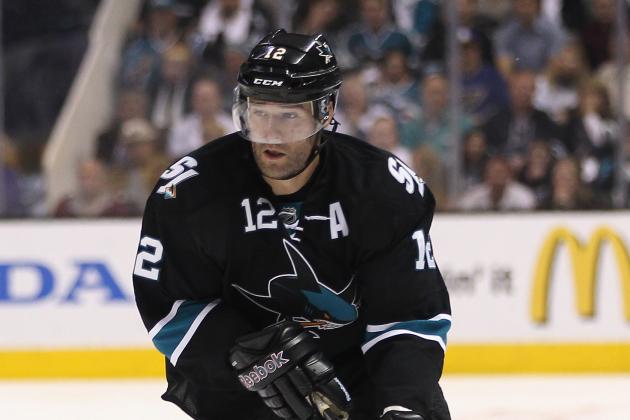 Ezra Shaw/Getty Images

This is probably the last chance that Patrick Marleau and Joe Thornton have to lead the San Jose Sharks to the promised land.
Despite having one of the most talented teams in the league since the lockout, the Sharks have yet to reach the Stanley Cup Final.
Marleau and Thornton are both 33 and both have large cap hits that make keeping them beyond this season impractical.
Changes will take place after this season if the Sharks don't make a very long playoff run.
Even though both Marleau and Thornton both have no trade clauses, expect GM Doug Wilson to trade one of them either at the trade deadline or after the season is over.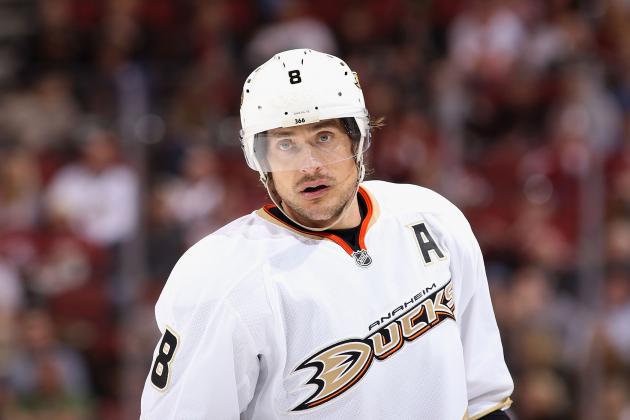 Christian Petersen/Getty Images

This is likely Teemu Selanne's last NHL season.
The future Hall of Famer is 42 but still scored 26 goals and 66 points for Anaheim last season.
This year will be one last chance for Ducks' fans to show their love for the "Finnish Flash." Selanne should still get plenty of time on the power play on an Anaheim team that lacks scoring depth.
Look for Selanne to score between 15 and 18 goals this season as he finishes his career on a high note.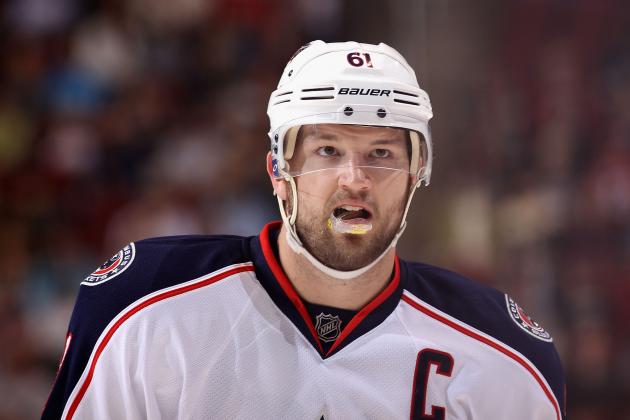 Christian Petersen/Getty Images

Rick Nash has never played on a contending team before in the NHL.
The Blue Jackets only made the playoffs once in Nash's nine seasons in Columbus and they never won a playoff game.
Nash doesn't have to carry this Rangers team. He may not score as many goals as he did in Columbus, but Nash will adjust to John Tortorella's system and will do well in it.
By the time the playoffs come around, Nash will be on top of his game and score at least one clutch game-winner for his new team.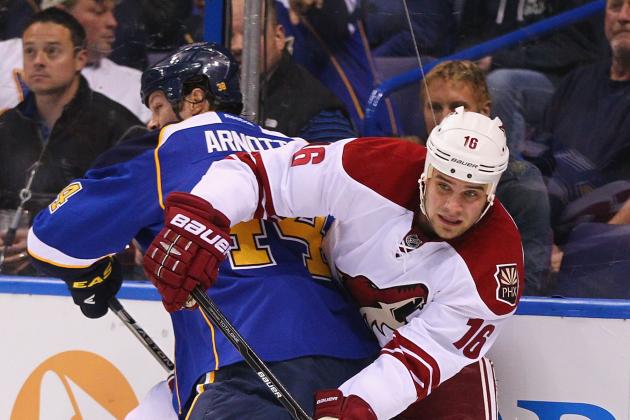 Dilip Vishwanat/Getty Images

The first few weeks of this lockout-shortened NHL season will be the great unknown.
Some players have been playing in Europe or the AHL, some have been working out on their own but nobody will be in mid-season NHL form.
Teams have also not had as much time to adjust to new teammates or new coaches.
The result will be missed passes, bad timing and some overall sloppy hockey while the players play their way into game shape.
The league has to hope that fans are thrilled to have hockey back and overlook what promises to be an uneven beginning to the season. Most fans probably will.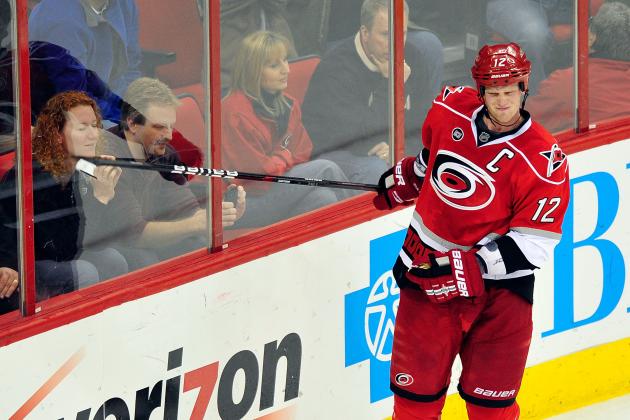 Grant Halverson/Getty Images

The Carolina Hurricanes now have Eric Staal and Jordan Staal on their roster.
Whether they play on the same line or not, expect the sibling rivalry to bring out the best in both of Carolina's Staal brothers.
Eric had a slow start last season but came on strong and nearly led the Hurricanes on a late season run to the playoffs.
Jordan will finally be getting top six minutes all season after being trapped below Sidney Crosby and Evgeni Malkin on the Penguins' depth chart for most of his career.
Look for both Staal brothers to have solid seasons and get the Hurricanes back into the postseason.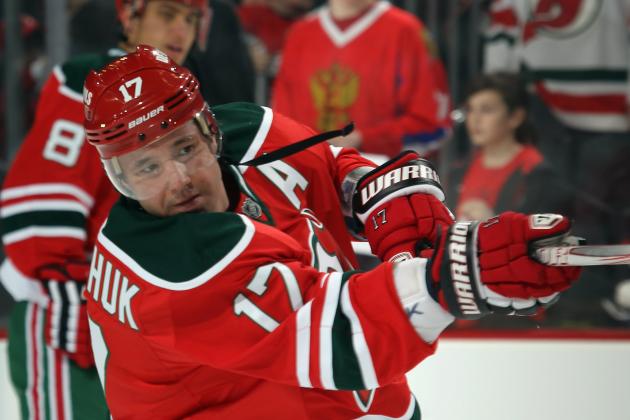 Bruce Bennett/Getty Images

Devils sniper Ilya Kovalchuk will struggle this year in New Jersey.
First, there will be more pressure on "Kovy" with the departure of captain Zach Parise to Minnesota last summer.
Kovalchuk also wanted to stay in the KHL for a few extra games even after the lockout ended, showing that perhaps his heart is still back in Russia.
Expect Kovalchuk to get off to a slow start this season and have what for him will be considered an off year.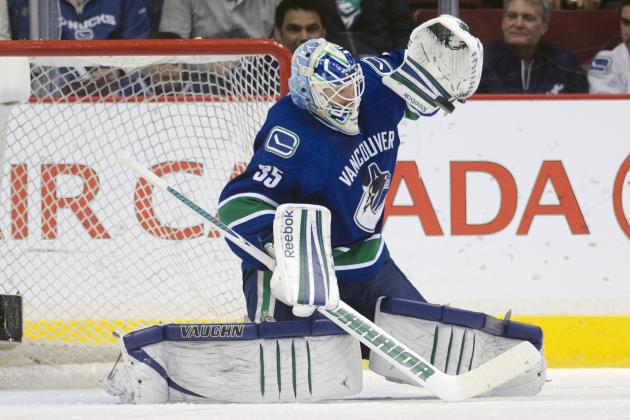 Rich Lam/Getty Images

Corey Schneider will be taking over as the starting goalie in Vancouver this season.
Last year as a backup, Schneider had an impressive 1.96 GAA and a save percentage of .936 in 33 games.
Expect Schneider to start about the same number of games for the Canucks in this lockout shortened season.
The key will come in the playoffs. Roberto Luongo's postseason inconsistency is the main reason he is no longer the starter in Vancouver.
Look for Schneider to be better than Luongo in May and June when it really counts.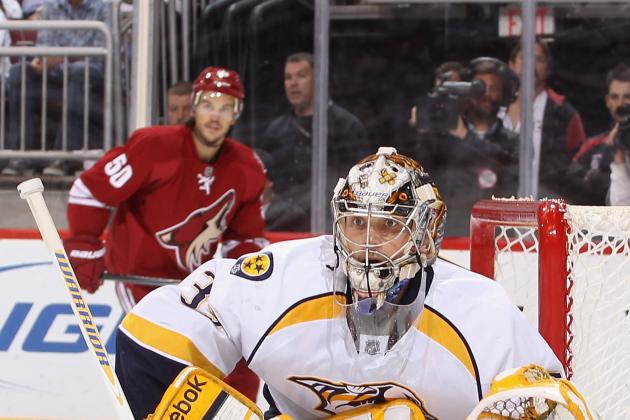 Christian Petersen/Getty Images

The Nashville Predators have lost defenseman Ryan Suter, but it would be a mistake to overlook Nashville this season.
They still have two of their three big stars from a year ago with goalie Pekka Rinne and defenseman Shea Weber still on the roster.
The Preds also still have GM David Poile and Coach Barry Trotz who have gotten Nashville into the playoffs seven of the last eight seasons despite a limited budget and past free agent losses.
Young players like Mattias Ekholm, Roman Josi and Ryan Ellis will get a chance to show what they can do on defense.
They may not be Ryan Suter just yet, but they are good enough to keep the Predators a playoff team.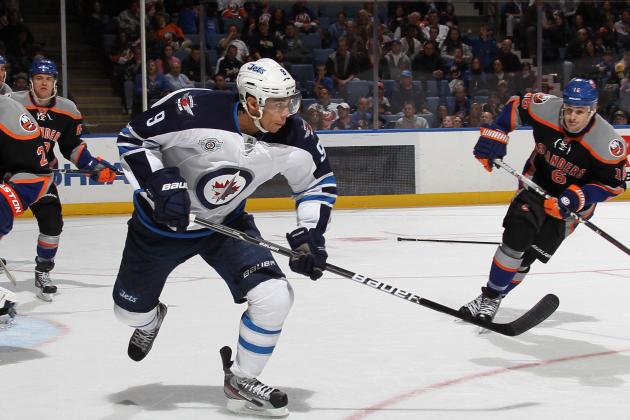 Bruce Bennett/Getty Images

The Winnipeg media has a strange relationship with Jets forward Evander Kane.
For whatever reason, the local press is often critical of Kane's off-ice behavior although most of the things they discuss are not all that important.
Kane is only 21-years-old but he's already had a 30 goal season in the NHL.
If the press doesn't lay off Kane, he likely won't want to remain in Winnipeg too much longer.
Kane is signed through the summer of 2018, but don't be surprised if he asks for a trade before the season is over.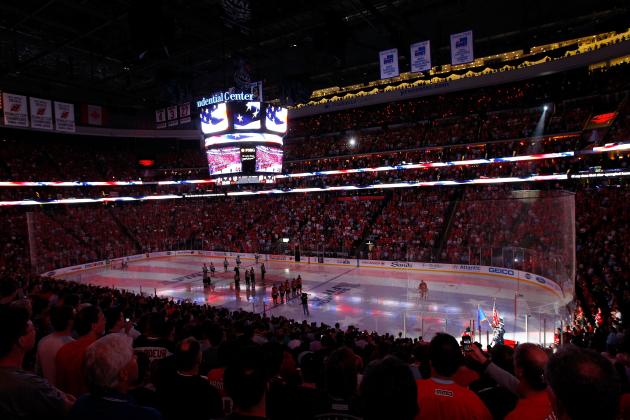 Paul Bereswill/Getty Images

The NHL owners can't cancel half a season and not expect it to anger the fans.
Expect attendance and TV ratings to be down this season, especially early in the campaign.
Sure, there may be enthusiastic crowds for the first couple of home games in each city, but things will level off after that as some fans stay away out of anger and frustration.
The casual hockey fan will also be less likely to watch games on television.
Next year may be different, but both attendance and television numbers will be lower in 2012-13 than they were last season and the owners have nobody but themselves to blame.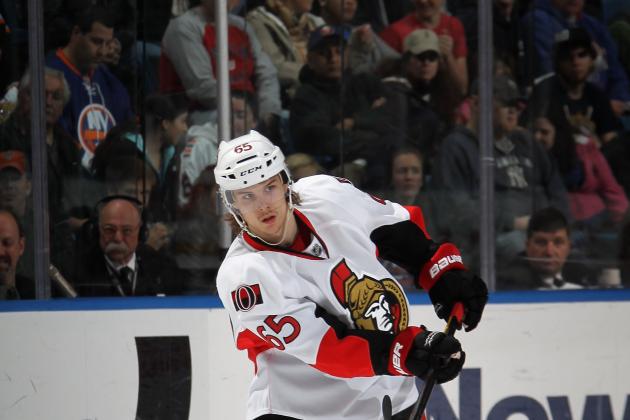 Bruce Bennett/Getty Images

Erik Karlsson won the Norris Trophy last year despite playing average defense at best.
He led all NHL defensemen in scoring with 78 points, 25 more than his nearest competitor.
This year, Karlsson will improve his play in his own zone and his overall game as the Sens' coaching staff focuses on it. No, he won't be a shutdown defender, but he won't be a liability anymore either.
This will cost him some offensive production in the short run, but by next season, he will be back to at least where he was in 2011-12 while still playing better defense.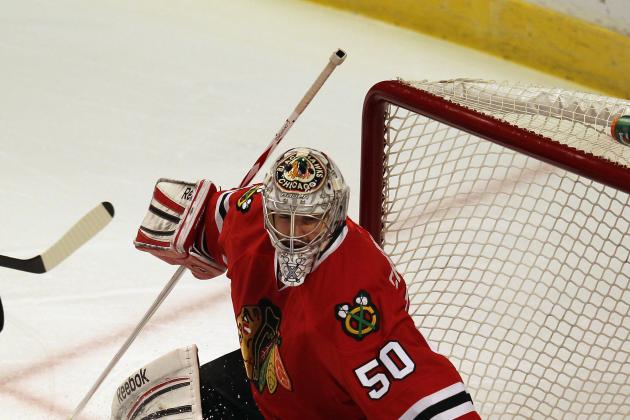 Jonathan Daniel/Getty Images

The Chicago Blackhawks have a very deep and talented team this season and are expected to be contenders to win it all this season.
The biggest question mark facing Chicago is in goal where Corey Crawford stumbled last season after a strong 2010-11.
Unless Crawford gets off to a good start this season, GM Stan Bowman will trade for another goalie by the trade deadline to lead his team into the postseason.
There is simply too much talent on this Chicago team to allow opportunities to win championships go to waste.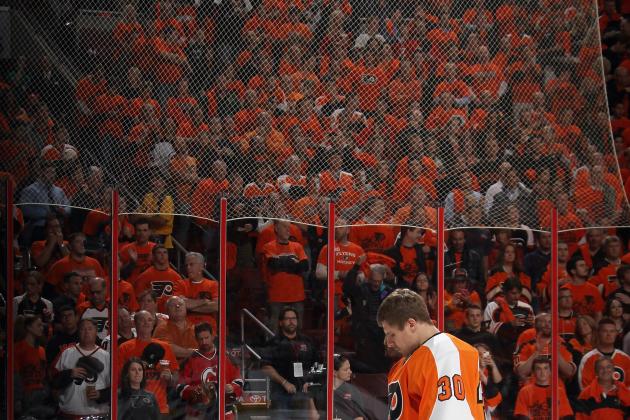 Bruce Bennett/Getty Images

The Flyers finally spent big money on a goaltender in the summer of 2011 and signed free agent Ilya Bryzgalov to a nine-year, $51 million contract.
Unfortunately, Bryzgalov was inconsistent last season and failed to come up big for Philadelphia in the postseason.
Under the new CBA, teams are allowed to buy out up to two players without having it count against the salary cap starting next summer.
The Flyers will use one of those buyouts on Bryzgalov, who will be good but not great again in the Flyers nets this season.
The move will free up cap space and allow the Flyers to bring in a goalie who is at least as good but less expensive.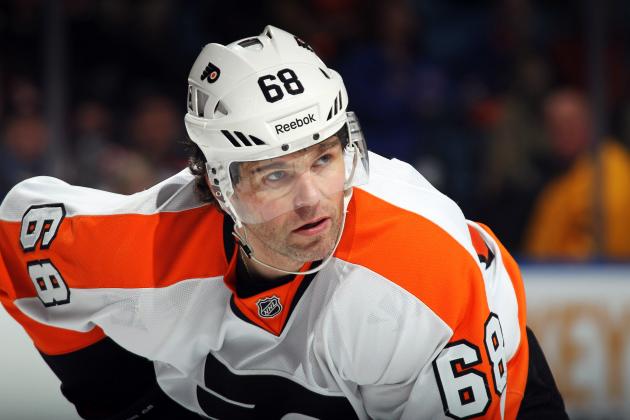 Bruce Bennett/Getty Images

Jaromir Jagr is a future Hall of Famer and one of the best players in NHL history.
This summer, he signed a free agent contract with the Dallas Stars. While Jagr was still effective in Philadelphia last year, he will struggle more this season.
The Stars have some talented young players in Loui Eriksson and Jamie Benn, but they are not as deep as the Flyers were and Jagr will be asked to do more this year than he was in 2011-12.
Also, teams in the Western Conference have more travel, even if they aren't playing teams in the Eastern Conference this year. The extra plane rides and compressed schedule will take a toll on Jagr who turns 41 next month.
He won't be a total flop, but Jagr will not equal last year's scoring pace this season.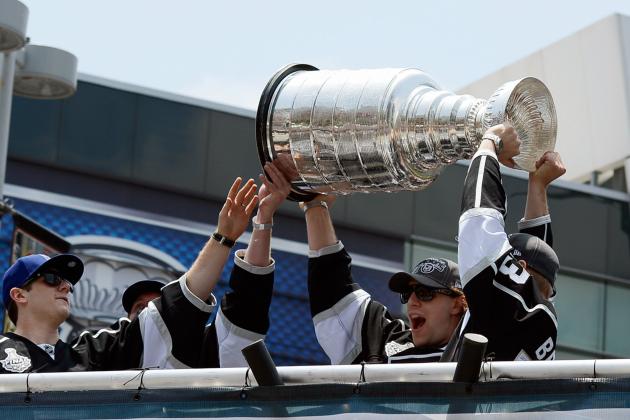 Kevork Djansezian/Getty Images

It seems like a lot more than seven months since the Los Angeles Kings won the franchise's first ever Stanley Cup title.
The fact that the lockout extended the offseason will help the Kings avoid the traditional Stanley Cup hangover experienced by many recent winners.
The Kings had more time to rest their bodies and recover from last spring's long playoff run and with the compressed schedule, they know they cannot afford to get off to a slow start.
Look for the Kings to be competitive from the drop of the puck this season.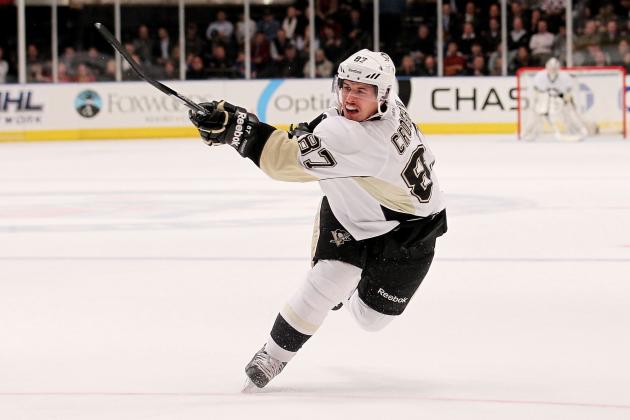 Nick Laham/Getty Images

Injuries have slowed down Pittsburgh Penguins star Sidney Crosby the past two seasons, limiting him to a total of just 63 games played.
When Crosby was healthy, he continued to play well, averaging 1.63 points-per-game.
Look for Crosby to play at least 42 of the Penguins 48 games this season and be healthy for the playoffs, something that will make the Penguins and their fans very happy.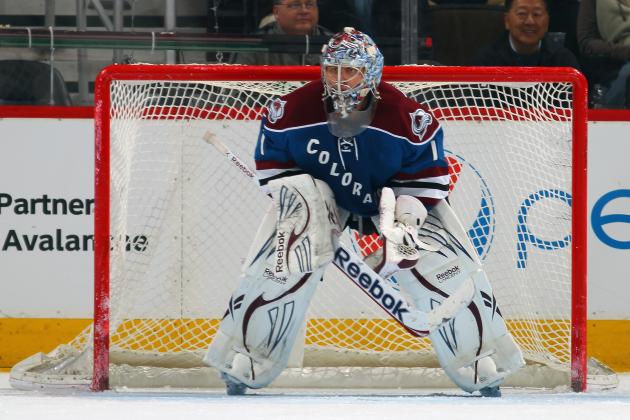 Doug Pensinger/Getty Images

The Avalanche acquired goalie Semyon Varlamov from Washington prior to last season but the the Russian goalie got off to a shaky start in Denver last fall.
During the first half of the season, the pressure of the trade and his new surroundings seemed to bother Varlamov and he was displaced in goal by veteran backup J.S. Giguere.
But Varlamov bounced back and had a strong second half last year and finished with a career-high 26 wins and a respectable .913 save percentage.
During the lockout, the Avs' starter played in the KHL and had a GAA of just 1.74 and a .946 save percentage which could only further boost his confidence.
At 24, Varlamov should be entering his prime and he should pick up where he left off last season once the NHL gets back under way.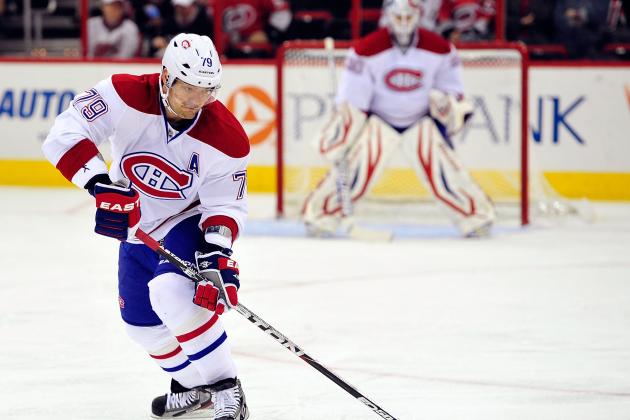 Grant Halverson/Getty Images

The Montreal Canadiens will get defenseman Andrei Markov back healthy this season which is a big step for this club.
According to Coach Michel Therrien, Markov is "a huge addition to our team."
Over the past two seasons, he has played in only 20 games total due to an assortment of injuries.
How important has Markov been to the Habs? Since the start of the 2009-10 season, the Canadiens have a 38-22-13 record with Markov in the lineup and an 84-86-21 record without him.
If the 34-year-old Russian stays healthy for most of the season, it should be a big boost for the Montreal power play and their overall game.
While Montreal probably will still fall short of the playoffs, they'll be competitive for a spot this season instead of finishing a distant 15th in the Eastern Conference like they did a year ago.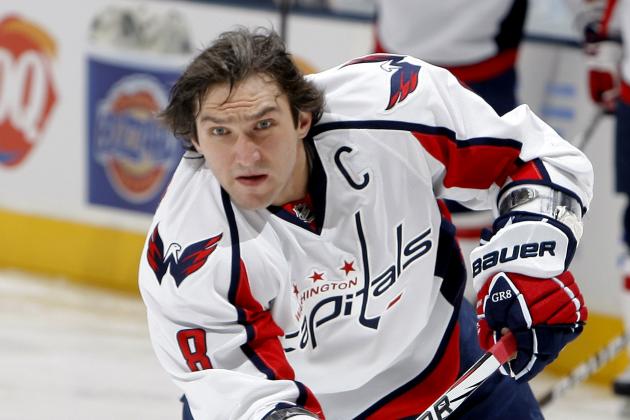 Abelimages/Getty Images

For all the talk about a slump, it's tough to remember Alex Ovechkin was still fifth in the NHL in goals scored last season with 38.
Still, his 65 points put him outside the top 25 in the league and was by far the lowest total of his NHL career.
Ovechkin returned to the KHL during the lockout and put up strong numbers. The talented Russian scored 19 goals and 40 points in 31 games.
Expect at least 30 goals and 60 points from Ovechkin this season as he thrives under Adam Oates' coaching and has a healthy Nicklas Backstrom to feed him passes.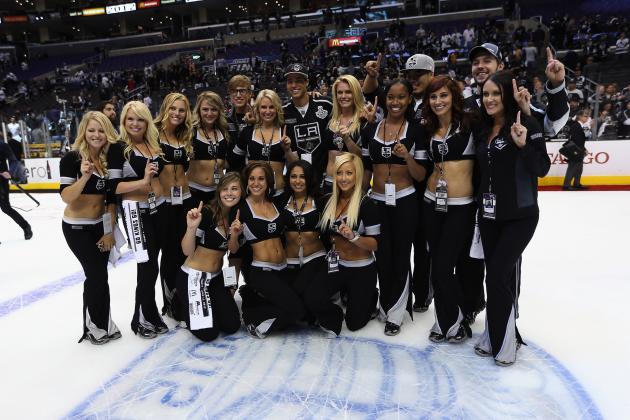 Bruce Bennett/Getty Images

It's bound to happen to somebody during an abbreviated, 48 game season, the question is really who the victim will be.
Some team, a team with talent and high expectations, will get off to a slow start this season and will be unable to recover.
Making up points in the standings will be difficult this season, especially in a league that awards points for losing a game in overtime or in a shootout.
Whether it's because of a key injury or a good old-fashioned slump, somebody will go on a losing streak of five games or more early in the season and will miss the playoffs as a result.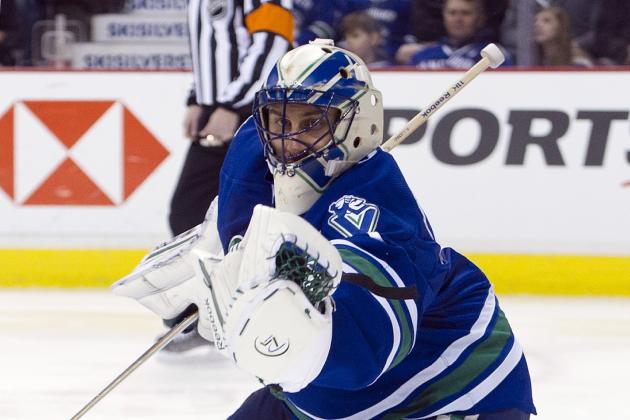 Rich Lam/Getty Images

There are plenty of trade rumors out there about Canucks' backup goalie Roberto Luongo.
Whether he remains with Vancouver for a while or is moved to Toronto, Philadelphia or some other team, expect "Bobby Loo" to land on his feet.
No, he probably won't be a dominant goalie anymore as he will turn 34 before the season is over. But Luongo can still be very good and will help whatever team he is dealt to...at least during the regular season.
Christian Petersen/Getty Images

The Edmonton Oilers have a lot of firepower and they will play some exciting hockey games this season.
Young stars like Taylor Hall, Jordan Eberle, Justin Schultz, Nail Yakupov and Ryan Nugent-Hopkins will help the Oilers score plenty of goals this season.
Unfortunately, the inconsistent play of Edmonton's defense and goalie Devan Dubnyk means that the Oilers will both win and lose a lot of 6-4 games this year.
This team will take a step forward this year but fall shy of the playoffs. But next year, if they get a goalie they can rely on and tweak their blueline corps a bit, the playoffs are a real possibility.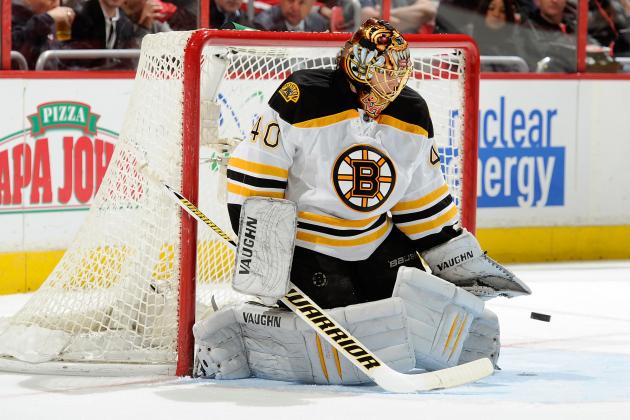 Greg Fiume/Getty Images

With Tim Thomas taking an extended vacation, Tuukka Rask takes over in net for the Boston Bruins this season.
Rask was the starter for the Bruins back in 2009-2010, leading the team with 45 games played. His statistics were good as well as the Finnish netminder finished with a 1.97 GAA and a .931 save percentage.
Rask is 25 and just entering prime.
The Bruins are among the favorites to contend for the Stanley Cup but they need a strong performance in net from Rask to get to the promised land. This year they will get it and Rask will be the Bruins netminder for the next few years.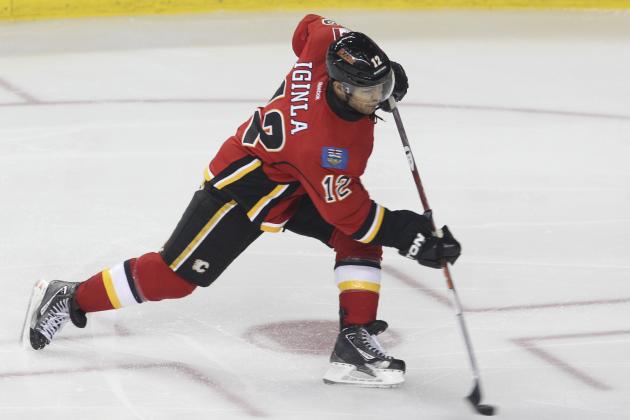 Mike Ridewood/Getty Images

Jarome Iginla has been the captain of the Flames since 2003 and the team's best player for at least that long.
Iginla is 35 now and slipped last year to 67 points, his lowest point total since 2005-06. He will also be an unrestricted free agent next summer unless he signs an extension with Calgary before then.
If the Flames are not in contention for a playoff berth at the trade deadline, look for the team to do right by Iginla and trade him to a contender. This would give the Edmonton native one last chance at a Stanley Cup before his level of play starts seriously declining.
A trade would also give the Flames something in return for Iginla instead of letting him leave for nothing as a free agent.
Either way, Iginla will not be with the Flames by the start of 2013-14.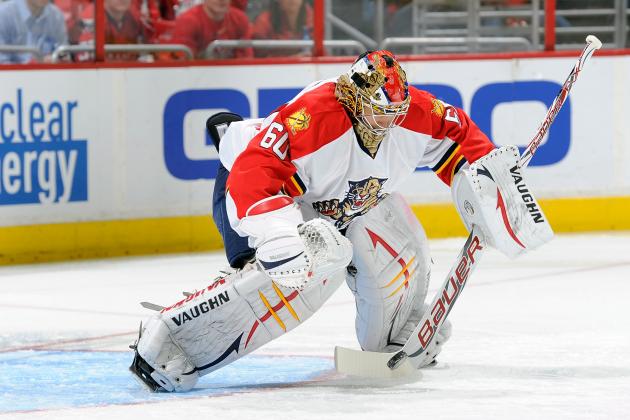 Greg Fiume/Getty Images

The Florida Panthers won the Southeast Division last season and reached the playoffs for the first time in more than a decade. They will have trouble duplicating last season's success, however, largely due to shaky goaltending.
Jose Theodore had a very good season last year, but he is not known for his consistency. In fact, the Laval, Quebec, native has not had back-to-back strong seasons since before the last lockout.
Unless the Panthers acquire Roberto Luongo early in the season, they will again be relying on the duo of Theodore and Scott Clemmenson which doesn't exactly put them among the league's elite goalies.
Look for the Panthers goalies to struggle this season and for the Panthers to take a step back in their development.
But if the team gets improved goaltending, they could again be in the the thick of the playoff race.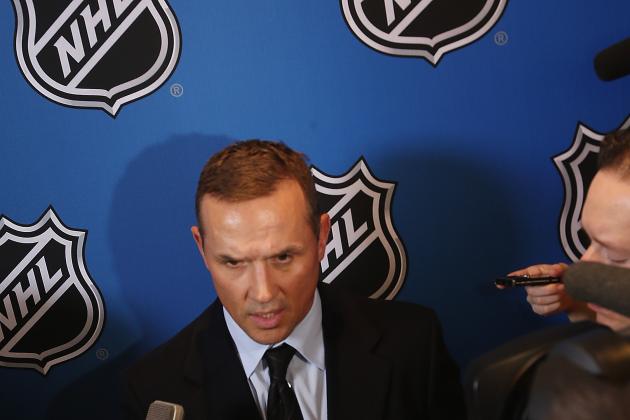 Bruce Bennett/Getty Images

With the NHL salary cap being reduced as part of the new CBA, the NHL trade deadline will center around teams trying to make deals to get under the new, lower ceiling.
Any pro sports league with a salary cap features trades that are inspired more by the salary cap than by pure talent. This year's NHL trade deadline will feature even more such trades because the new cap number is lower than the present limit.
Expect at least one or two big name players to change addresses at the deadline as a result.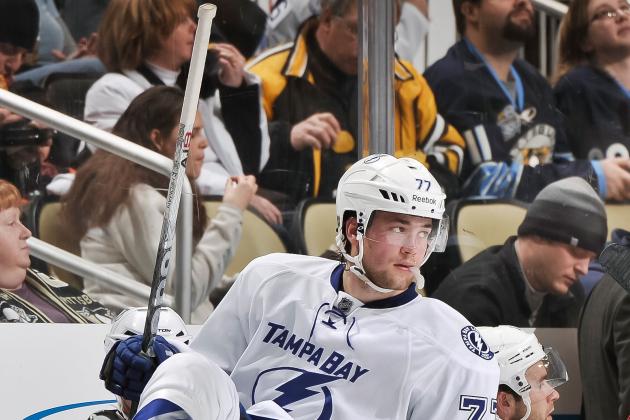 Jamie Sabau/Getty Images

The Tampa Bay Lightning missed the playoffs last season after Dwayne Roloson got old in a hurry and lost the ability to consistently stop pucks. The result: the Bolts were last in the NHL in goals allowed.
To rectify this, GM Steve Yzerman brought in defensemen Matt Carle and Sami Salo and acquired goalie Anders Lindback from Nashville.
The new trio combined with the continued maturation of Victor Hedman should give the Lightning a better team defense.
The Lightning won't be a top defensive team, but if they find themselves near the middle of the pack, it would be good enough to get them into the playoffs.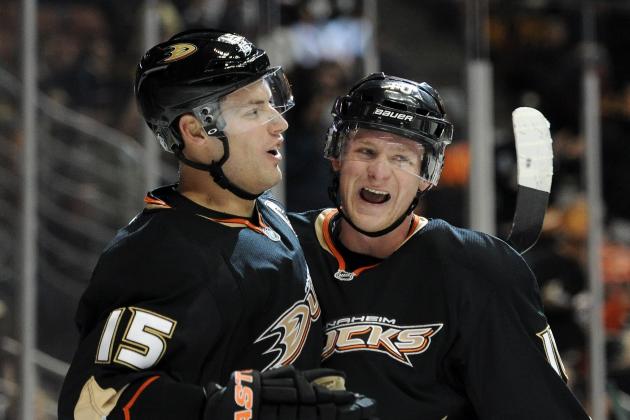 Harry How/Getty Images

Both Ryan Getzlaf and Corey Perry will be unrestricted free agents next summer unless the Ducks can sign them to new deals.
The Ducks do have some room under the cap for next season with Teemu Selanne likely retiring and Saku Koivu's future up in the air, but it will still be a challenge for GM Bob Murray to sign both of his stars.
It is likely the Ducks sign one of the two and trade the other for some valuable building blocks for the future.
What happens to both Getzlaf and Perry will go a long way to determining how the future of the Ducks looks next season and beyond.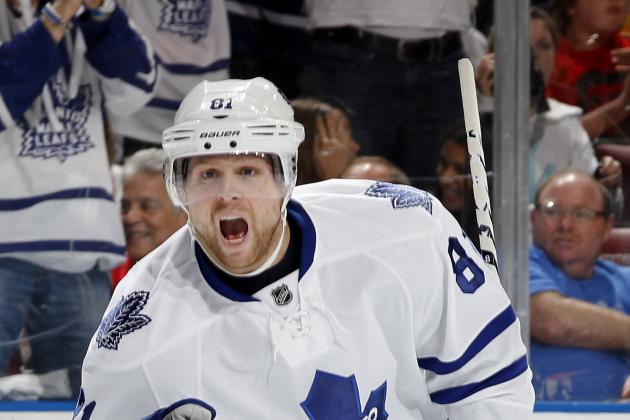 Joel Auerbach/Getty Images

The Toronto Maple Leafs have missed the playoffs for a franchise record seven straight seasons. Unless new GM Dave Nonis upgrades the team's goaltending, this year will probably make eight years without the playoffs for the hungry hockey fans of Toronto.
The Leafs defense is mobile and good at moving the puck, but they lack depth and have problems keeping opponents in check in their own zone.
The mediocre defense means that goalies James Reimer and Ben Scrivens won't have a lot of help which is bad news since neither goalie has established himself as a bona fide NHL starter.
Rumors abound that the team may acquire Roberto Luongo, but until that or some other deal becomes a reality, the Leafs will start the season with Reimer and Scrivens.
Even in a shortened, 48-game season, that duo won't be good enough to land the Leafs in the playoffs.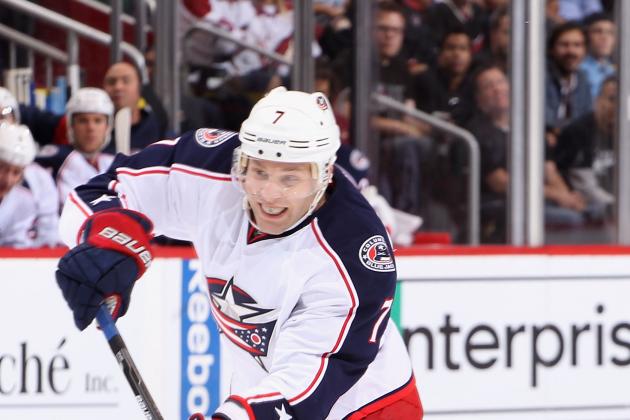 Christian Petersen/Getty Images

The Columbus Blue Jackets finished last overall in the NHL last season and then traded away their best player in Rick Nash over the summer.
Despite this, the Jackets will move up ever so slightly in the standings this year.
Columbus got three young players in the Nash deal in Tim Erixon, Brandon Dubinsky and Artem Anisimov. While none of these players are as dynamic and dangerous as Nash, they will provide Columbus some much needed depth.
They will also have better goaltending this year with Sergei Bobrovsky between the pipes.
While Columbus won't make the playoffs, they will move up a notch or two in the overall standings as John Davidson and company begin to rebuild the franchise.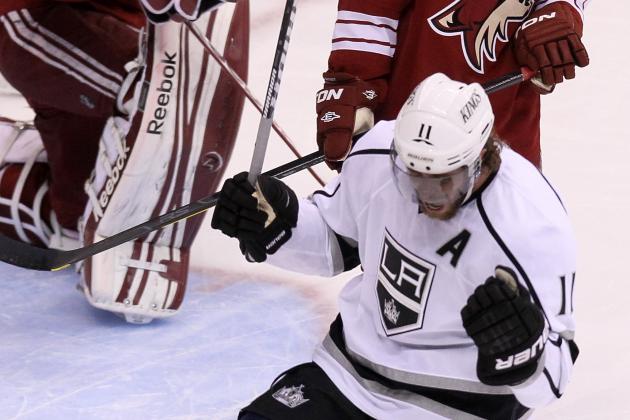 Jeff Gross/Getty Images

The lockout will reduce the chances of Stanley Cup hangover for the Kings, but starting the season without Anze Kopitar will hurt the defending champs early in the season.
Kopitar has led Los Angeles in scoring in each of the past five seasons. While he has resumed skating and probably won't miss too much time, Kopitar is the best offensive forward the Kings have and his absence will be felt.
Expect the defending champions to muddle through the first week or two of the season until Kopitar is back in the lineup and used to the speed of NHL games.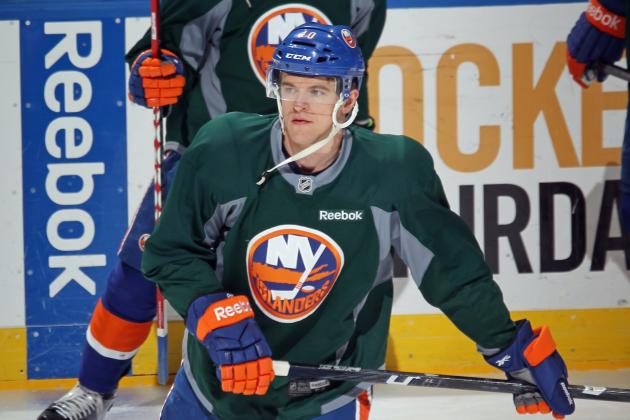 Bruce Bennett/Getty Images

Michael Grabner had a great rookie year for the Islanders in 2010-11, scoring 34 goals and finishing as a finalist for the Calder Trophy.
Last year, the swift skating Austrian slipped to 20 goals and scored 20 fewer points than he did as a rookie.
This year, Grabner seems determined to regain his touch. He has good chemistry with center Frans Nielsen and the addition of Brad Boyes to the second line should help both Grabner and Nielsen.
Grabner's speed gives him many odd-man rush opportunities. If he becomes a better finisher, he could be an elite NHL goal scorer. He'll take a step in that direction this season.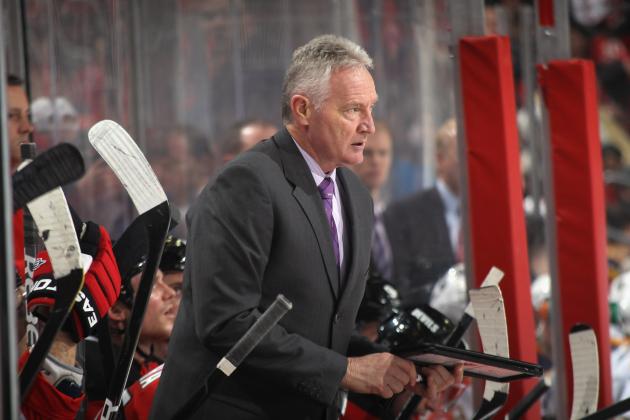 Bruce Bennett/Getty Images

The San Jose Sharks brought in former Devils assistant coach Larry Robinson to help the team improve their penalty kill.
Robinson has been a winner in every role he has played in hockey. Thus far, the Hall of Fame defenseman has won nine Stanley Cups as a player, coach and scout.
Sharks Coach Todd McLellan will be in trouble if the Sharks point total goes down for the fourth straight season. Unless San Jose makes a deep playoff run, McLellan is probably gone and Robinson will take over behind the bench.
Look for Robinson to provide some much-needed leadership for the Sharks.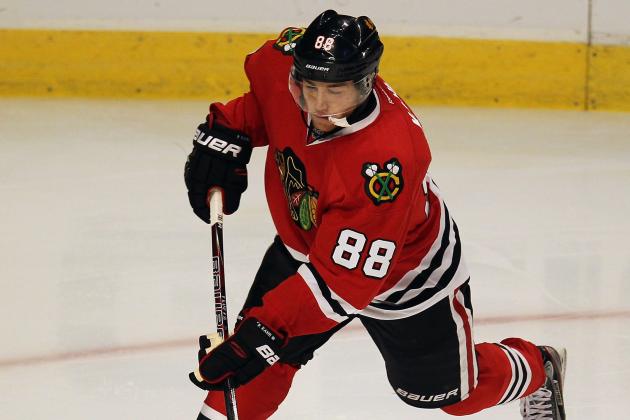 Jonathan Daniel/Getty Images

Patrick Kane scored 30 goals and 88 points in 2009-10 as the Chicago Blackhawks won their first Stanley Cup since 1961.
In the two seasons since then, Kane has been good, but he hasn't matched the production he had during the Hawks' Cup run. His point total dropped to 73 in 2010-11 and down to 66 last season.
Kane has been plagued by off-ice issues and is considered by many to be immature.
The bottom line is that Kane will have trouble approaching his 2010 production unless he shows more maturity.
Expect his production to be closer to the past two seasons rather than his career-best 2009-10 season.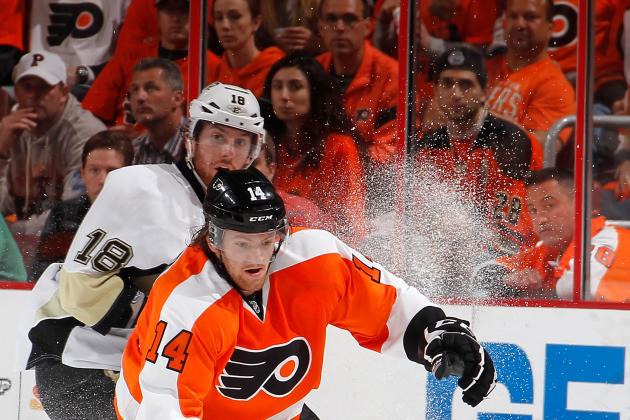 Paul Bereswill/Getty Images

Sean Couturier had a solid rookie season for the Flyers last year, scoring 13 goals and 27 points despite playing limited minutes.
This year, look for Couturier's numbers to rise as his ice time does.
The Phoenix native is just 20 and still has his best hockey ahead of him. With a talented group of forwards around him, Couturier should thrive in the City of Brotherly Love this year and for many years to come.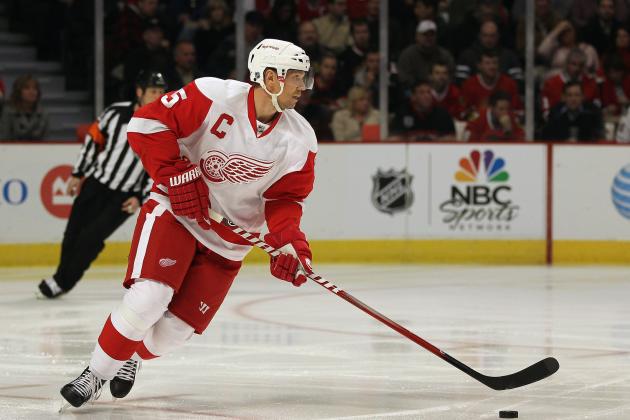 Jonathan Daniel/Getty Images

The Detroit Red Wings will struggle to replace Nicklas Lidstrom.
The Wings' captain retired this past summer and will go down in history as one of the best defensemen ever to play the game.
His absence, plus the trade of underrated minute muncher Brad Stuart means that all returning Wings blueliners need to take on a lot more responsibility and take their game to another level.
You don't replace a future Hall of Famer that easily and Detroit will find it difficult to live without Lidstrom.
There's a reason they tried to bring Lidstrom back last week and his absence will show in Motown this season.