The 10 Hottest NASCAR Drivers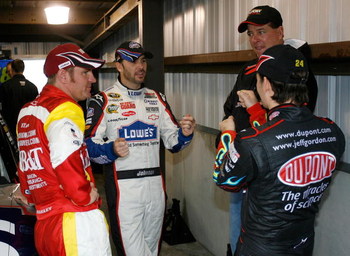 There is nothing quite so stimulating as watching the NASCAR pre-race show and seeing all of the drivers in their fire suits. Those suits don't exactly leave much to the imagination!
It should be no secret to anyone why there is such a huge female following for the fastest sport on Earth.
These guys not only make for delectable eye candy, they are also smart, sweet guys who do what they can to give back to the community. Oh, yeah, and they happen to be some major kick-butt athletes!
For all of you cynics out there who refuse to admit that NASCAR drivers are real athletes, I'd like to see you try and drive at speeds in excess of 140 MPH, with no air conditioner, for three to four hours straight!
These guys are athletes, all right! And now, without further ado, my roster for the 10 hottest drivers in NASCAR today!
No. 1 Kyle Busch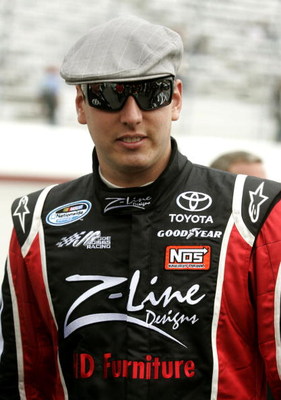 Granted, he has the tall lanky thing going on, so there isn't really much of a butt to look at in his fire suit, but he is still red hot! Let's start with those deep brown eyes. Any girl could get lost in those chocolate orbs.
Oh, and that smile! When he's in Victory Lane and flashes that beaming smile at the camera, well, I just melt. Then, there's that long, slender neck, perfect for kissing (or biting). He makes me quiver.
Let's not forget that he is also a really nice guy (off the track). His charitable contributions are many. Then, on the track he displays just enough of the bad boy that every girl is attracted to, whether she wants to admit it or not.
Kyle is also one of the most talented drivers on the circuit. He can drive anything, and win in it! It should be no mystery why Kyle Busch tops everyone one of my NASCAR lists!
Now, if only we could convince him to lose the ugly sunglasses!
No. 2 Jeff Gordon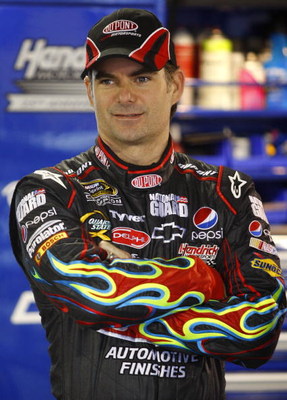 By far, the best butt in NASCAR. He is the reason I got into NASCAR in the first place. My dad has been watching the sport my entire life, and I never really paid much attention.
Until I was in high school and this new young driver came on the scene and started winning races. It didn't hurt that he was cute and drove a pretty car. Then there's those bright blue eyes, eyes that you just want to swim in.
Now that I'm getting older, and he's getting older, one can't help but take notice of what a doting father he is to little Ella Sophia. A good dad is always considered an attractive quality.
And, of course, no one would argue that Jeff Gordon is by far one of the most talented drivers of the Modern Era. Talent definitely ranks highly on my list of qualities that make a driver hot, hot, HOT!
No. 3 Carl Edwards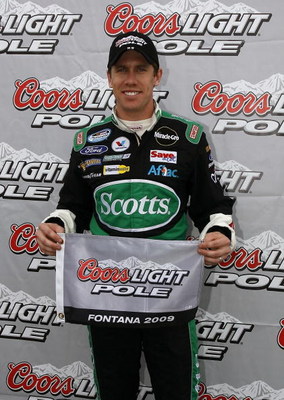 He's been described as the driver that's in the best shape. And anyone who has seen his shirtless poses would be hard pressed to argue! Abs like those should be cast in bronze.
Last season, a couple of the TV stations did some features on Carl's athletic endeavors outside of the race car in which he appeared shirtless. I'm considering starting a petition for every pre-race show to feature a shirtless Carl Edwards.
He's another one with a really great smile.
And, let's face it, a back flip off of the winning race car is just hot! Once again, talent weighs highly in this hotness decision.
No. 4 Denny Hamlin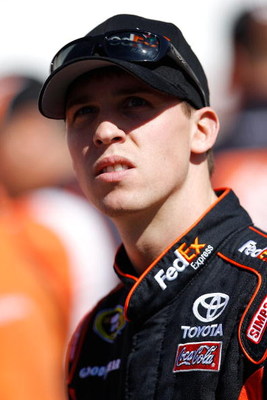 Another blue-eyed cutie, I predicted he was going to be a super star in the sport way back when he was sharing the No. 11 ride with J. J. Yeley. Denny's crooked smile and thirst for success made him an instant hottie in my eyes.
He also ranks highly on the "best butt" list. While his neck is not quite as defined as Kyle's, it still holds a kissable quality that is hard to ignore. Talent, good looks, and his well spoken manner will take him far in NASCAR.
No. 5 Kevin Harvick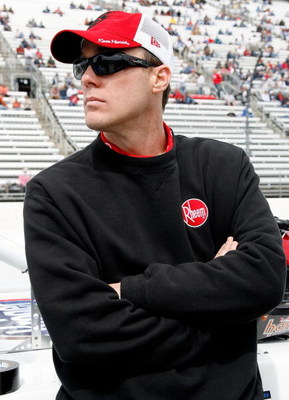 If you take a poll of 100 women, probably at least 75 percent would rank a sense of humor as an important factor in determining hotness. "Happy" Harvick definitely fits that bill.
His hotness extends far beyond his jovial personality. Another member of the "cute butt" team, he certainly works his fire suit! Humor and a cute butt aren't all this California boy have to offer.
In 2001, when Kevin took over driving for Richard Childress after the tragic death of Dale Earnhardt, Sr., he not only won Rookie of the Year honors, he also won the Busch Series Championship, and finished a solid 10th in the Cup series points.
Kevin Harvick proves year after year that he is a force to be reckoned with.
No. 6 Juan Pablo Montoya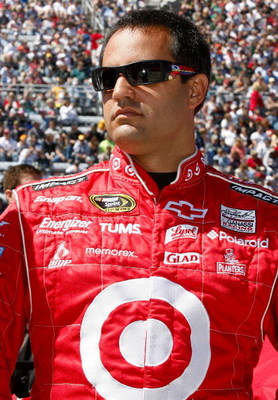 One word: Caliente! Poll those same 100 women from the previous paragraph, and I'm sure at least half of them would say Latino men are hot!
Let's face it, he's the Ricky Martin of NASCAR, ushering in the new wave of foreign born drivers.
So far, he's been the cream of the foreign crop, but he opened the door for a whole new line of NASCAR eye candy. Juan Pablo also embodies a bit of the bad boy that we love to pretend to hate.
When he and Kevin Harvick had their altercation, it did for women everywhere what I can only imagine a "cat fight" does for the male of the species.
No. 7 AJ Allmendinger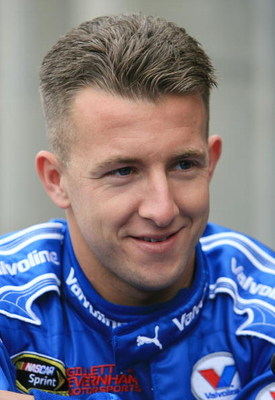 When this young open wheeler came onto the scene, I dismissed him as nothing more than NASCAR eye candy. Let's face it, the boy is a cutie. His performance on the track, however, left a little to be desired.
But, the NASCAR analysts I respect the most touted his talent and skill, so I figured there must be something there. This year he is starting to turn things around, and perhaps soon he will rank as more than just eye candy.
For now, we can look forward (or backward?) to his nice butt being complimented by the form fitting fire suit, and watch his performance on the track improve.
No. 8 Jimmie Johnson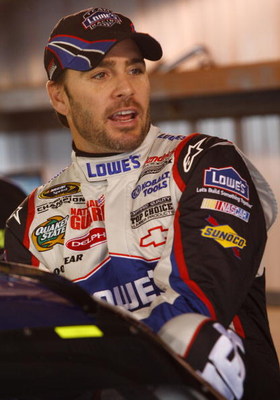 This three time champion definitely has the oh-so-important talent part of the competition nailed.
With his laid back demeanor, his hotness isn't reach out and grab you, but there is no denying that he's another one who can join the "nice butt" brigade!
Jimmie would be the all-American-boy-next-door to Kyle Busch's nice-bad boy. And what woman doesn't want to teach the boy next door a thing or two?
No. 9 Elliot Sadler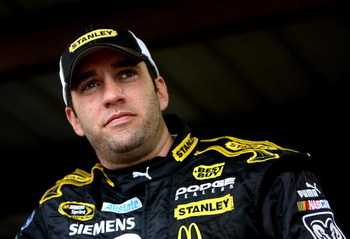 This South Boston Virginia boy has that all-so-smooth Southern accent that turns girls into mush. His tousled brown curls and three-day scruff he sports make him look like the woodsman you WANT to be caught alone in the forest with.
And my, oh my, that butt should be bronzed right along with Carl Edward's abs!
No. 10 Terry Labonte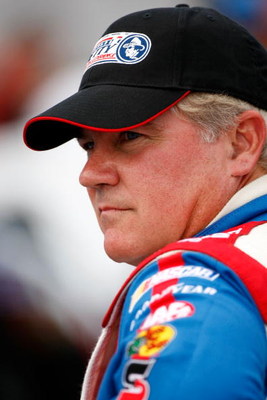 Granted, this champion is a bit older than the others on my list, but there absolutely no denying the hotness of this Texas boy! When I first started really watching NASCAR and he was sporting the Magnum P. I. mustache, well, hello, hottie!
My very first crush as a very young girl was Tom Selleck, and Terry Labonte definitely had the Selleck vibe going on! And, yes, once again, this talented race driver makes the "fine butt" list!
Honorable Mention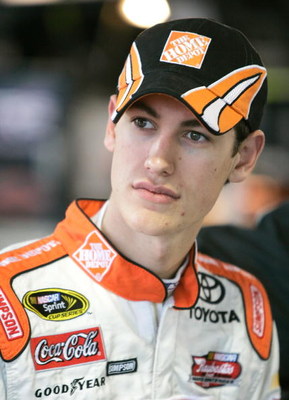 Honorable Mentions: Marcos Ambrose, Scott Speed, and Joey Logano: No list of NASCAR hotties would be complete without a nod to these three new faces.
Marcos Ambrose (Kangaroo Meat) proves time and time again that he's ready to mix it up with the big boys. And that accent! What red-blooded American girl doesn't love an Aussie dialect?
Scott Speed, the former F1 driver brings a new fashion flair to the sport. Whether he'll be more than just NASCAR eye candy will remain to be seen, but for now, he is definitely fun to watch!
Joey Logano is a little on the young side, but his hottie potential is high. His deep brown eyes and kissable neck show that, and since Mark Martin described this 18 year old as the best thing since sliced bread, it's quite apparent that he has the necessary talent to make the cut.
Keep Reading