10 Things to Watch in Star-Studded Heat-Lakers Showdown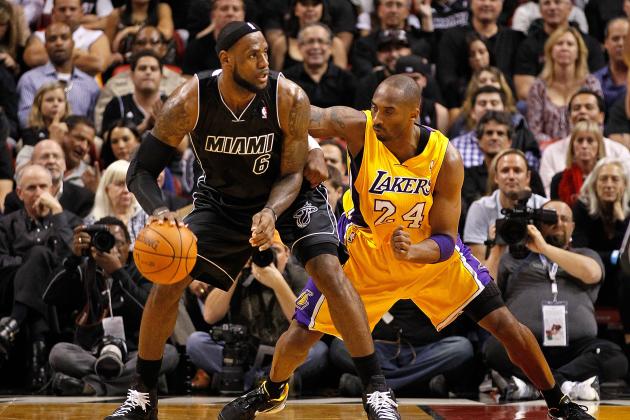 Mike Ehrmann/Getty Images

On January 17, 2013, the Miami Heat will travel to play the Los Angeles Lakers in a star-studded showdown. So what should we be watching for?
The positional matchups are endless, with All-Stars and league MVPs all around. The true determining factors will not be limited to one-on-one battles, though, but instead which team is built to achieve victory.
Believe it or not, the 16-21 Lakers are perfectly designed to pull off this upset.
Will Miami improve upon its 8-8 road record? Or will the Lakers begin to turn their season around with a major W?
Here are the factors that will decide just that.
Begin Slideshow

»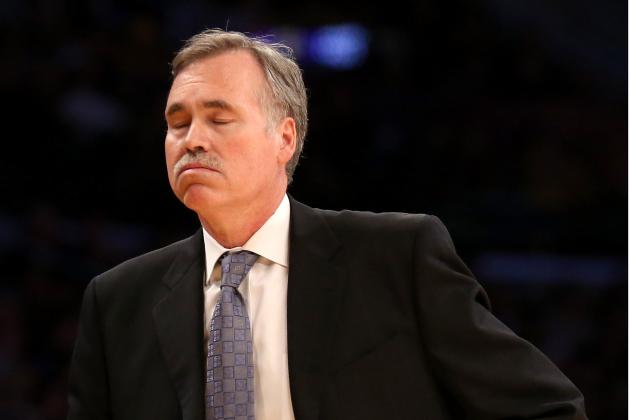 Stephen Dunn/Getty Images

Contrary to popular belief, the Los Angeles Lakers are not the only struggling superpower. They just so happen to be in a worse position than most.
The Miami Heat are 4-5 in their past nine games. They have a chance to break or continue that trend against the Utah Jazz on January 14 and the Golden State Warriors on January 16.
Should the Heat lose either of those games, a loss to the Lakers on January 17 could push them out of first place in the Eastern Conference.
Fortunately, Miami won 128-99 against the Sacramento Kings on January 12 for momentum.
As for the Lakers, they're 16-21 and on the verge of missing the postseason.
The Lakers reached 14-14 on December 25, 2012. Since then, they're just 2-7.
Their most recent game was a victory, however, as they defeated the Cavaliers 113-93 on January 13. A January 15 battle looms with the Milwaukee Bucks.
At this point, it's a must-win game every time L.A. plays. The same could be said for Miami as the New York Knicks and Indiana Pacers are hot on their tail for first place in the Eastern Conference.
Both teams have it all on the line.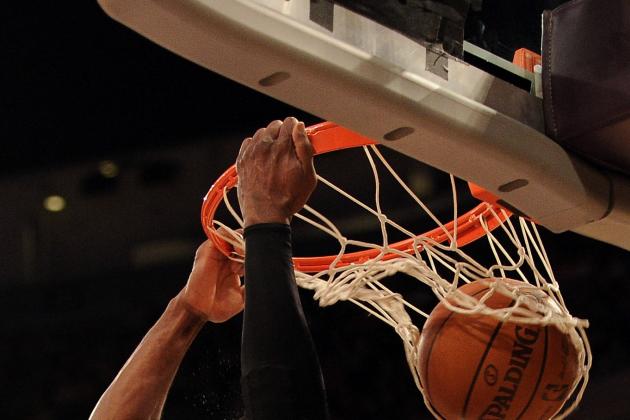 Harry How/Getty Images

When the Los Angeles Lakers host the Miami Heat, we will see a battle of two teams that have struggled defensively.
L.A. presently ranks 26th in scoring defense at 101.9 points allowed per game. Miami is 16th at 97.2 points allowed per contest.
Although the Heat have found their defensive groove recently, their best defensive performances have come against the Indiana Pacers, Chicago Bulls and Washington Wizards.
Indiana, Chicago and Washington all rank 26th or worse in scoring defense.
As for L.A., it shut down the Cleveland Cavaliers on January 13. The Lakers limited the Cavs to 93 points.
Unfortunately, Cleveland ranks 25th in scoring offense.
In other words, neither team is succeeding defensively against quality opponents. This leads to the rational belief that this will be a high-scoring affair.
Keep in mind the Lakers rank fourth and Miami ranks fifth in scoring offense. Would anyone oppose this being a shootout?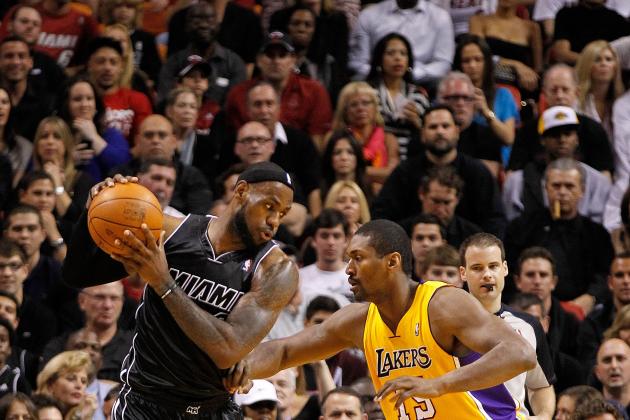 Mike Ehrmann/Getty Images

Believe it or not, one of the few players that has been able to slow down LeBron James is Metta World Peace.
We're talking recently, too. Not Ron Artest times.
During the 2011-12 NBA season, LeBron and MWP met twice. During those games, James shot just 45 percent from the field when World Peace was on the floor.
For why the word "just" is being used, James shot 53.1 percent for the season.
Perhaps most importantly, MWP averaged a plus/minus per 36 minutes of positive-12 when James was on the floor.
Perhaps most surprising of all, World Peace averaged 16.2 points on 50 percent shooting from the floor and 50 percent from beyond the arc with James on the court.
The question in 2012-13 is simple: Can MWP continue to compete with King James? Or will LeBron overcome World Peace's efforts?
This is another example of a deciding matchup come the Heat-Lakers showdown.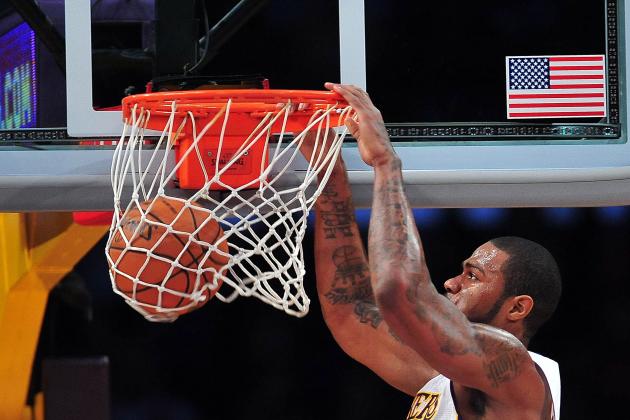 Gary A. Vasquez-USA TODAY Sports

Over his past four games, Earl Clark is averaging 12.5 points, 10.3 rebounds, 3.3 assists and 1.8 blocks per game.
If the Lakers are to defeat the Miami Heat, they're going to need more of the same.
The Lakers are not athletic enough to compete with Miami on that front. With Clark on the floor, however, they begin to neutralize the athletic advantage.
Clark is capable of playing both forward spots. He's a consistent mid-range jump shooter with the athletic ability to get out in transition and finish in spectacular fashion.
Although his defensive fundamentals are questionable, he could play a key role in slowing down LeBron James.
Furthermore, Clark playing the 4 creates scenarios in which he stretches the floor. This will allow Dwight Howard to work one-on-one with Chris Bosh and control the offensive glass.
Regardless of how you cut it, Clark could be the key to the outcome of this game.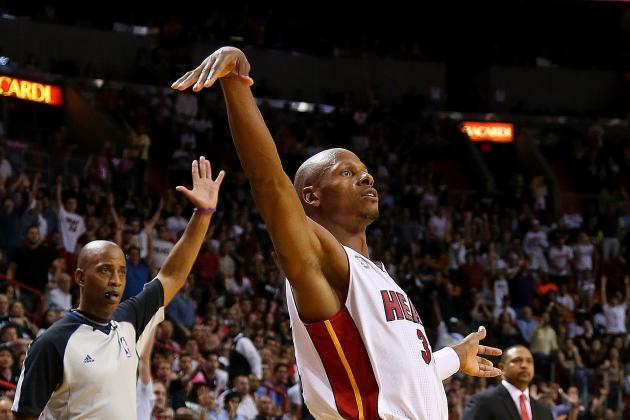 Mike Ehrmann/Getty Images

Thus far in 2012-13, the Miami Heat rank first in the NBA at 39.5 percent shooting from beyond the arc.
The Los Angeles Lakers place 13th at 35.5 percent.
The Heat rank 18th in opponent three-point field-goal percentage at 36.0 percent.
The Lakers place 19th at 36.1 percent.
Both teams are capable of taking over a game from beyond the arc. The Heat, however, can dominate via their plethora of sharpshooters, including the legendary Ray Allen.
If the Lakers are unable to step up their perimeter defense, Allen and company will win convincingly. If MWP and the Laker wings are able to limit the three-point shot, however, the Lake Show stands a fighting chance.
LeBron may draw the headlines, but Miami lives and dies by the three.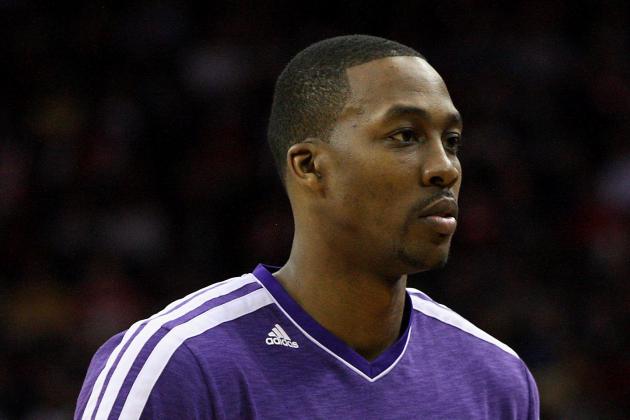 USA TODAY Sports

Since the Big Three came together in 2010, Dwight Howard has matched the Miami Heat at every turn. Nothing more, nothing less.
Individually, D-12 has averaged 19.2 points, 16.8 rebounds, 2.2 assists, 1.6 blocks and 1.2 steals per game.
With a far less talented Orlando Magic team, Howard split the team's showdowns at 4-4 in 2011 and 2012.
One can only imagine that, with more talent than ever before surrounding him, Howard will continue this dominant play against Miami. After all, Miami has no center to stop him.
For further perspective, LeBron James shot just 36 percent from the field when Howard was on the floor in 2012.
Chris Bosh shot 36 percent when Howard was active in 2011, but upped that number to 59 percent in 2012. Unfortunately for Bosh, Howard 17.4 points and 16.5 rebounds per 36 minutes against the former Toronto Raptor.
If the Heat are to win this game, it all starts with slowing down Dwight Howard.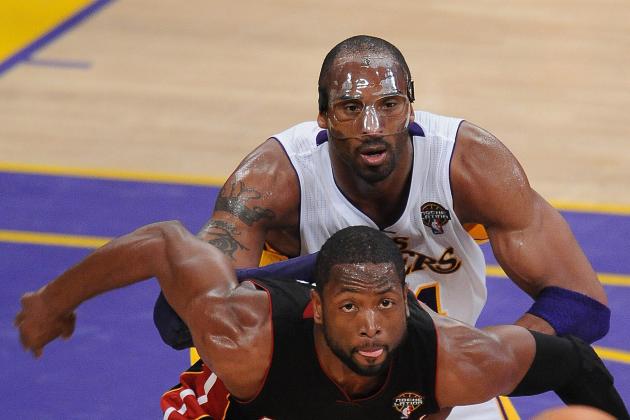 Jayne Kamin-Oncea-USA TODAY Sports

Over the past two seasons, Dwyane Wade has averaged 18.0 points per game against the Los Angeles Lakers.
He's also shooting 39.3 percent from the floor and 22.2 percent from beyond the arc. Paired with 4.0 turnovers and 3.3 personal fouls per game, one thing is clear.
Kobe Bryant has his number.
During their one regular-season game in 2011-12, Wade shot 36 percent from the field when Kobe was on the floor. In 2010-11, Wade shot 39 percent.
As for Kobe, he's averaging 24.7 points per game against Wade since 2010. Most recently, he dropped 33 on 14-of-23 shooting as Wade went for 16 on 7-of-17 shooting.
Wade also fouled out and committed five turnovers.
Kobe is shooting 46.7 percent from the floor and 38.5 from beyond the arc in games in which Wade plays. When matched against one another, Kobe shot 46 percent from the floor in 2012.
In other words, Bryant has D-Wade's number.
Will the result of this battle be another broken nose for Kobe?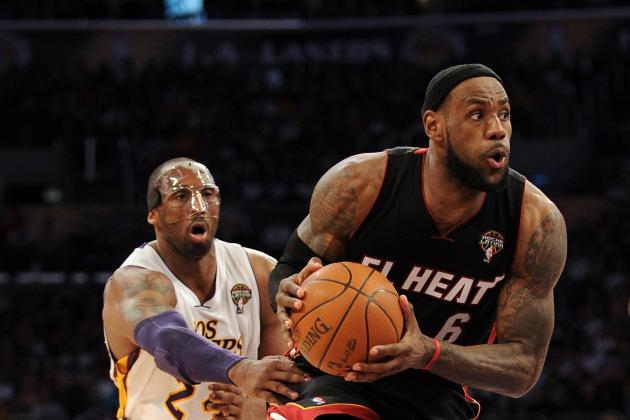 Harry How/Getty Images

Assuming LeBron James does not score 50 combined points against the Utah Jazz and Golden State Warriors, his game against the Los Angeles Lakers could be legendary.
James is 50 points shy of 20,000 for his career. He'd become the youngest player to reach that plateau, topping the mark previously set by Kobe Bryant.
How fitting would it be for LeBron to do so against Kobe himself?
There is a great chance that James scores 50 by the time these two teams meet. Either way, LeBron and Kobe will face off with much more than pride on the line.
The question is, will James ever catch Kobe with his late-career scoring burst?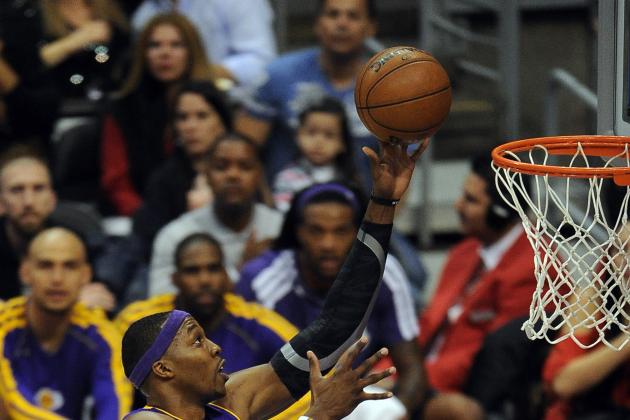 Jayne Kamin-Oncea-USA TODAY Sports

Thus far in 2012-13, the Los Angeles Lakers rank sixth in offensive rebounds per game at 12.6.
The Miami Heat rank 30th at 8.1 per.
To throw salt on the wound, the Heat rank 24th in offensive rebounds allowed per game at 11.9. In other words, there are the makings of an upset in L.A.'s favor.
The question is, will the Lakers capitalize on such an extraordinary opportunity?
If Dwight Howard can work his magic on the boards, the Lakers will be able to control the tempo of this game. The key will be to work the shot clock and not rush early shots.
Slowing things down and creating second chance scoring opportunities could lead to a W for the Lakers.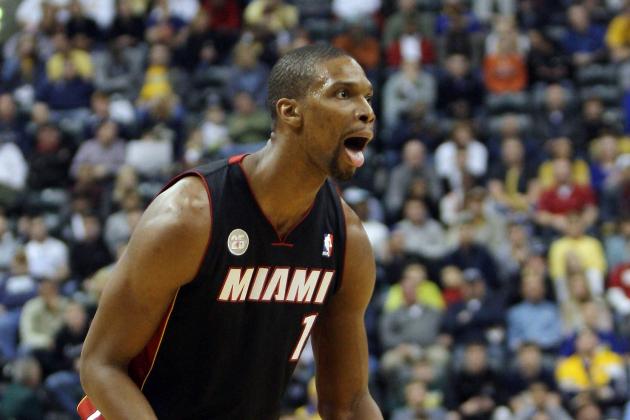 USA TODAY Sports

Over the past five games, Chris Bosh is averaging 18.0 points and 2.6 blocks per game. He's also grabbing just 5.4 rebounds.
He's grabbed five boards or less in nine of his past 14 games.
If the Heat are to win this game, Bosh must be more aggressive on the glass. If he is not, Dwight Howard will control the outcome of this game.
The league's 29th-ranked rebounding team needs Bosh to grab rebounds if they are to win. If he fails to, this will be yet another loss in an underwhelming stretch of games.
The pressure is on.