Maryland Basketball: 5 Keys to Beating NC State
USA TODAY Sports

Maryland (13-3, 1-2) will look to hop off its two-game schnide when it welcomes Mark Gottfried's resurgent NC State Wolfpack (14-2, 3-0) into College Park on Wednesday for a 7 p.m. ET tip on ESPN2.
NC State is beyond hot, riding a 10-game winning streak. Most recently, the Wolfpack took down No. 1 Duke in a major program-building victory.
After starting conference play with a blowout win against Virginia Tech, Maryland lost at home to an inconsistent Florida State team. Later in the week, Maryland was embarrassed by Miami, scoring just 14 points in the first half.
There aren't many resume-enhancing wins to be had in the ACC this year, in what appears to be a down season in the conference. If Maryland hopes to move back toward the positive side of the NCAA tournament bubble, it may need a big win against NC State, who sits inside the top 15 in the polls.
Here are five keys to Maryland securing the victory it needs and taking down the ACC preseason favorite, NC State.
Begin Slideshow

»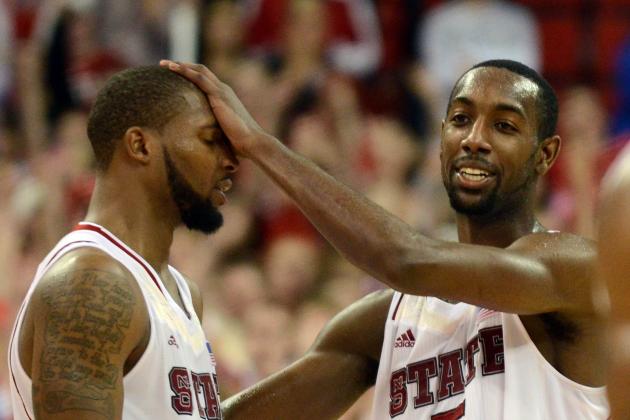 Rob Kinnan-USA TODAY Sports

It's no secret that NC State has some of the weakest depth in not only the entire conference but also in the entire nation. Mark Gottfried basically uses a six-man rotation, occasionally subbing in Tyler Lewis as a seventh.
Out of those six, just two players are true frontcourt players: CJ Leslie and Richard Howell. TJ Warren is listed as a forward but plays more like a wing.
When Leslie and Howell are in foul trouble, NC State struggles. In its loss against Michigan, Howell fouled out and Leslie recorded four fouls. In its loss against Oklahoma State, both fouled out and played less than 20 minutes.
Michigan and Oklahoma State have proved that NC State has no depth behind Howell and Leslie, making NC State very beatable once those two are sidelined. Maryland needs to get those two powerhouses in the paint off the court.
Rob Kinnan-USA TODAY Sports

NC State's field-goal percentage looks pretty at 40 percent. In fact, the Wolfpack has one of the nation's deadliest long-range bombers in Scott Wood.
But NC State has thrived off of scoring inside the perimeter. Just 19.3 percent of NC State's points come from behind the arc, which is 317th in the country. A very healthy 59.3 percent of its points come from two-point range, which is 33rd in the country.
Maryland hasn't played much zone this season, aside from using a zone formation in the full-court press.It may be worth a shot to experiment with a standard 2-3 zone set to eliminate the two-point bucket and force NC State out of its comfort zone, which clearly lies inside the arc.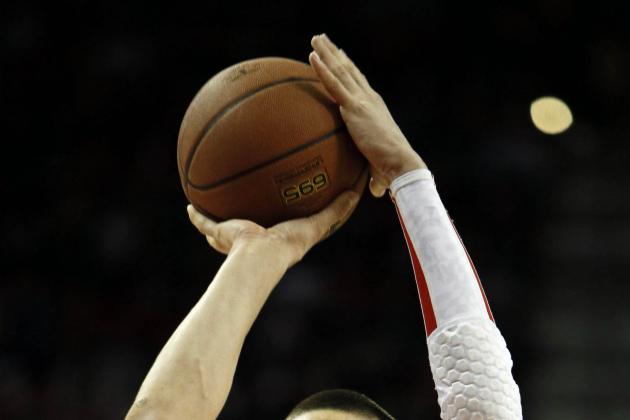 Mitch Stringer-USA TODAY Sports

Maryland's trio of athletic wings—Nick Faust, Dez Wells and Seth Allen—all shoot at least 72 percent from the charity stripe. Seven-footer Alex Len knocks down a respectable 64 percent of his free throws.
Those four players are Maryland's four leading scorers and need to attack NC State's weakness of allowing players to get to the line. Michigan and Oklahoma State both got to the line at least 20 times in their wins over the Wolfpack.
Oklahoma State's Le'Bryan Nash, in particular, torched NC State from the line by making all 13 of his attempts. Maryland may also need a strong performance at the free-throw line to take down NC State.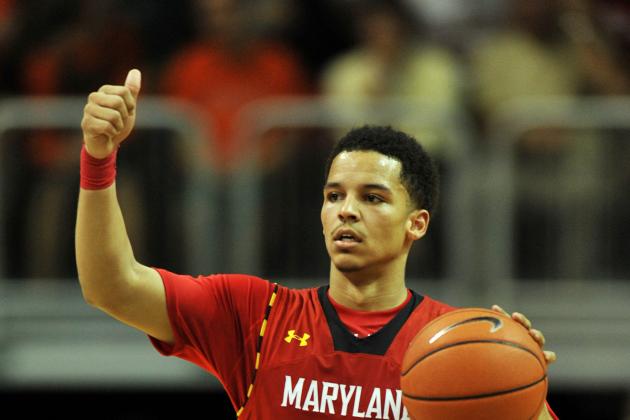 USA TODAY Sports

Maryland's fatal flaw this season has been turnovers. This team simply cannot protect the basketball, an issue that finally caught up with the Terps during its two-game losing streak.
The Terps average 15 giveaways per game, and NC State's quick guards will feast off of Maryland's sloppiness. Rodney Purvis and Lorenzo Brown love to get out in transition and avoid resorting to a half-court offense, which should cause concern for Maryland.
It all starts with guard play, and Maryland's guards Dez Wells, Pe'Shon Howard and Seth Allen have not been able to hold on to the ball as of late. Securing the basketball will be key to beat the Wolfpack.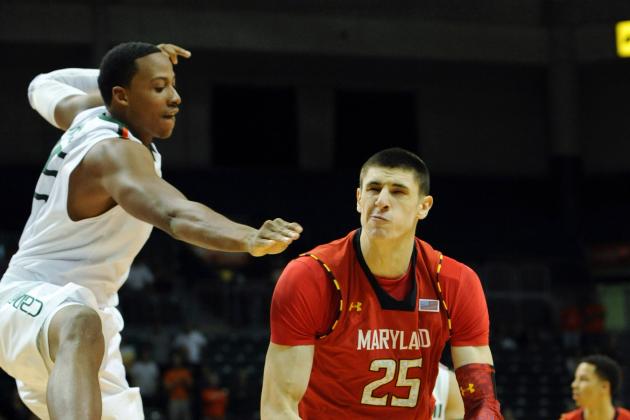 USA TODAY Sports

For all of the praise Alex Len warrants, maintaining a positive psyche is something the Ukrainian center struggles with. If he makes a few mistakes early, it will negatively affect his play for a solid portion of the rest of the game.
This was certainly evident against Miami when Len committed three turnovers in the first couple minutes. Mark Turgeon subbed him out for a walk-on, and he never got his groove together until the closing minutes when Len scored eight consecutive points to keep the game in reach.
Len needs to build confidence early in the game, which is a tall order going against NC State's muscular tandem of Richard Howell and CJ Leslie. If Len gets in a rhythm early, Maryland will be tough to beat.