New England Patriots: Making the Call on Their 3 Toughest Offseason Decisions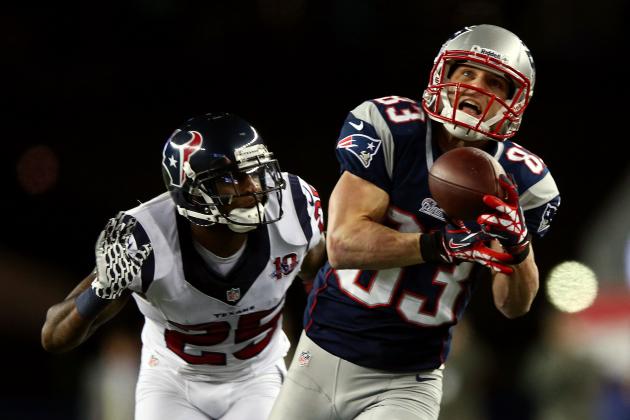 Elsa/Getty Images

The New England Patriots season will be finished three weeks from now, one way or another.
When the season does conclude, Bill Belichick and his staff will have some tough calls to make regarding some key cogs in the team's roster heading into their 2013 campaign.
Here is a look at how a few of the biggest decisions the Patriots' will make this offseason may shake out.
Begin Slideshow

»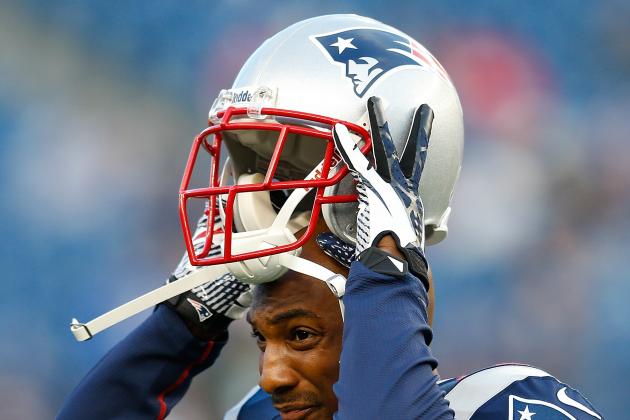 Jim Rogash/Getty Images

Aqib Talib has been a positive influence on the Patriots' secondary from the moment he stepped on the field against Indianapolis back in November.
He has been far from perfect, but he is a competent enough player that Bill Belichick has twice felt confident to match him up head-to-head with Texans' receiver Andre Johnson.
Typically, Belichick's corners do not match up players. Instead they stick to their side of the field, but Talib's talent has Belichick feeling like he can mix more things into his defense.
That flexibility is not something Belichick will let walk away easily.
Of course giving Talib a huge deal is not without risk based on his troubled past and multiple suspensions, but Talib wouldn't be the first player to fall in line in New England.
Running back Corey Dillon was far from a saint during his career, but while in New England, he was able to stay out of trouble and on the field.
I look for the Patriots to try and get a deal done for decent money over a relatively short life—something in the ball park of two years, $10 million.
At 26, Talib can afford to take a deal of this nature, try to stay out of trouble and have a good stretch in Foxboro before hitting the open market for a big contract before age gets the best of him.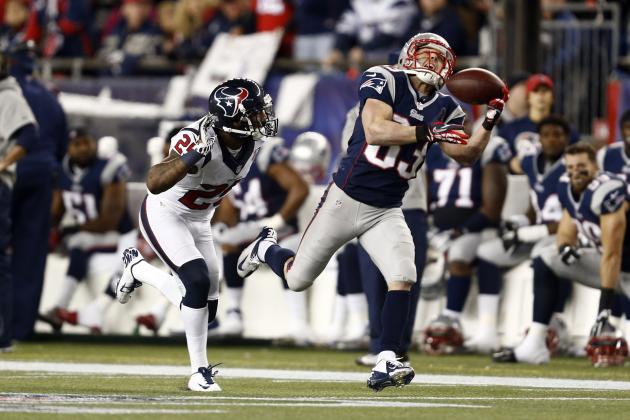 Mark L. Baer-USA TODAY Sports

I have been a long-time believer that the Patriots have the ability to be successful without Wes Welker.
The offense evolved when he came to Foxboro to accentuate him and the offense would be perfectly capable of evolving again without him.
While Welker may not love the situation he has been put in, he is not getting younger and takes a pounding every week.
However, with the current makeup of the receiving corps of the Patriots, it would be difficult for the offense to be as productive without Welker or without bringing in another big-time option for Tom Brady.
Aaron Hernandez and Julian Edelman (who will also be an unrestricted free agent) could potentially step in if the Patriots wanted to have the slot remain as their top threat in the passing game, but neither has shown the ability to be as durable as Welker.
The smartest thing to do at this point is obvious.
Welker needs to be retained in some manner for at least another year. Which is exactly what I believe the team will do by slapping him with the franchise tag for a second consecutive year. When paired with this year's tag, Welker will make roughly $20 million over two years.
Not a bad pay day unless Welker settles for a longer, team-friendly deal.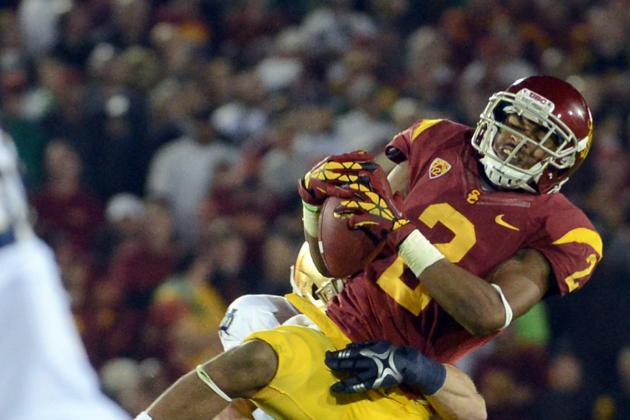 Harry How/Getty Images
USC WR Robert Woods
Wes Welker and Julian Edelman are unrestricted free agents this offseason, while first-year Patriot Brandon Lloyd has not been exactly what they thought they were getting. Add in Deion Branch, who has already been released twice this year, and there are more questions than answers at the wide receiver position.
Even if Welker and Lloyd remain the top options for the team next season, the team needs to pick up a young receiver that they believe can be a potential top-echelon threat down the road.
The draft would be the best place to look, as they do not necessarily need any immediate impact if their starting duo from this season remains. Any young receiver, such as USC's Robert Woods (pictured here), would have the luxury of getting coached up and groomed for a year before he was expected to do much.
The Patriots have not developed a quality receiver since they drafted Branch in 2002, and if they do not begin to do next season, they will just continue to have stop-gap options like Branch and Lloyd for years to come.