8 NBA 'Stars' Getting Worse in 2013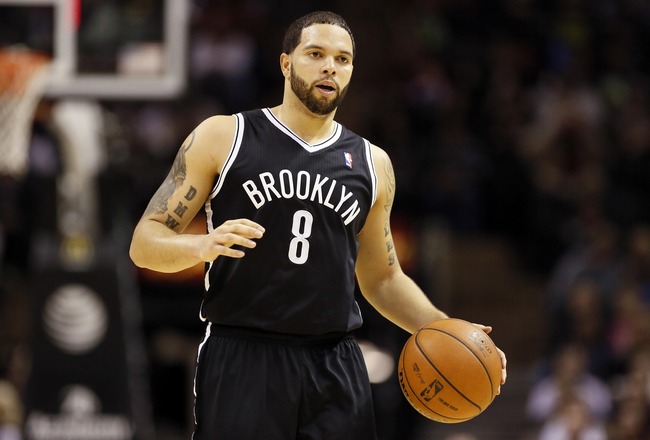 Deron Williams has not played up to his star reputation in 2012-13.
USA TODAY Sports
Across the NBA in 2013, star players are regressing, betraying their elite reputations with lackluster performances.
Not all of these stars are responsible for their own declines. Injuries are fickle that way, untimely cutting primes short and accelerating the aging process. It's not fair to admonish guys who are playing hurt in 2013, but it's impossible to ignore injuries that will permanently limit stars.
Then there are the inefficient shooters, the poor system fits and the guys who are simply over the hill. The NBA is a results-oriented world where there is no excuse for a dip in production.
Let's take a look at the league's falling stars, working up toward the players who have dropped off most.
Stats accurate as of Jan. 15, 2013.
8. Dwight Howard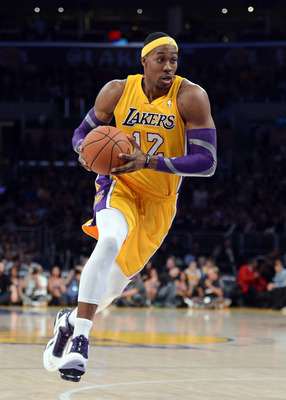 Despite back issues, Howard is basically the same guy.
Harry How/Getty Images
He's still the best center in the league, but Dwight Howard has lost a step.
Howard's scoring has dropped to 17.4 points per game this season, but that's a product of his new role as a secondary weapon with the Los Angeles Lakers. His rebounding is also down to 12.5 per game, but that mark leads the league nonetheless.
On the other hand, Howard has slipped noticeably in terms of his mobility, the product of back surgery from which he is still recovering.
Unsurprisingly, this aged Lakers team has a myriad of issues on the defensive end. If Howard were fully healthy, however, he'd have the range and quickness to be the weak-side defender he once was.
Instead of darting across the paint to contest shooters, he is swiping from afar, defending too much with his arms and not enough with his legs.
That's not the Dwight Howard we know, not the guy who won three Defensive Player of the Year awards. He might get healthier than he is now, but back pain is the kind of thing that will linger throughout his life, let alone his career.
So long as that is true, Howard will not be as good as he once was.
7. Monta Ellis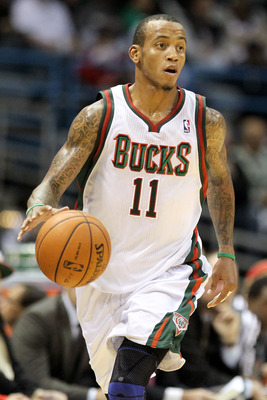 Ellis is a poor fit in Milwaukee.
Mike McGinnis/Getty Images
Yet again, Monta Ellis could use a change of scenery.
The Milwaukee Bucks acquired Ellis in hopes of forming a super-quick, high-scoring backcourt with him and Brandon Jennings. What they actually created was a talented but extremely flawed duo that just doesn't function properly together.
Of the two, Ellis has struggled more. The volume scorer is as inefficient as ever, putting up 18.8 points on just under 40 percent shooting. He has also lost his effectiveness from beyond the arc, hitting on only 25 percent of his three-point attempts.
That wouldn't be so terrible if Ellis weren't such a one-dimensional player. His three turnovers per game diminish the impact of his 5.4 assists per game, and his 1.7 steals are the product of opportunistic but fundamentally unsound defense.
But perhaps the bigger issue for Ellis is playing alongside Jennings, another diminutive guard who shoots early and often. The Bucks are holding themselves back by playing both together, and Ellis' regression is Exhibit A as to why.
6. Rudy Gay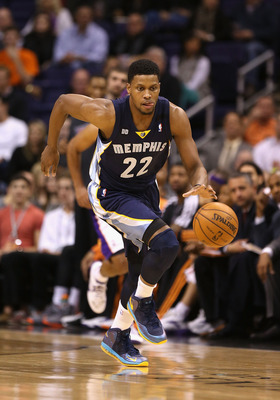 Memphis needs more efficient shooting from Gay.
Christian Petersen/Getty Images
Rudy Gay is the Memphis Grizzlies' black sheep.
Memphis' swingman could be the final piece to a championship puzzle. With a dominant frontcourt and an unsung perimeter threat at point guard, all the Grizzlies need is a legitimate go-to scorer.
They haven't gotten that kind of production out of Gay, who is in the midst of his weakest season in years.
On the offensive end, Gay's 17.8 points per game are his fewest since his rookie season, and he is shooting 41 percent from the field and 31 percent from three, both career lows.
Meanwhile, he is pulling in his fewest rebounds since the 2008-09 season, and he is playing satisfactory but unspectacular defense on one of the NBA's stingiest teams.
Gay is a shot-creating scorer who isn't scoring efficiently, and he is playing average defense for a defensive juggernaut. On another team, Gay could still possibly thrive, but he is falling short in Memphis.
5. Pau Gasol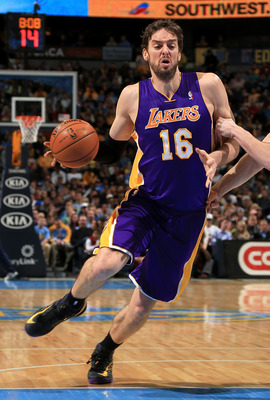 There's not enough room in L.A.'s post for Pau Gasol.
Doug Pensinger/Getty Images
Pau Gasol has been with the Los Angeles Lakers through two championships and four head coaches, but there is no place for him on that team now.
Two immovable obstacles are standing in the way of Gasol's success in L.A.: Dwight Howard and Mike D'Antoni.
With two elite big men who both perform best in the low post, there is congestion in Los Angeles. When both were healthy, D'Antoni opted to stick Howard on the block, pulling Gasol away from the rim and out of his comfort zone.
The logic behind such a strategy is that Gasol is one of the best passers of any big man in the league. However, if Gasol isn't a threat to score from the high post, his dishing will not be as impactful.
Hoopdata backs up Gasol's decline, pointing out that his field-goal attempts have declined on shots within 15 feet of the rim. That's how an All-Star seven-footer comes to average 12.2 points and 8.4 rebounds per game on 41.6 percent shooting.
There is widespread speculation on a possible Pau Gasol trade. He still has the skills to perform elsewhere, but unless he's positioned closer to the hoop, he'll continue to struggle.
4. Joe Johnson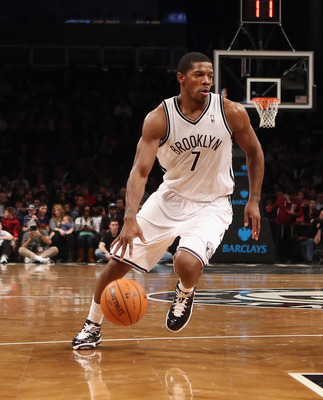 Johnson is one of the most overpaid players of all time.
Bruce Bennett/Getty Images
Joe Johnson's massive contract looks worse with every passing game.
Despite the imposing price tag, the Brooklyn Nets acquired Johnson to be a major piece of their franchise renaissance. With Johnson as at the wing, Deron Williams at the point and Brook Lopez in the post, Brooklyn's new team was going to be an Eastern Conference contender.
Unfortunately, the Nets neglected Johnson's multi-year decline.
Johnson's scoring has declined since the 2006-07 season, when he put up 25.0 points per game on 47 percent shooting. This year, those numbers are down to 17.2 points on 43 percent shooting.
At age 31 and with the best of his career far behind him, expect Johnson's decline to persist and his contract to seem even more outrageous.
3. Deron Williams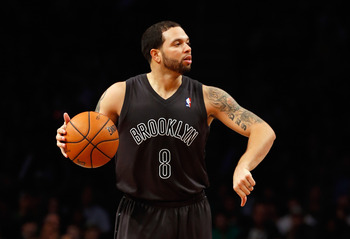 Williams' elite point guard status is now in question.
Mike Stobe/Getty Images
Brooklyn's other guard is undergoing his own career slide, only Deron Williams has regressed much more abruptly.
Not too long ago, Williams was going head-to-head with Chris Paul for the title of best point guard in the league. Though his days of topping 50 percent from the field have passed him by, he averaged 21.0 points and 8.7 assists per game as recently as the 2011-12 season.
This season, his effectiveness has fallen along with his efficiency.
Williams is scoring 16.8 points, his fewest since 2006-07, and dishing out 7.7 assists per game, his fewest since his rookie year. Those numbers are both below his career average and are simply not superstar caliber.
The Nets pulled out all the stops to bring Williams to Brooklyn, positioning him to be the superstar at the core of the rising franchise. While his team has greatly improved this season, he is contributing less in a Net uniform than he ever has.
2. Roy Hibbert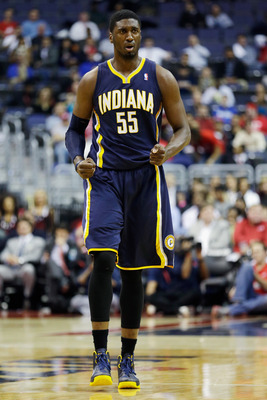 Hibbert is performing far below his max contract.
Rob Carr/Getty Images
Roy Hibbert's offense undermines any argument that he is a star NBA center.
When the Indiana Pacers inked Hibbert to a max contract in the summer of 2012, he had just averaged 12.8 points, 8.8 rebounds and 2.0 blocks per game. Those were fine numbers for Indiana's cornerstone center—all career highs for Hibbert—but they were largely investing in his potential to get even better.
Instead, Hibbert's offensive production has been disastrous this season. His 2.7 blocks are good for fourth in the league and his 8.2 rebounds are solid, but he has just lost any ability to score. With just 9.4 points on a dismal 40 percent shooting, he has easily the worst rate among qualified centers.
For a closer look at Hibbert's ineptitude on offense, we turn to Hoopdata. The stats database says that Hibbert is shooting just 46 percent at the rim. That's horrible performance for any player, but it's a downright travesty for a guy who is 7'2" and is one of the league's highest-paid players.
Unless he can turn his offensive game around, Hibbert's contract is going to become one of the biggest albatrosses in NBA history.
1. Amar'e Stoudemire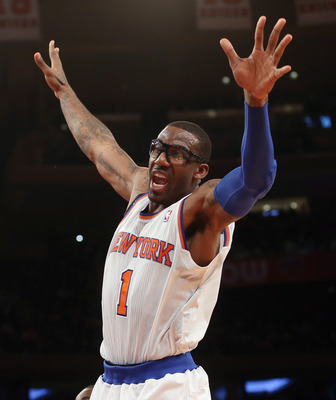 No star has fallen farther than Amar'e.
Bruce Bennett/Getty Images
Calling Amar'e Stoudemire a star today is a sad formality, a nod to what he once was but no longer can be.
When he first joined the New York Knicks, STAT was at the height of his powers, rejuvenating the franchise with 25.3 points and 8.2 rebounds per game.
Stoudemire wasn't quietly productive, either, bringing true star power to the Big Apple and demanding respect and attention every time he touched the ball.
After a litany of injuries, Amar'e is now a shell of his former self on the court, and his team knows it. He was limited in 2011-12, and he was sidelined for the first two months of the 2012-13 season.
In the seven games since his return, Stoudemire has not been his explosive self, averaging 9.4 points and 3.0 rebounds in 20.9 minutes per game.
Amar'e is still working his way back from his most recent knee surgery, but given his injury proneness, it's unlikely he'll be the athletic force he used to be ever again.
In two seasons, Stoudemire went from being the face of basketball in New York to someone the Knicks consider "available for free," per The New York Times. That's as sharp a decline as any player has had, and his mediocrity in 2013 implies his star days are long gone.
Keep Reading