Ravens vs. Patriots: 5 Matchups That Will Decide AFC Title Game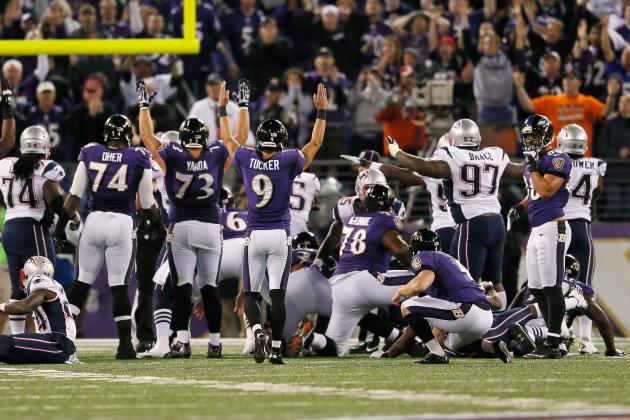 Rob Carr/Getty Images

Second verse, same as the first!
For the first time since the Denver Broncos and Cleveland Browns met in successive AFC Championship Games in 1987 and 1988, two teams are double-dipping again this year, as the Baltimore Ravens will travel to face the New England Patriots in a rematch of a three-point Patriots victory from a season ago.
The Ravens were able to exact some measure of payback with a one-point win in Baltimore earlier this season, but if the Ravens are going to flip the script and avoid last year's fate, then there's a handful of matchups they're going to have to win.
Begin Slideshow

»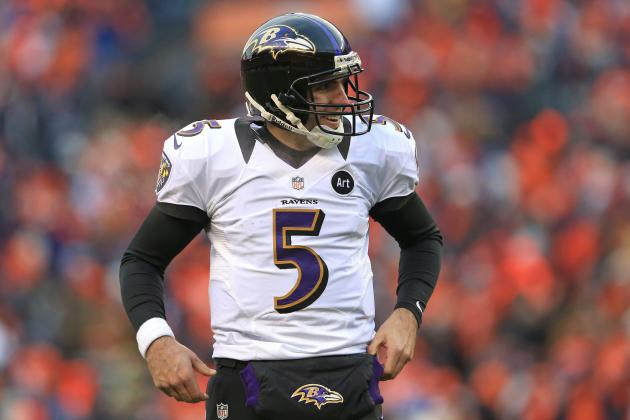 Doug Pensinger/Getty Images

I'm well aware that this technically isn't a matchup, since the opposing quarterbacks won't be on the field at the same time, but it allows me to illustrate a point. So while I wait for the semantics police to show up at my door with a warrant, let's roll on.
It's rare in NFL history for a quarterback to go into a game that can be called "the biggest of his career" for as many reasons as Joe Flacco of the Baltimore Ravens ahead of the AFC Championship rematch.
Playing in the final year of his contract, Flacco has had an up-and-down fifth NFL season, but he did throw for a career-high 3,817 yards this year and has played well in the postseason, leading all playoff quarterbacks with a passer rating of 120.
This isn't to say that Flacco needs to go into this game and outplay Tom Brady, especially statistically, as that's an awfully tall order.
However, Flacco is going to have to at least be able to trade punches with The Golden Boy, and it's critical that he not make mistakes with the football.
If Flacco can do that and somehow lead the Ravens to victory, then not only will he be looking at his first Super Bowl appearance, but also a significantly fatter payday this offseason.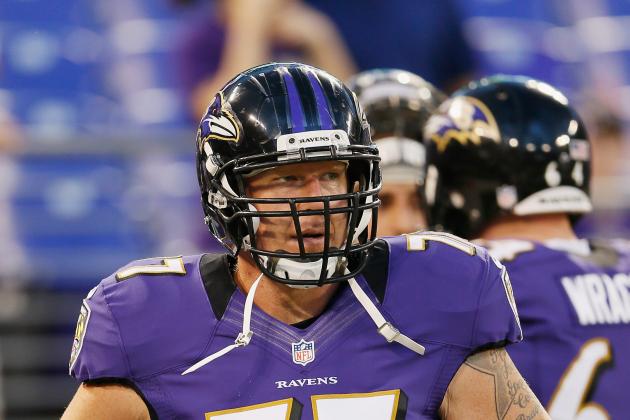 Rob Carr/Getty Images

It's vitally important that the Baltimore Ravens establish the running game with Ray Rice in the AFC Championship Game, both to set up play-action passes and to keep the New England offense off the field.
The key to that is neutralizing defensive tackle Vince Wilfork, who was named a first-team All-Pro this season after another year of blowing up the inside of opposing offensive lines for the Patriots.
That difficult task will fall on center Matt Birk, who is a savvy veteran but also on the downslope of a long NFL career.
In this regard, the Ravens may want to get Birk some help, for as Chris Burke of Sports Illustrated points out, Wilfork had his way with Birk in last year's AFC Championship Game.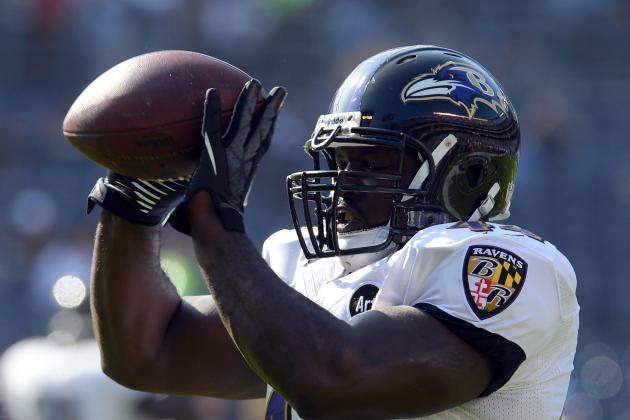 Harry How/Getty Images

If the Ravens are able to contain Wilfork, possibly with help from guards such as Kelechi Osemele, then the run game still isn't out of the woods.
There's still the not-so-insignificant matter of New England linebacker Jerod Mayo, who made a habit of crashing through holes created by Wilfork to the tune of 147 total tackles this season.
Luckily for the Ravens, they have something of an "ace in the hole" in this regard, as fullback Vonta Leach is the most punishing lead blocker in football and a player more than capable of picking up the hard-charging Mayo.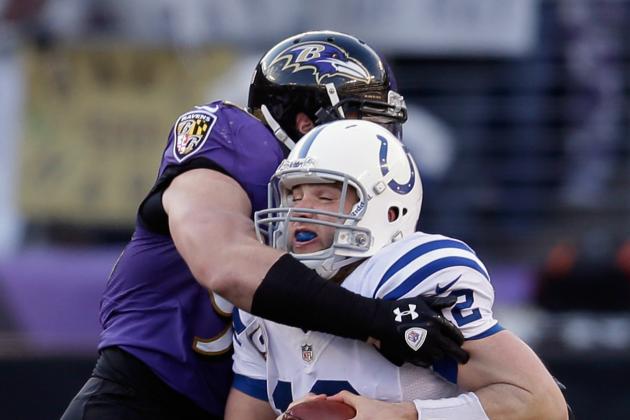 Rob Carr/Getty Images

The Baltimore Ravens' defense has been beset by injuries this year, and while the return of linebacker Ray Lewis has been a big boost, defensive end Terrell Suggs is clearly still hampered by the Achilles tear he suffered last spring.
Suggs' injury has left Paul Kruger, who led the team with nine sacks in 2012, as the Ravens' most dependable pass-rusher, and that puts Kruger in a pivotal role on Sunday.
If the Ravens are going to pull off a win over the Patriots this week, it's essential that Baltimore disrupt the rhythm of the New England offense and quarterback Tom Brady. This means Kruger needs to win the battle with offensive tackle Sebastian Vollmer, who, along with Nate Solder, forms one of the better duos at their position in the NFL.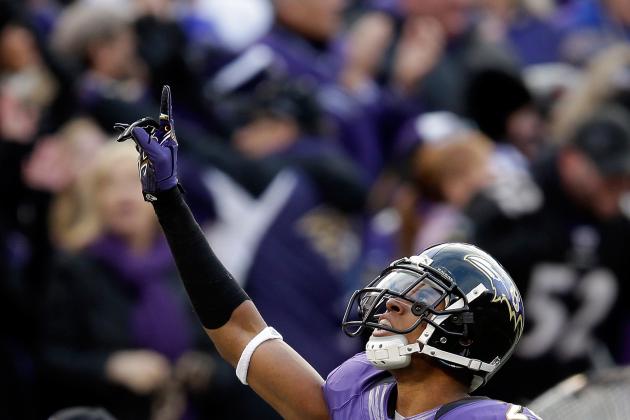 Rob Carr/Getty Images

The New England Patriots may not have tight end Rob Gronkowski this week, but as they showed in dropping 40-plus points on the Houston Texans (again), the team is more than capable of racking up points without him.
With that said, with Gronkowski out, Tom Brady will no doubt lean more on wide receiver Wes Welker, as Brady did to the tune of eight completions for 131 yards against the Texans.
That makes it important that cornerback Cary Williams lock Welker down. Much like with limiting Brady, that's all about disrupting rhythm.
Welker has made an NFL career of being in the right place at the right time and it will be Williams' job to jam Welker at the line of scrimmage in order to throw off his timing with Brady.