7 Big Moves Lions Could Make in 2013 Free Agency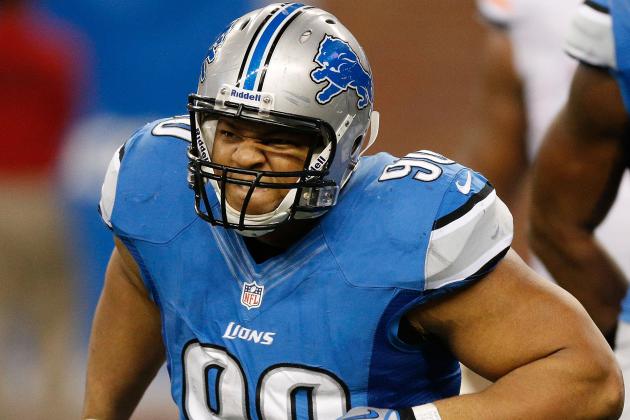 Gregory Shamus/Getty Images

The Detroit Lions have a lot of work to do in free agency, and surprisingly little of it has anything to do with signing free agents.
At least, don't expect the Lions to make any huge signing splashes, which is fine. After all, we know big-money free-agent signings work out all the time. Right, Dream Team?
Regardless, there is a player or two on the market that the Lions could express interest in, and plenty of work to be done in-house. So perhaps this is more about what the Lions could do during the free agency period than in free agency itself.
Regardless of the context, there are undoubtedly things to be done by the Lions in the next three months, and these are the ones likely to make the biggest headlines.
Begin Slideshow

»
Gregory Shamus/Getty Images

Something is going to happen with Cliff Avril this season, and it's not going to be another franchise tagging, if you believe Martin Mayhew's comments according to MLive.
That, combined with Mayhew's statement that he doesn't know whether Avril's decision to forego a contract for $10 million a year in hopes of a bigger payday paid off or not, seem to point to something.
The Lions are not as committed to keeping Avril around in 2013 as they were in 2012. Another way to interpret Mayhew's statement on Avril/the franchise tag is that they're going to let Avril test free agency this year.
In other words, Mayhew knows that the Lions aren't going to offer him any more than they did last year. But somebody else might, and that's what he doesn't know about.
The Lions would be pretty silly to let Avril walk without at least a reasonable offer on the table. If someone else wants to overpay him, that's fine, but that doesn't mean they want to wash their hands of the man.
Whether overrated, underrated or somewhere in between, Avril has been effective in five years as a Lion, and while a relatively low-impact 2012 may have lowered his value, the Lions would still love to have him back for the right amount.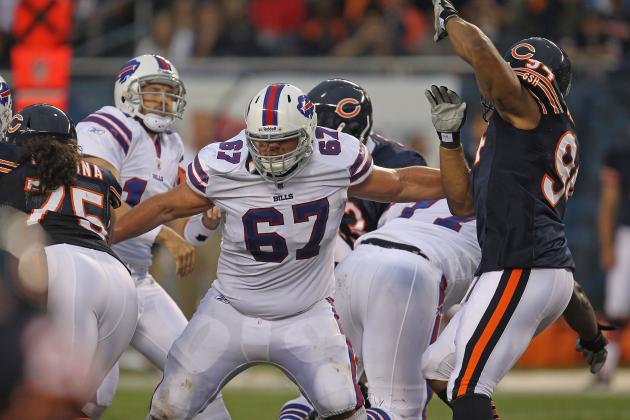 Jonathan Daniel/Getty Images

This kind of thinking might be more wishful than anything, considering the Lions have been satisfied with Stephen Peterman at right guard and have not signed or drafted a true guard to compete with him for three years.
The Lions have not shown the propensity to invest much of anything into the guard position, much less chase after a highly paid free agent. And realistically, the line hasn't suffered all that much for it.
But Peterman is slated to make just under $3 million in 2013, according to spotrac.com, so how bad would it be to lose the aging, increasingly ineffective Peterman and replace him with a rising young star who just helped C.J. Spiller into a career year?
To give an idea on interior offensive line salaries, the big interior lineman signing last year was Carl Nicks to the Bucs for $47.5 million over five years.
That's comes out to $9.5 million a year, which is money the Lions don't have if they want to sign anyone else of consequence. But Levitre is also not on the same tier as Nicks. If the Lions can bring Levitre in for less than twice what Peterman makes (say $5 million to $6 million a year), they might consider it.
That said, considering the way the Lions apparently value their offensive line, this may all be a pipe dream.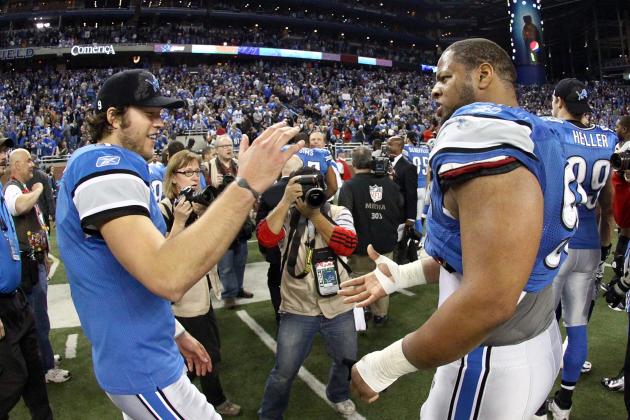 Dave Reginek/Getty Images

The Lions want Matthew Stafford to stick around for a while. They also want him to maybe not count $20 million against the salary cap in 2013.
Lions GM Martin Mayhew will see if he can accomplish both during this offseason in a single maneuver, much the same as he did last season with Calvin Johnson.
The question now is whether they might do something similar with All-Pro DT Ndamukong Suh. Suh is due roughly $17 million in each of the next two seasons, and considering the rebound season he had, the Lions should be thinking about Suh in a long-term sense, as well.
Suh was recently announced as a second-team All-Pro for 2012, along with Haloti Ngata of the Ravens and Justin Smith of the 49ers, and behind only Geno Atkins of the Bengals and Vince Wilfork of the Patriots.
That, combined with a whopping two penalties for 20 yards all season (plus one laughable, reputation-based media overreaction), seems to have helped the reclamation of Suh's career, if not his image.
With two years (and a voidable 2015) left on Suh's contract, it may be time for the Lions to consider extending Suh as well as Stafford.
That said, Suh may not be terribly motivated to work his deal out quickly, since the remnants of his rookie contract (combined with some restructuring he offered to do in past years) are likely to make him the highest-paid DT in the league for the next couple seasons, and a healthy portion of it is guaranteed.
Still, it may be worth it for the Lions to at least open that discussion.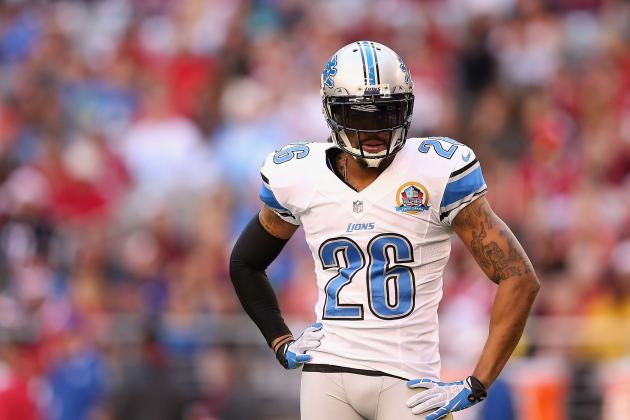 Christian Petersen/Getty Images

Louis Delmas is a big ol' bundle of potential, and the current Lions administration is not likely keen on cashing in its chips on its first second-round pick.
For those reasons, the Lions should look to bring Louis Delmas back into the fold. But whether they do or not is predicated solely on whether another team is willing to roll the dice on Delmas not being the next coming of Bob Sanders.
The ideal situation for the Lions is one similar to how they were able to re-sign Chris Houston in 2010. That year, Houston tested free agency, didn't find the interest (or the money) he wanted, and opted to re-up with the Lions for a relatively inexpensive $3 million a year over two years.
The Lions would love for the same sort of thing to happen with Delmas. They offer him a shorter-term (two-year?) deal, and he either accepts it immediately, or accepts it after failing to find a better one on the market.
The Lions don't want to lose Delmas just yet, on the chance that he may be able to salvage his career. But they're also not going to overpay for potential that may never have a chance to surface.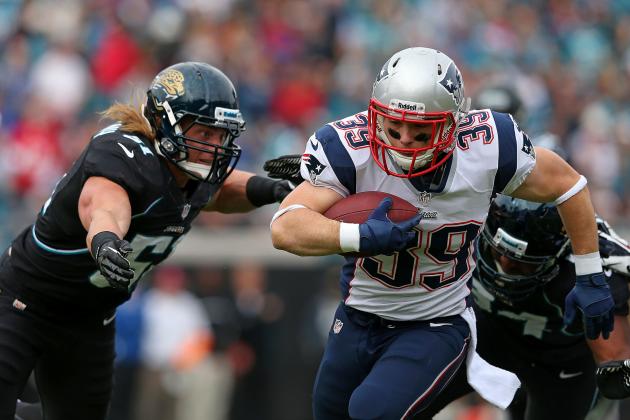 Mike Ehrmann/Getty Images

Danny Woodhead is an interesting player.
He's not fast or flashy. He's not particularly the best at anything he does. He's just a good, strong utilityman.
More importantly, the New England Patriots might be willing to part with him in light of Shane Vereen's performance against the Houston Texans last weekend.
Woodhead is sort of a hard-nosed, jack-of-all-trades type of player. He acts primarily as third-down back in the Patriots' offense, which means he does about as much of his damage receiving and rushing.
But that pretty much matches the profile of one Joique Bell. What the Lions should be interested in is that Woodhead can do all that and return kicks. The Lions will be looking for a return man, given that Stefan Logan's rapid regression over the last three years effectively ended his stint with the Lions.
There may be some objections to this because of similarities between his game and that of the emerging Joique Bell. But Woodhead would be less a replacement for Bell, and more a replacement for Logan/Kevin Smith.
If he can fill those two roles for a reasonable sum, he's absolutely worth it.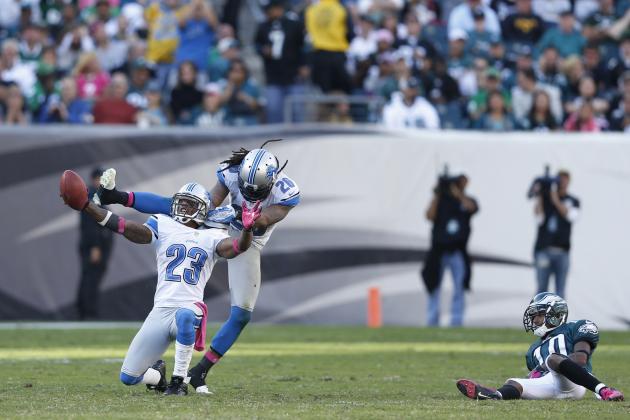 Joe Robbins/Getty Images

Perhaps the only positive for the Lions' secondary in 2012 was Chris Houston, who continues to grow as his two-year contract resulted in a pair of career years.
Much of the discussion surrounding Houston is whether or not he's a legitimate No. 1 cornerback. Therefore, much of the discussion surrounding Houston is irrelevant, since there's no such thing in the Lions' defensive scheme.
That's not an indictment of the Lions' weak secondary, I mean there is literally no No. 1 and No. 2 cornerback in this scheme. The Lions play with left and right cornerbacks, or LCB and RCB.
The difference between the two? Chris Houston is a LCB, in Detroit, which means he defends the left side of the field, regardless of who's there.
A No. 1 cornerback would shadow the opponent's top receiving threat all over the field. Houston doesn't do that because he's not asked to do that. He's asked to cover the side he's most effective on.
That would appear to devalue Houston in Detroit's scheme, except for two things.
1) A team's top receiving threat generally plays on the left side anyway, and
2) Most teams play the same way scheme on offense, with an "X" receiver instead of a true No. 1 threat. Only teams with a Calvin Johnson or Larry Fitzgerald have the luxury of playing otherwise.
So at this point, we know two things about Houston: He plays good football, and he fits Detroit's scheme.
Considering the kinds of resources the Lions would need to invest into replacing him, none of which are even slightly assured to be successful, why would the Lions not open up the checkbook so they don't have to fix what's not broken?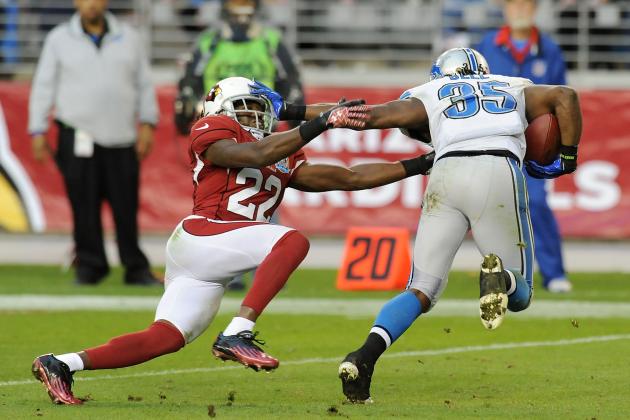 Norm Hall/Getty Images

The Lions have a lot of young players to make calls on in the very near future. Some of them, like Louis Delmas, are unrestricted free agents, and therefore very difficult decisions.
Some, like Joique Bell, are exclusive-rights free agents, which makes the call a little easier. Bell's play, however flawed, was more than sufficient to justify bringing him back for another season (or more), as he was arguably the Lions' most effective backfield threat this season.
Ricardo Silva is another ERFA who the Lions are likely to bring back on the cheap.
But then there are players like Amari Spievey, who is a restricted free agent, but whose play makes him a big long-term question mark. Do the Lions want to invest another year in seeing if he can get it figured out?
What about Jason Fox? Willie Young? Lots of potential, but are they worth the money and the roster spot?
Ultimately, the answer is almost always yes, especially since these players all play at positions with a lot of potential turnover and uncertainty. Unless they're really good, most young free agents with some sort of restriction can be signed on for salaries ranging in the hundred-thousands.
That's not going to break the Lions' salary cap, and each of these players have the ability to play large roles for the 2013 Lions (and beyond). As long as the investment isn't too high to find out, why wouldn't they give these guys another shot?
Even if each of these players tanks in 2013, the Lions aren't losing a major investment (unless it's a high draft pick like Spievey, but that's a different kind of investment). They're basically betting on these guys with house money at this point, so until they give the team a reason to cut them, the Lions have no reason not to let them ride.