USC Football: Projecting the Trojans' 2013 2-Deep Depth Chart
Harry How/Getty Images

As the Trojans enter an offseason of change, as they attempt to right a ship that fell off course in 2012, there will be many units under scrutiny.
And as changes due to graduation and early departures for the NFL become apparent, the roster's depth chart will reflect those adjustments.
Recently, I published a projected offensive depth chart as well as a very recent defensive projected depth chart.
Since then, there have been a few changes, and the following reflects an updated two-deep depth chart for the Trojans' 2013 season.
Begin Slideshow

»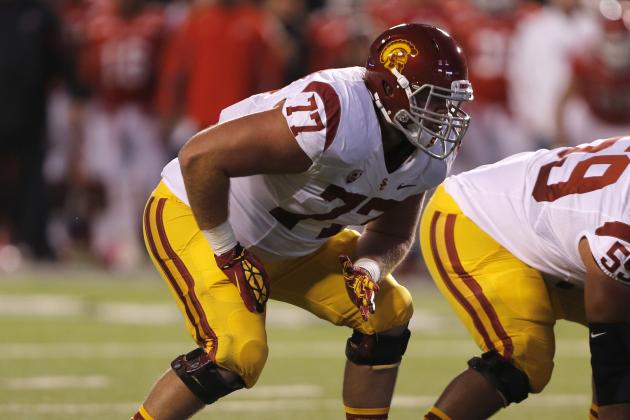 George Frey/Getty Images
Kevin Graf
Not much in the way of changes here, as the only remaining questions will be who inherits Khaled Holmes center position and who finally takes hold of the left tackle position.
Also, be on the lookout for incoming freshmen Khaliel Rodgers and Nico Falah, as well as the two promising redshirt freshmen, Zach Banner and Jordan Simmons.
Finally, if Desmond Harrison—a mammoth JUCO tackle—commits, he might stand a chance to crack the two-deep as well.
Depth Chart:
Left Tackle:
Max Tuerk
Aundrey Walker
Right Tackle:
Kevin Graf
Zach Banner
Center:
Cyrus Hobbi
John Martinez
Left Guard:
Marcus Martin
Jordan Simmons
Right Guard:
John Martinez
David Garness(?)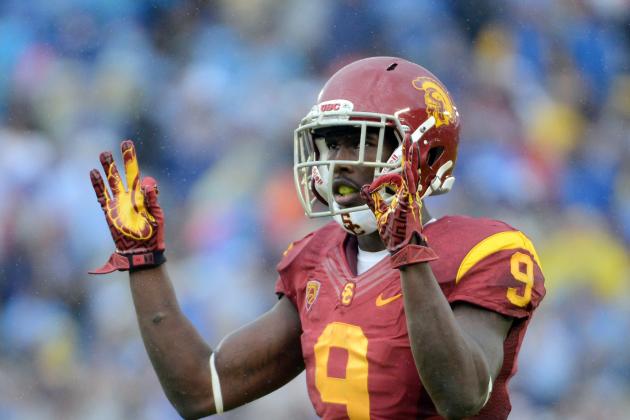 Harry How/Getty Images
Marqise Lee
Now that Robert Woods has declared for the NFL draft, there will obviously be some changes in the receiver unit.
Look for Nelson Agholor to take over for Woods at flanker with Marqise Lee coming back as one of the best at his position in the nation.
Flanker:
Nelson Agholor

George Farmer Jr.
Wide Receiver:
Marqise Lee
De'Von Flournoy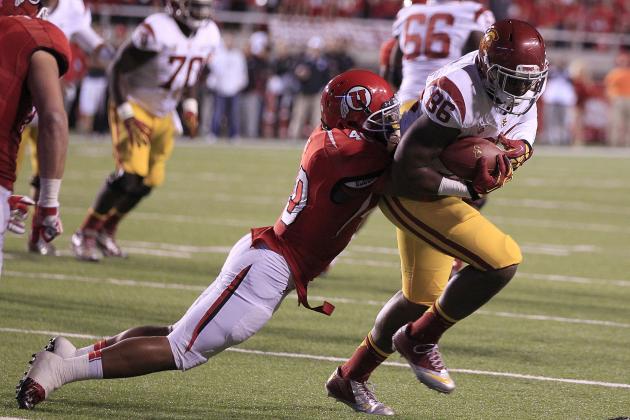 George Frey/Getty Images
Xavier Grimble
With "co-starters" Xavier Grimble and Randall Telfer both back for the 2013 season, there is little reason to think anyone else will crack the two-deep at this position.
Xavier Grimble
Randall Telfer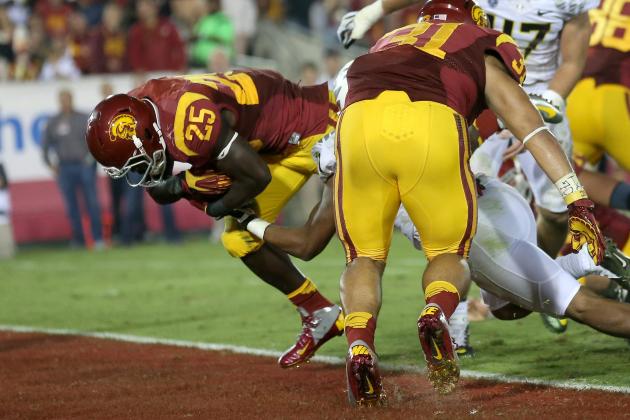 Stephen Dunn/Getty Images
Silas Redd
The two-deep in these units continue to look the same as the Trojans welcome back running back Silas Redd and part-time starter, fullback Soma Vainuku.
However, keep an eye on "big back" Tre Madden, whose knee injury stymied a very nice start to spring camp last year.
Tailback:
Silas Redd
Tre Madden
Fullback:

Soma Vainuku
Jahleel Pinner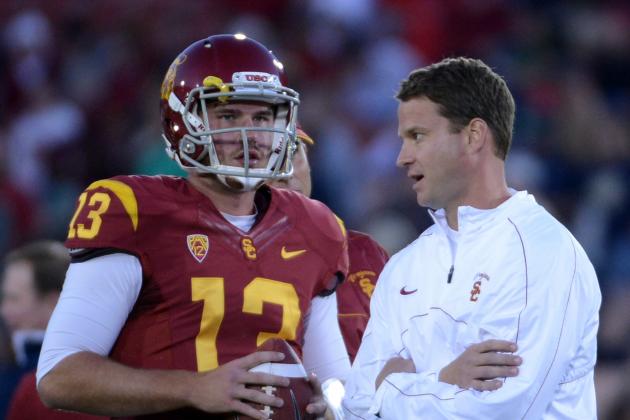 Harry How/Getty Images
Max Wittek
After Max Wittek's abysmal performance in the Sun Bowl, this position is certainly up for grabs.
Although incoming freshman Max Browne is the face of the future, I still see this as a two-man race between Wittek and fellow redshirt sophomore, Cody Kessler.
Max Wittek
Cody Kessler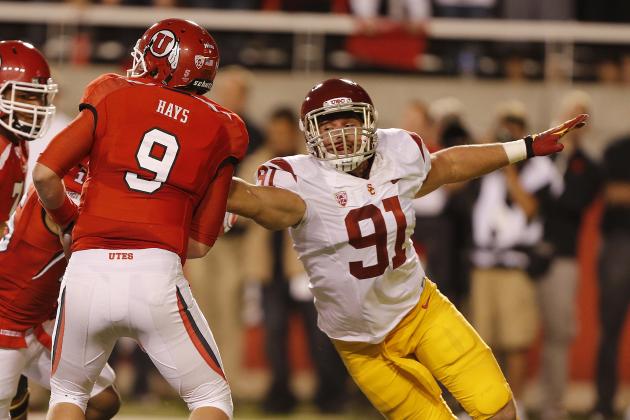 George Frey/Getty Images
Morgan Breslin
The only major change to this unit will be Devon Kennard replacing Wes Horton, who has graduated.
There may be some backup shuffling as players get longer looks, but those changes won't be evident until after spring practice at the earliest.
Defensive End:
Morgan Breslin
Kevin Greene
Nose Tackle:
George Uko
Antwaun Woods
Defensive Tackle:
Leonard Williams
J.R. Tavai
Defensive End:
Devon Kennard
Greg Townsend Jr.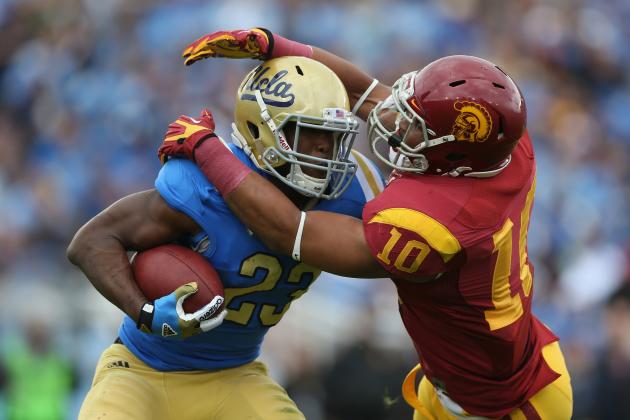 Jeff Gross/Getty Images
Hayes Pullard
One major change that will likely be forthcoming is the move of strongside linebacker Dion Bailey to safety.
This will likely result in Anthony Sarao taking Bailey's spot, and Jabari Ruffin will also get a long look.
Strongside Linebacker:
Anthony Sarao
Jabari Ruffin
Middle Linebacker:
Lamar Dawson
Scott Starr
Weak-side Linebacker:
Hayes Pullard
Simione Vehikite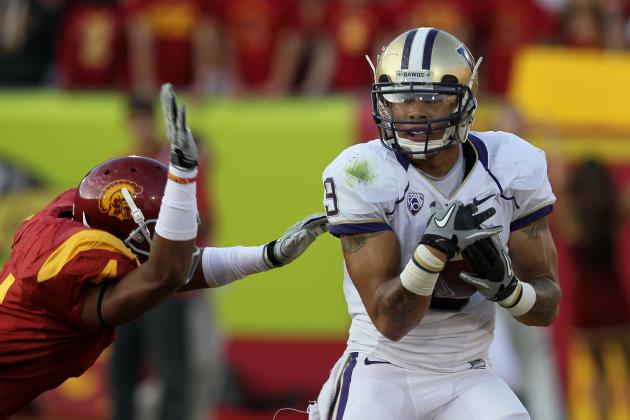 Stephen Dunn/Getty Images
Torin Harris
The smart money now has strong-side linebacker Dion Bailey moving to safety so that will clear up one position in this unit.
However, with the recent decision of cornerback Nickell Robey to turn pro, this opens up another spot which means the Trojans will have two new starters (not counting Torin Harris who started several games).
Cornerback:
Kevon Seymour
Ryan Henderson
Free Safety:
Dion Bailey
Su'a Cravens (True Freshman)
Strong Safety:
Gerald Bowman
Demetrius Wright
Cornerback:
Torin Harris
Jalen Ramsey (True Freshman)