8 NHL Free Agent Signings Under the Most Pressure to Deliver in 2013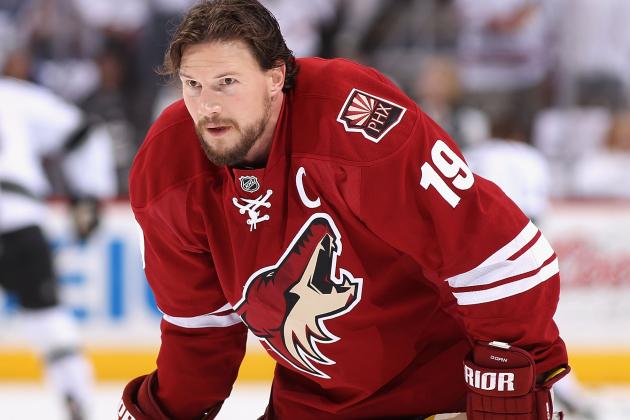 Christian Petersen/Getty Images
Shane Doan will key the Coyotes' run in the desert once again.
Most of the free agents put their names on contracts months ago.
The signings were made with great expectations. Teams that were either trying to climb the ladder or maintain their position added big names. (In the case of the Phoenix Coyotes, they held on to a very important free agent.)
With the lockout lifted, it's now time for these free agents to turn potential into production.
They may have been welcomed with open arms, but the pressure to produce and perform in clutch situations will be significant.
Here are eight free agents who must perform right away.
Begin Slideshow

»
Zach Parise, it's time to play like one of the best five players in the league.
Parise has always been a high-energy, super-productive player with the New Jersey Devils. He's got to be even better with the Minnesota Wild.
The Wild signed him to a 13-year contract that will pay him an average of $7.5 million. Parise scored 31 goals and 69 points last year for the New Jersey Devils. He has scored as many as 45 goals in a season.
Parise is going to need to score 20 to 25 goals in this truncated season and he is going to need to lead the Wild to a playoff spot.
Much is expected of this 28-year-old stud and he has to start delivering right away.
The Tampa Bay Lightning was one of the worst defensive teams in the NHL last year.
They know they have to improve in that area. There's little doubt that stars like Steven Stamkos, Martin St. Louis and Vincent Lecavalier will give the Lightning an exciting offense, but they need help on defense.
That's why they signed free-agent defenseman Matt Carle away from the Philadelphia Flyers in the offseason. Carle, 28, signed a six-year deal that will play him an average of $5.5 million.
He's a solid player, but the pressure will be significant. He is going to have to give the Lightning a significant upgrade on the defensive end.
Carle was plus-19 in the 2010-11 season and he followed that up with a plus-30 mark last season. The Lightning need him to play at that level or better this season.
Justin Schultz was drafted by the Anaheim Ducks, but he never signed a contract with them.
Instead, he chose to remain at the University of Wisconsin and play defense for the Wisconsin Badgers.
By staying in college with the Badgers through 2012, Schultz became an unrestricted free agent.
He was viewed as a prospect with exceptional talent and he chose to join the young Edmonton Oilers. Schultz has explosive offensive talent and his defensive game is also solid.
However, he's not the most physical player. That's going to be a major adjustment for him.
But, that's no excuse. Most of the Oilers' talented players are forwards and they need Schultz to step up on the blue line.
The Dallas Stars are sick of missing the playoffs.
They went the unconventional route by signing a pair of 40-year-old free agents in Ray Whitney and Jaromir Jagr.
These could be the moves that earn the Stars a playoff spot, but they could also blow up. With 48 regular-season games to be played in 99 days, that's a lot of stress on two older players' bodies.
It will be tough for 30-year-olds to recover, so it could be much tougher for Whitney and Jagr.
Whitney signed a two-year deal that will pay him $4.5 million per season while Jagr signed a one-year, $4.55 million deal.
Hours before the lockout became official, Shane Doan signed a four-year, $5.3 million deal to remain in Phoenix.
The signing was a huge one for the franchise. He is the team's leader and best player, and by staying in Phoenix, he told the Coyotes fans that he was not giving up when he could have easily left for greener pastures.
Then, during the lockout, Doan played a pivotal role in the final phase of the negotiations with the NHL.
If he had not been involved during the key moments of the talks, there would likely be no NHL hockey this season.
So in some respects, the pressure is off Doan because he has already been a hero. But if the Coyotes want to be a playoff team once again, Doan must continue to lead them on the ice.
The Nashville Predators' loss is the Minnesota Wild's gain.
Ryan Suter may have been the biggest offseason winner when he signed a 13-year contract with Minnesota that will pay him an average of $7.5 million per year.
Suter, 27, is a very solid defenseman, but he is not as dominant at his position as Zach Parise is at his position. That means the Wild may have overpaid to get his services.
There's little doubt that Suter is a very good defenseman, but the Wild is not paying for very good. The team is paying for greatness and Suter is on notice to step-up his game in a big way.
Suter has never scored more than eight goals from the blue line and he was plus-15 last year. He also made the All-Star game for the first time in his career.
That's a nice jumping off point for Suter, but he's got to do even more with the Wild.
Brandon Prust is a hard-nosed, gritty player who signed a four-year contract with the Montreal Canadiens that will pay him an average of $2.5 million per season.
Prust is not a superstar player and he never will be. That's not why the Canadiens signed him.
They need him to be a competitor who will go into the corners, make plays and drop the gloves when it is needed.
Prust had 160 and 156 penalty minutes in the last two seasons, respectively.
If he plays with an edge in Montreal and makes the Canadiens tougher and nastier, it will be a good signing for the team that finished last in the Eastern Conference a year ago.