SEC Football: 10 Best Up-and-Coming Defensive Studs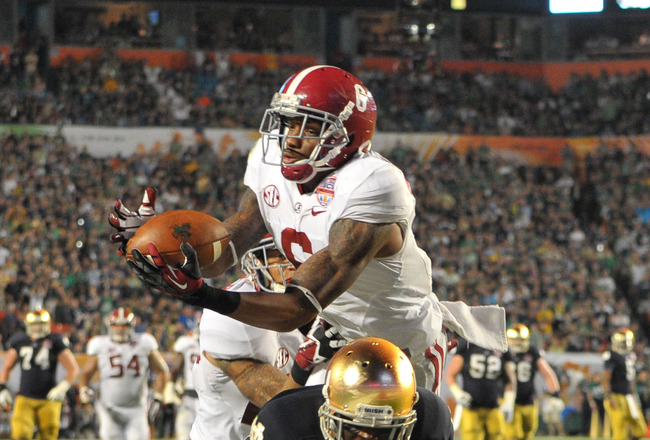 Matt Cashore-USA TODAY Sports
The SEC is loaded with young defensive talent heading into the 2013 season with a number of young studs leaving their marks as up-and-coming stars for the new year.
Guys like Ha'Sean Clinton-Dix of Alabama and Jordan Jenkins of Georgia are proven stars after strong 2012 campaigns. Others, like Kris Frost of Auburn and Ronald Powell of Florida, have hills to climb, but their star is apparent.
The SEC had an offensive revolution in 2012, but defense will rule the day in 2013. Looking ahead to the 2013 season, here are the top 10 up-and-coming defensive stars for the SEC.
Kris Frost: Linebacker, Auburn Tigers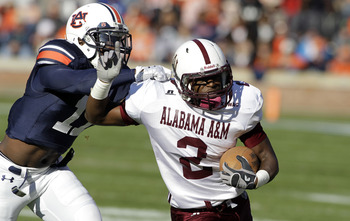 John Reed-USA TODAY Sports
Kris Frost is a rising star for the Auburn defense at the linebacker position. The Tigers have been hurting in the middle third of the defense, and the lack of top-level linebacker play has been to blame.
The Tigers are making a change to a 4-2-5 defense this fall, giving the Tigers just two linebackers on the field at a time. There will also be some 3-4 that will appear, but the base scheme is a two-linebacker lineup.
Frost was second on the depth chart a year ago playing behind senior Daren Bates, but he made little if any impact on the field. He is considered to be a shoo-in to start this fall.
Given two years in the program and a strong teacher arriving to coach linebackers in Ellis Johnson—Auburn's new defensive coordinator—Frost should find a lot of success in 2013 for the Tigers defense.
Channing Ward: Defensive End, Ole Miss Rebels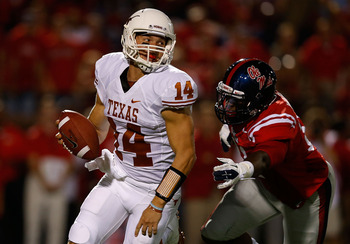 Scott Halleran/Getty Images
Channing Ward was the biggest recruiting grab for Ole Miss during the 2012 recruiting cycle. Ward came in and immediately began to turn heads with his play.
He didn't earn a start during his freshman season, but he did play with regularity. He is expected to be one of the premier pass-rushers in the league for the coming season.
Ward finished the year with only 21 total tackles, but again he served in a reserve role.
The Ole Miss offense has found its swag and is moving ahead with a very dangerous group for 2013. The Rebels need leadership and explosiveness on defense, and it will come from Ward. His star will rise exponentially this coming fall.
Ronald Powell: Defensive End, Florida Gators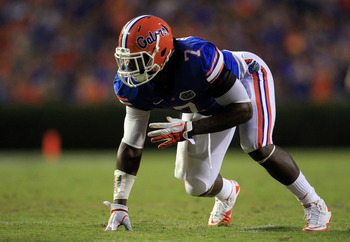 Sam Greenwood/Getty Images
Ronald Powell was a rising star for the Florida Gators heading into the 2012 season, but a knee injury sidelined him for the entire season.
Powell will return in 2013 better than ever, and as one of the most respected defenders in the SEC. Powell has seven sacks and 11.5 tackles for loss in his limited action over the past three years.
The Gators didn't miss Powell too much this past fall, but heading into 2013, Florida will need him to become a major leader for the defense.
The way that he has handled his rehab has been impressive, and that work ethic is what will put him back on the field better than ever this coming fall.
Valdez Showers: Safety, Florida Gators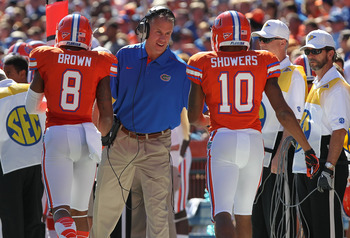 Kim Klement-USA TODAY Sports
With Matt Elam now gone to the NFL, the Gators will need another safety enforcer to roam the secondary. Valdez Showers is that guy for Florida.
Showers had limited exposure to game time this fall, but he has the talent to step in right away and take over the starting safety spot.
Under the guidance of Will Muschamp, the Gators have returned to defensive dominance in the SEC East. Look for Showers to be the next rising star under the Muschamp umbrella.
Jordan Jenkins: Linebacker, Georgia Bulldogs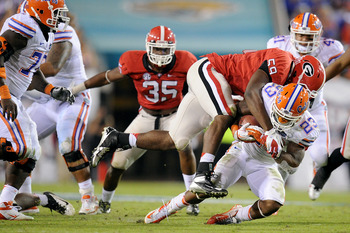 Kevin Liles-USA TODAY Sports
The most popular freshmen on the field for Georgia this fall was no doubt the running back tandem known as Gurshall, but freshman linebacker Jordan Jenkins was just as instrumental in the Bulldogs' success this fall.
Jenkins stepped in for the injured Jarvis Jones this year and finished with 31 total tackles, eight tackles for loss and five sacks.
While the loss of Jarvis Jones will hurt the Bulldogs defense, having a rising star like Jenkins who can step in helps ease the pain. Look for Jenkins to continue the tradition of stud linebacker play for Georgia in 2013.
Julien Obioha: Defensive End, Texas A&M Aggies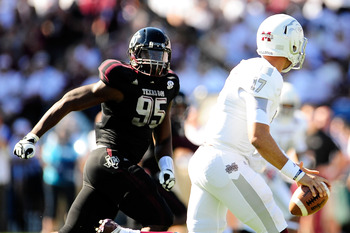 Stacy Revere/Getty Images
The Texas A&M Aggies burst onto the national stage with a surprisingly strong performance during their first year in the SEC. The Aggies offense stole headlines, with the defense often being overlooked despite its strong play.
Julien Obioha is one of the rising stars along the Aggies defense. Obioha started 12 games for the Aggies this year and finished with 25 total tackles, 1.5 tackles for loss and a sack.
Obioha is a 6'4", 255-pound specimen of a defensive end. He will be a big part of the Aggies success on defense moving forward in 2013.
Reggie Ragland: Linebacker, Alabama Crimson Tide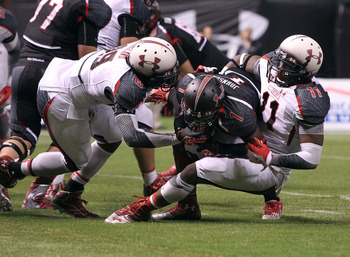 Kim Klement-USA TODAY Sports
Reggie Ragland was a reserve linebacker for Alabama this fall and played well when he hit the field. He is a huge-bodied linebacker that fits the mold of the super-sized defenders that Alabama puts on the field.
Alabama loses some talent along the defense and will need some of its young linebackers to pick up the banner that will be left by the star defenders that won two consecutive national titles.
Look for Ragland to become a household name for Alabama fans and any football fan that catches CBS next fall. He has the intangibles to be one of the best in the game.
Ha'Sean Clinton-Dix: Safety, Alabama Crimson Tide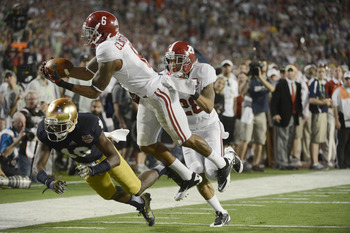 Eileen Blass-USA TODAY Sports
Ha'Sean Clinton-Dix was one of the most impressive rising stars for the Crimson Tide this fall. He stepped into a starting role for nine games and was able to help the Tide find their way to a second straight national title.
Clinton-Dix is a headhunter from safety, but he also carries good enough hands to pluck inadvertent passes from the air.
The Tide will lose playmaker Robert Lester at safety after 2012, but having a guy like Clinton-Dix patrolling the deep third will keep Alabama on top of the SEC.
He recorded 37 total tackles and four interceptions in 2012 as a part-time starter. Look for those numbers to grow this fall.
Brian Randolph: Safety, Tennessee Volunteers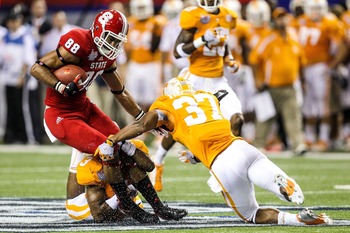 Daniel Shirey-USA TODAY Sports
Brian Randolph was going to be a major piece of the Volunteers defense this past season until an ACL injury sidelined him early.
Randolph had an impressive freshman campaign and was expected to have a big performance his sophomore year. He is expected to return from his injury in 2013 and lead the Vols defensive secondary.
Tennessee needs a spark on defense, and this ball-hawking safety has it. If Randolph can stay healthy, the Vols will be tough to challenge deep next season.
Benardick McKinney: Linebacker, Mississippi State Bulldogs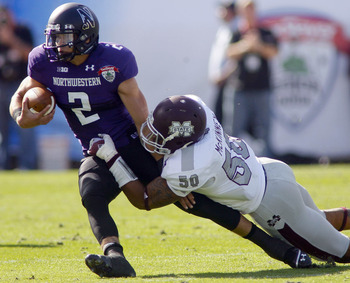 Phil Sears-USA TODAY Sports
Benardrick McKinney burst onto the scene quietly for the Bulldogs at linebacker, tallying 102 total tackles, 4.5 tackles for loss and one sack in his freshman campaign.
You read that right, he was a freshman last season.
The Bulldogs struggled late in the year to stop opposing offenses, but it wasn't for lack of effort or production from McKinney. With the loss of senior Cameron Lawrence at linebacker, the Bulldogs need leadership at the position heading into 2013.
They will look to this rising sophomore to provide it.
McKinney will finish 2013 as one of the best linebackers in the SEC.
Keep Reading