The Good, the Bad and the Ugly from the History of Strikeforce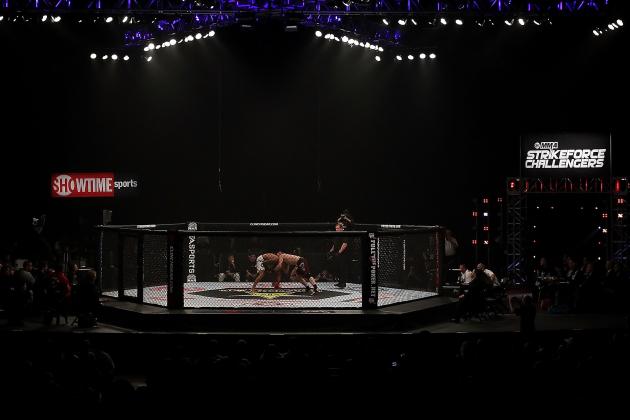 Christian Petersen/Getty Images
Strikeforce had plenty of good and bad over the years.
Strikeforce is officially done.
After over 20 years in the fight business, the kickboxing organization turned MMA promotion is closing doors. Over that stretch, we've seen a great deal from the promotion. There were high highs, low lows, triumphs and mistakes.
What then, were the best moments for the promotions? The worst?
Find out right here as we look at the good, the bad and the ugly moments from the promotion.
Begin Slideshow

»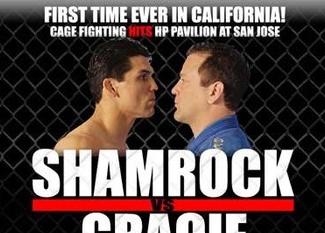 The original Strikeforce card was one of the promotion's best.
The inaugural Strikeforce MMA event, aptly named Strikeforce: Shamrock vs. Gracie, remains one of the best cards in Strikeforce's history and one of the most purely talent-rich cards put on in America to this day.
The headline was a bout between former UFC light heavyweight champion Frank Shamrock, and (at the time) relatively unknown Brazilian jiu-jitsu black belt Cesar Gracie.
The card was packed top to bottom with top-flight talent from local California gyms and included names like Gilbert Melendez, Nate Diaz, Josh Thomson, Clay Guida, Mike Kyle, Cung Le, Brian Ebersole and Krzysztof Soszynski.
Keep in mind, this was in 2006. It was Le's MMA debut, well before Ebersole became Australia's foremost superstar, and predated Diaz's and Soszynski's rise to fame on The Ultimate Fighter.
The atmosphere was electric, and the historical relevance of the card is profound. It was the first MMA event sanctioned in California. It packed the San Jose Sharks' HP Pavilion, filling every one of the 18,265 seats therein, breaking attendance records for American MMA events (it still holds the No. 2 spot behind only UFC 68).
Oh, and the fights were pretty good, too! That's kind of important.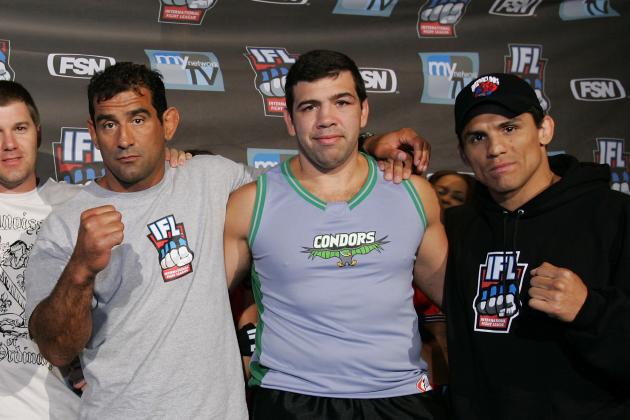 Brian Bahr/Getty Images
Frank Shamrock, right, associated himself with as many promotions as possible as frequently as possible.
When Strikeforce first popped up as an MMA promotion, the star fighter meant to lend credibility to the fledgling organization was Frank Shamrock.
As the UFC's original light heavyweight champ, Shamrock was an A-lister in the MMA. He would, unfortunately, use this status to get himself a little action on the side with another California-based MMA promotion, ProElite.
ProElite was the group behind EliteXC, best known for sacrificing credibility in order to make a quick buck off YouTube sensation, Kimbo Slice, but at the time, was hoping to get the ball rolling with Frank Shamrock.
This resulted in a bitter lawsuit involving all three parties. Shamrock recently talked about the turn of events with our own Jon Snowden saying,
"I had this relationship with Strikeforce that included getting all these investments and really building the brand up, moving it in the right direction. I was constantly looking for financing and opportunities. So when ProElite came along, I went down there as a co-promoter and businessman. All they wanted was for me to fight for them...but when it came down to it, they weren't interested in teamwork. We just immediately butted heads and I got caught in the middle of it. It was supposed to be that we were all brothers. It ended up being the opposite. When it went to court we all had to shut up and let someone else decide.
This, of course, is a complete crock. Strikeforce, obviously, was not going to be a huge fan of their biggest star abandoning his contractual obligations to jump-start their competition. The litigation would net awkward co-promotions that would actually network Strikeforce with Showtime."
Shamrock would remain with Strikeforce until the very end, but this remains an undeniably selfish play.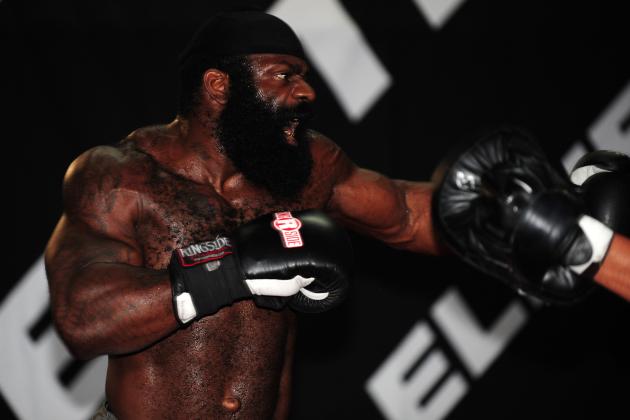 Robert Laberge/Getty Images
Kimbo Slice was the centerpiece to all things EliteXC. When he flopped, so did EliteXC.
People say when one door is closed, a window is opened. EliteXC's door was slammed shut—hard.
It was a surprising, yet unsurprising, turn of events that unceremoniously ended the run of a potentially legitimate opponent for the UFC.
As you know from the last slide, EliteXC and Strikeforce had a tight relationship (even if they didn't like it at the time).
As you almost certainly remember, EliteXC's death was a complicated affair that shed a great deal of light onto a company already mired by controversy (read about it here).
However, this proved to be a huge opportunity for Strikeforce, who bought out EliteXC's assets and took on the contracts of many of its top fighters, including Jake Shields, Gina Carano, Nick Diaz and Antonio "Bigfoot" Silva, as well as the EXC's rarely used video library.
Not only that, but Strikeforce stepped in to fill the void left by its former rival/partner on Showtime. This is where Strikeforce became a truly formidable promotion and started garnering nationwide attention.
Stephen Shugerman/Getty Images
Nick Diaz and Jake Shields were two fighters who were huge boosts to the Strikeforce roster.
Whenever the UFC absorbed a promotion, it has tended to yield excellent fights shortly thereafter.
The same went for when Strikeforce began putting together matches between mainstays and new talent, as well as dream matches of its own: the volatile matchup of Frank Shamrock and Nick Diaz, the women's superfight between Gina Carano and Cris "Cyborg" Santos and the matchup of top middleweights in Robbie Lawler vs. Jake Shields.
Showtime was putting on many interesting fights held by its new promotion, and the biggest winners were the fans. This stretch in 2009 was, perhaps, the best streak for Strikeforce from a matchmaking perspective in the promotion's history.
CBS, the network station who owns Showtime, also took notice and would begin talking with the promotion to put together some events to show.
The question then became who would become the star to build such a big card around...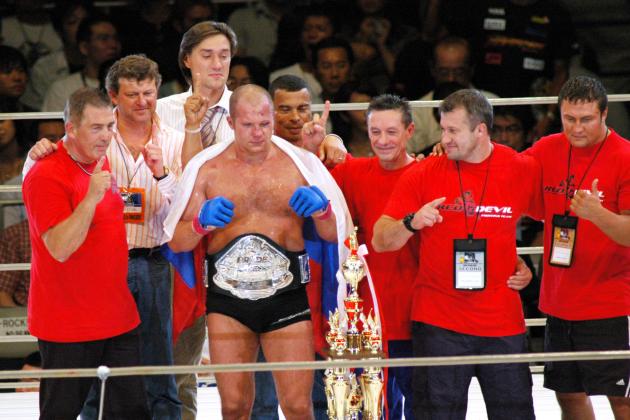 Tomokazu Tazawa/Getty Images
Memories of Fedor's heyday were quickly ended as he dropped fight after fight in Strikeforce.
One of the most memorable moments in Strikeforce history was when word first broke that Fedor Emelianenko would be joining Strikeforce rather than the UFC. Sure, Strikeforce was elated at the time. Showtime and CBS most certainly were too.
Those were the only folks who were happy, however.
Fedor disappointed fans by staying a safe distance from fights with Randy Couture and Brock Lesnar. Even in his new organization, he avoided fighting the top fighters and was matched against Brett Rogers in his promotional debut rather than champion Alistair Overeem.
Still, it's hard to not tune into an event that has Emelianenko atop the card, and Strikeforce knew this, booking his promotional debut to take place at its network TV premiere.
Fedor would punch Rogers' clean head off to top off a solid night of fights. This would be his one and only win with Strikeforce.
Shortly after the win, Fedor was embroiled a confusing, needless contract dispute with Strikeforce that would keep him out of the cage for a good while.
Then, when he finally got around to fighting again, he was tapped in short order by Fabricio Werdum and then slapped around by Antonio "Bigfoot" Silva.
Buyer's remorse at its finest.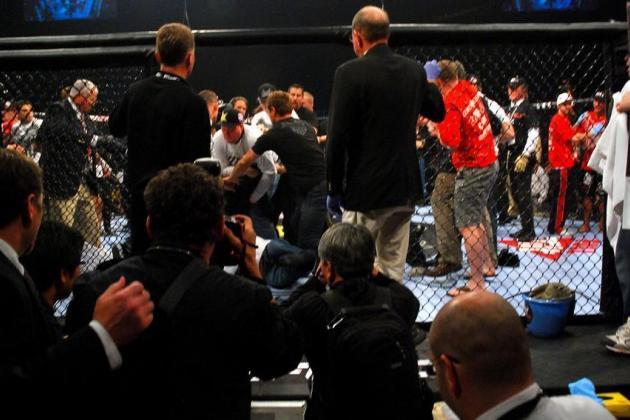 The post-fight brawl instigated by Nick Diaz booted Strikeforce out of its network TV slot. Photo c/o MMAFrenzy.com.
When people talk about fighters ruining promotions, people often bring up Josh Barnett and Affliction. Nick Diaz, though, had an even more profound impact on Strikeforce.
As stated, Strikeforce was making major strides as a promotion from 2008 to 2010. It had the fighters. It had the network TV deal. It had the viewers.
Then Nick Diaz sucker-punched Jason "Mayhem" Miller at the end of the card after Miller intruded on Shields' post-fight interview.
Diaz and the rest of the Cesar Gracie team would rough up Miller but did far more damage to Strikeforce's professional reputation and future prospects.
Strikeforce never again appeared on CBS, never came close to one million viewers on Showtime and never undid the damage done that night.
Any hope Strikeforce had of becoming a promotion on par with the UFC died that night.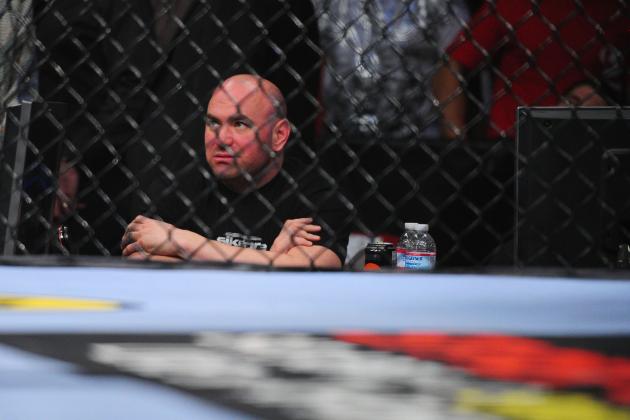 Mark J. Rebilas-USA TODAY Sports
Dana White sitting cageside at Strikeforce events remains an odd sight.
Obviously, this was a major turning point for Strikeforce.
It's hard to call this good or bad. Obviously, it's bad for Strikeforce and bad for Showtime but very good for Zuffa, fans and Strikeforce fighters.
Whether or not Zuffa intended on closing Strikeforce, who knows? You can read an in-depth analysis on that subject here.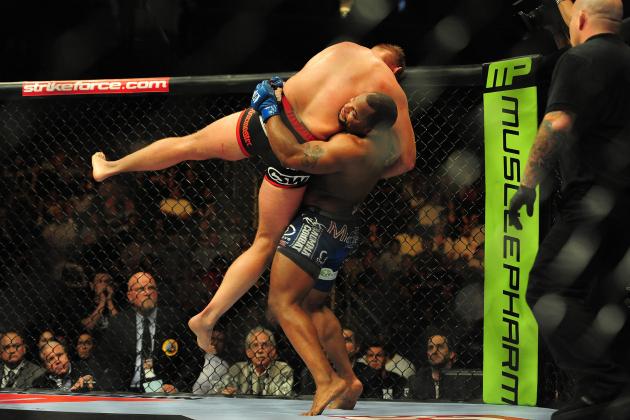 Kyle Terada-USA TODAY Sports
Daniel Cormier, Ronda Rousey and Tarec Saffiedine all have bright UFC futures.
Shortly after Zuffa took control of Strikeforce, the UFC started absorbing its biggest fighters. Alistair Overeem, Nick Diaz and Dan Henderson all found their way to the world's biggest promotion.
While fighters moved out substantially faster than they moved in, Strikeforce still found ways to produce some top talent in its organization.
Daniel Cormier advanced to 5-0 in Strikeforce and became a Top Five heavyweight by demolishing Jeff Monson, Antonio Silva and Josh Barnett en route to becoming the winner of Strikeforce's Heavyweight Grand Prix.
Ronda Rousey became an overnight sensation by pretzeling Miesha Tate's arm and used that fame to become the first woman signed to a UFC contract.
Last but not least, we saw Tarec Saffiedine become the newest star to appear on the Strikeforce roster. The Belgian kickboxer chopped at the legs of long-time UFC middleweight contender Nate Marquardt and became the final Strikeforce welterweight champ.
While trouble mired the final months of the promotion, the golden goose had a few eggs left to lay.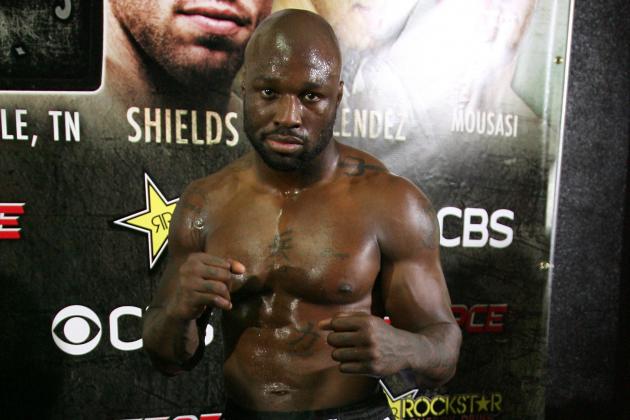 Valerie Macon/Getty Images
Mo Lawal would've been an amazing addition to the UFC, but his feud with Dana White got him cut.
It's odd, really. Dana White just really had it in for "King" Mo Lawal.
As one of the best wrestlers in the light heavyweight division, Lawal would have been a downright amazing addition to perhaps the thinnest division in the UFC.
Still, White hated Lawal and took every opportunity he could to take a swipe at Lawal. When the chance to cut Lawal reared its head, he pounced.
The infraction was Lawal taking offense to the questions of a member of the NSAC, who questioned if he understood the English language. He fired off on Twitter that the person in question, Pat Lundvall, was a "racist bitch".
Stupid move? Sure. Bad enough to be cut? No.
Lawal has since signed with Bellator and will likely be ranked as a Top 10 light heavyweight by the end of 2013.
This needless feud cost the UFC and fans the chance to see Lawal fight the likes of Phil Davis, Forrest Griffin and Antonio Rogerio Nogueira.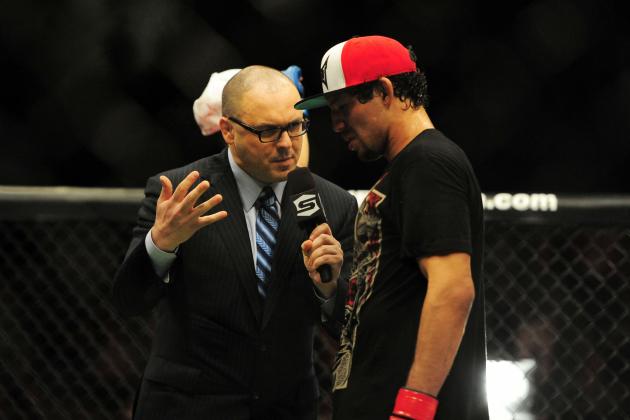 Kyle Terada-USA TODAY Sports
Gilbert Melendez and Luke Rockhold injuries resulted in back-to-back cards being cancelled, which made Showtime tap on the promotion.
Strikeforce, until the very end, was the home to some very good fighters. With Gilbert Melendez, Ronaldo Souza, Tim Kennedy, Nate Marquardt, Daniel Cormier, Ronda Rousey Gegard Mousasi and Rafael Cavalcante, there are still interesting fights to be made.
Unfortunately, things just kept going wrong for Strikeforce. Injuries to Gilbert Melendez and Luke Rockold left back-to-back events without any champions available to fight.
The release of Lawal and the suspension of Rafael Cavalcante left the promotion with exactly one noteworthy light heavyweight. The lack of a heavyweight division left de facto champ Daniel Cormier without an opponent.
This left Strikeforce unable to put together a quality card after Rousey vs. Kaufman in August. Not too long after November's Cormier vs. Mir event was canceled, it was announced that the Strikeforce: Champions—later renamed Strikeforce: Marquardt vs. Saffiedine when Melendez and Rockhold pulled out—would be the final event for Strikeforce.
With that, Strikeforce met its end last night and with it, Dana White adds another name to the tombstone in his office.
It was a somber day for the once-great promotion, but a great day for fans who have many intriguing fights to look forward to.