Miami Heat: Preview of Miami Heat vs. Los Angeles Lakers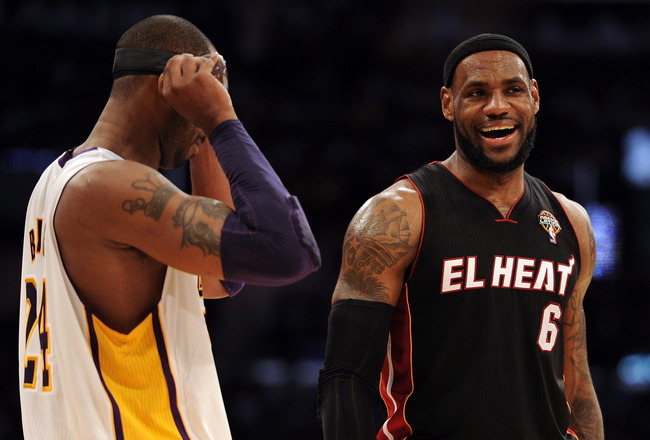 Harry How/Getty Images
It would be an understatement to say the Miami Heat's first matchup with the Los Angeles Lakers is one of the more anticipated games of their season.
In a game where the defending champions go up against the once-alleged champion favorites, a plethora of big names will go head to head in an effort to prove their team's worth. After splitting the series 1-1 last season, it will be interesting to see how either group adjusts to its opponent and which squad can come out on top.
Point Guard: Mario Chalmers vs. Steve Nash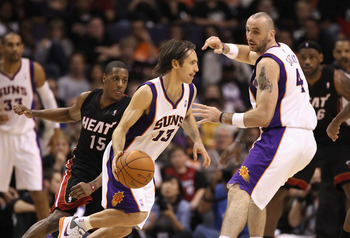 Christian Petersen/Getty Images
Mario Chalmers Averages vs. Lakers Last Season: 12.5 points, four assists, two steals, 38.1 FG%, 46.2 3P%
Chalmers dropped 10 points and six assists in the Heat's first game against LA last season, shooting just 3-of-9 from the floor. He improved to 15 points the next time, knocking down four three-pointers.
Defensively, he held the Lakers' point-guards to a combined 3-of-16 shooting through both games. Chalmers will need to be just as active this time around, as he goes up against Steve Nash.
Steve Nash Averages vs. Heat Last Season: nine points, 10 assists, seven turnovers, 57.1 FG%, 50.0 3P%
One of the greatest point guards in NBA history, Nash struggled against the Heat defense last year. He has a much better supporting cast this time around, so it should be much easier for Nash to create on offense. He did not have any trouble scoring-wise, but he didn't fill up the stat sheet, either.
In the 2010-11 season, Nash averaged just 10.5 points against Miami. Expect a similar scoring output.
Shooting Guard: Dwyane Wade vs. Kobe Bryant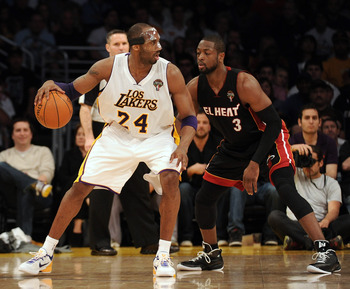 Harry How/Getty Images
Dwyane Wade Averages vs. Lakers Last Season: 16 points, four rebounds, five assists, five turnovers, six fouls, 41.1 FG%, 25 3P%
Wade was only able to participate in one game against the Lakers, as he was out for their 98-87 victory with a sprained right ankle earlier in the season. The Heat lost this game 93-83 on the road, and were without center Chris Bosh.
However, that loss was more due to Miami shooting 37.5 percent and Wade's poor play than a lack of support. It was Murphy's Law for him, as he shot poorly, turned the ball over frequently and fouled out in just 31 minutes of play.
In addition, Wade couldn't stay in front of Kobe Bryant, allowing him to go off for 33 points on 60 percent shooting.
Kobe Bryant Averages vs. Heat Last Season: 28.5 points, four rebounds, four assists, 50 FG%, 37.5 FG%
It was a confusing trend for Kobe against the Heat last year, as he had his best game with Dwyane Wade in the lineup. When the Heat beat LA sans Wade, Kobe shot just 38 percent (8-of-21) but was able to register seven assists.
As aforementioned, he had no such trouble against Wade and was the driving force in the Lakers' victory. Whomever the Heat assign to defend Kobe will alter his output, although he may be determined to prove a point against the defending champions, making Coach Spoelstra's choice irrelevant.
Small Forward: LeBron James vs. Metta World Peace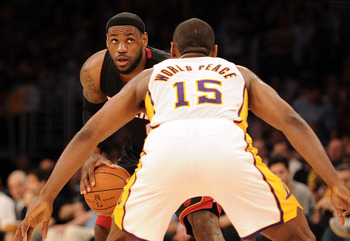 Harry How/Getty Images
LeBron James Averages vs. Lakers Last Season: 28 points, 10.5 rebounds, 7.5 assists, 3.5 steals, 2.5 blocks, 45.3 FG%
LeBron was the buoy keeping the Heat afloat facing the Lakers last season. With Wade out for the first game, he registered a near-triple-double with 31 points, eight rebounds and eight assists. With Bosh out, James scored a solid 25 points, pulled down 13 boards and dished out seven dimes.
While it's obvious Metta World Peace stifled LeBron offensively, lowering his field-goal percentage from his season average of 53.1 percent down to 45.3, James still had an overall contribution and effect on the game. His defense shows his two-way play for the Heat, and they'll need it all against LA.
Metta World Peace Averages vs. Heat Last Season: 12 points, four rebounds, three assists, 50 FG%, 50 3P%
World Peace played well on both sides against the Heat last year. Miami was one of just eight teams against which he was able to shoot over 50 percent, and it could be a trend that continues on Thursday. James and Co. have had trouble defending the three-point line this year, allowing a mediocre 36.2 percentage.
Metta is back to being his old self, averaging 13.6 points per game this season, highlighted by back-to-back 20-point games in as many nights. James and the Heat will need to be alert to defend against World Peace's offense. Defensively, he was able to meddle with LeBron's focus, which will certainly play a role.
Power Forward: Udonis Haslem vs. Earl Clark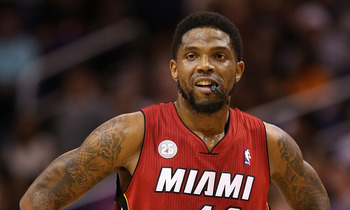 Christian Petersen/Getty Images
Udonis Haslem Averages vs. Lakers Last Season: four points, five rebounds, 33.3 FG%
Haslem's performances against the Lakers last year are so lopsided, you might think one was from his rookie season. In the Heat's win, UD put up eight points and eight boards, all the while shooting 57 percent. In their road loss two months later, he contributed zero points in a 0-of-5 shooting night, pulled down two rebounds while committing three fouls in just 19 minutes.
The latter matchup came with Haslem in a starting role, and going up against Pau Gasol may have limited his ability to be effective. He might be more successful going up against Earl Clark.
Earl Clark Averages vs. Heat Last Season: zero points, one rebound, zero field-goal attempts, three minutes of PT
It is unclear whether or not Pau Gasol will return in time for this game, but it is doubtful. It seems coach Mike D'Antoni will insert Clark in his stead. His statistics against Miami are in no way a concise example of how he will fare, so it's best to review his play from January.
With Dwight Howard, Jordan Hill and Gasol all out with injury, LA was forced to play someone. Clark's number got called, and he delivered. This month, he's putting up 10.4 points on 51.2-percent shooting, all the while pulling down 8.2 rebounds and blocking 1.4 shots.
His best game was a 22-point, 13-rebound output against the Spurs, who have a big lineup. The Heat will have to be cautious with Clark, as they have a much smaller frontcourt.
Center: Chris Bosh vs. Dwight Howard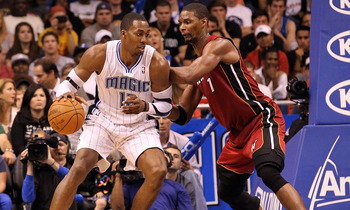 Sam Greenwood/Getty Images
Chris Bosh Averages vs. Lakers Last Season: 15 points, eight rebounds, 54.5 FG%
Chris Bosh Averages vs. Magic Last Season: 16.5 points, 8.3 rebounds, 54 FG%
Many call Bosh one of the softest frontcourt players in the league, and this matchup with Dwight Howard will certainly test that statement.
Bosh had an almost identical output against Howard and All-Star center Andrew Bynum, and while both have differing play styles, the two are the most physically dominant at their position.
Despite this, Bosh remained effective with solid scoring and rebounding but was unable to contain Howard in the Heat's games against the Magic last year.
Dwight Howard Averages vs. Heat Last Season: 19.8 points, 18.8 rebounds, 55.6 FG%, 42 MPG
Inconsistent would be the best word to describe Howard's performances against Miami last year. He had a duo of 20-20 games, both victories, and two mediocre performances by his standard, both losses.
For LA to be successful, they'll need Howard to dominate the paint, and he should have absolutely zero problem on the glass. Miami ranks dead last in rebounding this season, and will need every player to focus and attempt to keep D12's production on the boards down.
Howard played an average of 42 minutes per game against the Heat, committing just 2.3 fouls down from his season average of 2.9. Taking into consideration Miami has two of the best lane finishers in Wade and LeBron, it is interesting to see Howard's lack of foul trouble. If the Heat want their best chance at controlling Howard, it's getting him in foul trouble and out of the game.
Sixth Man: Ray Allen vs. Antawn Jamison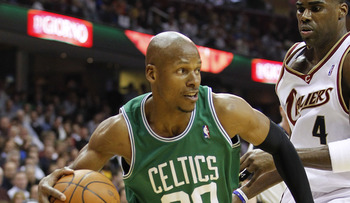 Gregory Shamus/Getty Images
Ray Allen Averages vs. Lakers Last Season: 19.5 points, five rebounds, four assists, 44.1 FG%, 35.7 3P%
Allen will need to be the X-factor for Miami against LA. His shooting percentages were down when playing the Lakers, mostly due to the perimeter defense of Kobe Bryant and company.
However, with the Big Three on his side, Allen should be able to get more wide-open shots and less defensive attention. Keeping the middle open for driving lanes will be the main focus for Allen, and Bosh, and he cannot afford to lose his touch.
Antawn Jamison Averages vs. Miami Last Season: 14.3 points, five rebounds, 46.2 FG%, 66.7 3P%
The Cavaliers didn't manage a single win against the eventual NBA champions last year. In a 107-91 loss, Jamison played his best game of the inter-conference series with 25 points and nine rebounds.
His other two performances (13-3, 5-2) were both poor, but he won't be expected to shoulder as much with this Lakers squad. Miami cannot afford to forget about Jamison on the perimeter, however, as he's shooting 63 percent his last two games. The Heat often help one-man away on defense, but they must stay on Jamison and keep his shooting under control.
Bench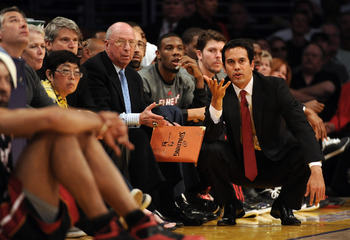 Harry How/Getty Images
Miami
The Heat bench ranks just 25th in scoring this season at 27.6 points per game. However, the second unit leads the league in three-point percentage at 39.9 percent, which is hardly surprising given the likes of Ray Allen, Mike Miller and Shane Battier.
It is uncertain whether or not Battier will participate, due to a lingering hamstring injury. He is listed as day-to-day, so it is unclear if he will return in time to face LA. Should he be unable to play, Allen and Miller will need to step up in his absence and ensure they defend, rebound and knock down open shots.
Lakers
LA's bench comes in at 27th in scoring, and just 22nd in three-point percentage. The key to beating Miami is from inside out, but if the Lakers cannot hit their perimeter shots, it will be easy work for the Heat. Their role players rank a lowly 29th in minutes played with 14.9, directly relative to coach Mike D'Antoni playing the starters close to 40 minutes a contest.
If this trend continues, the fast-paced Heat can surely tire LA's aging starters. D'Antoni needs to trust the second unit to keep his stars fresh and effective.
Conclusion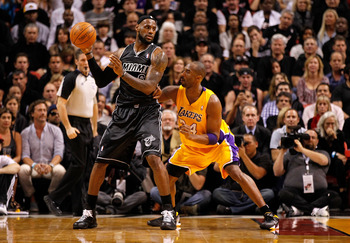 Mike Ehrmann/Getty Images
This matchup will truly be a game of stars. With LeBron James, Dwyane Wade, Chris Bosh and Ray Allen on one side, facing off against Kobe Bryant, Dwight Howard and Steve Nash, it is one of the season's most anticipated battles.
Both sides have changed since their last encounters, simultaneously more potent and more skilled. The Lakers are still in the middle of a rough adjustment period, something the Heat went through in 2010.
Miami has experience and chemistry on their side, so it will be interesting to see if that becomes the deciding factor, and ultimately the aspect that overrules the Lakers' obvious advantages on the interior and on the boards.
Keep Reading

Miami Heat: Like this team?