Power Ranking the Top 25 Playmakers in the 2013 NFL Draft Class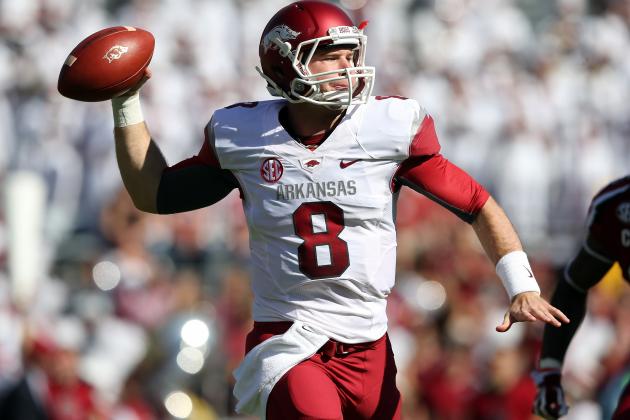 Streeter Lecka/Getty Images

Every team in the NFL desires playmakers. That's why they will go off the board so early and often in the 2013 NFL draft.
Being a playmaker is entirely different from being a good player. Some good players won't make a ton of big plays, and some big playmakers will make plays and do nothing else.
Often, though, the best players are playmakers. After all, big plays tend to win games and can often make a huge difference for a team.
But just what is a playmaker? On offense, it's someone who will gain big yards on one play, often for a touchdown. A running back juking multiple defenders, a quarterback eluding pressure and throwing a deep bomb, a wide receiver getting behind the defense.
On defense, it's a little more complicated. It's a defensive end getting a sack, a cornerback or safety picking up an interception or anyone making a stop for a loss. Turnovers are key, however.
What draft prospects will see their statuses rise due to their playmaking ability?
Begin Slideshow

»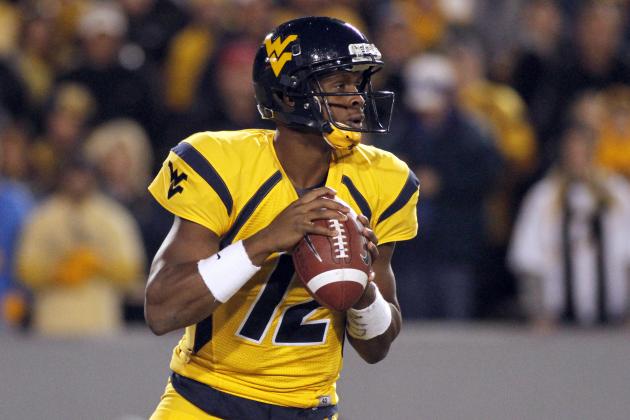 Justin K. Aller/Getty Images

Geno Smith, Ryan Nassib, Ray Graham
Smith's lack of arm strength and vertical aggression knocks him down here. He's probably the draft's top quarterback, but he generally doesn't create huge plays. His accuracy and moderate ability help, however.
Nassib is a playmaker, largely due to his mobility and arm strength, but his overall ability hurts him. He isn't quite athletic enough to create too many plays on his feet, and his accuracy limits his throwing ability.
Though Graham is shifty and elusive, his speed and vision limit just how many plays he is able to make. When in the open field, he can be dangerous, however.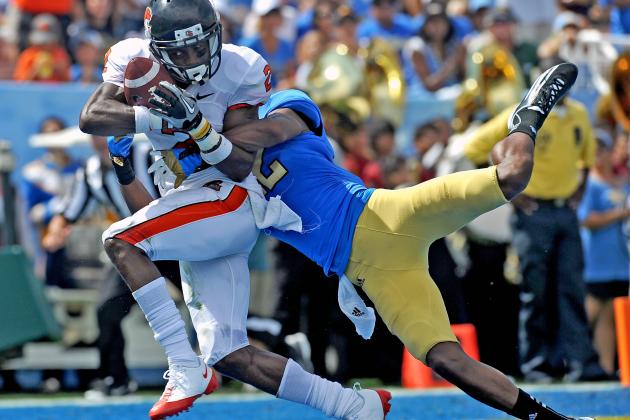 Jayne Kamin-Oncea-USA TODAY Sports

Blessed with great quickness and speed, Markus Wheaton is a classic slot receiver. He will run by and around defenders with ease, either outrunning them or juking them out.
Wheaton's size and overall ability limit him somewhat, but he'll bring excitement to an offense. Defenses must account for him at all times.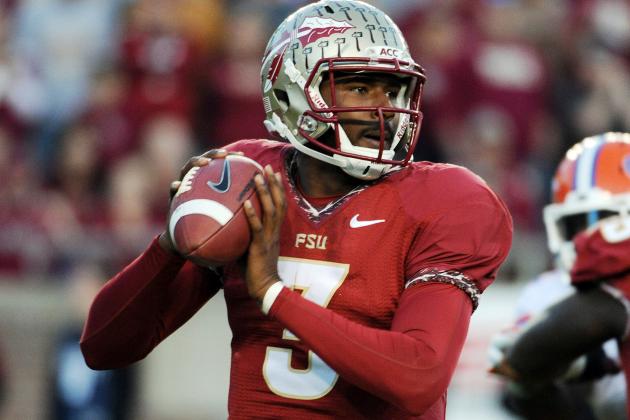 Melina Vastola-USA TODAY Sports

This is an example of a playmaker not being a great player.
E.J. Manuel is a terrific athlete with a live arm, but he struggles with ball placement. However, Manuel's excellent running ability helps him create big plays from nothing.
Manuel will break tackles and juke defenders then use his powerful arm to drive the ball downfield. He is an exciting player to watch, even though he isn't such an impressive quarterback.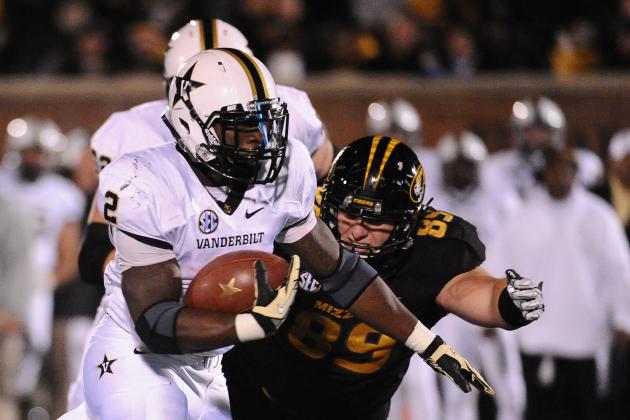 Dak Dillon-USA TODAY Sports

Zac Stacy lacks great speed, but his shiftiness helps him elude defenders in the open field and make plays. Stacy's vision helps him find cutback lanes and take advantage of over-aggressive defenders.
The only thing really limiting Stacy's playmaking ability is his speed. He struggles to run away from defenders. His elusiveness alone helps him make big plays, but he would be even more dynamic with just a little more straight-line speed.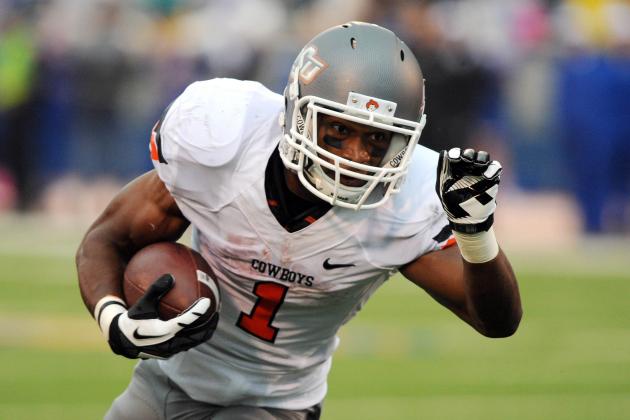 John Rieger-USA TODAY Sports

Joseph Randle isn't overly big or powerful, but he is fast an explosive. Randle shows great burst through the hole, and he is more than capable of making defenders miss, as he possesses great lateral movement.
Though he may not be a starting running back, Randle is dynamic enough to see the field plenty. He'll keep a defense honest, and it will pay if it doesn't keep him in check.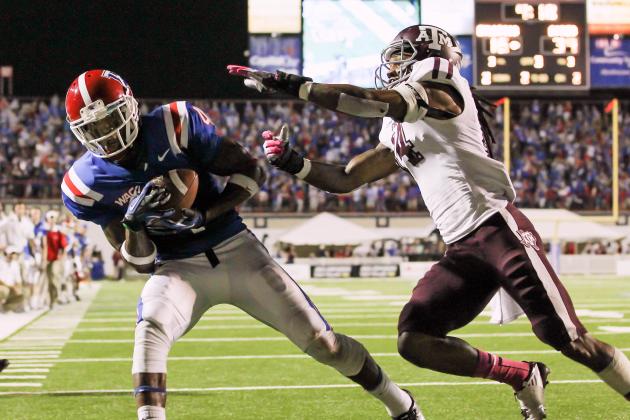 Kevin Jairaj-USA TODAY Sports

A size-speed demon, Quinton Patton needs to work on his abilities as a receiver, but his potential is incredible. The 6'2", 195-pounder has no problem getting past defenders, and he is athletic enough to make plays for the ball.
Purely as a vertical threat, Patton already adds value to an offense. He isn't perfect, but if a defense doesn't respect his speed, he'll burn them for a big play.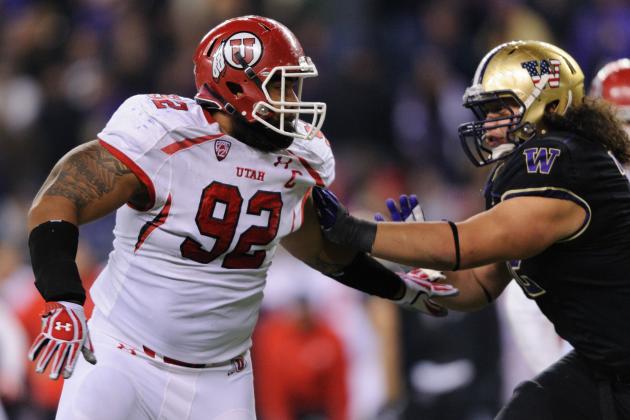 Steven Bisig-USA TODAY Sports

Primarily a run-stopper, Star Lotulelei isn't known for his ability to penetrate the backfield and make plays. That doesn't mean he can't do it, though.
Lotulelei overpowers offensive linemen and forces his way into backfields. He is also an explosive athlete and can beat linemen with his quickness.
In the NFL, Lotulelei may not be known for making plays, but his fans will know better.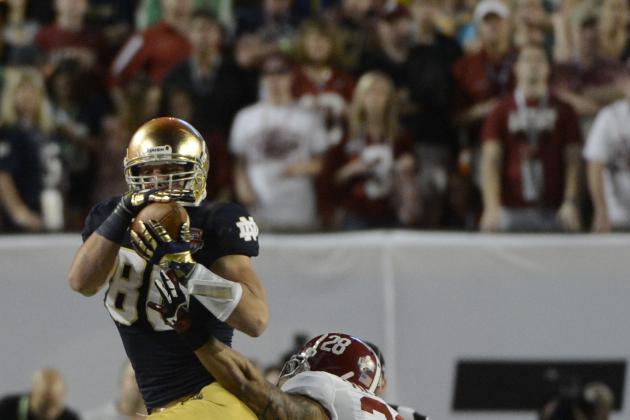 Eileen Blass-USA TODAY Sports

There are more athletic tight ends than Tyler Eifert. Eifert, however, possesses above-average athleticism with a 6'6" frame and superb body control.
Few receivers can go up for a ball like Eifert can, and he's fast enough to stretch the field vertically. He may not make many 80-yard plays, but he'll open up the offense and haul in many 20-yard receptions across the middle.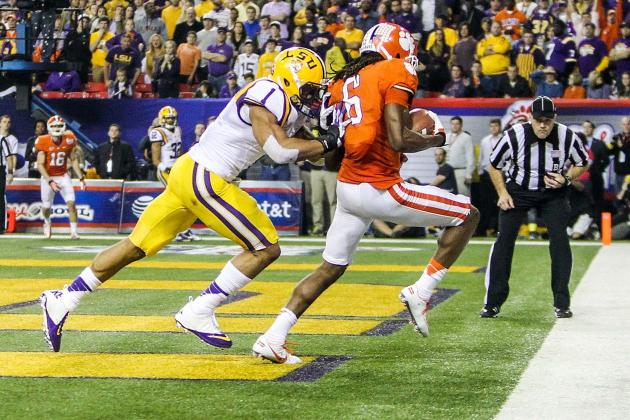 USA TODAY Sports

A quick wideout, DeAndre Hopkins is somewhat limited by his 6'1" height, but he's explosive. Hopkins possesses great burst and can stop and start in a hurry. Few defensive backs can keep up with him there.
Hopkins' vertical ability isn't perfect, but underneath, he will make defenders miss, and he'll make them pay. He's a dangerous weapon on screens and other quick passes.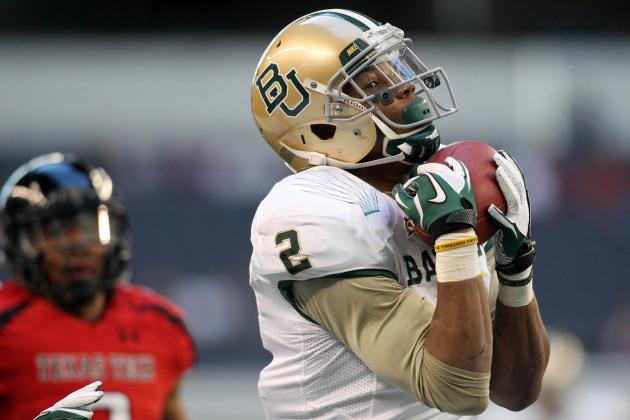 Tim Heitman-USA TODAY Sports

Without his speed and knack for getting behind defenses, Terrance Williams wouldn't be anywhere near this list.
Fortunately, Wililams is fast, and he can get behind defenses.
Williams' 6'3" frame helps him go up for balls, and defensive backs struggle to knock balls away from him. The key to his success, though, is clearly his deep speed, and cornerbacks struggle to keep up with him.
If his quarterback just throws the ball as far as he can, there's a good chance Williams will be there to catch it.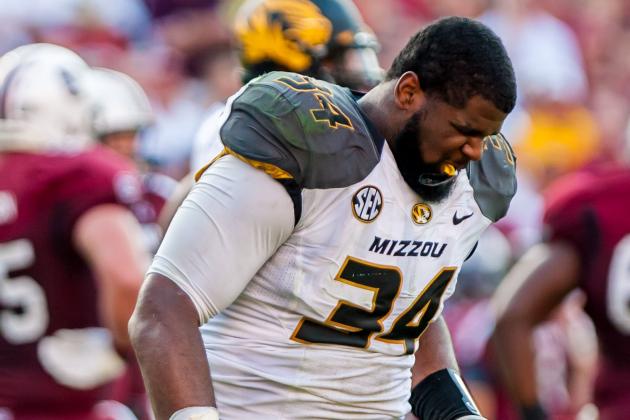 Jeff Blake-USA TODAY Sports

In 2012, Sheldon Richardson picked up 10.5 tackles for loss, an impressive number for a defensive tackle. Don't expect Richardson's presence in the backfield to fade in the NFL either.
An explosive athlete, Richardson is capable of playing either defensive tackle or defensive end. He is incredibly quick, and few interior linemen are light-footed enough to keep up with him.
Richardson won't always be overly strong against the run, but he will consistently be in the backfield.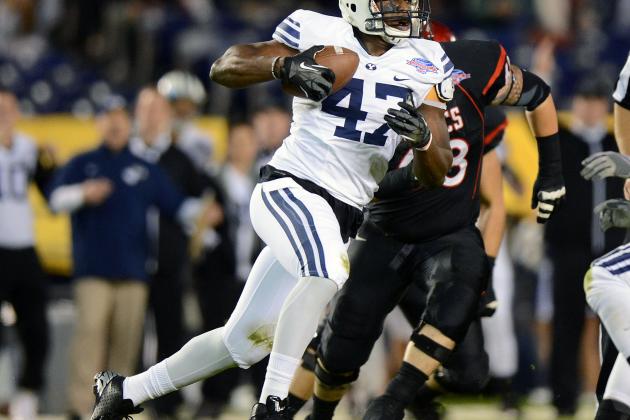 Jake Roth-USA TODAY Sports

In college, Ziggy Ansah's playmaking ability didn't show up quite as much as it will in the NFL. He ended the 2012 season with 13 tackles for loss.
At 6'6" and 270 pounds, Ansah is a terrific athlete who plays with outstanding power. He moves all over the defense, playing everywhere from nose tackle to linebacker. At each position, his incredible talent shows.
With more refinement, Ansah's freakish ability will begin to show on the field as he wreaks havoc in the backfield.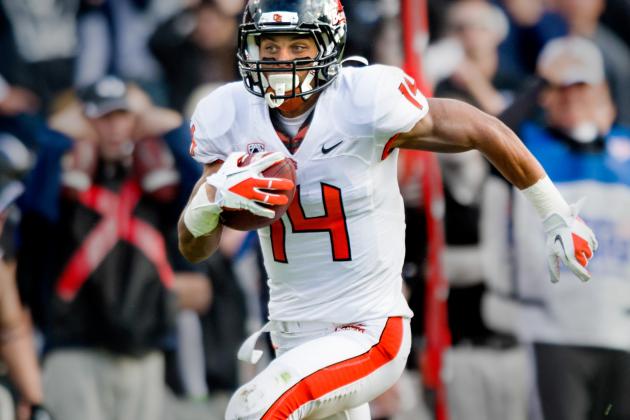 Douglas C. Pizac-USA TODAY Sports

An explosive athlete, Jordan Poyer ended the 2012 season with seven interceptions and one defensive touchdown. Poyer's ball skills and risk-taking tendencies help him come up with interceptions, and his athletic ability takes over from there.
Poyer is fast with great burst and quickness. This not only helps him jump routes to pick off passes but also to create big returns with the ball in his hands.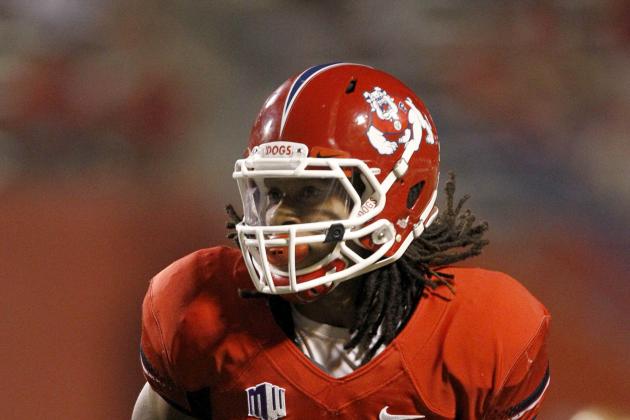 Cary Edmondson-USA TODAY Sports

Phillip Thomas finished 2012 with eight interceptions. That alone shows how effective of a playmaker he is.
Thomas doesn't come up with interceptions because of athletic ability but rather smarts. He is excellent at reading the quarterback and jumping routes to make plays on the ball.
Athletically, Thomas is somewhat limited, and he doesn't do much at all in run support, but he can play center field. He will make plays back deep.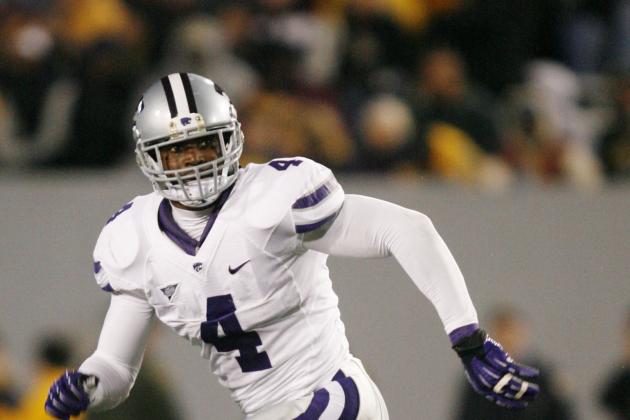 Charles LeClaire-USA TODAY Sports

Finishing 2012 with seven tackles for loss, two interceptions, a sack and a forced fumble, Arthur Brown gave just a glimpse of how dynamic he can be. His playmaking ability goes far beyond the stats.
Few linebackers can run like Brown can. He attacks the line of scrimmage with ferocity and frequently makes plays in coverage. Brown is the definition of a sideline-to-sideline defender.
Brown's instincts help him to quickly read plays and know where the ball is going. He will make a huge impact for his defense in the NFL.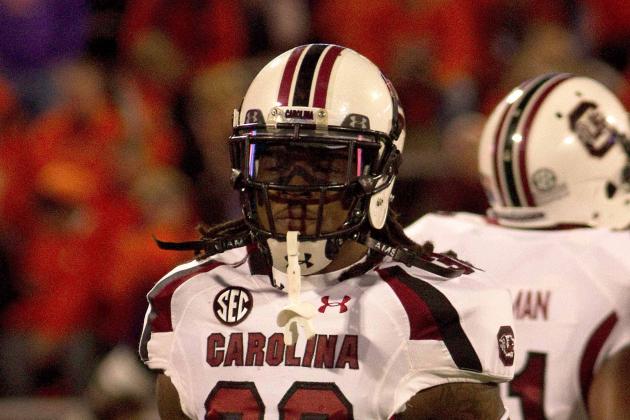 Joshua S. Kelly-USA TODAY Sports

D.J. Swearinger is best known for his bone-jarring hits, but that is far from all he can do. Swearinger is excellent in coverage and ended 2012 with two interceptions, one of which went for a touchdown.
Swearinger's big-hitting ability also forced two fumbles, and he returned a fumble for a touchdown. So, in 2012, Swearinger scored two touchdowns and forced four turnovers while being a force against the run.
He makes plays all over the field, and his mere presence intimidates wide receivers thinking of coming across the middle.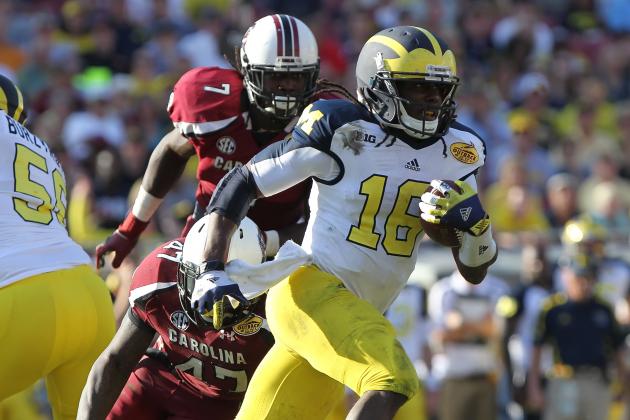 Kim Klement-USA TODAY Sports

It's not yet known what position Denard Robinson will play in the NFL, but we do know one thing.
He makes plays.
Though undersized, Robinson is incredibly explosive with excellent quickness and straight-line speed. He could make an impact out of the slot or backfield in the NFL. He will almost certainly star on returns.
Few players at any level of football possess Robinson's sheer playmaking ability. The lone limiting factor is his lack of an established position.
Capable of playing wide receiver, slot receiver or running back, Tavon Austin's versatility makes him an even more dynamic playmaker. He is fast, explosive and quick, and he can use those abilities from anywhere on the field.
Defenses fear Austin and have to keep an eye on him at all times. He will switch positions in an instant and be in the end zone in the next.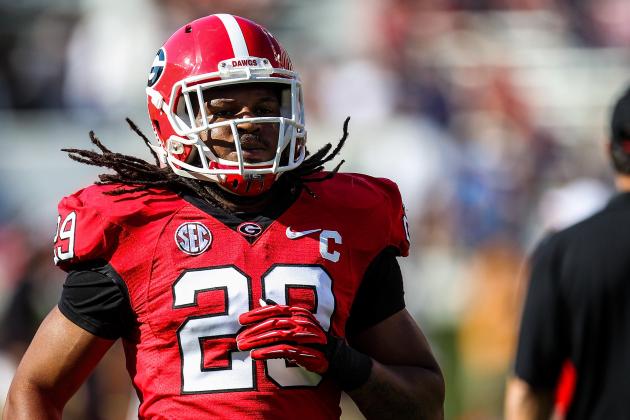 Daniel Shirey-USA TODAY Sports

Jarvis Jones' playmaking ability is clearly displayed in his statistics. He finished 2012 with 14.5 sacks and 24.5 tackles for loss.
Yes, Jones is a pass-rushing linebacker, but he still did this while not blitzing on every play. That's impressive to be sure, and his power, burst and pass-rush ability make it likely he can continue doing this in the NFL.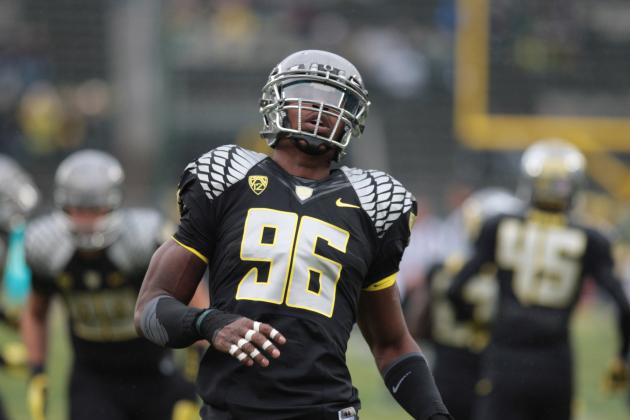 Scott Olmos-USA TODAY Sports

Dion Jordan's playmaking ability is based more in potential than current production, as you might guess from his mediocre five sacks in 2012.
Jordan's 6'6" frame, incredible speed and brilliant burst make him a potential star pass-rusher. He has all the ability to dominate there.
Also, Jordan is already excellent in coverage. He can cover tight ends or wide receivers with few difficulties, and he has the ability to pick off some passes in the future.
In 2012, Cordarrelle Patterson scored touchdowns on returns, catches and runs. He is big, explosive, and he is fast. He is really fast.
Patterson's 6'3", 205 size make him a threat on every sort of pass. Defensive backs will struggle to keep up with him vertically, but, if he must, Patterson will go up for the ball with success.
Patterson may not be a perfect wide receiver—he is still raw—but he is a terrific athlete with great playmaking ability.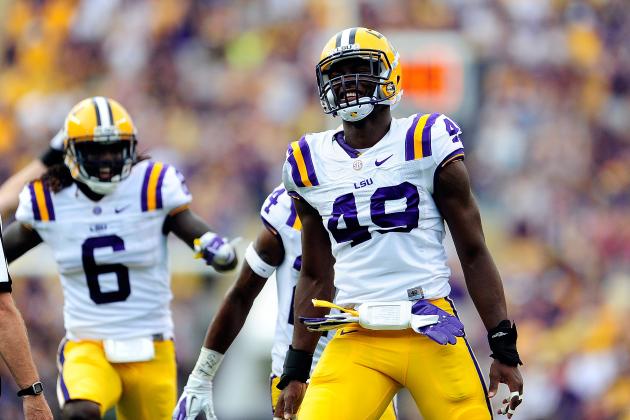 Stacy Revere/Getty Images

Barkevious Mingo is yet another player whose playmaking ability doesn't show in the stats—he finished 2012 with just 4.5 sacks.
Mingo's length, speed and explosion make him a future sack demon, however. He explodes off the snap, and offensive tackles struggle to keep him at bay, largely due to his length and closing speed.
Mingo has 20-sack potential in the NFL. He may not ever reach that number, but he has the ability to get there. Few defensive ends are anywhere near this athletic.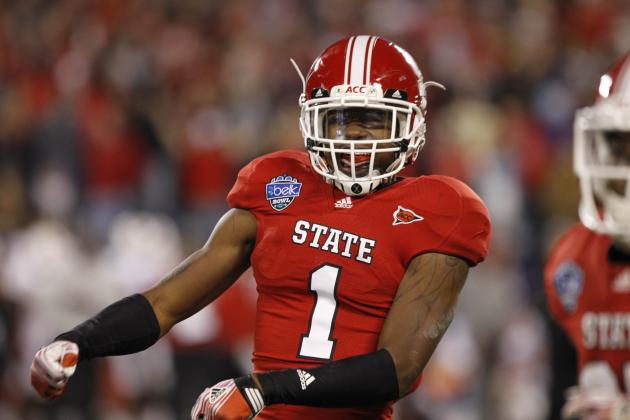 USA TODAY Sports

With 18 interceptions and three defensive touchdowns in the last two years, David Amerson has clearly proven he is a playmaker. Few cornerbacks at any level create those types of turnovrers.
Though Amerson isn't really great in coverage, his 6'2" frame and superb ball skills help him make plays. He offers little beyond his playmaking ability, in fact, but that skill alone is so great he will still be drafted in the first few rounds.
Amerson won't be as beastly in the NFL as he was in college. If given the chance, though, he will continue to force turnovers.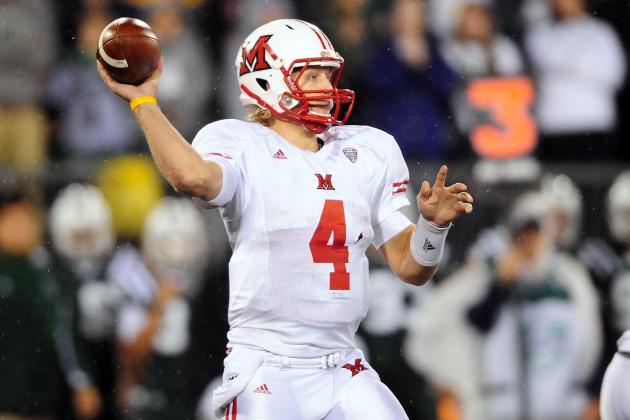 Andrew Weber-USA TODAY Sports

Zac Dysert makes this list for one reason.
Vertical ability.
Of every quarterback in the 2013 draft, Dysert throws the best dep ball. He possesses a rocket arm and does a magnificent job of perfectly placing the ball on long throws.
Dysert has abilities beyond his ability throw long—he is also quite accurate—but that is what makes him special. Defenses can't play close to the line with Dysert at quarterback.
They have to give cushion and play deep zone. Otherwise Dysert will burn them.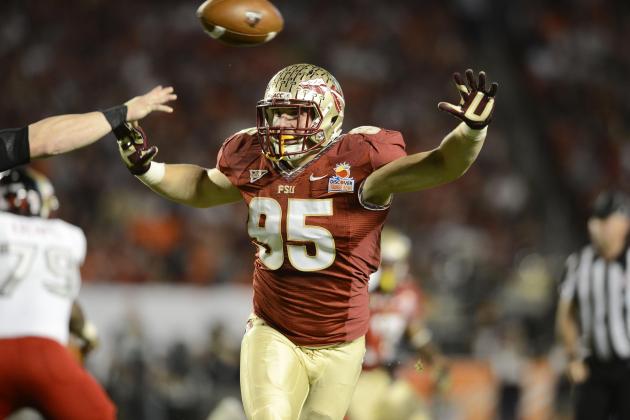 Ron Chenoy-USA TODAY Sports

Bjoern Werner picked up 18 tackles for loss and 13 sacks in 2012. He is explosive, quick and possesses a multitude of pass-rush moves.
Werner isn't great beyond his ability to rush the passer, but he is an immediate double-digit-sack player in the NFL. Offensive tackles will not be able to keep someone so explosive at bay for long.
At defensive end, playmaking ability tends to be quite key, and Werner's makes him the draft's likely top-drafted defensive end.
Tyler Wilson is a gunslinger. He throws deep, he makes mistakes and he makes plays.
Wilson's athleticism allows him to run outside of the pocket and evade the rush if need be. He can also scramble for first downs and perhaps even a little more.
His real playmaking ability lies with his arm, though. Wilson is not afraid to take chances, and he possesses the arm strength to do so successfully. Whether it's a true deep ball or a more intermediate pass, Wilson will gun the ball in there.
Often, the key for a quarterback is the willingness to take chances. Above all else, Wilson has that.