Cain Velasquez vs. Daniel Cormier: Head-to-Toe Breakdown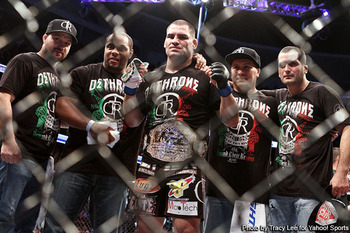 Courtesy of Cage Potato
Now that Daniel Cormier has fulfilled all of his Strikeforce obligations, it's time to explore what the future holds for him as he transitions to the UFC.
While no one is entirely sure which weight class Cormier will choose to ply his trade, there is no harm in examining his prospects at both heavyweight and light heavyweight.
Of the former Olympian's potential future opponents, bouts against heavyweight champion—and AKA teammate—Cain Velasquez and 205-pound champion Jon Jones are by far the most intriguing.
It goes without saying that these contests are purely hypothetical at this point. Still, it's worth taking a closer look at how Cormier might do against the UFC's heavyweight and light heavyweight kings.
Riley Kontek and Jordy McElroy have provided their own analysis of Cormier vs. Jones. You can find them here and here.
So, to avoid covering old ground, I will focus on the tantalising, if unlikely, prospect of Cormier agreeing to face his friend and training partner, Cain Velasquez.
Striking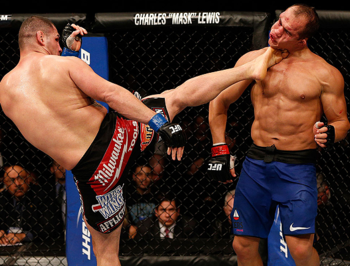 Courtesy of MMA Gospel
Both Velasquez and Cormier share certain similarities in their striking, which makes this category a difficult one to judge.
They are both extremely technically sound, particularly with their boxing. Each throws crisp, clean punches with very little wasted motion.
While Cormier's upper-body movement is slightly more static than his AKA counterpart's, paradoxically, he seems to be a lot harder to hit.
Despite Velasquez's constant head movement, he has been tagged and dropped on several occasions. However, he arguably carries a little more power in his shots, though it's a little tough to compare their punching power at this stage.
One way in which the fighters clearly differ is in the extent to which they employ kicks.
While Cormier will occasionally throw in some high kicks, he is primarily a boxer. Although he is a very good boxer, an over-reliance on one aspect of striking is unquestionably limiting.
Velasquez, on the contrary, is a more diverse striker. One could much more readily describe him as a kickboxer. The UFC heavyweight champion mixes up punches and kicks, both high and low, with greater frequency.
And it is Velasquez's more diverse arsenal of strikes that leads me to give him the striking edge.
Decision: Cain Velasquez
Wrestling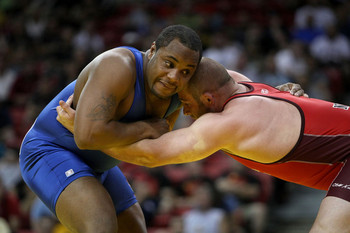 Courtesy of Zimbio
If one were to judge this based purely on wrestling credentials, the discussion would last no longer than your average tweet.
It goes without saying that Daniel Cormier has had the superior wrestling career. Indeed, he has had a superior wrestling career to the vast, vast majority of wrestlers turned fighters.
While Cain Velasquez may have had a standout college career, he did not make the transition to international competition. So, in terms of pure wrestling ability, Cormier has an obvious advantage.
What people often forget is that MMA wrestling is considerably different from freestyle or folkstyle wrestling. A base in either style will set a fighter up to be an excellent wrestler in the context of mixed martial arts.
However, we have witnessed countless examples of wrestlers who never quite made it on the mat transferring their skills to MMA and becoming amongst the best wrestlers in the sport (Jon Fitch is a prime example).
Similarly, we have seen fighters with no background in wrestling, such as GSP, dominate fighters who have had storied careers in wrestling.
It's fair to say, then, that one cannot necessarily judge a fighter's MMA wrestling based solely on their wrestling credentials.
With that said, I am still inclined to give the slight edge to Cormier. He has already demonstrated his ability to take his world-class mat skills and apply them to the cage.
And given the fact that Cormier is Cain's wrestling coach, it seems reasonable to suggest that he is the superior wrestler, both on the mat and inside the cage.
Decision: Daniel Cormier
Submissions/Ground Fighting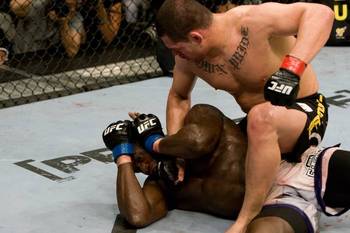 Courtesy of MMA Junkie
This is another tough category to judge, given that both fighters are more inclined to ground-and-pound their opponents than look for submissions.
In terms of their positional sense on the ground, both fighters have demonstrated their ability to pass guard and mount offence from dominant positions.
Both have the same issues with back control, however. Although they are able to control opponents from the back, they are too content to maintain a riding position rather than sinking in their hooks.
I'm reluctant to give one fighter the edge here, but Cain's proven finishing ability on the ground compels me to give him the nod.
Decision: Cain Velasquez
Intangibles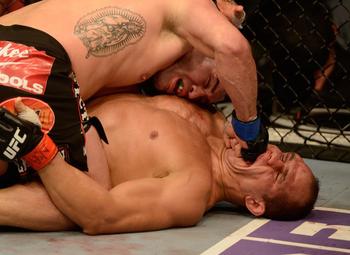 Courtesy of MMA Junkie
The major intangible in this fight is Velasquez's cardio. He is able to sustain the kind of pace that no other heavyweight can match.
Cormier has never been found wanting this department, either, but nor does he set the kind of lung-bursting pace we have come to expect from Cain.
It would be interesting to see whether Cormier could stick with Cain's pace for 25 minutes.
The champ's extra experience at the very top level of the sport may also give him a slight edge in this category.
Decision: Cain Velasquez
Verdict

Courtesy of Caged Insider
This fight is close in almost every respect. However, Cain's cardio, greater experience and more diverse striking should see him edge out a close decision.
Now, let's just hope we get to see them go at it sometime in the future.
Final Verdict: Cain Velasquez by decision
Keep Reading