Updated Grades for the Top 25 NBA Stars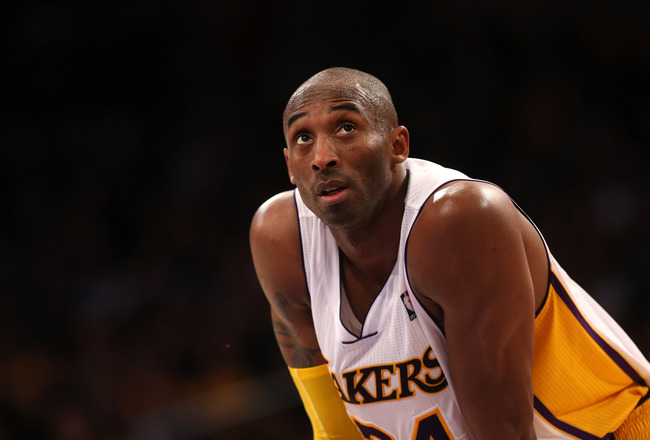 Stephen Dunn/Getty Images
The 2012-13 NBA season has finally started to kick into full gear, as the contenders are finally putting some distance between themselves and the pretenders. On a smaller scale, the league's biggest stars have played at such a level this year that the talent gap between them and the rest of the world is abundantly clear.
Many are still enduring growing pains as they learn how to mesh with the other talent on their team, but by and large, the Association's finest are playing exceptional basketball.
As we rapidly approach the halfway point of the season, and with the All-Star Game around the corner, now is as good of a time as any to begin the evaluation process. For the purposes of this article, stars who have not yet suited up for their team this year (Derrick Rose and Andrew Bynum, among others) have been omitted.
(Note: All statistics used are accurate as of Jan. 13)
25) Rudy Gay, Memphis Grizzlies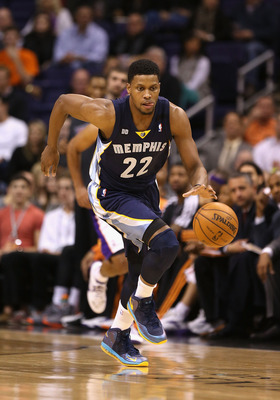 Christian Petersen/Getty Images
Grade: B
Rudy Gay's name has been thrown around in numerous trade rumors (via Matt Moore of CBS Sports) primarily for financial reasons. He's still a fine scorer who is one of the keys to the Memphis Grizzlies' attack.
However, his numbers have dipped a bit this year, and he's shown no signs of progression, despite the fact that he should be entering his prime right about now. Solid and occasionally spectacular, Gay is on the cusp of superstardom, but has to do more if he wants to be considered among the NBA's elite.
24) Josh Smith, Atlanta Hawks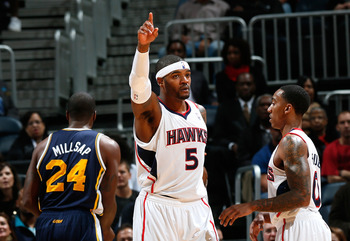 Kevin C. Cox/Getty Images
Grade: B+
Offensively, Josh Smith's numbers are down across the board as opposing defenses can focus more on him with Joe Johnson gone. But the 27-year-old Smith has picked up where he left off last year defensively: His defensive rating of 99 (via Basketball-Reference.com) shouldn't be easily dismissed.
What plays most in Smith's favor is the fact that the Atlanta Hawks haven't missed a beat without Johnson, and they may even be in a position to win a playoff series this year. That's a testament to Smith's performance. Without him, they would be destined for the lottery. Instead, he's given Hawks' fans plenty to cheer for at the "Highlight Factory."
23) Tim Duncan, San Antonio Spurs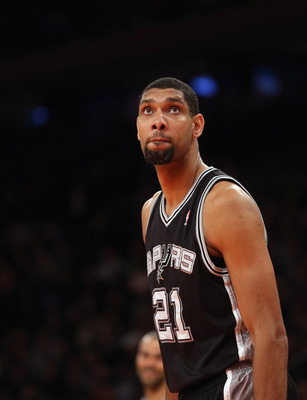 Bruce Bennett/Getty Images
Grade: A
San Antonio big man Tim Duncan is in the midst of one of his best campaigns in years. The 36-year-old power forward is averaging 17.1 points, 9.6 rebounds and 2.7 blocks per game while playing just 30.1 minutes per night.
Duncan has starred on both ends of the floor for the Spurs this season. His player efficiency rating of 24.38 is seventh-best in the league, and his defensive rating of 94.2 (via Basketball-Reference.com) is tops in the NBA.


22) Zach Randolph, Memphis Grizzlies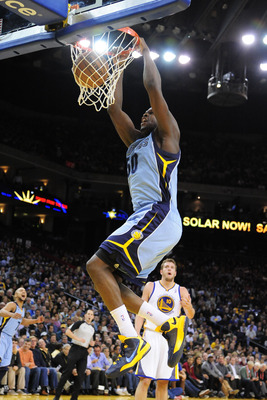 Kyle Terada-USA TODAY Sports
Grade: A
Twenty-four double-doubles in 34 games tells the story of Zach Randolph's 2012-13 season to date. The 6'9" forward is imposing his on both ends of the floor, especially on the defensive end where he's holding players to Marcus Morris-level production according to 82games.com.
Randolph is one of the game's more underrated players—hopefully, the Western Conference coaches will do the right thing and vote him into the All-Star Game for just the second time in his career.
21) Kevin Garnett, Boston Celtics
Bruce Bennett/Getty Images
Grade: B
At 36 years old, Kevin Garnett has to be mindful of his minutes these days, yet the re-invented center still manages to his own in the paint for the Boston Celtics.
KG was a yearly 20-10 threat in his prime, but now, he's forced to settle for 15-7. That said, there are few interior defenders better than the 17-year veteran, whose value in the locker room and in the practice facility far outweighs his contribution in the box score.
20) Paul Pierce, Boston Celtics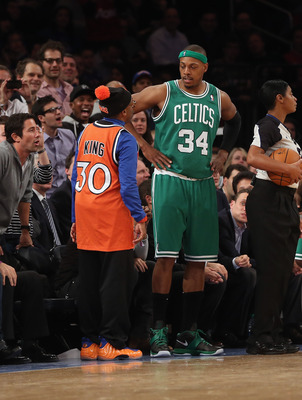 Bruce Bennett/Getty Images
Grade: A-
Much like Tim Duncan, Boston Celtics' forward Paul Pierce is consistent as they come, despite the number of miles that are on his odometer.
His per 36-minute averages (21.3 points, 6.0 rebounds, 4.1 assists) are nothing short of fabulous, and Pierce (who is playing at an all-star level) is still one of the best clutch shooters in the game today. Boston has had their fair share of issues early in the season, but few of their problems could be traced back to Pierce.
19) LaMarcus Aldridge, Portland Trail Blazers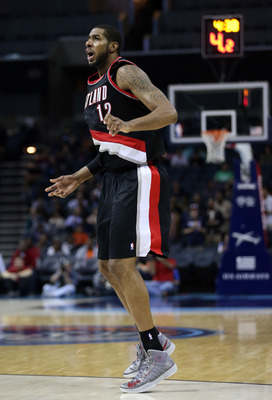 Streeter Lecka/Getty Images
Grade: B
LaMarcus Aldridge is shooting just 46.3 percent from the field (a career low), but he is averaging a solid 20.5 PPG and 8.6 RPG for a Portland Trail Blazers team that's right in the thick of the playoff race.
His output isn't much different than what it has been over the past two seasons, but it isn't bad either, so to grade him out at anything less than a "B" would be unfair. If he ultimately leads Portland to the postseason, then he'll clearly be deserving of an "A" grade.
18) Kyrie Irving, Cleveland Cavaliers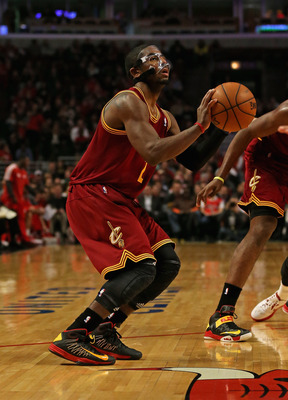 Jonathan Daniel/Getty Images
Grade: A-
We should have known that Kyrie Irving was ready to take the next step in his development after he openly challenged Kobe Bryant to a 1-on-1 game during Team USA's training camp this past summer.
Irving has shown that he's capable of hanging with the best in the NBA, and his performance this season (23.3 PPG, 5.7 APG, 3.7 RPG) could very well earn an invite to February's All-Star Game. The 20-year-old point guard hasn't missed a beat this season, despite breaking his right hand in November and is on track to be one of the NBA's next generation of superstars.
17) Pau Gasol, Los Angeles Lakers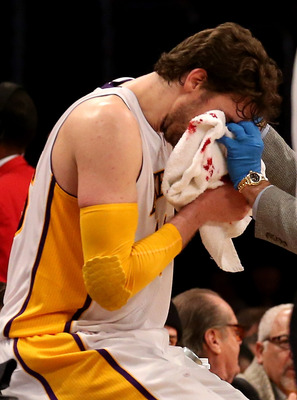 Stephen Dunn/Getty Images
Grade: C-
A lot of the blame for the Los Angeles Lakers' slow start this season has been placed on Pau Gasol, and that shouldn't be the case.
Lakers' head coach Mike D'Antoni has taken Gasol out of the post and set him up on the perimeter in the team's new offensive scheme. While that's fine to do periodically, it effectively neutralizes Gasol as the seven-footer routinely drifts around 16 to 20 feet from the basket.
Even so, there isn't much excuse for Gasol to have a shooting percentage less than 42 percent. If D'Antoni is putting him in uncomfortable positions, Gasol needs to work within the context of the offense to get higher percentage shots.
The 32-year-old forward didn't lose his ability overnight, and Lakers' fans are hoping that everyone on the team eventually finds themselves on the same page before it's too late for a playoff run.
16) Chris Bosh, Miami Heat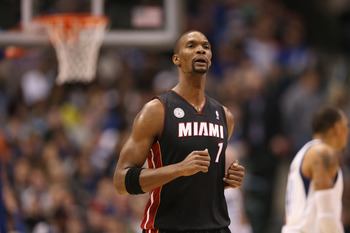 Ronald Martinez/Getty Images
Grade: B
Chris Bosh's scoring and rebounding averages (18.0 and 7.4, respectively) are pretty much in line with his numbers from last year, but he's shooting a career-best 55.5 percent from the floor and is blocking more shots per game in 2012-13 (1.5) than he has in any of his previous nine seasons.
The move to center has done wonders to Bosh's shot selection, and he's become a much more efficient player on offense this season.
15) Tony Parker, San Antonio Spurs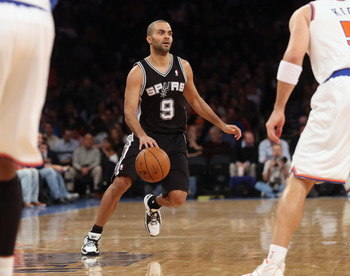 Bruce Bennett/Getty Images
Grade: A
Once again, Tony Parker is playing at an elite level, and very few people seem to be paying attention.
The San Antonio Spurs are rolling this year, thanks in large part to their electric point guard who controls the tempo of the game like few others. Yes, his stats are very good (19.5 PPG, 7.1 APG), but his innate ability to run Gregg Popovich's attack is absolutely invaluable. If he doesn't make the Western Conference All-Star team this year, it would be an absolute travesty.
14) Blake Griffin, Los Angeles Clippers
Harry How/Getty Images
Grade: B+
Blake Griffin is a monster around the basket this season, but we already figured that would be the case. Now if his improved perimeter game is a permanent part of his arsenal, then the rest of the league needs to wake up and pay attention.
That said, it is a bit disconcerting that Griffin's rebounding numbers are down nearly 20 percent this year. While he's playing four minutes less per game than he did in 2011-12, that doesn't explain why Griffin is pulling down less than nine boards per night.
Other than that, there really isn't much bad to say about Griffin's performance this year, especially now that his defensive rating is under 100 (Basketball-Reference.com) for the first time in his career.
13) Deron Williams, Brooklyn Nets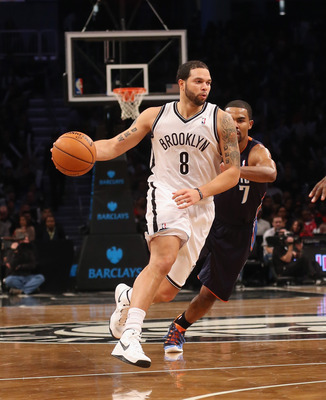 Bruce Bennett/Getty Images
Grade: C+
Deron Williams' first season in Brooklyn has been very underwhelming. It has taken Williams weeks to raise his shooting percentage to a paltry 40.9 percent, and he's averaging less than eight assists per game for the first time since his rookie season.
The Nets' resurgence under new head coach P.J. Carlesimo is the best thing that's happened to Williams, who struggled running Avery Johnson's offense. Joe Johnson's presence makes it nearly impossible for Williams to match his 21.0 PPG scoring average from last season, but the 28-year-old point guard should be able to raise his assist totals to the nine to 10 per-night range.
12) James Harden, Houston Rockets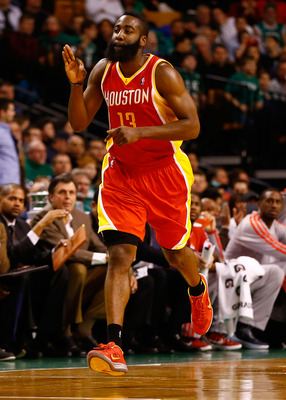 Jared Wickerham/Getty Images
Grade: A
When James Harden was traded from the Oklahoma City Thunder to the Houston Rockets, there was a single question on the minds of most NBA fans: Is he good enough to be a No. 1 option?
So far, Harden has answered that question in the affirmative. His 26.5 points per game are fourth best in the NBA, and after a slow start, the Rockets are right in the middle of the Western Conference playoff race.
Considering that Harden didn't have the benefit of a training camp to become accustomed to his new teammates, it makes sense that Houston would have growing pains early on as their tailored their offense around their new acquisition.
Harden may not be the transcendent-type player who can lead the Rockets to great playoff success, but he has shown that he's one of the most dynamic scorers in the Association.
11) Carmelo Anthony, New York Knicks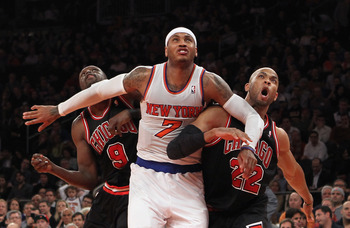 Bruce Bennett/Getty Images
Grade: A-
Carmelo Anthony has been fantastic this year and is the main reason why the New York Knicks are running roughshod over the NBA.
The 28-year-old forward is averaging an impressive 29.3 points per game, and even while going through a spiritual fast, the 28-year-old Anthony found a way to score 20 or more in 24 straight games.
Yes, his usage rate is an exorbitant 34.4 percent (via Basketball-Reference.com), but with the Knicks playing as well as they are, it's hard to knock anything that Anthony is doing at this point.
10) Rajon Rondo, Boston Celtics
Jared Wickerham/Getty Images
Grade: A-
All Rajon Rondo has done this season is solidify his spot as the No. 2 point guard in the NBA. He currently leads the league in assists with 11.1 per night, but there's still a noticeable gap between him and Los Angeles Clippers' point guard Chris Paul.
The early part of Rondo's 2012-13 campaign was filled with blatant stat-padding, as the Celtics' playmaker went out of his way to pad his assist totals. But over the past month or so, Rondo is directing the offense at a more natural pace, and as a result, Boston is playing a better brand of basketball.
9) Dirk Nowitzki, Dallas Mavericks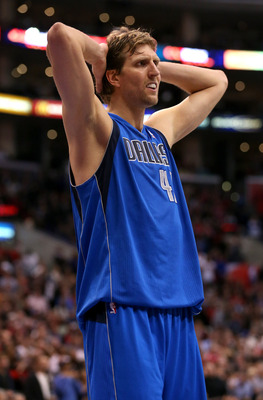 Stephen Dunn/Getty Images
Grade: Incomplete
Dirk Nowitzki has only played in a handful of games this year after recovering for offseason knee surgery, so it's difficult to make an assessment on him at this point. Only until he gets a few more weeks of conditioning can one accurately evaluate his performance.
Despite O.J. Mayo's early-season heroics, the Dallas Mavericks are still Nowitzki's team. He's not in the physical condition to impose his will at this point, but if he's able to do so quickly, the Mavs may be able to make a late playoff push.
8) Kevin Love, Minnesota Timberwolves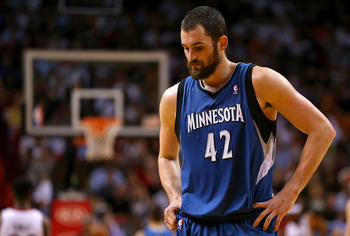 Mike Ehrmann/Getty Images
Grade: Incomplete
It isn't fair to give Kevin Love anything more than an incomplete grade this season. While it appeared as though he was ready to recapture the dominant 20-13 form he's shown over the past couple of seasons, he broke his right hand again and will be out for at least two months.
Pay little attention to his poor shooting percentages across the board—those would have improved as Love got back in game shape. Unfortunately, by the time Love finally gets back on the court, the 2012-13 season could be a wash for both him and the Minnesota Timberwolves.
7) Dwyane Wade, Miami Heat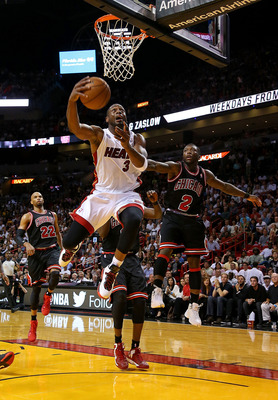 Mike Ehrmann/Getty Images
Grade: B
There are those who say Dwyane Wade has lost a step, but a closer examination of his offensive numbers shows that the 31-year-old shooting guard is playing just as well as he was last year.
Wade's scoring average is slightly down this season, but he's also taking two less shots per contest. Given the fact that he's shooting a career-high 50.5 percent from the field, one can safely assume that if Wade wanted to be more aggressive on offense, he could easily average 22 to 24 points per game with minimal effort.
That said, Wade's lateral movement on the defensive end isn't what it once was. He has a difficult time keeping up with the league's more athletic wings, and that's the main knock on Wade's report card so far this season.
6) Russell Westbrook, Oklahoma City Thunder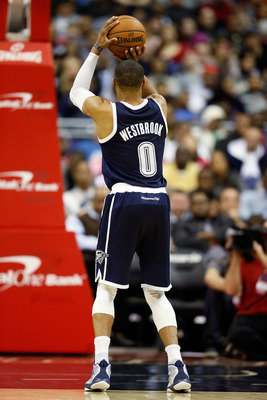 Rob Carr/Getty Images
Grade: B+
It's early, but we haven't seen much of the "wildly out-of-control" Russell Westbrook whom we've seen over the past few seasons. In fact, Westbrook looks more like a point guard now than he ever has before, and his 8.5 assists per game speak directly to that fact.
Westbrook's shooting percentage has taken a severe dip (41 percent vs. 45.7 percent in 2011-12), but that's really the only black mark on his resume. If he continues to play at this level, the Oklahoma City Thunder have to be the odds-on favorites for a repeat trip to the NBA Finals.
5) Dwight Howard, Los Angeles Lakers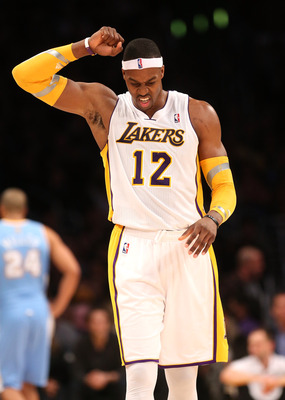 Stephen Dunn/Getty Images
Grade: B+
When looking at Dwight Howard's numbers in a vacuum (17.4 PPG, 12.5 RPG, 2.6 BPG), he's still as good as he ever was. In fact, he's still the best center in the Association, even with a balky back.
But Howard hasn't been the force that the Los Angeles Lakers expected when they traded for him this offseason, so 2012-13 has been a low watermark for the former Orlando Magic star.
The Lakers will figure out how to correctly use Howard at some point, and once he's 100 percent, he'll be the imposing presence in the middle that will eventually relieve some of the burden on Kobe Bryant. But until that happens, Howard is a miscast superstar who has yet to scratch the surface of his potential.
4) Chris Paul, Los Angeles Clippers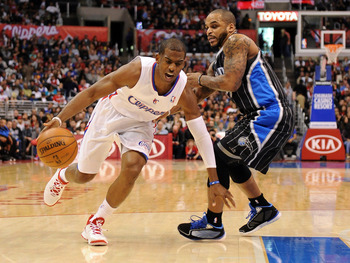 Jayne Kamin-Oncea-USA TODAY Sports
Grade: A
There's no other way to say it. Chris Paul has been great this year. He's the best point guard in the Association, and he's the catalyst of a Los Angeles Clippers team that is poised to make a deep run in the playoffs.
Paul is third in the league in player efficiency rating (26.58), second in the league in assists per game (9.7) and first in the NBA in steals (2.6). And even though he scores less than 17 points per game, no one would blink if Paul earned MVP honors at the end of the season.
3) Kobe Bryant, Los Angeles Lakers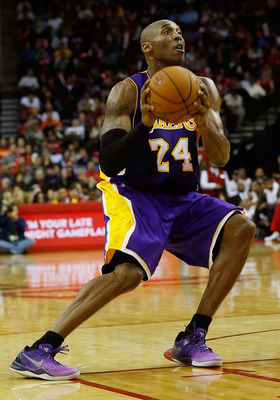 Scott Halleran/Getty Images
Grade: A-
On one hand, you can't completely divorce Kobe Bryant from the struggles that the Los Angeles Lakers have had this season. On the other, the 37-year-old Bryant is averaging a league-high 29.8 points per game and is shooting a career-best 47.5 percent from the floor.
For all intents and purposes, Bryant is doing what was expected of him coming into this season (if not more). But it's hard to give an "A" grade to a player who is the No. 1 option for a franchise that has been absolutely disappointing. The failures of Dwight Howard, Pau Gasol and Mike D'Antoni ultimately reflect on Bryant, and so he must be evaluated accordingly.
2) Kevin Durant, Oklahoma City Thunder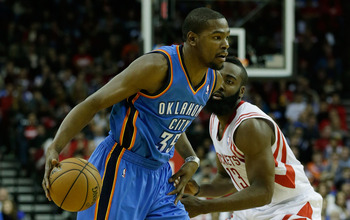 Scott Halleran/Getty Images
Grade: A
Calling Kevin Durant a "beast" wouldn't adequately describe everything he can do on a basketball court. He's a lethal scorer (28.6 PPG while shooting a career-high 52.5 percent from the floor), an improving defender (his defensive rating of 101 (via Basketball-Reference.com) is nothing to be ashamed of) and a matchup nightmare for 29 other NBA teams.
Throw in the fact that the Oklahoma City Thunder have the best record in all of basketball, and you have the recipe for greatness. And lest anyone forget, Durant is just 24 years old.
1) LeBron James, Miami Heat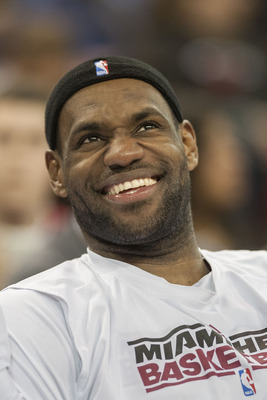 Ed Szczepanski-USA TODAY Sports
Grade: A+
No one in the league is as good as LeBron James is right now, and the Miami Heat superstar is doing thing on the court that we're rarely seen out of anyone.
He's averaging 25.9 point, 8.3 rebounds and 6.9 assists while shooting a career-high 54.1 percent from the field. Furthermore, he's still a lockdown defender, he's cut down on his turnovers and he's also knocking down more than 40 percent of his three-point attempts.
With the Heat in the driver's seat in the Eastern Conference, there's really little room to criticize James' game at the moment. So to that end, let's just sit back and enjoy one of the greatest individual talents the world of basketball has ever seen.
Keep Reading