Best Available Replacements for Struggling NBA Coaches
Doug Pensinger/Getty Images
The NBA has already seen three coaches leave their post this season.
With a number of other teams struggling to win and put fans in the seats, it is only a matter of time before the next coach gets the axe. Of the league's 30 teams, 13 are under .500.
There are some surprises in lottery territory. The Los Angeles Lakers, Orlando Magic, Philadelphia 76ers and Dallas Mavericks were all playoff teams a year ago, but they are currently on the outside looking in on the playoffs.
The Lakers, Brooklyn Nets and Milwaukee Bucks couldn't wait any longer before going in a different direction. As a result, if a team is willing to give one of these gentlemen a second chance, Mike Brown, Avery Johnson and Scott Skiles are available.
The next coach to be pink-slipped is sure to come from one of the aforementioned lottery teams. When a franchise decides to make that move, there are plenty of candidates willing to step in. Ahead, we'll highlight the five squads most likely to be seeking a replacement.
Team records are accurate as of Jan. 13, 2013.
Alvin Gentry, Phoenix Suns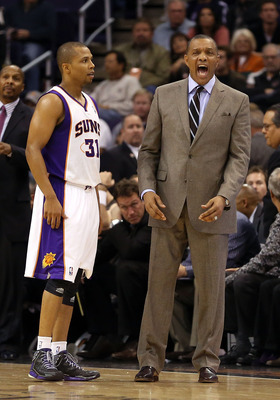 Christian Petersen/Getty Images
Career Coaching Record: 335-368
Phoenix Suns Record: 13-26
The Phoenix Suns made several changes to their roster this offseason, putting together essentially a roster of role players. However, that is no excuse for a 13-26 record.
The Suns simply don't do a whole lot all that well. They allow 99.7 points per game while putting up only 95.5. Despite having a solid frontcourt with Luis Scola and Marcin Gortat, they find themselves the No. 27-ranked rebounding team in the league.
The one player brought in who had the potential to be more, Michael Beasley, has been all but cut by Alvin Gentry. He is averaging just nine minutes per game in January, a result of opening the season shooting 38 percent from the field.
With the core of their team comprised of foreign players, perhaps that is the direction the Suns should go. With Goran Dragic running the offense and Scola and Gortat in the frontcourt, Ettore Messina would be a possible diamond in the rough as a replacement for Gentry.
The head coach of CSKA Moscow and former coach of Real Madrid has recently been testing the waters of the NBA. He worked last season as a consultant for Mike Brown and the Lakers before returning to Europe.
The 53-year-old Messina owns four Euroleague titles and was named Coach of the Year in 2006 and 2008.
Keith Smart, Sacramento Kings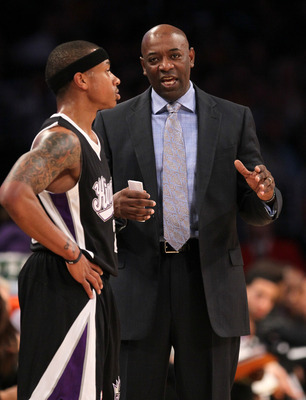 Stephen Dunn/Getty Images
Career Coaching Record: 78-140
Sacramento Kings Record: 13-24
The Sacramento Kings are in a bit of turmoil with the rumored move to Seattle on the horizon.
If the Maloofs do sell the franchise, hiring a new head coach would seem to be a logical next step for a team that would be reacquainting fans in Seattle with NBA basketball.
Keith Smart is a holdover from Paul Westphal's stint as head coach. After taking over, Smart was an interim coach for the end of 2011-12. Now he is the main man for the Kings, but he has led them to a weak 13-24 start.
The Kings under Smart play little to no defense, allowing 103.2 points per game. He also can't seem to decide on a starting lineup, given that 11 players have started at least one game this season. His well-publicized spats with star DeMarcus Cousins have been a detriment to the growth of both the player and team.
Should this move happen, what better way to attract new Seattle fans than hiring someone they are familiar with as a head coach? Nate McMillan, a former player and coach for the Seattle SuperSonics, is available after being fired by the Portland Trail Blazers last season.
As a coach, McMillan led them to a first-place finish in the Northwest Division in 2004-05. He has a career coaching record of 478-452. He also brought the Trail Blazers to the postseason all three seasons prior to his firing.
Randy Wittman, Washington Wizards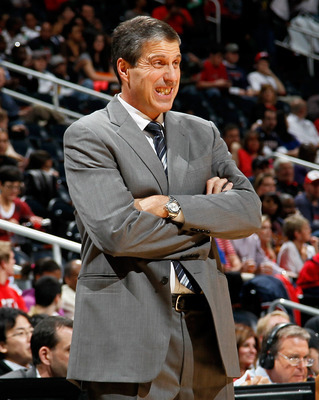 Kevin C. Cox/Getty Images
Career Coaching Record: 124-266
Washington Wizards Record: 6-28
Randy Wittman has not had a whole lot of luck during his NBA coaching career.
He just missed the LeBron James years in Cleveland and was head coach of the Minnesota Timberwolves while Kevin Garnett was on his way out.
Now, as coach of the Washington Wizards, he lost John Wall, by far his best player, to injury for the first two-plus months of the season and has the team at just 6-28 thus far.
It is tough to tell how much of his lack of success has been bad luck and how much has been just a lack of coaching skill. Either way, he'll have to win a lot more games in 2013 to keep his current gig.
If Wittman goes, the Wizards should look for someone who can develop a backcourt. With Wall and rookie Bradley Beal, the Wizards have a blueprint for success. Those players are their future, and they could use an experienced coach to help aid their development together.
Earlier this season, it was proven that Avery Johnson struggles connecting with veteran point guards. Deron Williams was not able to play at a high level, and Johnson was fired in Brooklyn as a result. However, Johnson has previously helped develop a young Devin Harris in Dallas.
Harris was an exciting young point guard who struggled with his shooting, which sounds a lot like Wall.
With the Mavericks, Johnson expertly maneuvered a backcourt featuring Harris and Jason Terry. The Wizards will want to move and score quickly with a young core of Beal, Wall and Kevin Seraphin. Johnson's Mavericks teams scored more than 100 points per game in three of his four seasons.
Dwane Casey, Toronto Raptors
Shane Bevel/Getty Images
Career Coaching Record: 90-135
Toronto Raptors Record: 14-23
Dwane Casey was fired in Year 2 of his tenure with the Minnesota Timberwolves with the team at 20-20. Casey is now in Year 2 of his tenure with the Toronto Raptors and isn't close to a .500 record.
The point is that Casey could be on his way out at any moment, opening up a fairly attractive job in Toronto. The Raptors made a move for a very good point guard in Kyle Lowry and have been stockpiling high draft picks for a few years now.
For the past decade, the Raptors have been bringing in inexperienced head coaches with limited success. Casey is the team's fourth head coach since 2003. It is time for them to go after a more experienced coach to bring along a team that should be contending.
Available coaches with experience are going to come with a higher price tag. But if the Raptors are serious about being a factor in the Atlantic Division, they need to go after a big name like Stan Van Gundy.
Van Gundy has the cache and resume that would add immediate legitimacy to Toronto. He has spent his entire coaching career in the Eastern Conference, and his career record of 371-208 should speak for itself.
Lawrence Frank, Detroit Pistons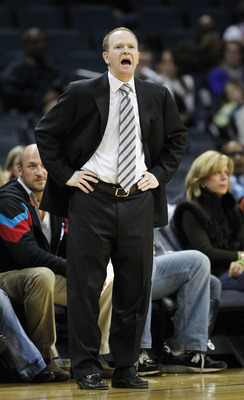 Streeter Lecka/Getty Images
Career Coaching Record: 264-306
Detroit Pistons Record: 14-24
Lawrence Frank has the Detroit Pistons playing top-10 defense, allowing only 96.2 points per game. Still, they are not winning. After a 25-41 record last season, the Pistons are 14-24 and playing at a nearly identical winning percentage to the year before.
If the Pistons don't improve, Frank may not be with the team much longer. He is still heavily limiting the minutes of Andre Drummond, and on a team that probably isn't making the postseason, Frank should be giving more playing time to his star youngster.
The Pistons have a rich defensive history, which doesn't necessarily align with Frank's recent history in New Jersey. During each of his final two full seasons with the Nets, the team allowed more than 100 points per game.
Should Detroit want to go in a different direction, Mike Brown may be a good choice.
Brown has always been known as a defensive specialist, as his Cavaliers teams finished in the top 10 in opponent points per game season after season. That approach did not mesh with the Los Angeles Lakers, but in Detroit, that's a style the fans appreciate.
With a 314-167 career record, Brown has a more successful track record than Frank. And most of those wins came in the same Central Division that Detroit calls home.
Keep Reading