Alabama Football: The Quest for Perfection Never Stops for Tide's Saban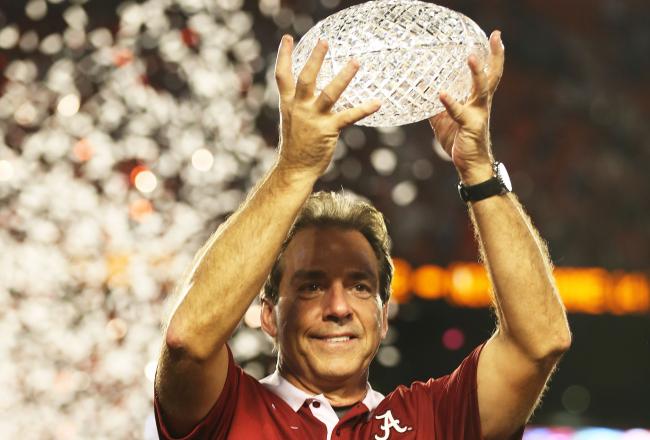 Streeter Lecka/Getty Images
"The process is still beginning, it's ongoing. You have to do it every day, all the time."
That was Alabama head coach Nick Saban talking to the ESPN GameDay crew shortly after the Tide won the BCS Championship over Notre Dame a week ago.
"In two days, I start back."
Saban isn't kidding when he says that.
While the rest of the 'Bama nation continued to celebrate Alabama's second consecutive national title over the weekend, I mentally picture Saban locked in his office knocking back a box of Little Debbies and breaking down Virginia Tech game film. The Tide will not compete again until they play the Hokies in Atlanta on Labor Day weekend.
While Notre Dame head coach Brian Kelly was out of the country on a well-deserved vacation, Saban was getting back to work.
This is the difference between the Tide and the rest of the country.
Somewhere along the way, Saban became obsessed with perfection. This endless desire to better himself and his team each and every day is the primary reason why Alabama has been college football's winningest program over the past five seasons.
"We're behind in recruiting," he told ESPN shortly after the win.
According to Rivals.com, Alabama currently has the fourth best-recruiting class for the upcoming 2013 class. I guess when you have finished in the top five for each of the previous five seasons and have been credited with the top class in three of those years, fourth place leaves a lot to be desired.
With national signing day less than a month away, Saban has a lot of work to do. While other coaches leave recruiting up to their staff, or take a back seat during this time only stepping in to "close the deal," Saban is right in the middle of things at Alabama.
"Just because you win a championship, that doesn't entitle you to not do the right thing."
For Saban, winning a title is a beautiful thing. But it does not signify the end of anything.
The presentation of the crystal football only means that one step is completed, thus opening the door to the next step in what he calls "the process."
Saban spent the last week helping his juniors decide whether they should bypass their senior seasons in favor of the NFL. Simultaneously, he was ensuring that his returning players were back in class and focused on their studies. And don't forget that recruiting thing, either.
"We'll have to continue to try to improve. We need to get a lot better, in our league."
Most coaches would at least acknowledge that the end of a championship season deserves a bit of a break. After all, these guys work endless hours just to be able to compete, much less win titles.
Saban, however, is different. It seems that rest is simply not a part of his life. He just doesn't have it in him.
The amazing thing about his dedication is that it is not limited to Saban. He won't allow it.
Saban demands the very best out of his assistant coaches and his players as well. If you are a part of the Alabama football program and you did less today than you could have, or did not perform at your very best, you have let yourself down. You have let the team down. And Saban. And the entire state of Alabama.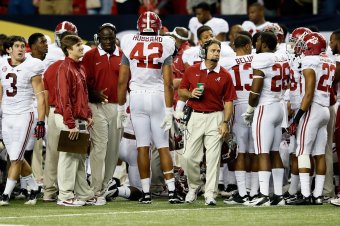 Kevin C. Cox/Getty Images
That's just the way he sees it.
It seems to be working, too. From 2000-2008, no Alabama football player was drafted in the first round of the NFL draft. In the past four seasons, there have been nine and more are on the way this coming April.
Saban's assistants are among the most desired commodities in the coaching realm. Former offensive coordinator Jim McElwain left for the head job at Colorado State a year ago. Defensive coordinator Kirby Smart can have a head coaching job whenever he chooses to take it. The offers are out there.
The amazing run of success that Alabama is in the midst of is extremely rare in college football. If the Tide can pull off a third consecutive BCS title next season, they will be the first to do so at this level in the history of the sport.
It is Saban's relentless desire to seek out the best in himself and everyone under his charge that the Alabama family can thank for this glory.
Saban never settles. He never accepts. He never lets up.
Instead, he demands. He insists. He expects.
He is one of the most polarizing figures in college football today. His detractors fail to realize that what they call hate is little more than unbridled envy in disguise.
Nick Saban has something inside of him that very few of us can even imagine. He realizes that perfection is not the result of passiveness and that goals are mere stepping stones on the path to the next.
When his staff and his players learn to accept and adapt to this philosophy, the result is what Alabama has shown the world over the course of the last five years.
Domination.
This article is
What is the duplicate article?
Why is this article offensive?
Where is this article plagiarized from?
Why is this article poorly edited?

Alabama Crimson Tide Football: Like this team?