UFC on FX 7: Keys to Victory for Every Main Card Fighter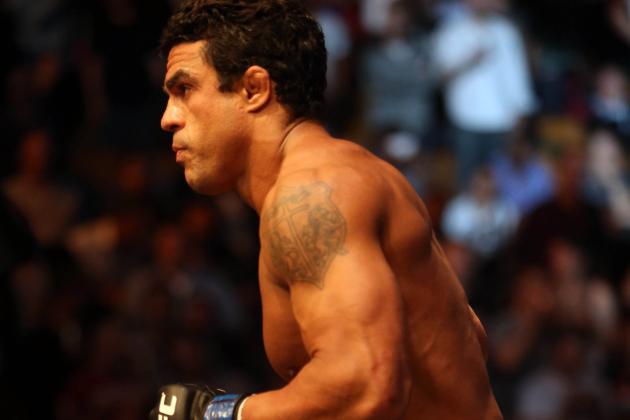 Tom Szczerbowski-USA TODAY Sports

Vitor Belfort and Michael Bisping are set to headline UFC on FX 7, which will open the UFC's 2013 schedule. The fight card is not packed with big names, but it avoided the main-event injury bug that plagued the UFC throughout 2012.
According to UFC president Dana White (via MMAFighting.com), a middleweight title shot will be on the line when Belfort and Bisping step into the cage. However, Bisping will be the only fighter eligible to earn said title shot, as Belfort has already been knocked out brutally by 185-pound champion Anderson Silva.
Though Belfort and Bisping will get most of the attention, there are some more meaningful fights on the UFC on FX 7 main card. As the 2013 UFC schedule nears, let's take a look at what each of the UFC on FX 7 competitors will need to do to pick up their first wins of the year.
Begin Slideshow

»
Tom Szczerbowski-USA TODAY Sports

Coming off a loss to light heavyweight titleholder Jon Jones, Vitor Belfort returns to the middleweight division for a matchup that could quickly return him to championship contention.
Meanwhile, Michael Bisping has won five of his past six fights to emerge as one of the top 185-pound fighters in the world. The Englishman has been on the UFC roster since June 2006, but he is still in search of his first title shot.
Vitor Belfort's Keys to Victory
In order for Belfort to ruin Bisping's hopes of being the next fighter to compete against Anderson Silva, he will have to be willing to eat a jab in order to blitz forward. If the Brazilian can land a series of punches in succession, he possesses the power to put Bisping away early.
Michael Bisping's Keys to Victory
If Bisping trades blow for blow with Belfort, he's going to be the fighter who hits the canvas. Instead, the British middleweight needs to keep Belfort on the outside with his jab. Mixing in takedown attempts will also help to keep his opponent guessing and thinking twice about rushing forward.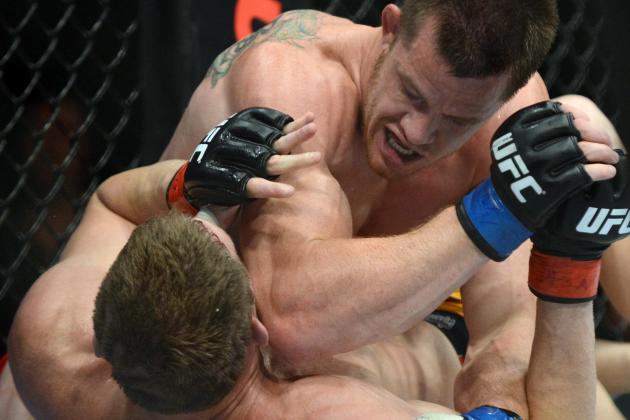 Ron Chenoy-USA TODAY Sports

After going winless in 2011, C.B. Dollaway bounced back with a win over Jason Miller in his most recent outing. Though, because his victory was somewhat lackluster, Dollaway will have to take a step backward and fight a new UFC face in Daniel Sarafian.
Sarafian was a favorite to win The Ultimate Fighter: Brazil. However, an injury forced him out of the season finale, and he has not competed since the reality series.
C.B. Dollaway's Keys to Victory
The game plan is almost always the same for Dolloway. The All-American wrestler will need to take this fight to the ground and keep it there for 15 minutes.
Daniel Sarafian's Keys to Victory
This fight is a long time in the making for Sarafian, and there are a lot of expectations surrounding him. The Brazilian has to push nerves to the side at UFC on FX 7 and focus on throwing uppercuts and tight punches that won't leave an opening for Dollaway to take him down.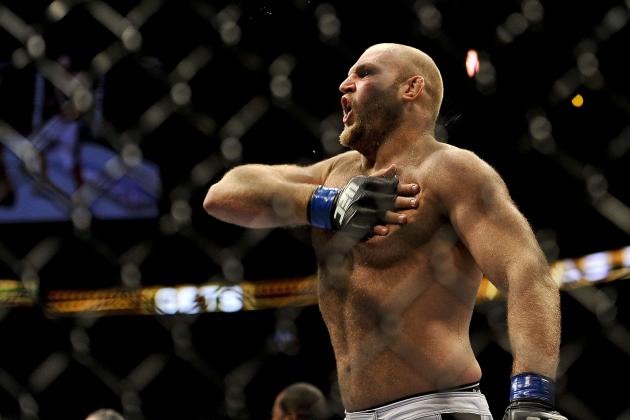 Paul Abell-USA TODAY Sports

Ben Rothwell has alternated wins and losses since joining the UFC's heavyweight division. Against Gabriel Gonzaga, he'll have a chance to break that trend and pick up a second straight win.
Likewise, Gonzaga has had trouble stringing together wins as of late. The Brazilian recently returned to the UFC after a temporary retirement, but he's still looking for the big win that will prove he's truly back.
Ben Rothwell's Keys to Victory
While Rothwell has some solid wrestling, he should only look for takedowns late in rounds for scoring purposes. Otherwise, he'll want to stay away from grappling with Gonzaga, who has world class jiu-jitsu.
Gabriel Gonzaga's Keys to Victory
In the fights just prior to his temporary retirement, Gonzaga began to depend heavily on the striking that scored him a knockout win over Mirko Filipovic. Gonzaga needs to continue to use his ground game now to make his comeback a success.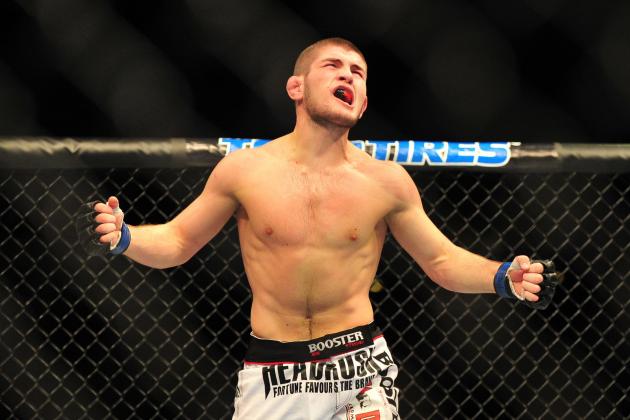 Don McPeak-USA TODAY Sports

With wins in his first two Octagon appearances, Khabib Nurmagomedov was one of the most successful UFC newcomers of 2012. Although controversial, his win over Gleison Tibau made Nurmagomedov a potential contender in the lightweight division.
Having won three of his past four fights, Thiago Tavares is looking to halt Nurmagomedov and steal his momentum.
Khabib Nurmagomedov's Keys to Victory
In many ways, Nurmagomedov and Tavares are similar fighters. Both lightweights are going to push forward and look for takedowns, so this fight will have been won in the preparation. If he trained properly for this matchup, Nurmagomedov will have spent hours upon hours focusing on his takedown defense.
Thiago Tavares' Keys to Victory
Competing in one's home country can be a blessing or a curse. Tavares' past two fights have been contested in Brazil, and he's won both of them. As long as the Brazilian follows the same routine as he followed prior to those victories, he should have every opportunity to win this evenly matched bout.