The CJ2K era in Tennessee has come to an end, as the Titans have released 28-year-old veteran running back Chris Johnson. The team announced the decision via Twitter:
The #Titans informed RB Chris Johnson that he will be released today.

— Tennessee Titans (@TennesseeTitans) April 4, 2014
The team also released a statement on Johnson's release, according to Adam Caplan of NFL Network:
Statement from Titans General Manager Ruston Webster

"As an organization, we want to thank Chris for his contributions to the Titans. Chris produced many memorable moments, broke franchise records and was durable over his six year career with our team.

We have had an open dialogue with Chris' agent, Joel Segal, over the last few weeks, and we appreciate the patience and professionalism they have shown throughout this process. We made an effort to trade Chris but were unable to do so.

We wish Chris the best and thank him for the six seasons he spent with us."
The Titans also said farewell to their former star via Twitter:
April 4, 2014
Sports Business Journal's Liz Mullen supplied Johnson's statement:
"I'd like to thank all of my teammates, the fans, the staff and the coaches who have supported me throughout my journey with the Titans."

— Liz Mullen (@SBJLizMullen) April 4, 2014
I have grown so much as an individual & as teammate over the past few years..."-- Chris Johnson

— Liz Mullen (@SBJLizMullen) April 4, 2014
"I am excited about the opportunity to bring my experience and talents to a new organization." --Chris Johnson

— Liz Mullen (@SBJLizMullen) April 4, 2014
Jim Wyatt of The Tennessean provided some of the financial details regarding Johnson's release:
The #Titans save $6 million in salary cap room by releasing Johnson. He'll count $4 million against the cap in 2014

— Jim Wyatt (@jwyattsports) April 4, 2014
Wyatt noted that the running back's health wasn't the cause of his release:
Chris Johnson passed his physical with the #Titans

— Jim Wyatt (@jwyattsports) April 4, 2014
ESPN's Adam Schefter discussed some of the teams who looked at a potential trade for the running back:
Four teams that discussed a potential trade for RB Chris Johnson, but ultimately declined to do so, were the Jets, Bills, Dolphins, Falcons.

— Adam Schefter (@AdamSchefter) April 4, 2014
Johnson has spent all six of his NFL seasons with the Titans. During that time, he has rushed for 7,965 yards, 4.6 yards per carry and 50 touchdowns. He has also added 2,003 yards and eight touchdowns receiving the ball.
Johnson's best season came in 2009, when he rushed for 2,006 yards. That year, he set an NFL single-season record for yards from scrimmage with 2,509.
In the four seasons since, however, he has not come close to that kind of production. Though he has rushed for over 1,000 yards in each of those campaigns, he has not been his previous dynamic self.
This past season, Johnson rushed for 1,077 yards at a career-worst 3.9 yards per carry.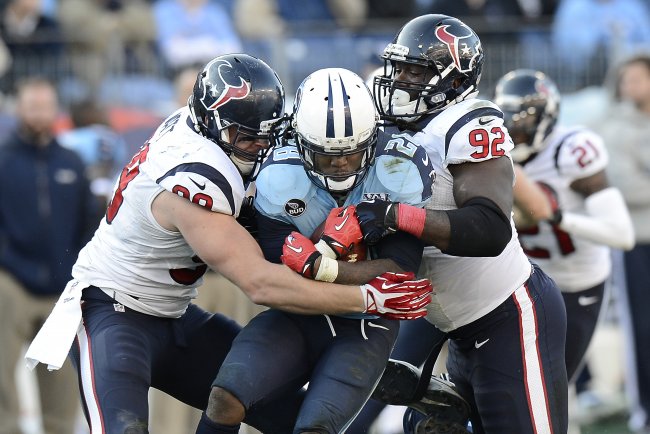 Mark Zaleski/Associated Press
Given his declining production, this move is not overly shocking considering Johnson's huge contract. He just finished the third year of a six-year deal (four-year extension) that was worth $56 million. Pro Football Talk's Mike Florio has a clear breakdown of that contract and points out that Johnson was due $8 million over the next two seasons, and $7 million in the last year of the deal.
Also, the writing has been on the wall for Johnson's time with the Titans. In February, NFL.com's Gregg Rosenthal passed along this comment on Johnson from new Titans head coach Ken Whisenhunt:
Am I optimistic he'll remain on the team? It's a process you go through with everyone on your football team. Putting together the team is not an exact science. So we're under no deadline to do it. We have a lot of things to evaluate going forward. Chemistry's a big part of it. There's no rush to make a decision.
Whisenhunt's lack of support for one of his highest-paid players was certainly revealing.
Johnson will find a new team, though, as long as he is willing to play at a reduced rate. Although he is far from as dangerous as he was in his prime, he has proven to be wonderfully durable and remains a threat in the running and passing games.
There are a plethora of teams looking for help in their backfield, and if Johnson impresses one of them, or is willing to take a platoon role with a contender, he'll land on his feel quickly. He still has most of the speed that made him such a dangerous back in his prime, and someone is sure to take a chance on him.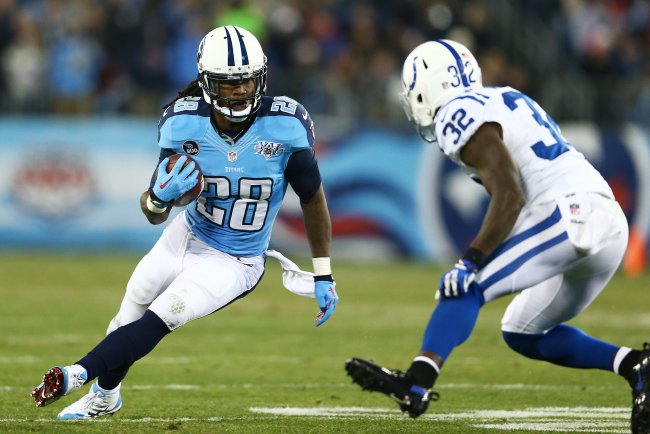 Andy Lyons/Getty Images
It's true that his yards-per-carry average was at an all-time low last season, but his 3.9 number was slightly better than the 3.8 that Shonn Greene turned in as his backup. The Titans offensive line struggled on the edge last season; it simply was not an ideal place for a running back to thrive.
Still, Johnson, as fantasy owners know all too well, is wildly inconsistent. He is often caught in the backfield while looking for the home run, and he has far too many games where he is a non-factor. Last season, he was held to 40 yards rushing or less in six of his 16 games.
Given this production, Johnson's contract was insanely excessive, and the Titans made the right move by moving on from him.