The 9 Most Disappointing Performances of NFL's Divisional Round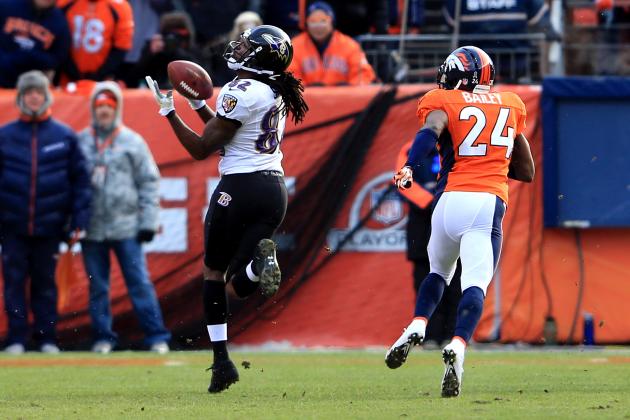 Doug Pensinger/Getty Images

After a nap-inducing round of games from Wild Card Weekend, this year's slate of divisional-round playoff games has been the most exciting playoff action in recent history.
As a result, plenty of stars rose to the occasion, but there were plenty of underwhelming performances that went a long way in determining the outcome of games.
Here are the most disappointing performances from divisional-playoff weekend.
Begin Slideshow

»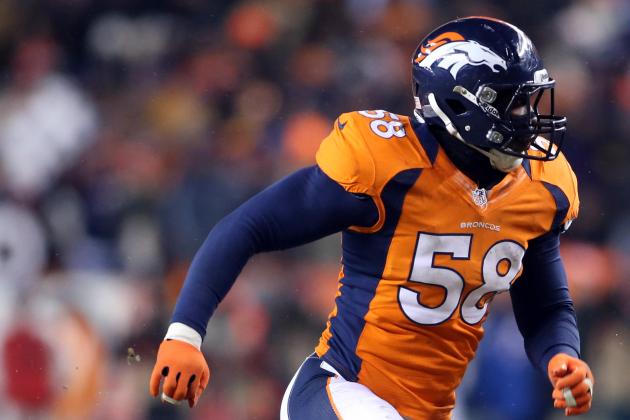 Chris Humphreys-USA TODAY Sports

Broncos fans will remember John Fox's clock management and Peyton Manning's late interception, but the Broncos really lost this game on the defensive side, starting with their lack of a pass rush.
Denver's defense is predicated on their offense getting a big lead, forcing opposing offenses to become one-dimensional, allowing Elvis Dumervil and Von Miller to unleash their pass-rushing prowess. However, the Broncos never were able to gain a substantial lead, and it affected their defense.
Joe Flacco, sacked just one time all game, was able to generate the big plays and victimize an overmatched Broncos secondary.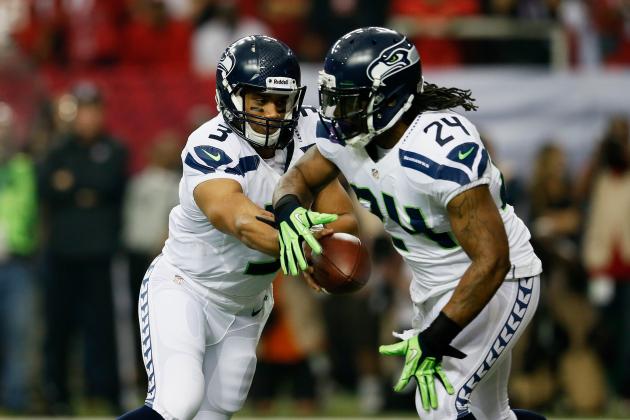 Kevin C. Cox/Getty Images

The player that the Seahawks have leaned on all season was simply not himself on the biggest game of the season. He finished with a pedestrian stat line of 46 yards on 16 carries.
He also lost a costly fumble early in the game.
Perhaps the biggest reason for his ineffectiveness is the fact that he has been dealing with a foot injury that has limited him in practice all week.
The Seahawks still managed ways to generate offense with big plays from Russel Wilson, but they could not sustain drives and eat clock to rest their defense like they had hoped. Had Lynch been healthy, perhaps Matt Ryan would not have gotten as many opportunities to score as he did.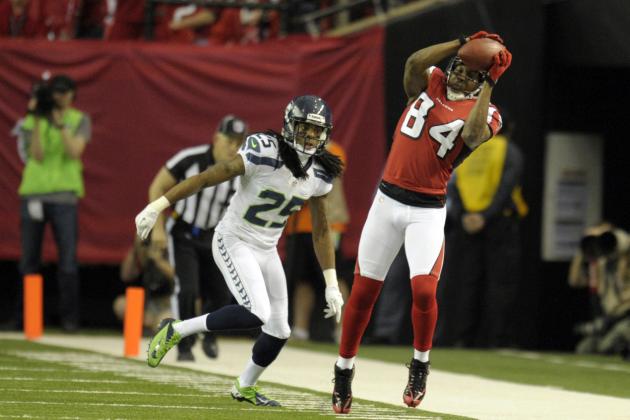 Dale Zanine-USA TODAY Sports

One of the biggest trash-talkers in the NFL got a healthy serving of humble pie after he was torched by the Falcons' receivers over and over.
Even after Roddy White burned him for a long touchdown, Sherman was caught on camera talking in White's face immediately after the play.
Personally, I admire Sherman's shameless display of confidence that borders on arrogance, but when you are known for being an instigator like Sherman is, fans and the media are going to pounce on every opportunity they can to highlight every mistake they find.
Sherman established himself as one of the top corners in the league this year, but Sunday's game against the Falcons is one he is going to want to forget.
Mark L. Baer-USA TODAY Sports

Whether it was stopping the run or rushing the passer, the Texans front seven failed to live up to expectations against the Patriots.
Tom Brady was sacked just once, and J.J. Watt was not able to make the kind of impact the Texans are used to seeing. While he was dominant against the run at times, the Patriots simply decided to run away from him with much success. Both Patriots running backs, Stevan Ridley and Shane Vereen, averaged over five yards per carry.
Matt Schaub is going to take most of the criticism for the loss, but the Houston defense never gave the Houston offense a chance to execute its game plan the way it wanted to.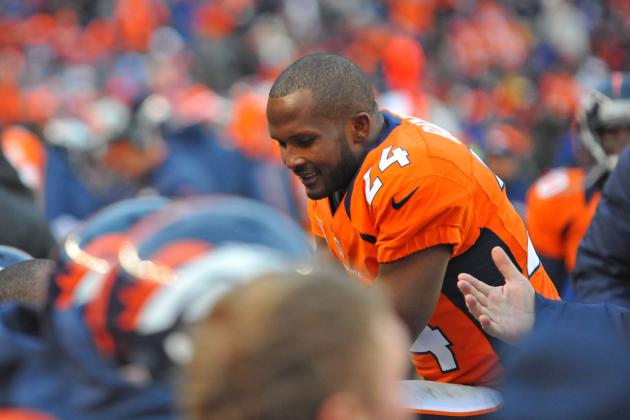 Ron Chenoy-USA TODAY Sports

The Broncos decided to leave their decorated cornerback on speedster Torrey Smith for most of the afternoon, which yielded disastrous results.
Torrey Smith made a few huge plays for the Ravens, nabbing 98 receiving yards and two touchdowns. Even when Bailey was in good coverage, Smith made a great play on the ball to get a late first-half touchdown to tie the game.
As bad as he looked at times, Jack Del Rio made few scheme adjustments to give Bailey help. Their inability to make in-game adjustments is one of the biggest reasons why the Broncos lost.
You never want to overreact to one game, but this was a sign that perhaps a move to safety would be best for Bailey next season with his speed starting to decline.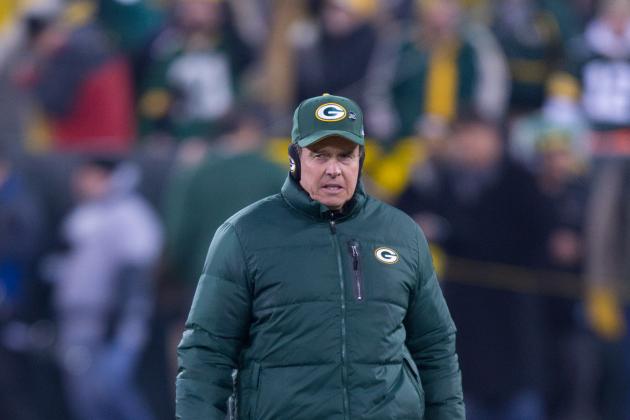 USA TODAY Sports

Capers is a terrific defensive mind, but most of the blame for the Packers' loss to the 49ers on Saturday night falls on his shoulders.
Green Bay had no answer for Kaepernick and his ability to make plays with his legs, as he broke the single-game rushing record for a quarterback with 181 yards. Combined with yards from the other running backs, the 49ers put up a whopping 323 yards on the ground, an inexcusable total for any NFL defense.
Yes, Kaepernick has a unique skill set that an NFL defense may not be used to playing against, but the onus is on the coaching staff to prepare its players for what an opponent brings to the table. It seemed as if the Packers decided to skip their film room sessions this week.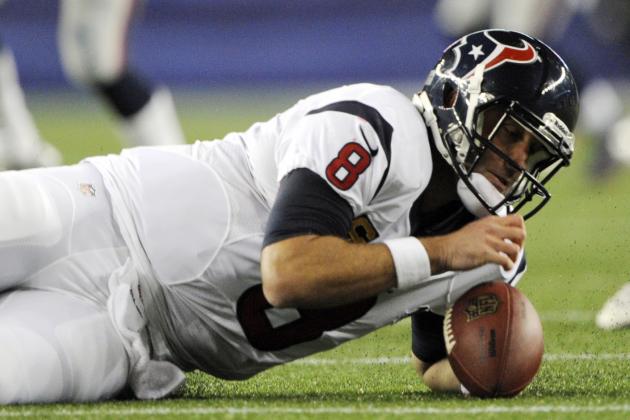 Robert Deutsch-USA TODAY Sports

Schaub managed to put together a solid stat line with over 300 passing yards, but most of his production came in garbage time with the game out of reach.
Where Schaub failed was early in the game with his mistakes and failure to capitalize on scoring opportunities. It started with an errant pass intended for Andre Johnson in the back of the end zone on the first drive, setting the tone for the rest of the game. He also threw an ugly interception to to Rob Ninkovich to allow the Patriots to extend their lead.
This was not necessarily an awful game by Schaub, but he played directly into the narrative that he will never be good enough to get the Texans over the perceptual "hump."
Schaub is a frustrating player because he is never going to be an elite player, but he is not bad enough to justify sending to the bench. Many Houston fans may want to find a player with more upside to work with, but finding an upgrade over someone like Matt Schaub is much easier said than done. There are plenty of teams that would love to swap their quarterback depth charts with the Texans.
Schaub can be a winning quarterback, but he has to play better in playoff games in order to silence his growing number of critics.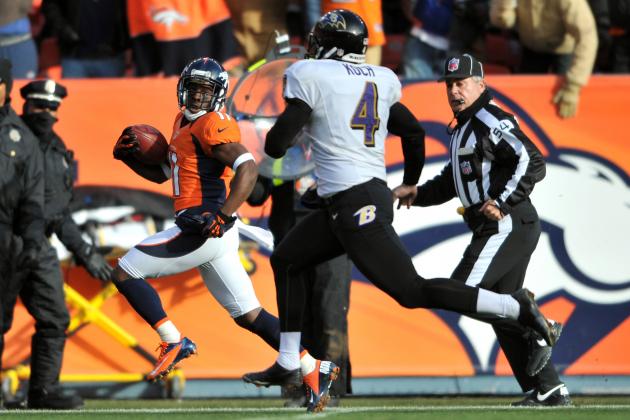 Dustin Bradford/Getty Images

I don't know what is more impressive: the fact that Trindon Holliday was able to return both a punt and a kick for a touchdown in the same game, or the fact that the Ravens were still able to beat Peyton Manning at home after spotting him 14 points.
Fortunately for Baltimore, it was able to overcome its special teams breakdowns on kick returns and win the game, but this was a very uncharacteristically poor performance by a Ravens special teams unit.
After all, head coach John Harbaugh is a former special teams coach, and his special teams unit is ranked first in the NFL by Pro Football Focus. Trindon Holliday is a great return man, but allowing two touchdowns in the same game with so much on the line is simply inexcusable.
The Ravens may have gotten away with it this week, but there is no way they can go into Foxborough next weekend and spot Tom Brady free points.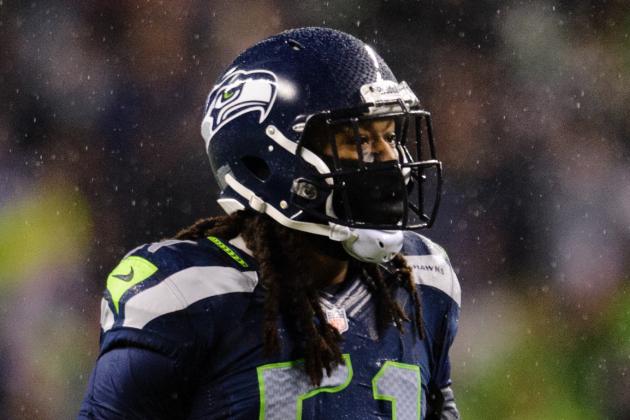 Steven Bisig-USA TODAY Sports

With Chris Clemons out with an injury, this was a huge opportunity for Bruce Irvin to show why he was worth the top-15 selection last April.
Instead, Irvin failed to record a sack and was a huge liability in the run game. It is hardly a coincidence that Michael Turner had one of his biggest games of the season running right at the undersized Irvin.
Irvin has had a strong rookie season and gives the Seahawks an element of speed on third downs, but he proved on Sunday that he is simply not strong enough to be a full-time starter. If Irvin is going to have success, he needs other quality players around him to draw attention and that give him favorable one-on-one matchups.