Alabama Football: Troubles the Tide Will Face to Repeat in 2013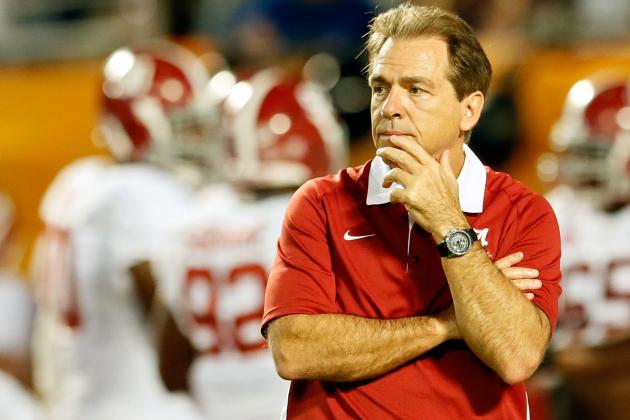 Kevin C. Cox/Getty Images

As Alabama just won a second straight national championship, many across college football are ready to pinpoint the Crimson Tide as the favorite heading into 2013 (h/t Sporting News). Many key players are returning for a chance to three-peat; and with a favorable schedule, it wouldn't be too far-fetched to see the Crimson Tide bring yet another crystal football to Tuscaloosa.
Although, if last season showed us anything, it is that nothing is ever as easy as it seems on paper. While Alabama is extremely talented on both sides of the ball, there are weaknesses that need to be addressed and the team can always improve in certain areas. This is why head coach Nick Saban only took two days off before preparing for the new season that is still several months away.
Most have pegged the Crimson Tide as the championship favorite yet again, but here are a few things that could trip them up in a chance to win a fourth national title in five years.
Begin Slideshow

»
Kevin C. Cox/Getty Images

Jadeveon Clowney, Damontre Moore and Sam Montgomery. Those three guys are great defensive linemen who played in the SEC last year and had the ability to take over a football game at any moment. The problem is that none of them played for Alabama, as the team is still looking for that one dominant lineman who can make plays on his own and consistently come up with that game-changing play.
Now Alabama did finish the year with 35 sacks, which isn't too shabby, but there wasn't that one defensive lineman who scared the opposing offensive line. Damion Square was first on the team with 3.5 sacks as far as defensive linemen are concerned.
What is an even bigger area for concern is that Ed Stinson is the only returning starter on the line. Alabama will have to find a new starting nose guard and another starting defensive lineman, which does have potential with LaMichael Fanning and Jeoffrey Pagan leading the way heading into the spring.
This may be nit-picking a little bit, but every great defense should have at least one lineman who requires defensive coordinators to prepare for. With a bunch of new guys fighting for playing time, Alabama fans should hope to soon find that superior pass-rusher who could help put this defense over the top.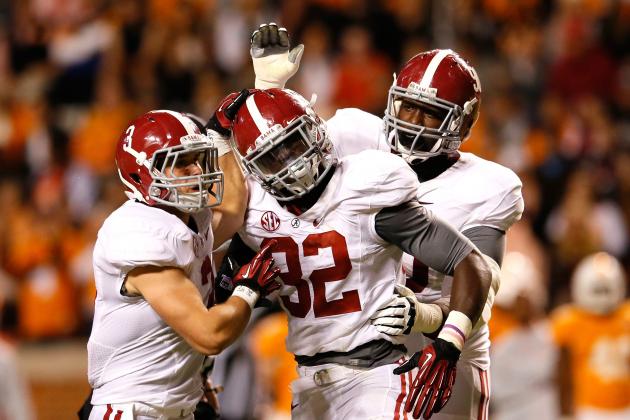 Kevin C. Cox/Getty Images

If there is a weakness on the Alabama defense, it would be the secondary.
Guys were beaten for big plays throughout the year and now the best player—Dee Milliner—has taken his talents to the NFL. This leaves an area of concern with an even bigger question mark.
In 2011, Alabama only allowed 15 passing plays of 20 yards or more. Last season the secondary allowed 35, which was sixth in the SEC, as even Auburn allowed fewer big plays. With the best cover guy now off the team, this is a unit that must be out to prove itself during the offseason and should strive to improve.
Cornerback Deion Belue will likely remain in a starting role next year, but he did not live up to his recruiting hype that he entered campus with. He must improve in coverage the same way strong safety Vinnie Sunseri needs to.
And even with those two guys likely seeing the field quite often next season, replacing Milliner is still up in the air, as there are many guys who will be competing for that other starting cornerback spot.
However the starting secondary looks on opening weekend, this is an area that must be better next season. In a defense that spends most of its time in man-to-man coverage, guys must straighten out their coverage skills and get better at tackling in the open field.
Like nearly every area on this team, there is talent, but players need to start tapping into that potential to get better results.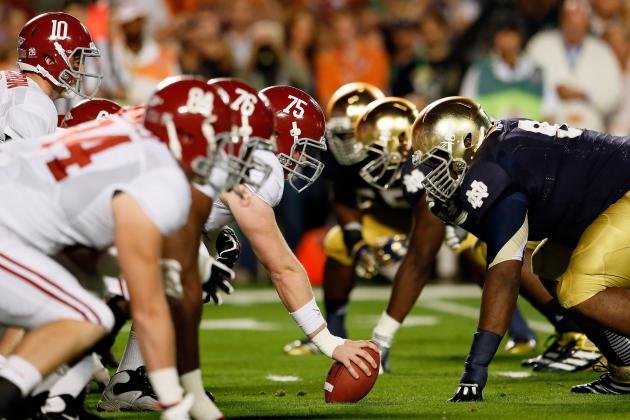 Kevin C. Cox/Getty Images

One of the biggest concerns for a football team heading into the offseason is the offensive line. It really doesn't matter how talented the quarterback or your running game is, if you don't have a reliable unit that can protect and open up running lanes, things aren't going to work out well.
Alabama had one of the best offensive lines last season, but three of the five starters from a year ago are gone. The list includes Barrett Jones, Chance Warmack and D.J. Fluker, all guys who are expected to be taken high in this year's NFL draft. And while that is wonderful for the former Crimson Tide players, it leaves a gaping hole on the offensive line.
Fluker at right tackle will likely be replaced by either last year's backup Austin Shepherd or JUCO transfer Leon Brown. At left guard, Chad Lindsay could easily slide in to help replace Warmack, and rising sophomore Ryan Kelly will likely be given the first crack to fill in the shoes that Jones left behind.
Needless to say, there is talent on the offensive line and if everything goes well, it should be a fairly painless transition. However, there is a lot of talent that has left this unit, and expecting three guys to gel together quickly could be asking a bit much.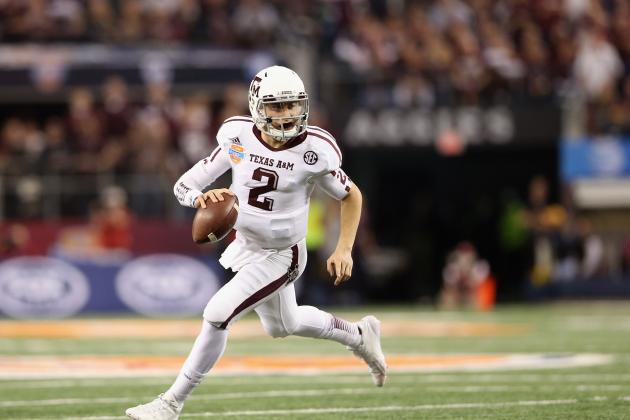 Ronald Martinez/Getty Images

Now that we have gotten majority of the worries out of the way, add an early difficult schedule to the mix and Crimson Tide fans have something to worry about. Three of the first four games of the season include matchups against Virginia Tech, Texas A&M and Ole Miss.
Now, Virginia Tech isn't the same Hokie team we are used to seeing, but as long as Frank Beamer is calling the shots, they remain a tough opponent. It also takes place in the Georgia Dome and will likely be a prime-time game, where we have seen many interesting things take place over the years.
Texas A&M is one of the few teams that could actually give Alabama a run for its money next year. With the game being played in College Station and it being one of the first games on the schedule, this is likely the most difficult game for the Tide. An upset here would not be shocking and could cripple those title hopes before they begin.
You also can't forget about Ole Miss. While the Crimson Tide should have the overwhelming edge at home, head coach Hugh Freeze is doing great things with the Rebels and has helped bring a lot of talent to Oxford. This is no cakewalk and has trap game written all over it, as it takes place between two cupcakes on the schedule.
Usually teams like to start the year off with a few warmup games to kind of feel things out and see what needs to be worked on before the heart of the schedule begins. Alabama won't have that opportunity with difficult games right off the bat.
The coaching staff is under serious pressure to iron out any weaknesses before the kickoff begins.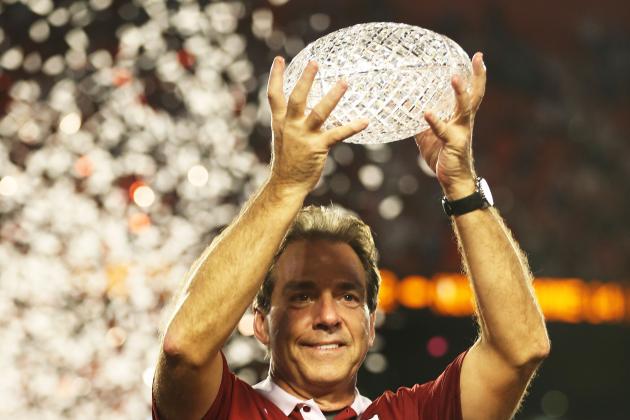 Streeter Lecka/Getty Images

We can pick out the few weaknesses of this team and come up with as many reasons why Alabama won't win the national championship in 2013, but this is by far the most talented team in the country.
As listed before, there are things that may cause a hiccup here and there, but the biggest worry of all is the Crimson Tide getting in the way of themselves.
We saw this back in 2010 after Alabama won in 2009 and it is the biggest worry for head coach Nick Saban. The head coach told Mark Edwards of the Ledger Enquirer that his team must understand that next season is a new year and the hard work must continue if another national title is actually going to happen:
Every opponent that we play next year will certainly have it targeted on their schedule to beat us, so we'll have a lot of challenges for ourselves. The team that we have next year is 0-0.

Even though I really appreciate what this team accomplished, and I'm very, very proud of what they accomplished, we do need to start getting ready for the challenges of the new season very quickly with the team that we have coming back.
We have seen many teams in the past fall victim to the success, and even though Saban seems to have a good feel for his guys, this is always a concern for a talented football squad.