2013 Boston Red Sox: 3 Offseason Moves Boston Should Have Made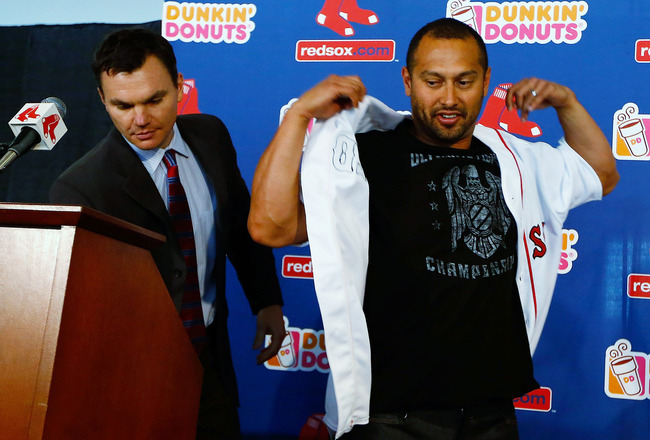 Ben Cherington made a lot of moves this offseason. But were they the right moves?
Jared Wickerham/Getty Images
The Boston Red Sox are wrapping up a busy offseason, and while they haven't yet played a game in 2013, it's fair to question if there were different moves the team should have made.
Much has been made recently about Boston's inability to finalize a contract with free-agent first baseman Mike Napoli after having agreed to a three-year, $39 million deal with him in early December. However, that is just one area where the team may have missed out this offseason.
WEEI's Alex Speier wrote that Boston general manager Ben Cherington appeared on the station's Red Sox Hot Stove Show last week and stated that the team only needs to sign a first baseman and add roster depth before spring training starts.
While Cherington may be relatively comfortable with the state of the team's roster, not everyone may feel the same way.
According to The Boston Globe's Peter Abraham, the Red Sox shed over $105 million from last season, but they have added nearly $86 million in new salaries for 2013. Despite their willingness to spend, there are additional moves that would have been worth exploring.
Click through to see three moves Boston should have made this offseason.
Pursued a Different First Baseman Than Mike Napoli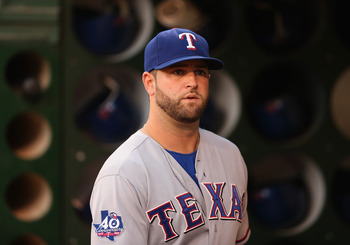 Negotiations between the Red Sox and Napoli have lagged on for over a month.
Ezra Shaw/Getty Images
It's looking more likely that the Red Sox and Napoli will be unable to consummate their original verbal agreement on a three-year deal.
ESPN.com's Jim Bowden tweeted that Boston is seeking to reduce its offer to a guaranteed one-year deal because of injury concerns about Napoli.
Red Sox would like to shorten their deal with Napoli to one-year to make sure the hip will be ok for 2 or 3 seasons without a lot of DL time

— JIM BOWDEN (@JimBowdenESPNxm) January 11, 2013
If Boston is unable to come to terms with Napoli, the club will wish it had made a different plan earlier this offseason.
Many thought that the Red Sox would turn to Adam LaRoche when the Napoli deal came into doubt. However, it was also assumed that Boston loathed the idea of relinquishing a draft pick as compensation for the veteran, and he ended up re-signing with the Washington Nationals last week anyways.
Minnesota Twins general manager Terry Ryan said on MLB Network Radio last month that he would be open to trading Joe Mauer and Justin Morneau for more pitching. However, the Red Sox never got involved because they were finalizing the Napoli deal (or so they thought) and also presumably because of their reluctance to trade the prospects that would have likely been required to pry such players loose.
With the Napoli deal very much in doubt, one of the few remaining available options for Boston may be the Nationals' Michael Morse, according to FoxSports.com's Ken Rosenthal.
Ironically, if the Red Sox were to acquire Morse, they will almost certainly have to give up a young player or two, even though he is in the final year of his contract before hitting free agency.
Either way, it appears that the Red Sox won't be as secure in their first base situation as they thought they would be earlier this offseason.
Traded Catcher Jarrod Saltalamacchia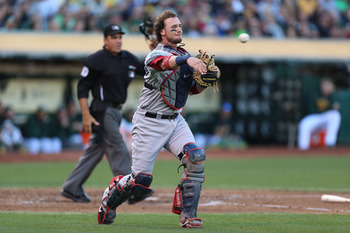 Saltalamacchia has too many deficiencies to be a starting catcher on a contending team like Boston.
Jed Jacobsohn/Getty Images
Boston's catching corps got quite crowded when free-agent David Ross was signed to a two-year contract earlier this offseason. He joins youngster Ryan Lavarnway and last year's starter Jarrod Saltalamacchia, creating some wonder about how the playing time will be divvied up.
Saltalamacchia should have been traded this offseason because his salary and skill set makes him the most expendable of the three catchers on Boston's roster.
The 25 home runs the switch-hitting Saltalamacchia hit last season were second in the AL, behind only A.J. Pierzynski. However, he hit .222, including just .190 after July 1. According to ESPN.com, his overall WAR of 1.2 was only good enough to tie Chris Iannetta for 11th in the AL among catchers.
Salty's defense is well below par. He threw out just 18 percent of baserunners last season, while Boston pitchers had a bloated 4.84 ERA with him as their catcher.
ESPNBoston.com's Gordon Edes reported that the arbitration-eligible Saltalamacchia will make approximately $3.9 million in 2013, which is more than Ross and Lavarnway combined.
Although he has struggled in his two major league stints, the 25-year-old Lavarnway has a .882 career OPS in the minors.
Much maligned for his defense, Lavarnway was credited by The Boston Globe's Alex Prewitt last season for the many improvements he made behind the plate. Being mentored by the defensive-minded Ross could only help his development.
The market for catching help seemed to hit a high this offseason when the Pittsburgh Pirates signed Russell Martin, coming off a .211 batting average in 2012, to a two-year, $17 million contract. Unfortunately, the Red Sox didn't capitalize by trying to get a good deal for Salty.
Despite his deficiencies, it's a good bet that some team would have thought enough of Saltalamacchia's power to make a play for him if Boston made him available. The Red Sox may have missed their chance to get their best return for him and clear a roster spot and some salary in the process.
Traded for Outfielder Justin Upton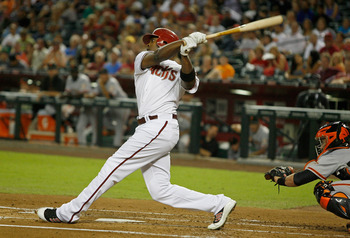 Acquiring Upton would have given the Red Sox a potential superstar at an affordable salary.
Ralph Freso/Getty Images
Despite their flurry of activity this offseason, some, including WEEI's Rob Bradford, questioned whether the Red Sox made a misstep by not acquiring a superstar-caliber player.
This offseason's additions have been lauded for their positive clubhouse influence, but it's hard to imagine Boston rejoining baseball's elite without adding a player with the potential to be a superstar, like the Arizona Diamondbacks' Justin Upton.
The Red Sox inquired about Miami Marlins slugging outfielder Giancarlo Stanton, according to NESN.com, but he's not available.
The Miami Herald's Clark Spencer recently reported that the Marlins have no intentions of trading the 23-year-old Stanton.
That leaves Upton as the best superstar-caliber player who might be available.
The 25-year-old Upton is one of the most talented young players in baseball. While he has been maddeningly inconsistent, his fourth-place finish in the 2011 NL MVP race showed his vast potential.
With three years and $38.5 million remaining on Upton's current contract, the Red Sox would have control of him through his prime, which could be worth the young talent it would take to put him in a Boston uniform.
According to SI.com's Jon Heyman, earlier this offseason, the Red Sox were one of the teams most aggressively pursuing Upton.
The resistance of the Red Sox to give up prospects ended any conversation on Upton.
By last month, The Boston Globe's Nick Cafardo reported that Arizona general manager Kevin Towers indicated Boston was not a probable trade partner for Upton because of the Red Sox's hard-line stance on trading prospects.
Baseball prospects are always a risky proposition. Some turn into star players, while others never make it to the majors. The Red Sox appear to be rolling the dice with their own young players and are hoping they can develop their own superstar that way.
However, winning teams have to take risks, and Upton looked like one that may have been worth taking.
Keep Reading

Boston Red Sox: Like this team?