The UFC's Nick and Nate Diaz: 13 Men We'd Love to See Them Fight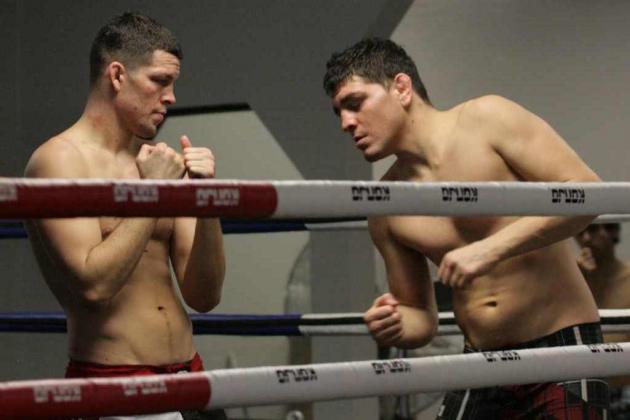 diazbrothers.com
By now, if you are an MMA fan and have not heard of the Diaz brothers, then you are just missing out on the best things in the life of a fight fan.
Some fighters are simply cut from a different cloth, and I am not talking about the fabric that separates you and me from those incredible men and women who put it all on the line in the cage.
I am talking about the differences between Nick and Nate Diaz, and all the rest of those rare human beings we call MMA fighters.
Nick and Nate Diaz weren't just born to fight, they were born to war—and there is a difference. One need only look as far as the bout between Clay Guida and Gray Maynard to see that proved true.
While other fighters look to develop different strategies in order to defeat different opponents, the brothers Diaz look only to polish and refine their style of aggression as the means to any and all ends, and for them it is more than a style—it's a religion.
And to it they are faithful.
So faithful in fact that as more fighters prove themselves, the fans who follow the faithful cannot help but imagine what might occur should Johny Hendricks scrap with Nick, or Anthony Pettis draw hands with Nate.
It's no longer just a simple pondering; it's become a compliment of sorts for those fighters to be imagined slugging it out with 209s most fearsome brotherhood.
So here is a list of 13 men we'd love to see exchange compliments with Nick and Nate Diaz, and in the listing it's safe to say some compliments are best given and received by those who speak the same language.
Begin Slideshow

»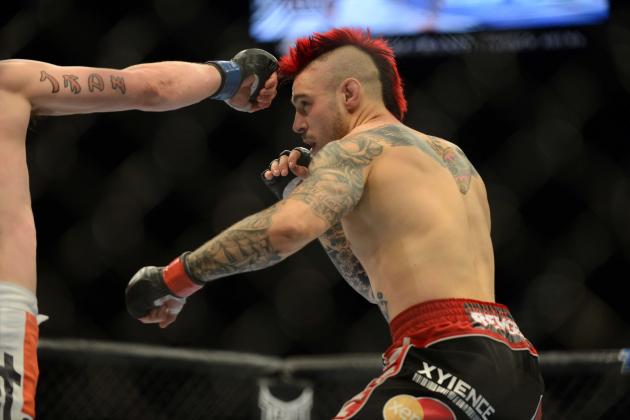 Ron Chenoy-USA TODAY Sports

This would be a true test for both men as they love to bang and they both bring different advantages to this hammer party.
Nick Diaz would be climbing into the Octagon with his legendary cardio, resilience, high-volume punch output and the kind of aggressive attitude that translates into pure aggression and utter contempt for anyone who thinks they can match him in a slugfest.
Dan Hardy brings one-strike KO power and an attack that utilizes not only his fists but his knees and kicks as well. He knows how to move when he wants to and he would probably savor a chance to bang with someone who won't be looking to take him to the ground.
If the fight hits the ground for some reason, Diaz could get the victory fairly easily, but his takedowns are not so good that Hardy couldn't stuff them.
Styles make fights, and in this bout, I see either Hardy knocking Diaz flat or Diaz simply pouring so many fists onto Hardy's face and body that he just can't continue.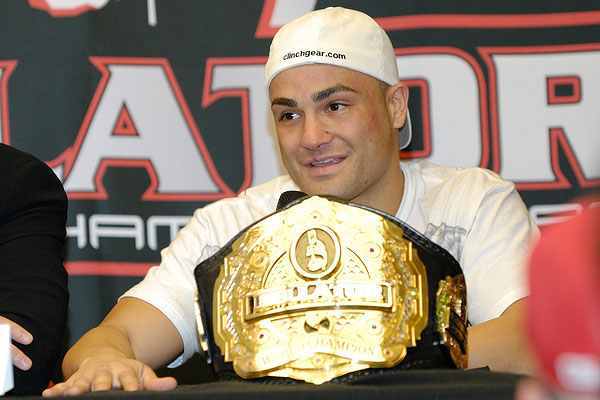 mmaweekly.com
A bout between Nate Diaz and Eddie Alvarez could end up being a two-sided war fought on many fronts, and it has all the makings of being a Fight of the Year.
I would give the edge in punching, submissions and cardio to Diaz while placing the advantage of wrestling, KO power and speed in the column of Alvarez.
Both men have been in some high-octane fights that saw them battered yet battle on, but the question is: Who could impose their style on the other?
Before his fights with Takanori Gomi and Donald Cerrone, I would have said Diaz was at a disadvantage, but since then he has proven that he can get his opponent to fight on his terms, and it is not likely that he's going to ignore the weak points that Benson Henderson so painfully pointed out to him in his last bout.
In a war, I predict Nate Diaz wins, by submission after a whole lot of back-and-forth brawling and scrambling.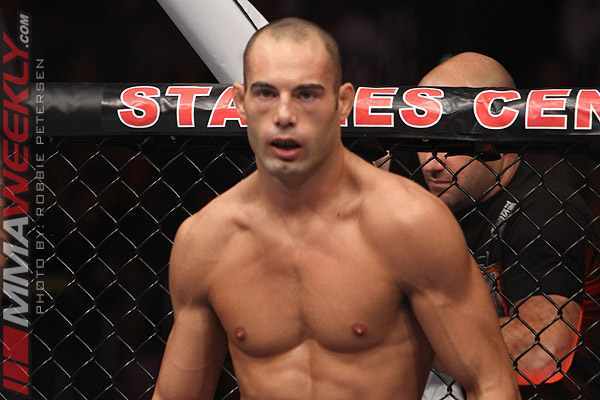 mmaweekly.com
I like this fight for one simple reason: speed vs. aggression.
We all know Nick Diaz is going to keep eating punches and kicks and keep marching forward, letting his hands go at will. In many ways he embodies the adage that says "Keep swinging until you hit something," and in the fight game, that is perfect.
But he can only do that so long as he is not knocked flat on his back, and it's the punch you don't see coming in time that generally is the one that puts you down.
And when it comes to throwing fast hands, when Mike Swick is on his A-game, few in the division are faster or more accurate.
In fact, Swick is just fast all the way around, and the odds of him consistently circling around Nick, drilling him with leg kicks and blitzing him with fast punch combinations and counters is quite probable.
But would it be enough to keep Diaz from boxing him in along the cage and then shipping him out with his high-volume punching?
I'd love to find out.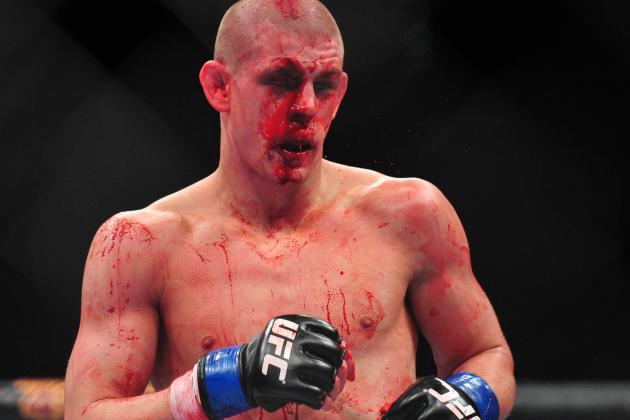 Gary A. Vasquez-USA TODAY Sports

It's the fight that we wish would have happened on season five of The Ultimate Fighter—Nate Diaz vs. Joe Lauzon—and it's still a case of better late than never.
Both men are similar in that they love to bang and are also very good on the ground.
The difference is that Diaz is a better puncher where Lauzon has more power, and Diaz is the better submission specialist whereas Lauzon is the better wrestler.
Diaz would also have the advantage in cardio, where Lauzon would probably be able to land more than a few kicks to the legs of Diaz.
I have a hard time deciding who would win this, but I have to lean toward Diaz, but not by much. Make no mistake about it: This would quickly turn into a war thanks to Diaz pushing Lauzon into a corner, and Lauzon can be a very gritty, mean fighter when he gets in the mood.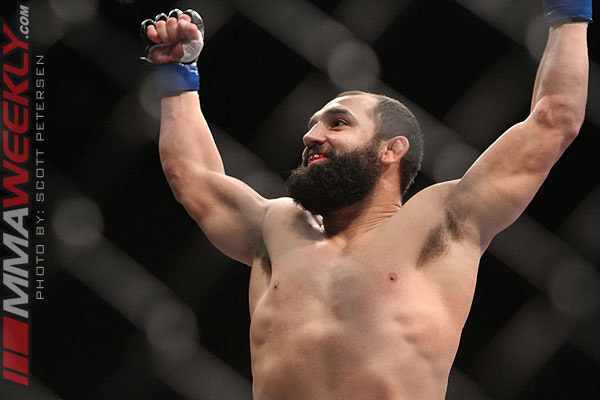 mmaweekly.com
While I would really love to see this fight, I also think it is one of the few on this list where a Diaz brother is really outmatched.
Johny Hendricks has proved to have brutal, one-punch KO power, and he knows how to deliver that payload to the chin; and the chin of Nick Diaz is more often than not right there to be hit, simply because Diaz doesn't give a damn.
I don't know how many punches from Hendricks Diaz could take, but odds are he'd get knocked out if he took too many.
And if that wasn't bad enough, Hendricks is also a very good wrestler who could take Diaz down and carpet bomb his face with those anvils at the end of his wrists.
On the flip side, Diaz does have the skills to submit him, and if Hendricks can't knock him out after seven minutes, can he avoid falling into the same traps as so many other big punchers have when dogged by Diaz and his relentless attack and consistent pace?
I have to say yes, and predict that Hendricks would knock Diaz out in the middle of the second frame.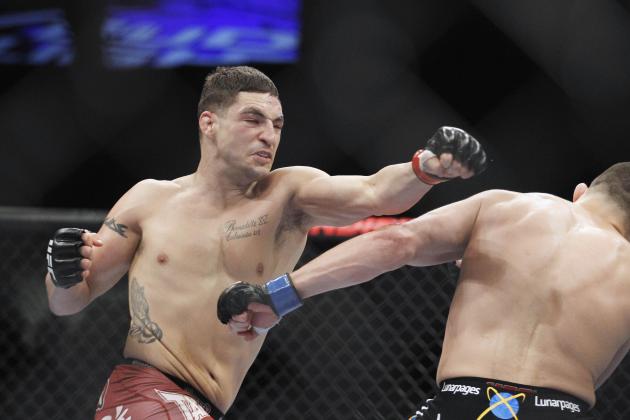 Matt Ryerson-USA TODAY Sports

When Diego Sanchez first squared off with a Diaz brother, he battled Nick in one hell of an exciting fight, winning a decision. Now, the question is: Could he do it again, against the younger Diaz sibling, Nate?
Both men are at lightweight, and while Nate is nearly a carbon copy of his brother, he is younger than Sanchez and far more polished than Nick was when Sanchez faced him in the finale of the second season of The Ultimate Fighter.
Striking would be a brawl at first, but I think eventually Nate would find his rhythm and begin to box the ears of Sanchez until the latter decided to take the fight to the ground.
Sanchez is a very powerful fighter with great conditioning, and that could play a factor, but I still think he'd be in for one hell of a fight; youth does have many advantages, and we would get to see if the gas tank of Sanchez is as deep as it once was.
If it is, I think Sanchez wins a decision. If it isn't, I think Diaz wins via TKO.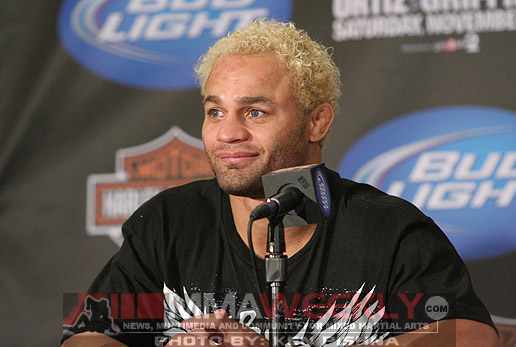 mmaweekly.com
It is rare when a fighter can get under the skin of Nick Diaz, as he usually enjoys the edge in psychological warfare, but against Josh Koscheck, he would have his hands full.
Koscheck loves to play head games and that doesn't stop once the cage door shuts and that is why this could be one incredible scrap.
I can just see Diaz taunting Koscheck, calling him every name in the book, and I can see Koscheck doing the same thing to Diaz after taking him down.
As for the fight itself, Koscheck brings the power and in all honesty, could take Diaz down and from there drive Diaz insane en route to a decision.
But Diaz does have a far better submission game than Koscheck is used to dealing with, and when they are on their feet, Diaz is the far better boxer—stringing together meaningful and painful combinations—where Koscheck is mainly limited to a big overhand right.
And when the fight gets deep, do either of these two men get so enraged by the taunts that they overextend themselves only to quickly end up in a world of hurt?
So many battles would be fought in this fight, but in the end it's the scrap in the cage that matters most, and as good as Diaz is, he hasn't beaten a good wrestler in a long time.
Koscheck is better than good and he walks out of there with a smug smile on his face and a unanimous decision victory.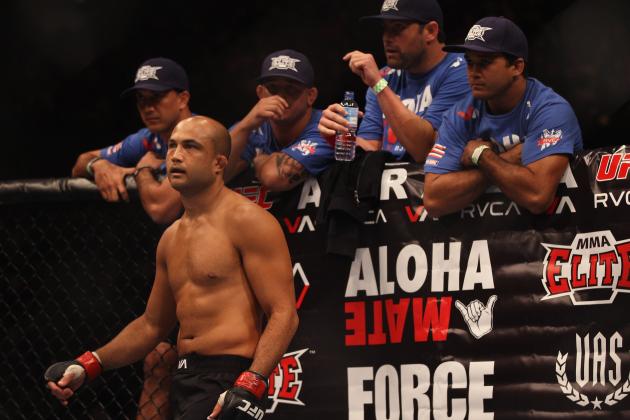 Mark Kolbe/Getty Images

I'll keep this one short for all those who are tired of anyone mentioning the name of B.J. Penn, content to call him a has-been due to his failures at welterweight.
As Nate Diaz is incredibly similar to his brother Nick in terms of temperament and fighting style, a match between the younger Diaz and Penn would be very illuminating as it would be done at lightweight, where Penn has always been his best.
Much ado was made about the size difference that Nick enjoyed when he defeated Penn, and a fight with Nate at lightweight could decide once and for all if Penn's defeat was due to fighting a larger man in a division simply too big for him, or if it was the style and skills of Nick that won the day.
Many pundits believe that Nate is the better of the Diaz brothers, and I agree, but by a slight margin. Would he be good enough to beat Penn in the division where "The Prodigy" has always been his best?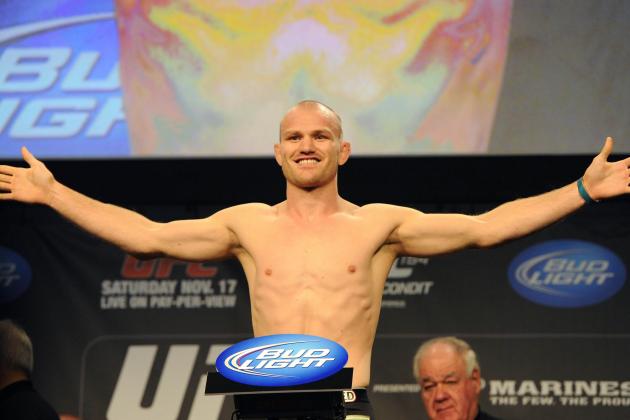 Eric Bolte-USA TODAY Sports

When you look at Nick Diaz and Martin Kampmann, very little needs to be said about this fight because if you know either of these men, then the truth is obvious and free, like water and sunshine.
This would be a back-and-forth, high-velocity, action-packed, bloody affair with so much drama that people would begin to drop to the floor from cardiac arrest in the witnessing of it.
Both men love to bang to a degree that really redefines the word, and both men can withstand incredible amounts of punishment, only to pull off a come-from-behind victory when you least expect it.
Diaz is the better boxer, by far, while Kampmann is the better striker in terms of MMA, using a mixed bag of knees, kicks and elbows to complement his dangerous fists.
Diaz would have the advantage in submissions, but I think the most telling advantage belongs to Kampmann; his ability to slip back into a superior game plan just when it looks like he threw it out the window so he could please the crowd with a bloody war.
I think Kampmann wins this fight via split decision, and this is one of my favorite scraps on the list to imagine.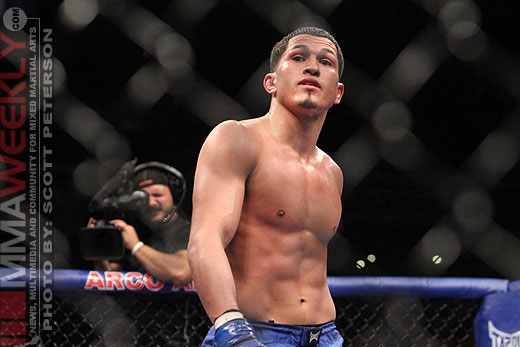 mmaweekly.com
What Nick Diaz vs. Martin Kampmann is to the welterweight division, Nate Diaz vs. Anthony Pettis is to the lightweight class.
Diaz vs. Pettis would be overflowing with attitude, skill, hunger, mean intentions and all-out action, and given how rugged and durable both men are, it could go a full five rounds should it be a headlining bout.
On the ground, Diaz has the advantage, but Pettis would be a hard man to submit—make no mistake about it.
On their feet, Pettis would be outgunned if he tried to limit his attack to mere fisticuffs; but he wouldn't, and for every punch he ate, he'd give back in the form of knees or kicks, and his punches aren't bad either.
This is one of those rare circumstances where a Diaz brother would be facing such a dynamic striker that their boxing style alone wouldn't do the trick, and then we could see the intensity raised up another notch.
A fight like this is almost too close to call, but in a three-round bout I give the victory to Pettis via head-kick KO near the end of the third frame. In a five-round bout, the song remains the same for as long as Pettis goes after it hard instead of holding back in anticipation of the fight dragging them both out to sea.
If the fight does drag out and the going gets really tough, Diaz gets the victory via TKO in the middle of Round 5.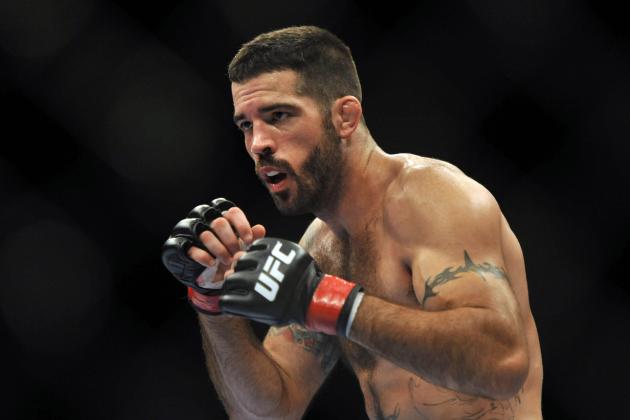 Joe Camporeale-USA TODAY Sports

When thinking about tough fighters in the welterweight division, perhaps none deserve more attention than Matt Brown, who's never been stopped via KO or TKO.
He possesses little defensive skill when it comes to striking, and that would play right into the hands of Nick Diaz, who is accurate enough with his punches (once he establishes a rhythm) to connect with a high degree of accuracy on almost anyone.
But here is the rub: Will any of that matter?
Diaz is a damaging puncher, but only in the cumulative sense; you don't get hurt by a single stone, but by the avalanche that eventually buries you.
However, in a toe-to-toe slugfest with Brown, would his chin be able to stand up to the power of Brown, who is honestly the heavier puncher?
If Diaz is hitting Brown, odds are that while he's connecting and getting in his groove, he's still not hitting Brown hard enough to discourage him or to make him wilt against the cage, as has been the case with so many other men who fall victim to the Diaz style of fighting.
What happens if Brown walks through it all, especially in the first two rounds, happy to eat three or four Diaz punches just in order to land one of his own, and in doing so, what happens to Diaz once Brown establishes his own rhythm?
Brown is a very damaging fighter, and if he gets on his bike early, he can run all over even some of the more rugged fighters out there; just ask Pete Sell.
This is one of those fights with so many variables that you just can't know the answer for sure until they fight.
But I can predict a Fight of the Year nominee, for sure.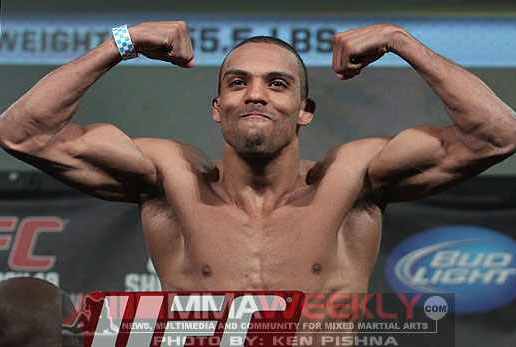 mmaweekly.com
Another great striker-vs.-striker battle, a fight between Nate Diaz and Edson Barboza would showcase some excellent striking in both the technical and the wildly aggressive arenas.
Barboza isn't exactly a throw-caution-to-the-wind brawler, but he does have some serious skills on his feet, and his timing and ability to measure distance are exceptional.
Diaz, being Diaz, would put a lot of pressure on Barboza and try to make him fight in a shoe box, and if he succeeds, I think Barboza goes down via TKO.
If Barboza stays out of close quarters and uses his head, striking at a distance, I think he wins a unanimous decision that is punctuated with some great exchanges that keep the crowd on the edge of their seats, eyes wide in anticipation.
But would they get what they really want: a stunning finish?
I don't know, but again, I would love to watch and see.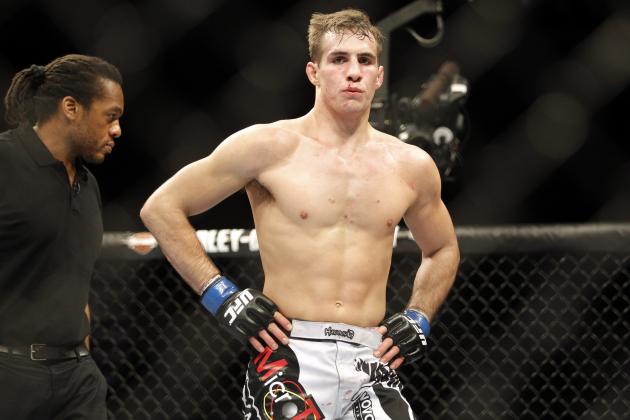 Joe Nicholson-USA TODAY Sports

I'm not sure why I want to see this fight, but I do.
In all honesty, Rory MacDonald would look to employ the same strategy against Nick Diaz that he used to defeat Nate Diaz; lots of long distance strikes, grappling against the cage and lots of heavy slams to rack up points.
Still, part of me wonders if the fight with the elder Diaz would go any differently now that he has the experience of his little brother's fight against MacDonald to draw upon.
Could he find a way to land his punches and keep MacDonald from closing the distance and securing a body lock?
Could he slip those long-range strikes and get in close enough to land his hands but not so close as to allow MacDonald an easy clinch?
Oddly enough, I think he could, at least enough to make it a close fight, but I still think MacDonald would win a tight decision.