Seahawks-Falcons: Atlanta's Biggest Winners and Losers from Sunday
Streeter Lecka/Getty Images

Heading into Sunday's divisional round playoff game against the Seattle Seahawks, the Atlanta Falcons knew they had prove regular season dominance could finally translate into postseason success.
The Falcons have historically been a two-faced team under head coach Mike Smith and quarterback Matt Ryan. During the regular season, Ryan has always been Mr. Clutch. In the postseason, he had been a disappointment.
It was fitting that, in a game where the Falcons seemed to have tickled doubters by blowing a 27-7, third-quarter lead with 31 seconds left, Matt Ryan would go to his regular bag of tricks to get the win. Matt Bryant connected from 49 yards out—something he has done time and time again this season in the waning moments of games—to give the Falcons the win.
Better yet, Tony Gonzalez, who was searching for his first playoff win in what he insists is his last year, caught the pass that put Bryant into field goal range.
It was an electric, rollercoaster ride in Atlanta on Sunday. Here are the winners and losers from the contest.
Begin Slideshow

»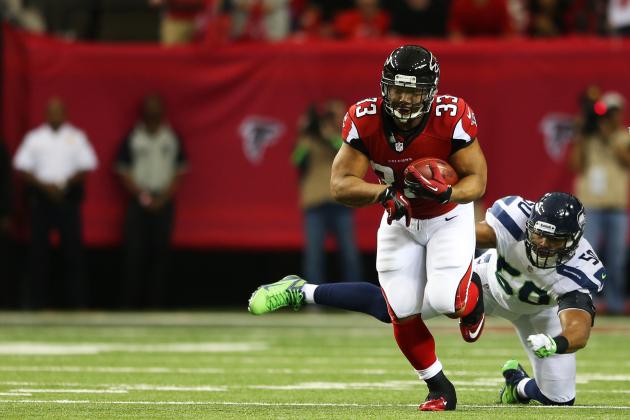 Mike Ehrmann/Getty Images

The Atlanta Falcons had one of the worst per-game rushing yard averages of any NFL team in the regular season.
Michael Turner gained just 50 yards a contest in 2012. That wasn't the Michael Turner we saw on Sunday.
A fresh set of legs—and what looked to be a revamped blocking scheme that featured more cutbacks—helped Turner rumble for 98 yards on 14 carries, nearly doubling his regular season yards-per-carry average of 3.6.
Turner's rushing ability against a great defense is something very refreshing to see with the NFC Championship Game now a week away.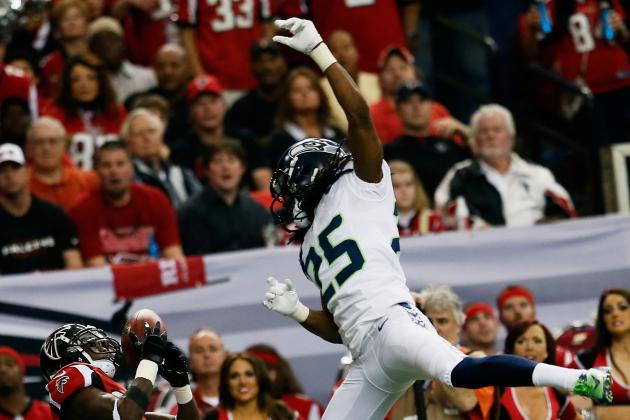 Kevin C. Cox/Getty Images

Heading into the week, the biggest matchup of the NFC divisional playoffs was Roddy White and Julio Jones versus Richard Sherman and Brandon Browner.
That's why many Falcons fans were convinced Harry Douglas, the Falcons fleet-footed slot receiver and newly appointed punt returner, would be a big factor.
Douglas didn't do much in the return department, though he did, however, drop a deep ball against Sherman late in the first half. A catch could have meant a score, or a Falcons first down at the 3-yard line, but instead the Falcons settled for a field goal.
Douglas redeemed himself by making one of the two final catches to set up the Falcons game-winning field goal.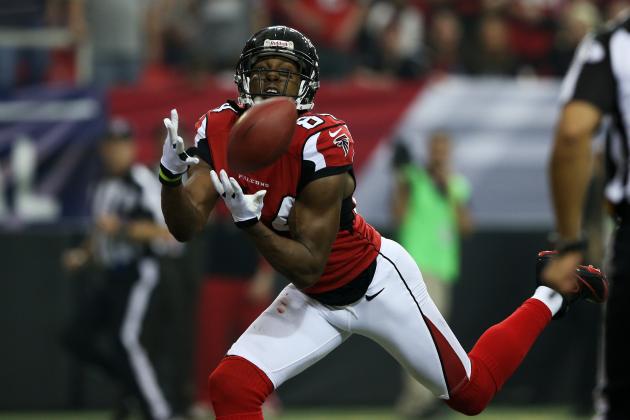 Streeter Lecka/Getty Images

The social media world exploded earlier when Roddy White, who was in a heated battle of words with Sherman after every play, punked Sherman on a deep ball for a 47-yard touchdown reception.
The catch earned roars from the crowd, which then chanted, "Roddy! Roddy!" throughout the mandatory scoring-play review.
White finished with five catches for 76 yards and the one score.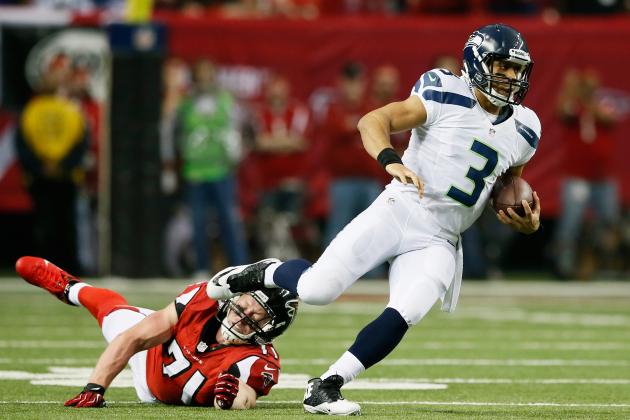 Kevin C. Cox/Getty Images

The Falcons were not able to get pressure on Russell Wilson during the course of the game.
The Seahawks went with a spread attack, forcing the Falcons out of their more complex blitz packages, and Wilson had plenty of time to find receivers or improvise for rushing yards.
He finished 24 of 36 for 385 yards and two touchdown passes. Not bad for a rookie.
The worst part for Atlanta is the fact John Abraham left the field early in the game and did not return. Whether he further injured his ankle or just tweaked it and decided to keep it on ice, his absence made a difference.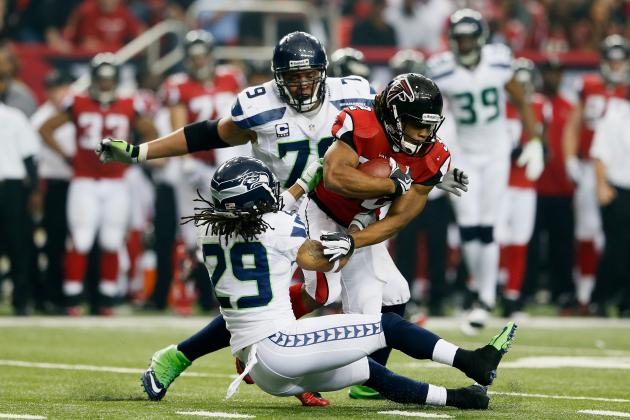 Kevin C. Cox/Getty Images

Jacquizz Rodgers had a great showing, thanks mostly to a 45-yard run where he managed to run over Seahawks safety Earl Thomas.
The "Legion of Boom" didn't pack much of a boom on Sunday.
Rodgers finished with 64 yards on 10 carries.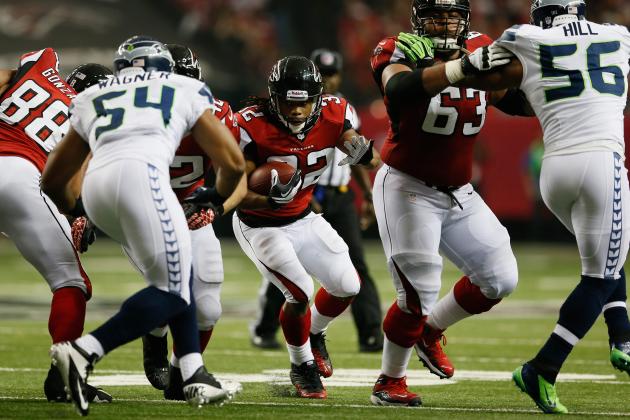 Kevin C. Cox/Getty Images

Atlanta's overall offensive statistics were very good. The Falcons gained 417 yards.
But, the Falcons had trouble controlling the ball as the second half progressed. Offensive coordinator Dirk Koetter seemed to be getting a tad bit more conservative with the play-calling.
At such junctures, Falcon fans probably wanted to see Ryan have more greater latitude to change plays at the line of scrimmage. In any case, the offense obviously slowed down and went a tad vanilla while nursing a 27-7 lead.
Turns out, that might have not been the best idea.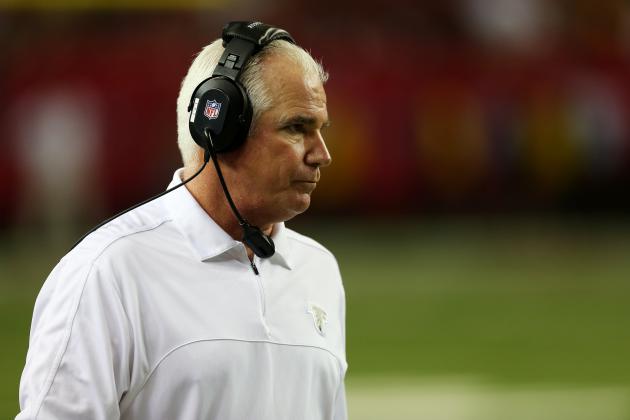 Mike Ehrmann/Getty Images

And the monkey is off the back.
Mike Smith seemed to be riding high when the Falcons owned a 27-7 lead in the game, but a near collapse almost ushered in one of the most tragic moments in team history.
Had the Falcons lost, Smith would have come under a huge amount of scrutiny for allowing his team to squander a 20-point lead.
Instead, the vintage Falcons victory put Smith in the books as just the third head coach in franchise history to send the Falcons to the NFC Championship.
Even if the Falcons falter against the 49ers, the Falcons have taken the next step and Smith now has some postseason progress inked in his resume.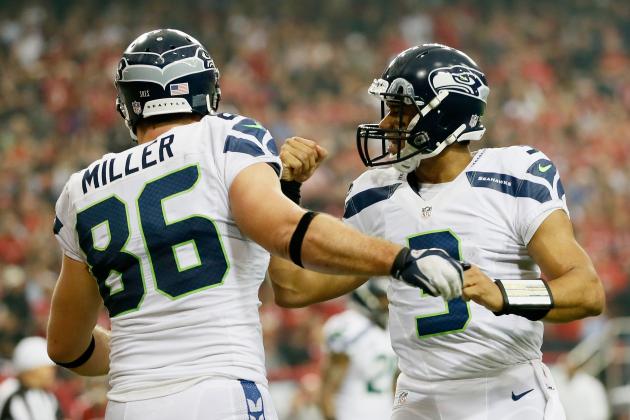 Kevin C. Cox/Getty Images

That's the thing: Zach Miller probably doesn't even know who was supposed to be covering him on Sunday.
Heading into a matchup where the Seahawks showcased a dual-threat quarterback and power-running game, and Atlanta showcased a pair of lockdown corners, it was obvious the tight end was going to be Russell Wilson's best friend.
Boy, was he.
Miller finished the game with eight catches for 142 yards and a touchdown against a confused and flustered Falcons pass defense.
Atlanta will need to shore that up before next week.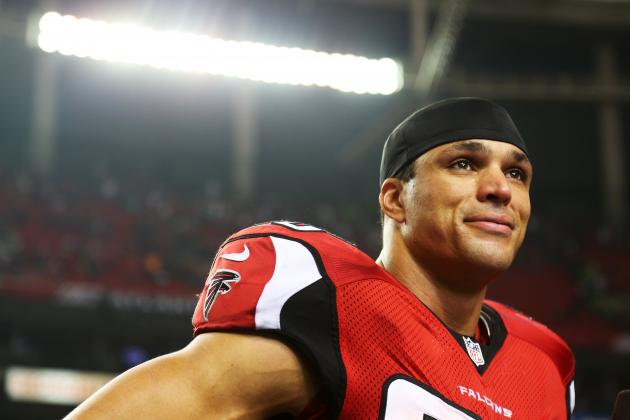 Mike Ehrmann/Getty Images

Truth: Right now, Tony Gonzalez is happier than he ever has been as an NFL player.
That's something the team and city of Atlanta have to be proud of, considering Gonzalez's career in Kansas City: zero playoff wins despite all the Pro Bowls.
Now, the man who in terms of number of receptions is the greatest tight end in NFL history has a chance to help send the Falcons to the Super Bowl.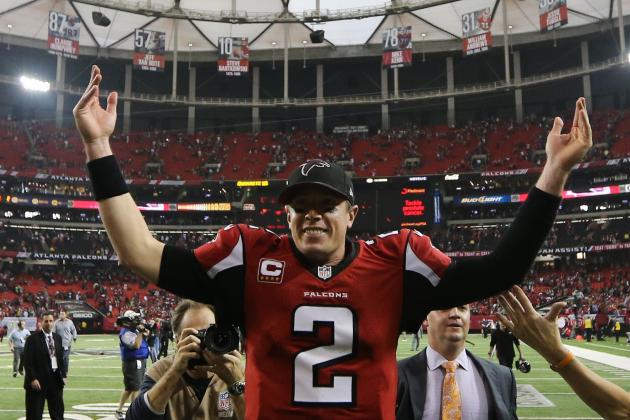 Streeter Lecka/Getty Images

Ryan had a few mistakes that made fans cringe.
His interception in the first quarter was bad, even though it didn't result in points for Seattle. His second-half interception, however, was forced, and it really turned the momentum over to a Seahawks team that suddenly believed it could come back from a 13-point deficit.
It did, but Ryan redeemed himself by being Ryan. He only needed 31 seconds and two passes to help save the Falcons season.
If Matt doesn't make a bonehead turnover in the NFC Championship Game against the San Francisco 49ers, he and the offense should be fine.