7 Big Move Titans Could Make in 2013 NFL Free Agency
Frederick Breedon/Getty Images
The playoffs are still going strong, but for the Tennessee Titans, the focus is on free agency.
There are a lot of big-name free agents at positions of need for the Titans to spend their $19 million budget on, but there are also a lot of their own players hitting the open market.
Last season, the Titans showed that they weren't afraid to go big in free agency, signing Kamerion Wimbley and Steve Hutchinson, while also pursuing Peyton Manning and Mario Williams. They could go for a similar splash this season.
Here are seven big moves the Titans could make in free agency this season that could make them contenders.
1. Re-Sign Rob Bironas, Jared Cook and Fernando Velasco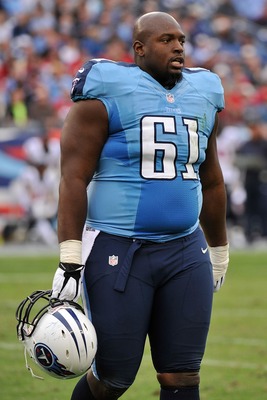 Frederick Breedon/Getty Images
Rob Bironas has been one of the better kickers in the NFL for years, and the Titans need to make sure they keep him on.
Jared Cook will be tough to keep around after he expressed frustration for being underutilized, but he's a good tight end who'd be tough to replace.
Fernando Velasco came out of nowhere to turn into a pretty good starting center, and with the offensive line in shambles, the Titans need to re-sign him. In fact, he may be the priority free agent on the team right now.
Other than those three, the Titans can probably afford to let their other free agents go.
Darius Reynaud would be a good re-signing, but with Marc Mariani and Tommie Campbell both returning from injury, the Titans may not have room for him.
2. Sign a Veteran Middle Linebacker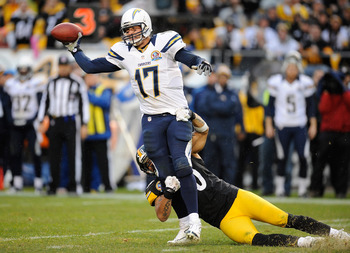 Joe Sargent/Getty Images
Colin McCarthy is a great linebacker when he's healthy. The problem he's had this season is that he was rarely healthy. He's good enough to give another year to, but the Titans will likely want to take some insurance on him.
Will Witherspoon, the current secon-stringer, is a free agent and is near the end of his career, so they need a veteran middle linebacker who can lead a front seven the way McCarthy can to play as his backup.
There are several serviceable middle linebackers entering free agency who would be solid signings, including the former Steeler Larry Foote.
The Titans need to look at signing one just in case McCarthy ends up missing more playing time this season.
3. Sign at Least 1 Safety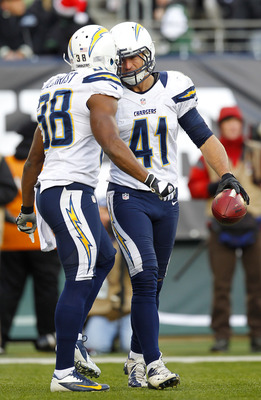 Rich Schultz/Getty Images
The Titans safeties might be the league's worst, and they need to look at signing at least one safety in free agency.
The biggest-name safeties in free agency this year are LaRon Landry, a former Jet; Jairus Byrd, a former Bill; and Kenny Phillips, a former Giant.
However, even beyond those three, there are a ton of solid starter quality safeties on the market. One cheaper option that the Titans might want to look at is former Charger Corey Lynch.
Lynch isn't a big name like Byrd or Landry or even Patrick Chung, but he's better than his numbers indicate.
Lynch only saw playing time at the end of the season when he replaced an injured Atari Bigby. He'd be cheap, and he'd be an upgrade over Jordan Babineaux or Robert Johnson for sure.
4. Consider Some Cuts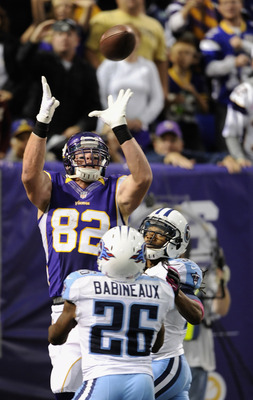 Hannah Foslien/Getty Images
The Titans are a young team overall, but there are a few older players on the squad that they'll have to consider letting go.
Among them are Steve Hutchinson, Matt Hasselbeck and Jordan Babineaux. Cutting any one of the three would free up quite a bit of cap space that the Titans could use nabbing other players.
Now I don't think cutting Hasselbeck would be a good move, but he is just a backup quarterback, and if the Titans are comfortable with Rusty Smith going forward, then freeing up about $7 million might be worth more to them than what Hasselbeck brings to the table.
Hutchinson was only signed last season, but he's old enough to consider retiring and ended his season with an injury. If the Titans land a couple of starting, quality guards in free agency or the draft, Hutchinson may not have much value for the Titans.
Babineaux isn't getting paid as much as Hutchinson or Hasselbeck, but he's almost certainly getting replaced this offseason, so I'd be surprised if the Titans kept him around.
5. Sign a Top Cornerback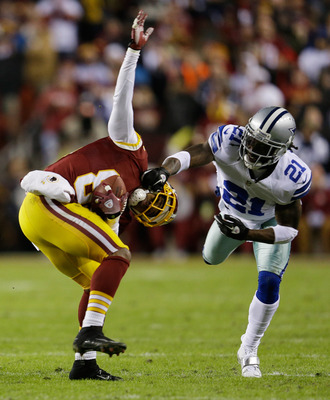 Rob Carr/Getty Images
There aren't many top-flight free-agent corners this year, but the Titans might flirt with a couple of the ones that are available.
Jacksonville's Derek Cox is a great player, but he spends a lot of time out with injury. If he were part of a rotation with Jason McCourty and Alterraun Verner, he might do better.
Mike Jenkins of the Dallas Cowboys and Tracy Porter of the Denver Broncos are two of the top available talents if the Titans go for broke. Both are quality starters.
Others that could be considered are Philadelphia's Dominique Rodgers-Cromartie, who's a great player, but has a lot of off- and on-the-field issues, and Detroit's Chris Houston.
For my money, Jenkins would offer the Titans the most for their money. He's a decent corner who would do very well splitting time with Verner and McCourty.
6. Sign a Top Guard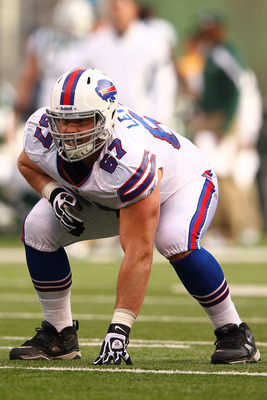 Al Bello/Getty Images
Unlike the corner market, there's a lot of high-end talent to be had at the guard position.
The biggest name is Buffalo's Andy Levitre. With a new coaching staff and front office coming into Buffalo, he may decide to head out of town. He's one of the top guards in the league, so he'd demand a big contract.
Another top guard that'll be floating around is San Diego's Louis Vasquez. Like Levitre, he's an elite talent that would want big money.
Other good, but more affordable players include the Jets Matt Slauson, Houston's Antoine Caldwell and the Giants Kevin Boothe. All are talented and would be instant upgrades at guard.
I think Boothe could be the steal at the position. He's a very capable left guard and could be signed for way less than Levitre or Vasquez. He's also played nearly every position on the line, so he brings versatility too, which is always valuable.
7. Sign a Top Defensive End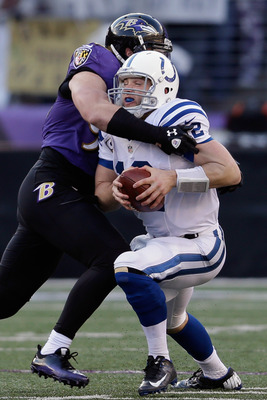 Rob Carr/Getty Images
Mario Williams landed a $100 million contract last year from the Bills, but after he underperformed, top pass-rushers could be more affordable this year.
Even though the Titans improved in the sack category, their defense really needs a top-end pass-rusher. There are a lot to be had this year.
Probably the best player on the market is Detroit's Cliff Avril, who may simply be too expensive for the Titans to sign, as Detroit hasn't been able to reach a long-term agreement with him as of yet.
The next top pass-rushers are Cincinnati's Michael Johnson and Houston's Connor Barwin. Johnson blew up this season, and Barwin is used to playing as a 3-4 linebacker—so both come with some risks.
Perhaps the best player for the Titans to target is Baltimore's Paul Kruger. He has 11.5 sacks so far this season, has experience as a defensive end (he currently plays as a rush linebacker) and, since he shares time with Terrell Suggs and Courtney Upshaw, he's likely to want to move.
Keep Reading

Tennessee Titans: Like this team?