Texas Football: 5 Reasons Manny Diaz's Defense Will Dominate in 2013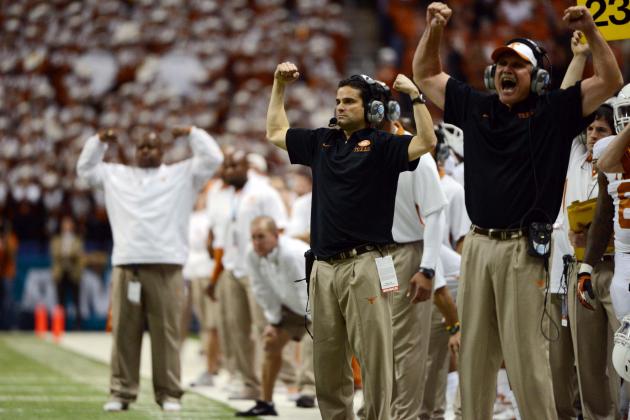 Brendan Maloney-USA TODAY Sports

Manny Diaz sparked some excitement following his first season as defensive coordinator for the Texas Longhorns. His defense ranked in the top 15 and many expected it to be even better in his second year in Austin.
That second year has come and gone with much fewer accolades and praise for a defense that statistically is rated the worst in Texas football history.
A strong outing in the Alamo Bowl likely bought another year for Diaz to prove that his first year was no fluke, but his defense will be highly scrutinized now that inexperience should no longer factor as largely as it was this season.
There are a few key differences that separated the make-ups of the 2011 and 2012 defenses, and if the Longhorns remake themselves at key positions, then Diaz could be in for a very successful season in 2013.
Here are five reasons why the Longhorns' defense can rehash itself as one of the Big 12's best.
Begin Slideshow

»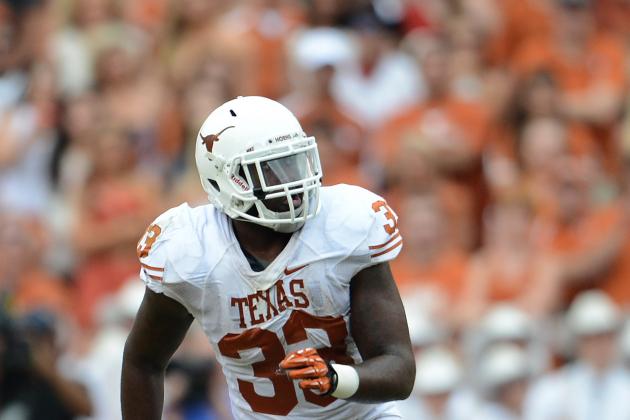 Matthew Emmons-USA TODAY Sports

When Emmanuel Acho and Keenan Robinson left for the NFL following the 2011 season, the Longhorns were sucked dry at linebacker, leaving Jordan Hicks as the lone, proven contributor among a host of underclassmen.
The lack of experience at linebacker was a root cause to the defensive struggles the Longhorns dealt with all season, and they would only see improvement late in the season.
With the entire position group returning for the 2013 season, inexperience is no longer an excuse.
If the likes of Steve Edmond, Peter Jinkens and Kendall Thompson can take big leaps forward, then the linebackers will be in good hands heading into the fall. But if they struggle early on, then the defense will likely struggle as well.
Jinkens and Thompson improved tremendously by the end of the season, and if those two progress normally, then the 2013 linebacker group will be vastly improved.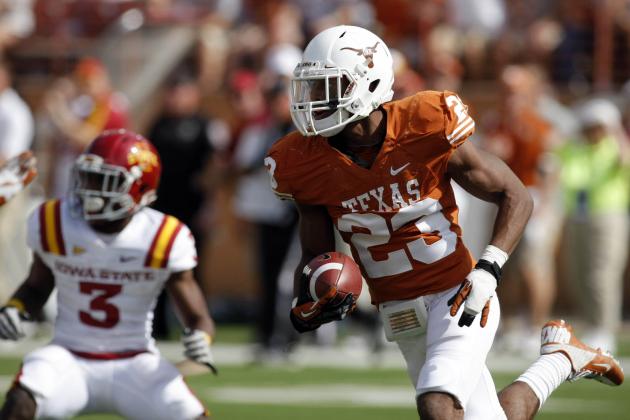 Brett Davis-USA TODAY Sports

If a statistically worst-of-all-time kind of season cannot light a fire under a defense, then there are few things that can.
To say that the Texas defense has something to prove to itself in 2013 is an understatement.
Severe underperformance from a number of players and positions has to have the coaching staff fired up for a rebound season.
The Longhorns lose Kenny Vaccaro, Alex Okafor and Brandon Moore, but the amount of talent coming back will remember just how sour of a season the defense put together.
With soaring expectations, the Horns have the foundation for a recovery.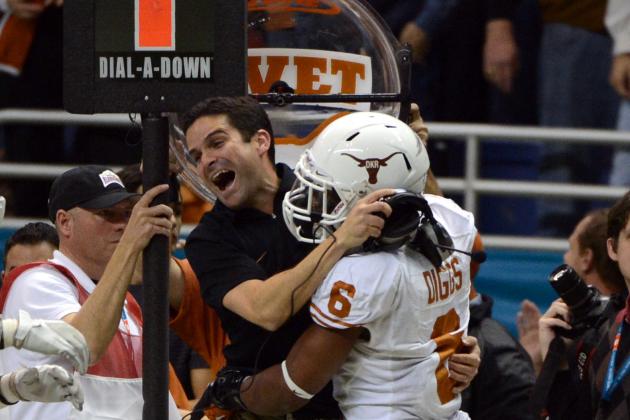 Brendan Maloney-USA TODAY Sports

Replacing Kenny Vaccaro is a tough challenge, but the Longhorns did not become "DBU" overnight.
Yes, the back end suffered from its own shortcomings, but a couple of quick moves and expected improvements should help re-balance the secondary from Vaccaro's departure.
The likeliest of moves will be Quandre Diggs to safety, playing him next to Adrian Phillips in the back. Diggs can imitate the physical force that Vaccaro brought to the table, and his rangy athleticism can have him drop into nickel coverage if needed.
The catch here is that one of either Leroy Scott or Duke Thomas needs to step up for an immediate impact. Texas tends to rely on a young player in the secondary, and defensive backs coach Duane Akina is no stranger to having his underclassmen prepared.
An improved linebackers corps will help buoy a secondary that will want a rhythmic start to the 2013 season.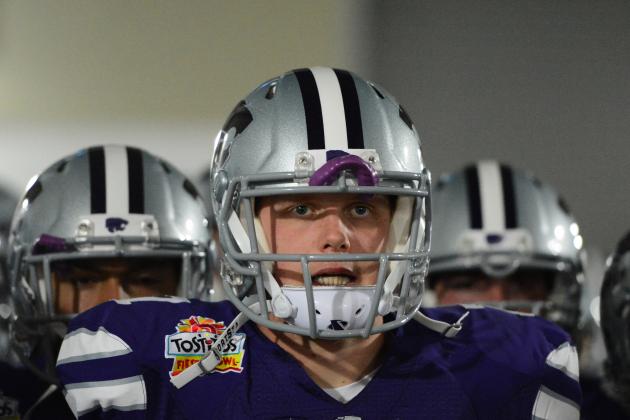 Mark J. Rebilas-USA TODAY Sports

The Longhorns finished third in the Big 12 behind Kansas State and Oklahoma, doing so with a load of youth gaining some valuable experience.
Next season, both the Wildcats and Sooners will face the challenge of finding their new quarterback, as do the offensively capable Baylor Bears.
So with that in mind, three of the top-five finishers in the Big 12 last season will be looking for new sparks on offense while the likes of the Longhorns and the Oklahoma State Cowboys will return a special dose of consistency and familiarity within themselves.
Every season presents its own set of challenges, but for right now, the Longhorns have an early edge on the competition by having less to replace going into the year.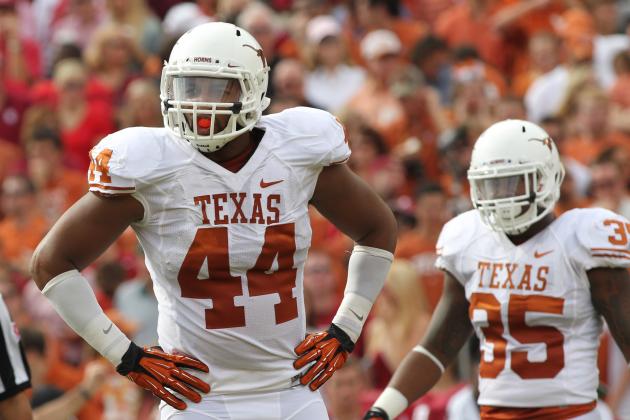 Tim Heitman-USA TODAY Sports

Alex Okafor had his last hurrah to complete his career at Texas.
Jackson Jeffcoat has faced injury issues throughout his years in Austin, and coming off surgery to repair a torn pectoral muscle for the second straight season, Jeffcoat has to embrace his senior season with the right attitude.
Texas will need an imposing defensive end to anchor its defense, and Jeffcoat will have to turn his jets on from the get-go to step into Okafor's footsteps and set a standard of performance.
Jeffcoat has flashed some dominance in the past, but he will have to put in a full season's work and stay healthy for the Longhorns to ease into the year.