49ers vs. Falcons: Who Has the Edge at Every Position in NFC Championship Game?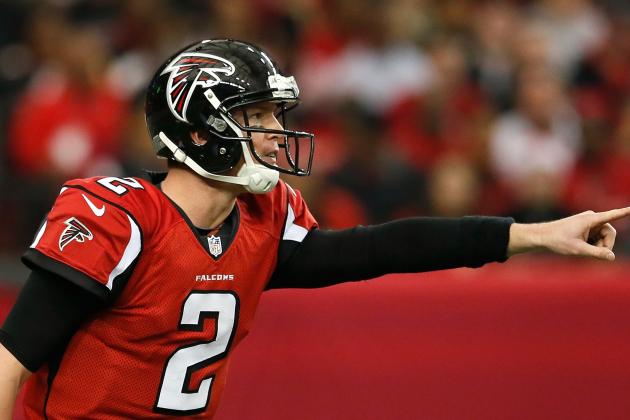 Kevin C. Cox/Getty Images
Old NFC West rivals from the 1990s square off next week.
The Atlanta Falcons will host the San Francisco 49ers in the 2012-13 NFC Championship Game.
The teams are two old NFC West rivals from the 20th century, and this meeting brings historical significance that runs quite deep.
As for the game, Atlanta features quarterback Matt Ryan against the 49ers' second-year signal-caller Colin Kaepernick. The 49ers' defense will also be one of the best the Falcons have seen, as they are coming off a solid performance against Aaron Rodgers and the Green Bay Packers.
With a trip to Super Bowl XLVII on the line, let's preview this matchup of NFC juggernauts.
Begin Slideshow

»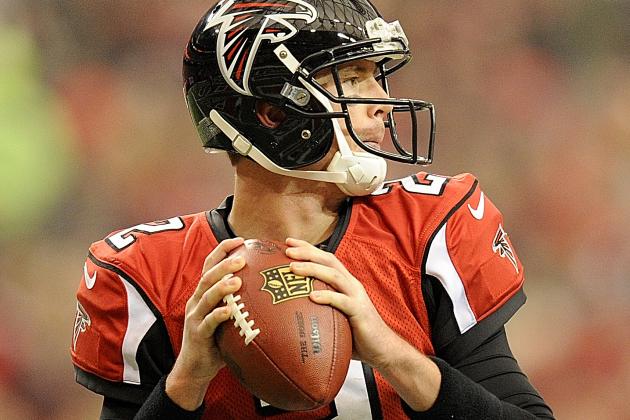 Kevin Liles-USA TODAY Sports

Matt Ryan or Colin Kaepernick?
Well, this duel is quite fascinating given each quarterback's different set of skills.
Ryan is undoubtedly the better passer as well as more experienced. He knows how to spread the field and without question leads his team in dire situations, as evidenced in the NFC Divisional Round.
Kaepernick, on the contrary, relies on his arm strength and mobility to make plays in and out of the pocket. His complete talent is eerily similar to that of Russell Wilson, which will cause problems for Atlanta's defense.
At this stage of the season, though, an offense needs a guy that will stretch a defense to set up the run. Despite Kaepernick's versatility to certainly get the Falcons off balance, Ryan can get San Francisco on its heels to a greater degree.
Edge: Falcons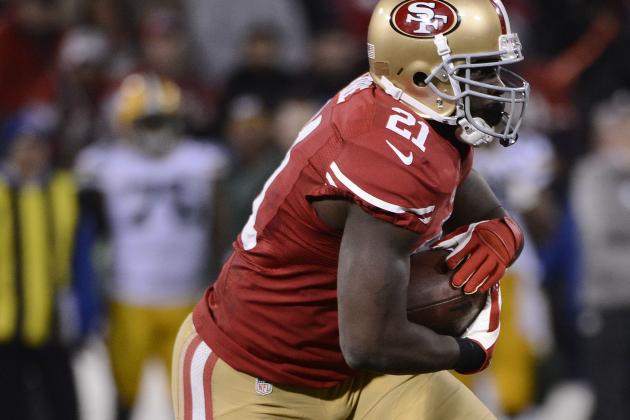 Robert Hanashiro-USA TODAY Sport

The running game is once again being proven to win in the postseason.
We saw it when the Baltimore Ravens defeated the Denver Broncos, and the Falcons did just that to the Seattle Seahawks.
Unsurprisingly, the 49ers smacked the Packers on Saturday by moving on the ground.
San Francisco rushed for 323 yards with 119 coming from Frank Gore. The physical attack is Jim Harbaugh's forte, and it's how the 'Niners need to control this game's tempo.
Atlanta presents the reliable Michael Turner, who averaged seven yards per attempt against Seattle—by no means an easy task. Then again, Ryan's ability to stretch the field is what opened up the running lanes.
The 49ers, however, don't need a ridiculous aerial assault to win at the line of scrimmage. It's what they've done all season, and San Francisco will produce in the trenches this week.
Edge: 49ers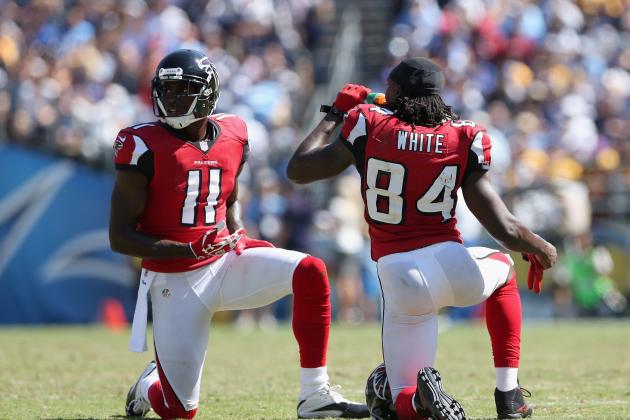 Jeff Gross/Getty Images

There's no debating this one.
Matt Ryan is provided with the much stronger receiving corps, because Julio Jones and Roddy White are arguably the best duo in pro football.
Against one of the NFL's best defenses on Sunday, Jones and White combined for 135 yards on 11 receptions. That impact got Seattle to back out of the box, which then allowed Michael Turner to slam up front.
Now, despite Atlanta having the better passing offense, we can't discount the potential of San Francisco's. Michael Crabtree is capable of constantly defeating man coverage and setting up everyone else underneath.
The disparity comes from Jones and White's ability to draw double coverage. Crabtree has yet to become that consistent of a factor, whereas the defenses must account for isolating one of Ryan's targets on every play.
Edge: Falcons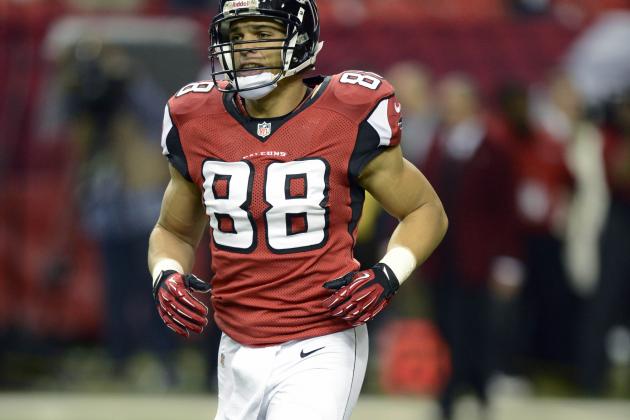 John David Mercer-USA TODAY Sports

The tight end position is arguably the most even between San Francisco and Atlanta.
Vernon Davis is among the best around simply because he has great athleticism at the position.
He's basically a wide receiver that's the size of a tight end.
As a result, it's no surprise to see him accumulate plenty of yards after the catch and possess the route-running ability to beat man coverage. No linebacker can isolate him one-on-one.
The same can easily be said of Tony Gonzalez. Although he may not have Davis' explosive speed, Gonzalez's experience and knowledge of the game far outweighs that of Davis.
As one of the few tight ends that forces a safety bracket over the top, Gonzalez is one of the most dependable tight ends in NFL history. Davis has this type of potential, but Gonzalez brings more consistency on a weekly basis.
Plus, he is just as reliable, if not more, at run-blocking as Davis. This is why Atlanta's play-action is so relevant, despite not being a run-oriented offense.
Edge: Falcons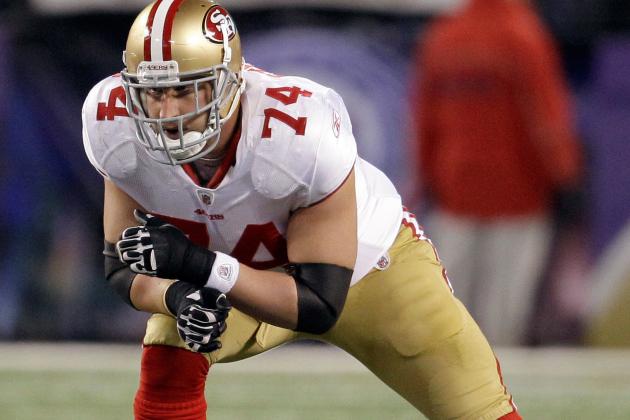 Rob Carr/Getty Images

The offensive lines in this matchup are just as good, but rather different.
And that distinction lies within each offense's philosophy.
San Francisco is clearly better at run-blocking, because slamming with Frank Gore and utilizing Colin Kaepernick's mobility will keep any defense honest. The Falcons are more consistent as pass-blockers, since relying on Matt Ryan to thwart downfield and outscore teams has constantly worked for Atlanta with him at the helm.
So, which offensive line then gives its respective team the advantage?
The 49ers' does, because fielding the stronger ground game does a more emphatic job of controlling the line of scrimmage. As we saw during the regular season, establishing the run against Atlanta is quite possible.
Seattle may have run well against the Falcons, but 60 yards came from Russell Wilson scrambling and Marshawn Lynch averaged only 2.9 per attempt. Even if Atlanta stacks the box versus the 49ers, though, the designation of Kaepernick's mobility expands the playbook for Jim Harbaugh's offensive line.
Edge: 49ers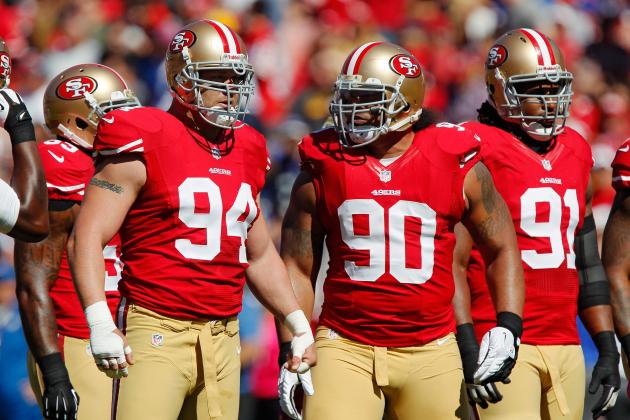 Brian Bahr/Getty Images

Running the ball comes at a premium against the 49ers.
Although the Packers amassed 104 rushing yards on Saturday, 28 were of Aaron Rodgers'. And Matt Ryan isn't that mobile.
That said, don't discount the potential of Atlanta's front wall of defense.
The Falcons worked to shut down Marshawn Lynch, and it paid off as the game progressed. Even with Seattle rallying late, isolating Lynch in the first half prevented Seattle from maintaining balance and forced a comeback.
The biggest discrepancy, though, lies with consistency.
San Francisco did a much better job of making plays in the backfield all season, plugging running lanes and drawing double-teams to free up the linebackers. The 49ers play with great discipline in the trenches and won't budge when defending the run.
Atlanta was suspect at times throughout 2012, and giving up 4.8 yards per rush during the regular season remains a concern.
Edge: 49ers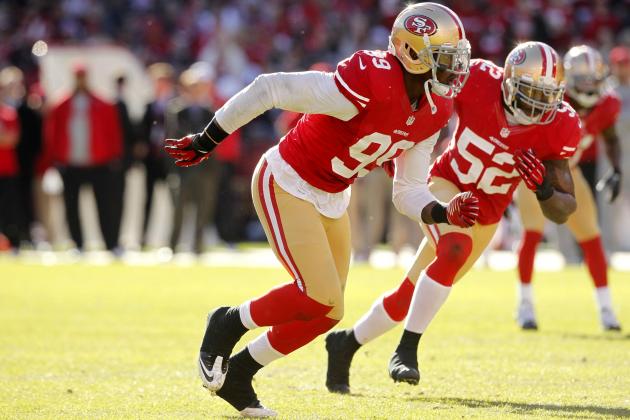 Cary Edmondson-USA TODAY Sports

Instincts and coverage skills will be a key factor regarding how well the linebackers play in the NFC Championship.
Based on what was exploited during the divisional weekend, each core of 'backers must step up big time.
San Francisco managed just one sack of Aaron Rodgers, and he completed 66.7 percent of his passes. Atlanta only got to Russell Wilson twice, and the rookie torched the Dirty Birds for 385 yards and also a 66.7 completion percentage.
So, is there even an advantage here since both linebacker corps are vulnerable against the pass?
Yes.
Atlanta isn't as laterally quick or fast when defending the run. Also, the 49ers field the personnel to enhance their pass rush and shield in man coverage. Plenty of Wilson's passing yards against Atlanta came at the intermediate level.
Patrick Willis and Co. are also suspect there as well, but not nearly as much as Atlanta because of better instincts and speed.
Edge: 49ers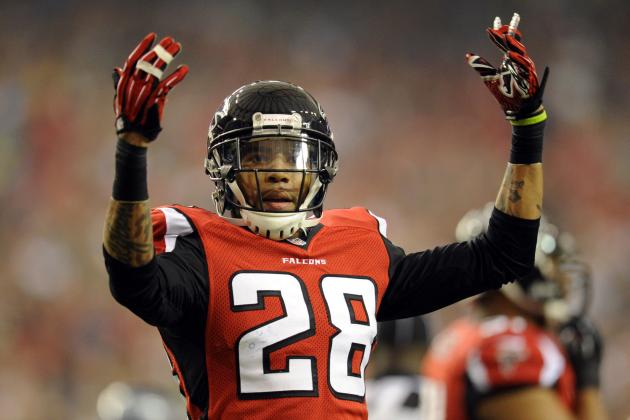 Kevin Liles-USA TODAY Sports

Another close comparison between the 49ers and Falcons—the latter is intriguing to say the least.
Atlanta sports technically sound players such as Thomas DeCoud and Asante Samuel, both of whom played well against Seattle.
Samuel possesses the quickness and reactionary skills to isolate Michael Crabtree one-on-one. That impact allows DeCoud to sit back in Cover 1 or 3 and read, or roll down to help with run support.
Against the 49ers, Atlanta's defensive backs will certainly need to make some tackles close to the line. San Francisco's secondary on the other hand, does go a bit overlooked due to the dominance of its front seven.
Guys such as Carlos Rogers and Tarell Brown can lock down in man coverage, but Atlanta's receivers will be the best they've seen all season. Safeties Dashon Goldson and Donte Whitner will need to help with double coverage more often than not, which will open up more space over the middle.
With Samuel locking down half the field for Atlanta, the Dirty Birds won't be easy to throw against.
Edge: Falcons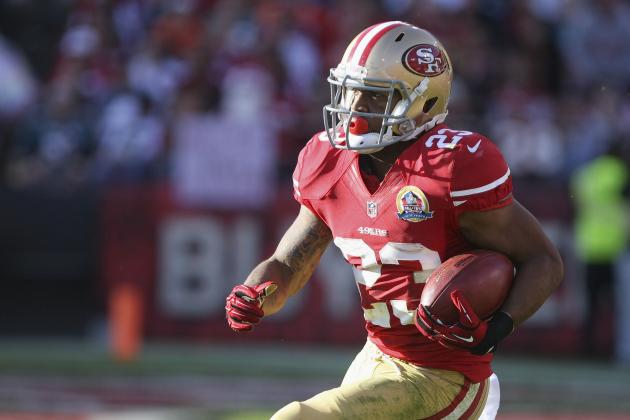 USA TODAY Sports

Special teams, much like last year's NFC title game, will play a significant contributing role.
Atlanta has the more consistently reliable kicker in Matt Bryant, but David Akers holds a leg that can knock from 60-plus yards.
Therefore, the field position battle moves to the punters.
San Francisco's Andy Lee averaged 48.1 yards per attempt during the regular season and landed 36 inside the red zone. Atlanta's Matt Bosher hit 47.5 per punt and spotted 22 inside the opposing 20-yard line.
The advantage here, though, is Bosher having two punts get blocked. Lee was not blocked all season.
Factor in the return specialists, and the edge lies with San Francisco. Rookie LaMichael James averaged 29.8 per kickoff return this season, and Kyle Williams hit 27.2 per attempt. Each fared better than Jacquizz Rodgers of the Falcons.
As for punts, the 'Niners got 10.5 per return to just 7.9 for Atlanta. In short, San Francisco has the field position battle in its favor.
Edge: 49ers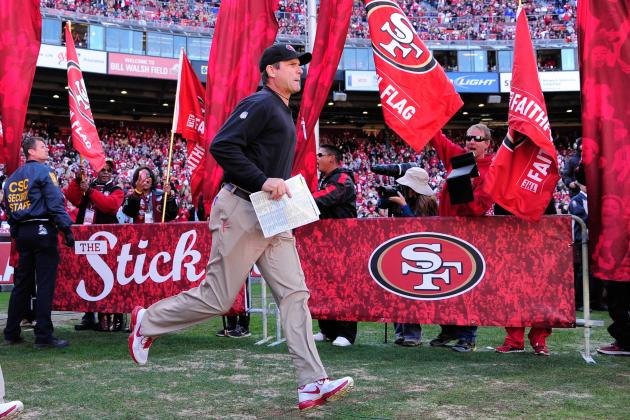 Kyle Terada-USA TODAY Sports

Lots of NFL experience between Jim Harbaugh and Mike Smith.
Harbaugh's playing experience prepared him quite well for the coaching world, because success at the college level has immediately translated to the NFL.
Despite this only being Harbaugh's second pro season, he has now led San Francisco to two consecutive NFC Championship Games. Smith wasn't as notable of a player by comparison, but he has been in pro football since 1999.
Taking over the Falcons in 2008, Smith has led Atlanta to a winning season each year and has finally won a playoff game. Given how close the overall success lies within each coach, the advantage goes to Harbaugh.
He got his team in this position a year ago, and they followed up with an encore performance. Now that Smith and Matt Ryan have their postseason victory, the pressure increases on the No. 1 seed.
Harbaugh and the 'Niners know how to beat veterans in the playoffs, just as they did with Drew Brees last year and with Aaron Rodgers this past weekend.
Edge: 49ers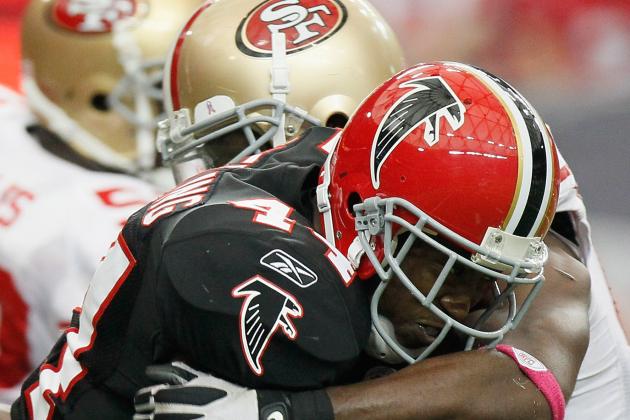 Kevin C. Cox/Getty Images

Quarterbacks: Falcons
Running Backs: 49ers
Wide Receivers: Falcons
Tight Ends: Falcons
Offensive Line: 49ers
Defensive Line: 49ers
Linebackers: 49ers
Defensive Backs: Falcons
Special Teams: 49ers
Coaching: 49ers
Overall: 49ers 6, Falcons 4
For the second straight week, the Falcons will have to stifle a dominant running game. The concern all season has been consistency with Atlanta's defensive front, so living up to that challenge will be required on Sunday.
San Francisco has to match Atlanta's explosiveness should this game burn up the scoreboard. Fortunately for the Bay Area, they've seen the 'Niners in this capacity before—they've outscored Tom Brady and the Patriots in New England.
Can Matt Ryan and the Falcons move the ball on San Francisco's stellar defense? Considering that Aaron Rodgers and Green Bay had trouble, Atlanta will have its fair share of issues as well.
Edge: 49ers
Follow John Rozum on Twitter.