West Virginia Football: Projecting the Mountaineers' 2013 2-Deep Depth Chart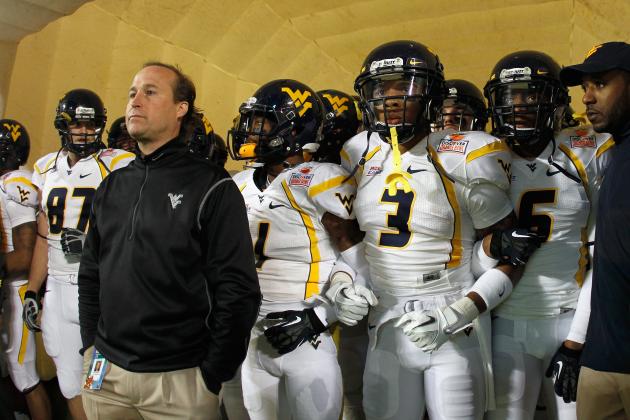 Mike Ehrmann/Getty Images

When a college football program like West Virginia finishes just one game above .500, change is to be expected.
Not only will the Mountaineers lose a few prominent figures to graduation and the NFL draft, but some returnees may not even keep their starting spots.
Follow me as we take a shot at what next year's depth chart may look like for WVU.
Note: This is just one version of an installment of depth chart projections that will run from now until the beginning of the season, so make sure and check back periodically.
Also, feel free to drop your own predictions in the comment section below.
Begin Slideshow

»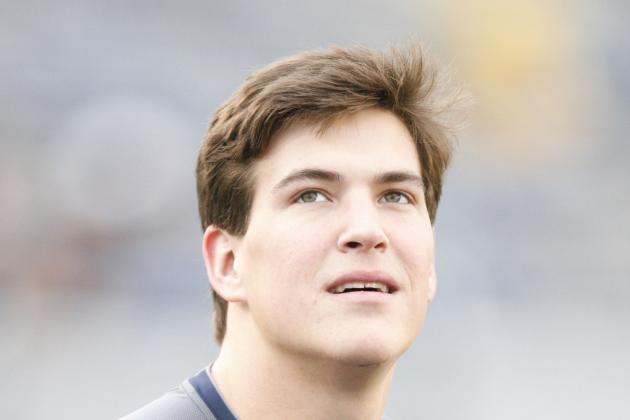 Charles LeClaire-USA TODAY Sports

Starter: Ford Childress
2. Tanner McEvoy
3. Paul Millard
In my previous projection, I tabbed Tanner McEvoy as the starter. Now, obviously, I moved Childress up to the starting slot.
I still think McEvoy will end up at WVU, but he might not make it until it's too late for him to win the job.
I previously had McEvoy at the top spot under the assumption that he would be at West Virginia in the winter or spring.
The longer it takes McEvoy to make it to make it to Morgantown, his chances of winning the job grow less and less.
With that, it looks like Childress will have the upper hand at the starting job.
If that happens, it's tough to say if McEvoy will even stay at quarterback or make the move to receiver.
I still think there's a lot he can bring to the QB position, so it can never hurt to have a guy like him with experience at the position. Just look at what happened with Oklahoma State this season.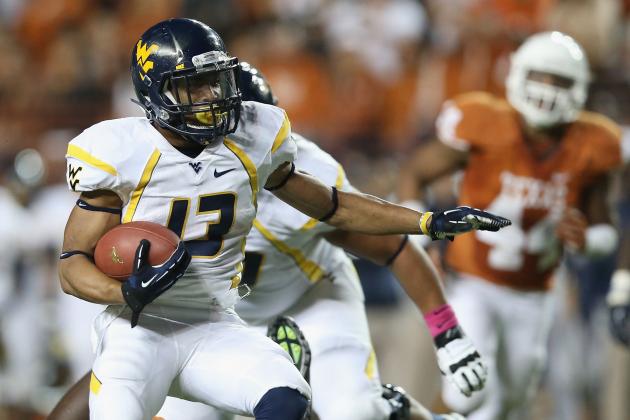 Ronald Martinez/Getty Images

B Starter: Dreamius Smith
2. Andrew Buie
3. Dustin Garrison
A Starter: Cody Clay
No change at the running back slot from my previous projections.
With Dreamius Smith heading to West Virginia, all signs point to him taking the starting role.
He'll really be the only big back on the squad and also has speed to burn.
Neither Buie nor Garrison have what it takes physically to be an every-down back, but Smith does.
Look for him to take the majority of the carries in this offense, but by no means will Buie and Garrison be phased out. This duo will still serve as a change of pace and catch passes out of the backfield.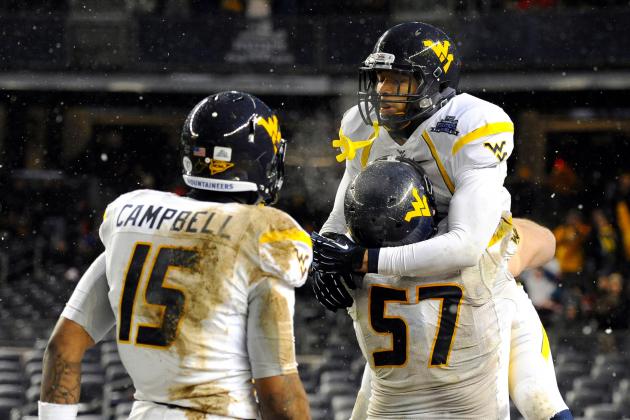 Rich Barnes-USA TODAY Sports

Starters: K.J. Myers, Dante Campbell, Ronald Carswell, Kevin White
Backups: Devonte Robinson, Devonte Mathis, Jordan Thompson, Will Johnson
I haven't made any changes at the wide receiver position yet, mostly because the group is so new.
This will shift and I'll move on with individual slot and outside projections as we see more of this group as the spring and summer rolls along.
Regardless, I think we'll see all eight of these receivers over the course of the season.
Will Johnson could end up blossoming into a big part of the offense.
WVU is still in the mix for Ohio receiver Shelton Gibson. I don't have him listed here, because I still suspect he'll end up at Ohio State.
When the Buckeyes missed out on James Quick, the odds of Gibson ending up at West Virginia dropped dramatically.
However, it remains to be seen if the Mountaineers can make a final push and bring him to Morgantown.
If that happens, Gibson could start immediately. He's an elite athlete and would likely be too talented to keep on the sideline if he ends up in gold and blue.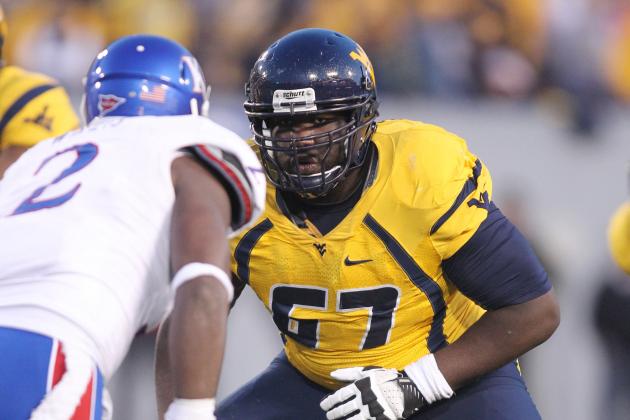 Charles LeClaire-USA TODAY Sport

Starters: Quinton Spain, Pat Eger, Curtis Feigt, Nick Kindler, Russell Haughton-James
Backups: Brandon Jackson, Tyler Orlosky, Adam Pankey, Marquis Lucas, Marcell Lazard, Tyler Tezeno
I haven't made any changes from my initial projection on the offensive line.
Similar to the wide receivers, we'll see this list change and evolve as the offseason goes along.
Really the only two slots I see as sewn up are those held by Spain and Eger.
Outside of that, the competition is pretty wide open.
Feigt and Kindler are both experienced but haven't show a whole lot of reliability. They'll need to improve, or they will be out of the starting lineup in a hurry.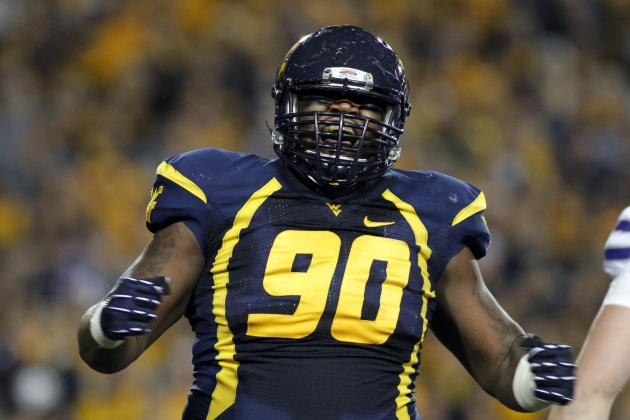 Justin K. Aller/Getty Images

Starters: Will Clarke, Shaq Rowell, Christian Brown
Backups: Eric Kinsey, Kyle Rose, Korey Harris, Dozie Ezemma, Imarjay Albury
West Virginia's potential defensive line depth took a huge hit when De'Asian Richardson decommitted.
However, for next season, the Mountaineers should be just fine.
Rowell and Clarke return after starting nearly every game last season.
They did an excellent job against the run, but it will be interesting to see if WVU adds another big body to the starting three up front, or if a smaller rushing end takes that slot.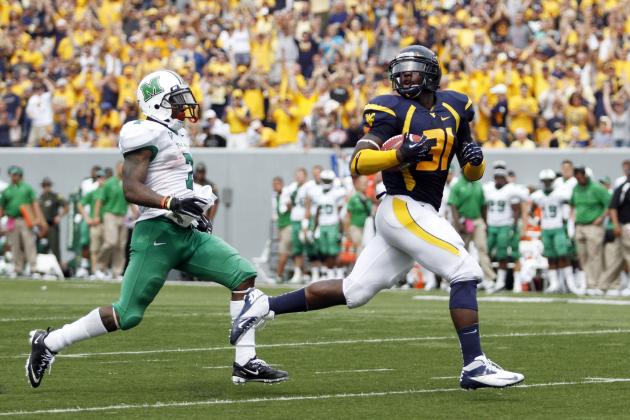 Justin K. Aller/Getty Images

Starters: Isaiah Bruce, Jewone Snow, Doug Rigg, Shaq Petteway
Backups: Jared Barber, Garrett Hope, Nick Kwiatkoski, Wes Tonkery, Darrien Howard, Al-Rasheed Benton, D'Vante Henry
I still like these four taking on the primary starting roles.
Bruce will come back after a stellar freshman campaign and easily assume a starting role.
If Snow is anywhere near where he was before his injury, he should have no problem earning his playing time as well. After 2011, he was poised for a breakout 2012 campaign, so in a perfect world, he'd pick up right where he left off.
Petteway ended up being one of the more reliable backers on the team, so he'll likely take Terence Garvin's role at the Star position.
Barber proved to be very reliable as well, so he and Rigg will have to fight for that last starting spot.
Hope, Kwiatkoski, Tonkery and the newcomers will also be in the mix and available in case of injury.
The linebacking corps looks pretty solid at the moment, but given the success of Bruce and Karl Joseph as freshmen on this defense, don't be surprised if either of the highly-touted freshmen end up seeing the field next year as well.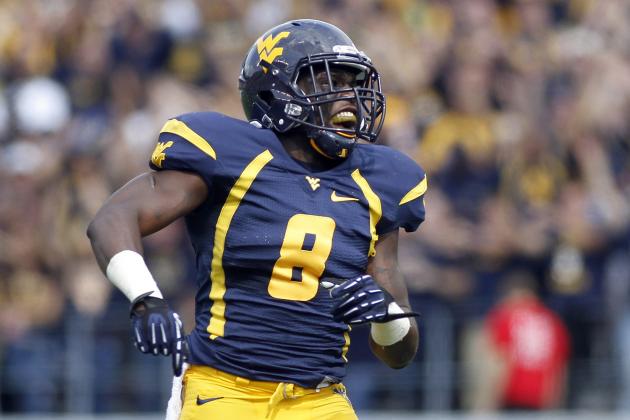 Justin K. Aller/Getty Images

Starters: Karl Joseph, Terrell Pinson, Brodrick Jenkins, Ishmael Banks
Backups: Darwin Cook, Nana Kyeremeh, Vernon Davis, Terrell Chestnut, K.J. Dillon, Ricky Rumph, Brandon Napoleon, Malik Greaves
The only lock here is Karl Joseph. He was WVU's best defensive player last year, and he'll need to be just as good this upcoming season.
I still like Pinson over Cook. Pinson came to West Virginia with the goal of taking a starting role, he'll do just that.
Jenkins was one of the biggest disappointments on this defense last year. Before the season, I thought he was ready to blossom into a very good corner, but that didn't come to fruition in the least bit.
He'll have another shot his final season, but with a host of younger corners behind him, he'll need to be much better in 2013.
Between Banks, Miami transfer Vernon Davis, Chestnut, Rumph and Napoleon, any of them could take one of those starting roles. And given how the West Virginia corners played last season, we could easily see two underclassmen in starting roles.
Finally, keep an eye on Dillon and Greaves. If Pinson doesn't pan out and Cook continues to struggle, either of their names could be called as well.