NFL Playoffs 2013: Coaching Staff Is to Blame for Denver Broncos' Early Exit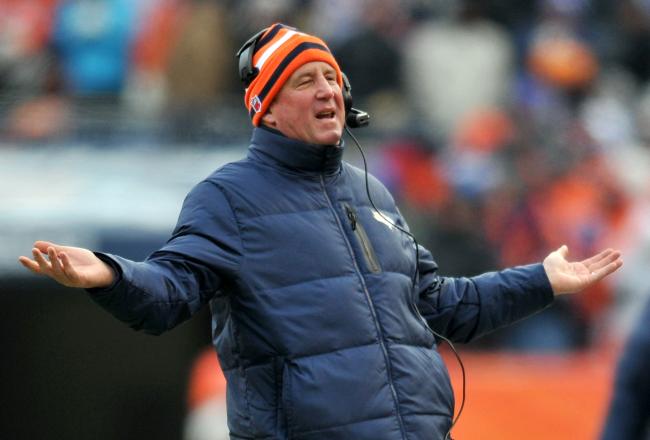 Dustin Bradford/Getty Images
When you have a future Hall of Famer under center, you put the ball in his hands at crucial moments, especially in the NFL playoffs.
The Denver Broncos were surprisingly ousted in the AFC divisional round of the playoffs on Saturday following a 38-35 overtime loss to the Baltimore Ravens.
There's much blame to go around for the No. 1-seeded Broncos losing to a Ravens team they had just dismantled nearly a month ago in Week 15 of the regular season.
You can go the defensive route—which definitely deserves to shoulder much of the blame—as the No. 2-ranked defense during the regular season allowed almost 500 offensive yards to a Baltimore squad that ranked 16th in the league during the regular season.
The defense that allowed Jacoby Jones to slip behind them and make an improbable 70-yard catch to tie the game and eventually doom the Broncos.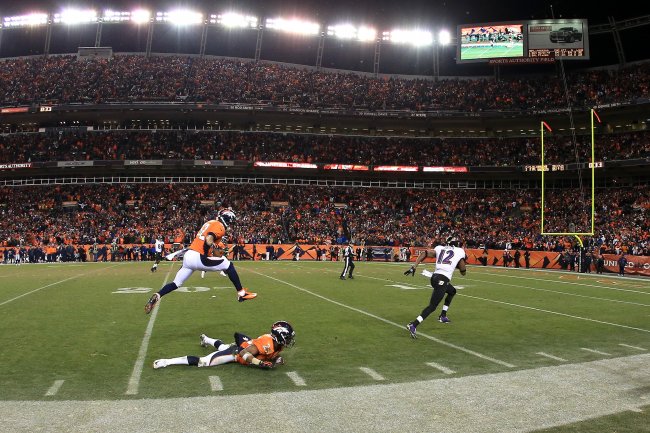 Doug Pensinger/Getty Images
You can even blame the great Peyton Manning for throwing across his body, leading to an interception at his own 38-yard line that led to Justin Tucker's 47-yard field goal that won it for Baltimore in double overtime.
But if you're looking for a legitimate source to place the blame upon, look no further than offensive coordinator Mike McCoy and head coach John Fox.
Leading 35-28 with less than two minutes left in the game, the Broncos were faced with a 3rd-and-7.
All Denver had to do was get the first down and kneel the clock out, as the Ravens had no timeouts left.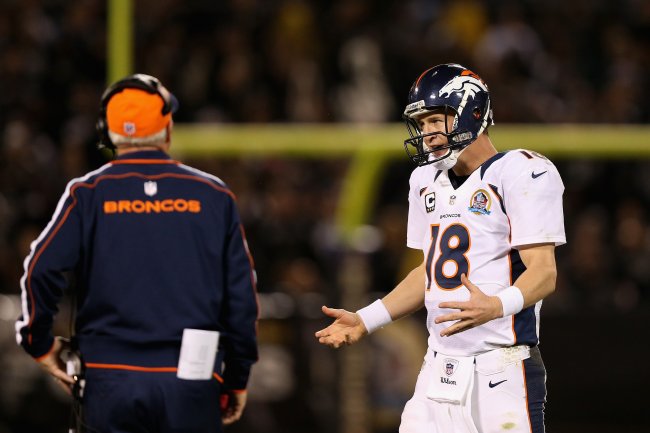 Ezra Shaw/Getty Images
Instead, Fox took the ball out of Manning's hands and opted to run it with Ronnie Hillman, who was stuffed for no gain.
The trend continued in overtime, as Denver faced a 3rd-and-1 and ran Jacob Hester to the tune of no gain, leading to another punt for the Broncos offense.
And it would happen once more in OT, when Hester was again given the rock on 3rd-and-1 and failed to gain a single inch.
That's three times that Denver's coaching staff took the ball away from Manning and opted to run it with inexperienced backs instead of letting arguably the greatest QB of all time attempt to advance the team.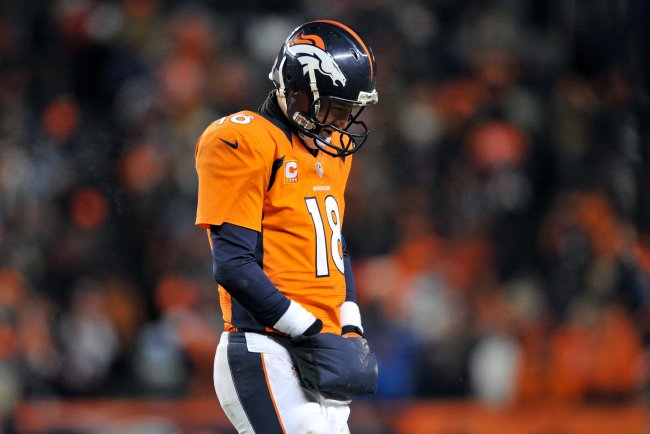 Dustin Bradford/Getty Images
And then there's the most head-scratching call of the game, where the Broncos still had two timeouts remaining and a chance to drive down the field and win the game on the right arm of Manning.
And they laid down.
The Boston Herald's David Ramsey echoes this sentiment, writing:
With 31 seconds left in regulation, Fox was blessed with two timeouts, one of the top five quarterbacks to ever walk our earth and a field-goal kicker capable of launching the NFL's first 65-yard field goal through the middle of the uprights. Fox commanded Peyton Manning to kneel, running out the clock. He surrendered to his fears, and deserved to walk off the field as a loser. He should have told his players to attack.
To call Fox's play-calling down the stretch inexcusable would be an immense understatement.
Is John Fox primarily to blame for Denver's loss to Baltimore?
What he essentially did was slap Manning in the face and say, "I don't trust you enough to go out there and win this game for us."
When it was all said and done, the Broncos deserved to lose that game.
Denver's defense was nonexistent and I've seen better play-calling in high school football, but Peyton Manning did not deserve to see his 2012 season end in infamy.
Anyone thinking of selecting John Fox as NFL Coach of the Year may want to reconsider that notion.
Follow me on Twitter: Follow @Pete_Schauer
This article is
What is the duplicate article?
Why is this article offensive?
Where is this article plagiarized from?
Why is this article poorly edited?

Denver Broncos: Like this team?