3 Most Important Things: Barca Records Greatest Liga First Half in History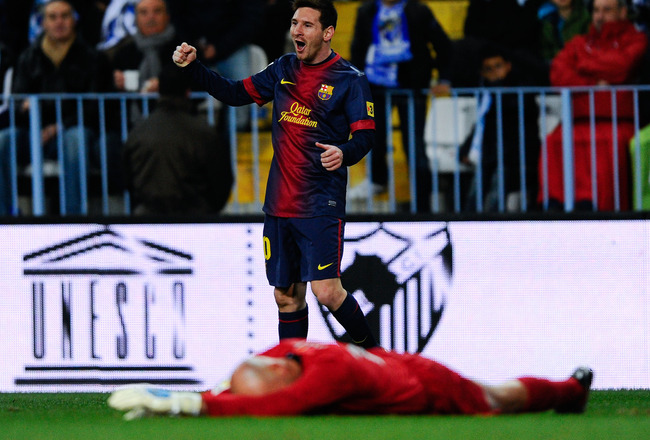 David Ramos/Getty Images
Lionel Messi scored a goal in his first game since winning the FIFA Ballon d'Or 2012 as FC Barcelona set the record for the greatest first half in the history of La Liga with a 3-1 win over Manuel Pellegrini's Malaga on Sunday.
Messi nearly had his first goal in the seventh minute as Andres Iniesta's pass nutmegged past Malaga defender Wellington, Messi nearly controlled the ball, but goalkeeper Willy Caballero sent the ball away to prevent a Leo goal.
Malaga missed their first real chance at goal in the 11th minute as Ignacio Camacho's shot went high and wide. A Javier Mascherano pass back to Victor Valdes nearly turned into disaster as Roque Santa Cruz nearly stole the ball, but VV got to the ball before the Paraguayan could cause trouble.
Pedro nearly had a goal in the 17th minute as he stayed onside on the Cesc Fabregas through ball, but Caballero came up and sent the ball away. Cesc tried to go to the far post in the 25th minute, but his shot sailed high.
Just a minute later, Fabregas slipped a pass to Iniesta and Andres' shot was stopped by Caballero.
Messi got his goal in the 27th minute as an Ignacio Camacho mistake gave the goal to Leo. Camacho's intended pass to his goalkeeper was stolen by Leo, who then faked out Caballero, and Messi slid it in to make it 1-0.
Just a minute later, lovely dribbling skills by Iniesta led to a Cesc shot that just went wide.
Joaquin's set piece cross was headed toward the goal by Roque Santa Cruz in the 37th minute, but Valdes made the catch.
In the second half, Messi lobbed a terrific pass to Cesc, who stayed onside, rushed past defender Sergio Sanchez and put it past Caballero to make it 2-0 in the 50th minute.
Fabregas went for a goal again in the 72nd minute, but was blocked and sent away by Caballero.
Thiago Alcantara came into the game and got a goal in the 81st minute as the give-and-go between him and Leo Messi saw Thiago get the ball back and slam the ball past Caballero for the third Barcelona goal.
Malaga got a goal to save face thanks to an excellent free kick from Diego Buonanotte in the 88th minute.
FINAL: Malaga 1 - 3 FC Barcelona
Let's break down my three most important things from FC Barcelona's 3-1 victory over Malaga CF on Sunday.
Good Effort by Malaga, but Messi Does Not Forgive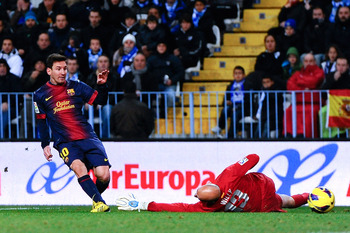 David Ramos/Getty Images
Let's first give credit to Malaga on a solid effort.
The first half was not a bad half for Manuel Pellegrini's team. They pressured Barcelona from the start and defended Messi well.
If it wasn't for an Ignacio Camacho mistake, Malaga would have gone into halftime tied at 0-0.
That being said, you cannot make any kind of mistake against this FC Barcelona team.
And especially against Lionel Messi.
Camacho's intended pass to Willy Caballero was stolen by Lionel Messi, and the little Argentine does not forgive opponents' mistakes 99 percent of the time.
Poor Willy Caballero.
Messi ended the game with one goal, and two assists on the night. According to Pedro Martins of Cadena Copa (Spanish Radio), Messi has been involved in 36 of the 64 goals of Barcelona this Liga season with 28 goals and eight assists.
With this goal, Messi now has 28 goals this season. As a team, Malaga has 28 goals this season.
Lionel Messi joins Atletico' Madrid's Pruden Sanchez as the only two players to have scored 28-plus goals in the first 19 Liga games.
Messi has scored in nine consecutive matches and is one goal shy of the Liga record of Barcelona's Martin (1942-43) and Ronaldo (1996-97).
With Messi's goal, FC Barcelona set a new all-time Liga record by scoring a goal in 37 consecutive matches.
Solid game for Lionel Messi. The greatest of all time continues his historic scoring run.
Andres Iniesta Continues to Have His Greatest Season Ever
David Ramos/Getty Images
Andres Iniesta had a terrific game against Malaga. Don Andres was making one great pass after another throughout the game. He and Cesc Fabregas had a passing and dribbling field day against Malaga.
This has been arguably Iniesta's best season of his stellar career. Andres leads La Liga with 11 assists.
It feels like Iniesta leads La Liga in dribbling his way past defenders, and if not, he's a close second to Leo Messi.
Some of Andres' plays may not be in the highlight reels, but his performances this season have been something special to witness. Iniesta has been more instrumental to Barcelona's success this season than Xavi.
Nothing against Xavi, who's had a solid season himself. But Iniesta's dribbling, passes and creation of goal-scoring opportunities for his teammates have been spectacular.
Did you know that according to OptaJose, Andres Iniesta is only second to Joaquin for the midfielder who has completed the most Liga dribbles (472) in the past 10 years?
To use a basketball metaphor, Andres Iniesta has been the point guard for this Barcelona team this season. He gets the ball, reads the defense and sets up his teammates, if not going for the score himself.
Andres Iniesta is the Chris Paul of La Liga this season, if you will.
Andres at the left wing spot has worked well for Tito Vilanova this season, and expect to see Iniesta at the LW position for Barcelona's big games in the UEFA Champions League, Copa del Rey and for El Clásico against Real Madrid in March.
Grande Iniesta!
Breaking Real Madrid's 100-Point Record Is Very Realistic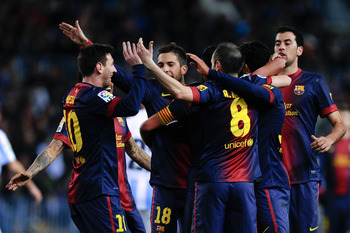 David Ramos/Getty Images
With this win, Barcelona has set the record for the great first half of a season in the history of La Liga.
Fifty-five points out of 57 possible.
Sixty-four goals scored.
And the greatest team of our generation, with the greatest player of all time.
Simply beautiful.
Cherish every Barcelona game you watch because we will never see a team like this ever again.
Now that we are at the halfway point in the season, it is fair to begin to ask if this Barcelona team can reach 100 points and break Real Madrid's record of last season.
So will they break 100 points this season?
I not only say Barcelona can reach 100 points, I say they will go over 100 points and become the new record holders.
I'm not going to say they will win all the rest of their games in the season, but I do see Barcelona going unbeaten the rest of the way. A draw or two may come.
They will go into the Santiago Bernabeu in March for El Clásico and will defeat Real Madrid. I'm calling it now.
Barcelona stay eleven points ahead of Atletico Madrid in the La Liga standings, but with Real Madrid's draw at Osasuna, Barcelona are now 18 points ahead of Real Madrid.
Unbelieveable how Jose Mourinho and his team have fallen from grace after their record-breaking season just a year ago.
Barcelona will see Malaga again on Wednesday at the Camp Nou in the quarterfinals of the Copa del Rey before heading to Basque Country to face Real Sociedad next Saturday.
FC Barcelona has ended the first half of La Liga 2012-13 unbeaten and on pace to go over 100 points. All fans should not only congratulate the players, but also all the trainers, team doctors, coaching staff and of course Tito Vilanova on the greatest first half in Liga history.
Now comes the next challenge: continuing their hard work and effort in the second half of the season.
After the game, Tito Vilanova began the mind games with his players to try to motivate them—something Pep Guardiloa did all the time.Tito told the media, "I'm very happy with this first round, but it will be impossible to do as good in the second round."
Well played, Tito.
This team will not relax and get sloppy the rest of the Liga season. Pedro reiterated this after the game.
"We only dropped two points in this first round," he said. "We hope to continue like this, step by step. There's always a risk you relax."
Challenge: Accepted.
Get ready to see more records broken, more tremendous passes, more Messi goals and the eventual championship crowning of the greatest FC Barcelona team in the history of La Liga.
Vamos!
Xoel, The Voice of FC Barcelona
Don't forget to check out my other columns:
Top 10 Barcelona Throwback Kits All Fans Must Own
3 Most Important Things from Barça's Demolition of Espanyol

Keep Reading

FC Barcelona: Like this team?