Stock Report from Strikeforce's Final MMA Card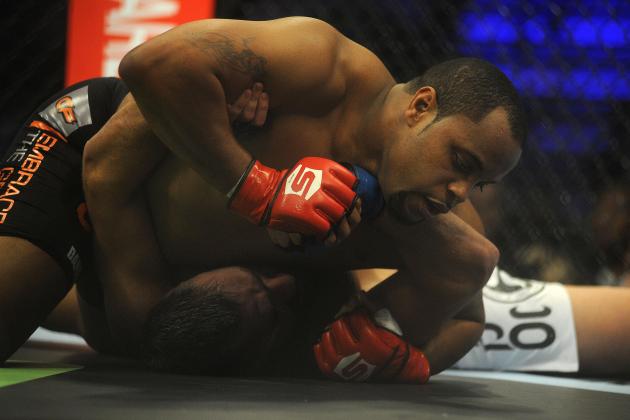 USA TODAY Sports
Did Daniel Cormier's stock rise or fall in his battle against the overmatched Dion Staring?
Strikeforce was an exciting promotion where some of the biggest stars in MMA plied their trade against some of the toughest lesser-knowns in the sport.
That was no different on Saturday night, as talents like Nate Marquardt, Daniel Cormier, K.J. Noons, Ryan Couture and Gegard Mousasi did their best to make cases for UFC contracts and title shots.
But amid all the even brawls and mismatches, who came out looking the best?
That's all answered in our stock report of the final Strikeforce card, as we look at the rising and falling athletes from the now-dead, but not-forgotten, promotion.
Begin Slideshow

»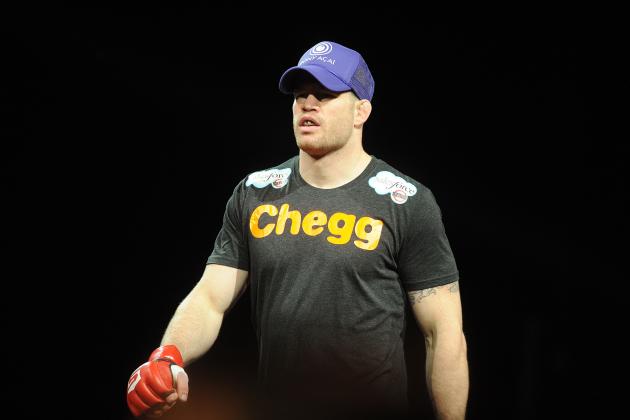 USA TODAY Sports

When you're an ex-UFC fighter walking into a title fight against a plus-300 underdog, you're expected to win in dominant fashion.
Nate Marquardt did the exact opposite, getting picked apart by the tough Tarec Saffiedine en route to a humiliating unanimous decision loss.
Not only did the defeat cripple Marquardt's leg, but it also crippled any chance he had at walking into the UFC welterweight division as a possible title contender for a "champion vs. champion" bout. So, what happens to Nate "The Great" now?
Marquardt insists that he's still got a UFC contract waiting for him, but he's also got a long climb back to the top of the division. Talk about a hard stretch for the former middleweight.
USA TODAY Sports

Saturday night marked the biggest win of Saffiedine's career, although it's unlikely to launch him into the mix for a UFC title shot this year.
Still, the well-seasoned Belgian veteran showed exactly how to win an MMA fight with leg kicks, as he steadily wore down Nate Marquardt with low strikes during a major five-round upset.
Off a win like that, Saffiedine makes a good case as a "Top 10" fighter in the welterweight division.
Although he's not guaranteed a UFC contract (but he should be signing one anyway), the "Sponge" frankly couldn't have raised his profile any higher.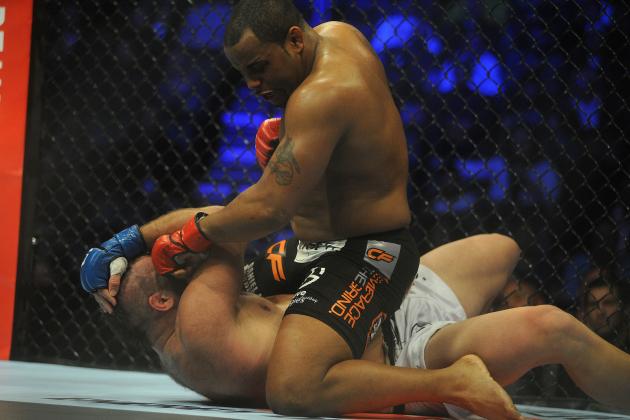 USA TODAY Sports

It's hard to tell what MMA fans expected from Cormier in this fight.
But with the American Kickboxing Academy star closing as a ridiculous minus-2000 favorite against Dion Staring, nothing short of a Shoryuken uppercut finish would've justified the hype.
To put it simply, Cormier did exactly what he was supposed to do against a sacrificial lamb—nothing more and nothing less.
However, his post-fight interview was far more interesting than the actual fight, as the former Olympian announced a UFC on Fox 7 bout vs. Frank Mir and vowed to take down light heavyweight champion Jon Jones.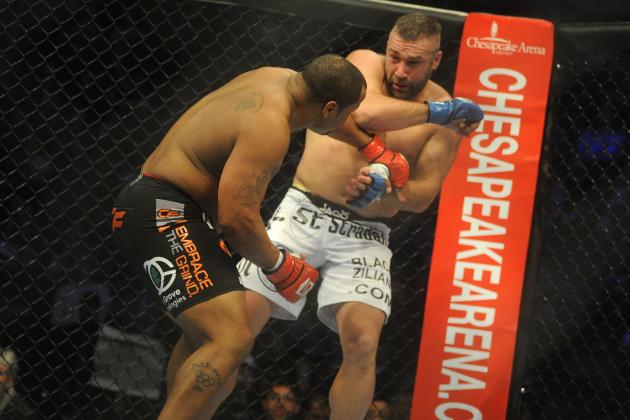 USA TODAY Sports

Fighters like Staring are exactly the reason that there's a difference between a "steady" stock and one that's just the "same."
Despite being Alistair Overeem's training partner, Staring had nothing to offer Cormier but some mild resistance, as he eventually succumbed to takedowns and ground-and-pound in the co-main event.
Just lasting two rounds is actually an achievement for the Blackzilian. Having a "steady" stock insinuates that Staring's was expected to rise, but the drastically overmatched underdog walked out of the match just the "same" as ever.
But he did last two rounds. That's not such a bad feat against someone like Cormier.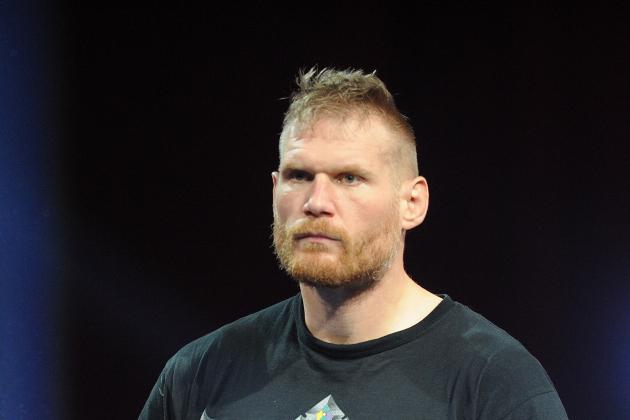 USA TODAY Sports

Barnett's awkward post-fight interview confirmed two things.
1: He's probably not UFC-bound.
2: He'll be perfect for Bellator and Impact Wrestling (better known as Strikeforce), if the SPIKE cable duo is smart enough to jump on elite talent when it's available.
Although it would be interesting to see how he fares against the current crop of UFC heavyweights, Barnett's unapologetic demeanor, checkered past and abrasive tone makes it seem unlikely that the gimmicky veteran will be getting a phone from Joe Silva.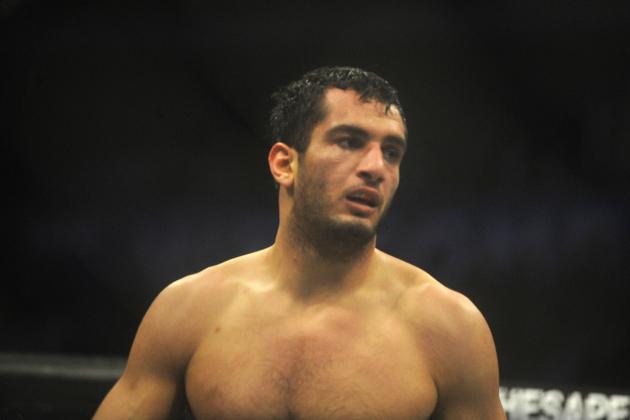 USA TODAY Sports

Mousasi mauled the much larger Mike Kyle in impressive fashion, most likely signing his own ticket to the UFC light heavyweight division.
It should be a relief for fans of the former Strikeforce and DREAM champion, as the 27-year-old is still in his athletic prime and would make more than a match for many UFC talents.
Moreover, Mousasi's string of wins should finally erase the memory of his surprising majority draw in 2011 against former fighter Keith Jardine.
At 33-3-2 over the last decade, "The Dreamcatcher" should be an easy sell for UFC anyway. He's collected his fair share of championship belts, carries a chillingly stoic demeanor and boasts a gaudy record that looks frankly lopsided compared to most "Top 10" light heavyweights.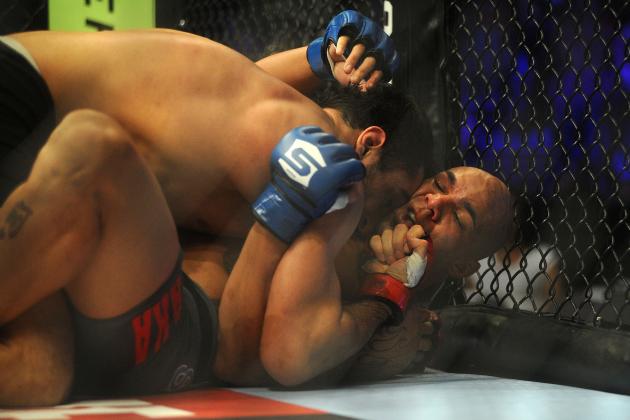 USA TODAY Sports

Despite a notable size advantage, Kyle wasn't able to stay on his feet against Gegard Mousasi, suffering a clinically efficient defeat inside of a single round.
Now, he may be retired for good.
At least, that's what MMA Fighting's Ariel Helwani reported via Twitter, as Kyle told him that Saturday night marked his last fight.
If that's the case, Kyle will retire as one of the sport's true bad guys, thanks to a career marked by biting incidents, illegal strikes and punches after the bell.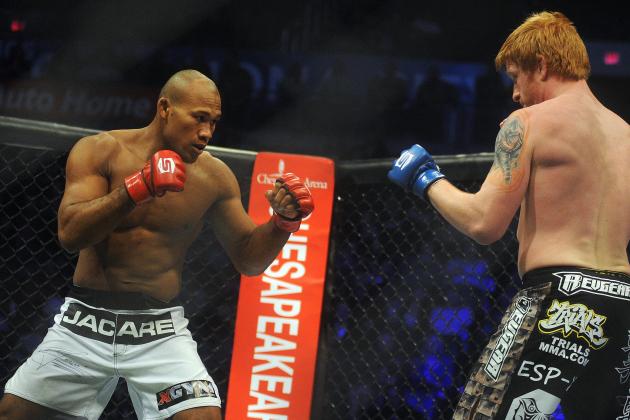 USA TODAY Sports

Souza showed beyond any doubt that he's a UFC-level middleweight in the most obvious way possible: by beating a current UFC middleweight.
Even with some horrible refereeing that could've changed the outcome of the fight, "Jacare" pulled off the win without much trouble from Ed Herman. Had he locked in that tight kimura for much longer, it's probable that Herman would've had a broken arm.
Not too shabby.
Souza's dominant finishing style, developing English and always-entertaining alligator crawl antics should be fun to see in the UFC—if he plays his cards right, he could even find himself "in the mix" within the suddenly-crowded middleweight division.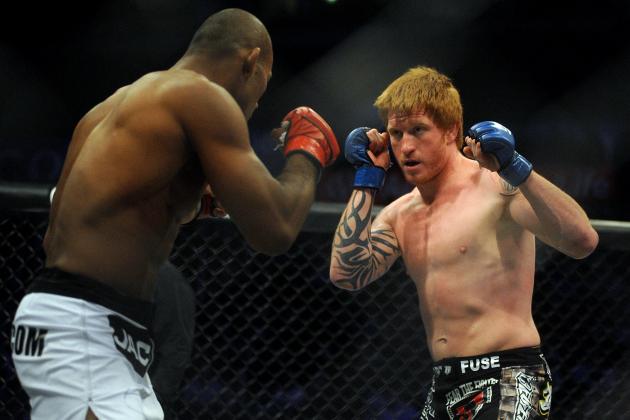 USA TODAY Sports

Herman probably wishes he wasn't "the only UFC fighter with the guts to fight in Strikeforce" anymore.
Although he's still under contract with Zuffa, it doesn't look good for anyone to willingly go to a smaller promotion and lose in one-sided fashion.
As a UFC fighter, the expectation is that you're one of the world's best MMA talents and, by proxy, better than Strikeforce fighters.
Of course, losing to an elite potential UFC title contender like Ronald Souza isn't embarrassing, but "Short Fuse" Herman didn't help his case by taking advantage of an illegal upkick and getting submitted inside five minutes.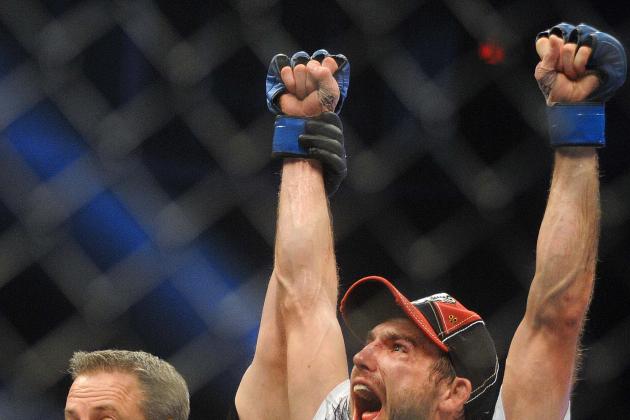 USA TODAY Sports

At 30 years old, it feels like Couture came into the game a little late.
However, you can't argue with results.
Despite only being seven fights into his MMA career, the son of UFC Hall of Famer Randy Couture has already beaten far more experienced opponents such as Conor Heun and Joe Duarte.
But although his recent win against K.J. Noons is the biggest of his career, Couture will still carry the asterisk of it being one of the biggest robberies in 2013 so far.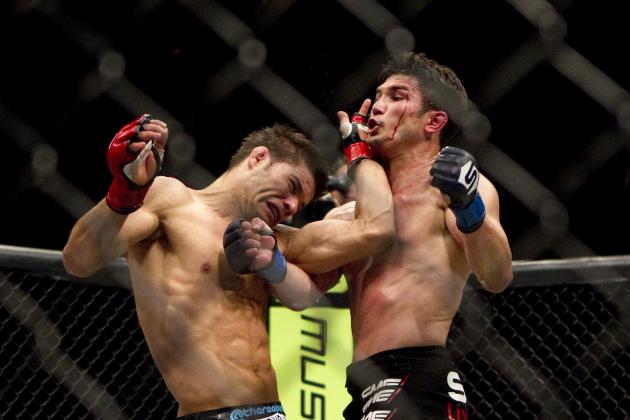 Greg Bartram-USA TODAY Sports
Pictured: K.J. Noons (right)
There's no question that K.J. Noons was on the wrong end of the judge's scorecards.
In his final Strikeforce fight, he put a solid beating on Ryan Couture in an exciting brawl that saw both men eat heavy shots and thudding knee strikes.
But through it all, Noons' technical boxing and superior angles proved to be the difference maker as he nearly finished Couture on a couple of heated exchanges.
Despite the controversial outcome, both men should get a UFC call—and if Noons can put together a solid winning streak, the prospect of a third bout with Nick Diaz is simply too good to let go.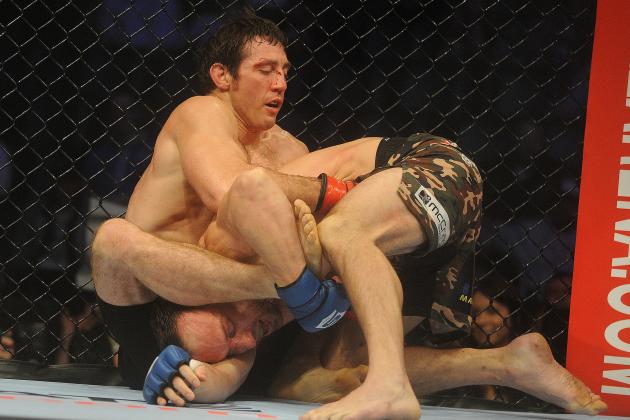 USA TODAY Sports

Not many MMA publications consider Tim Kennedy an elite-level middleweight, but he at least proved that he won't lose to anyone but elite talent.
It took a while, but a patient Kennedy eventually got the submission victory over Trevor Smith, getting himself back into the win column after a snoozer of a loss against Luke Rockhold.
So, is he UFC-bound?
With a relatively high-profile 15-4 record and his only losses against top-level competition, the Army Ranger-turned-fighter definitely earned a shot at the big leagues—although hopefully, his UFC debut will be a main-card bout.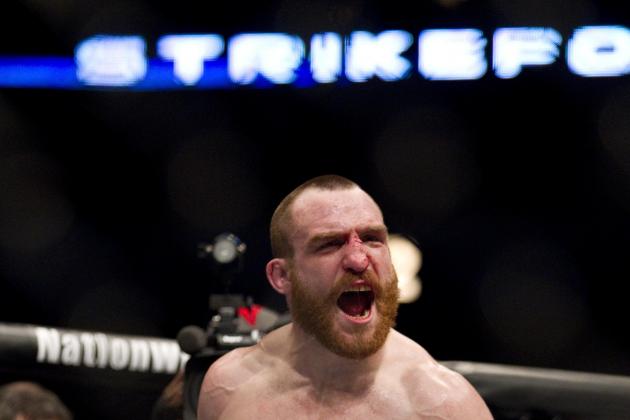 Greg Bartram-USA TODAY Sports

Healy had nothing to gain and everything to lose against unknown late replacement Kurt Holobaugh, and he'll likely get shuffled into the middle of the pack in the UFC.
That's got to hurt, especially since he was once looking at a title shot against Gilbert Melendez.
In interviews, it's plain to see that Healy wants to openly accuse "El Nino" of ducking him.
Whether or not that's true, last night's win still doesn't help Healy's case for a big-name fight, especially since he couldn't finish Holobaugh despite dominating most of the match.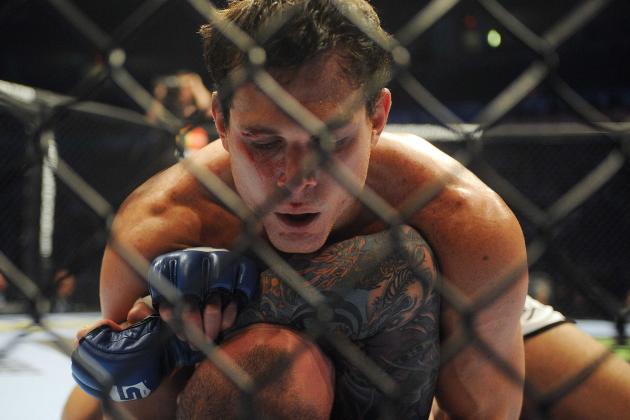 USA TODAY Sports

Anytime you've got a Gracie in your promotion, that's going to draw some eyeballs.
But Roger Gracie is a special case, as the multiple-time Brazilian Jiu-Jitsu gold medalist boasts a solid set of wins over MMA legends and former UFC talent.
All that comes with a high price tag, sure, but it's worth paying.
If the UFC recognizes that and wants to extend an offer to Gracie, that could make for several interesting matches in the middleweight division—especially a grudge match against submission grappling rival Ronaldo Souza.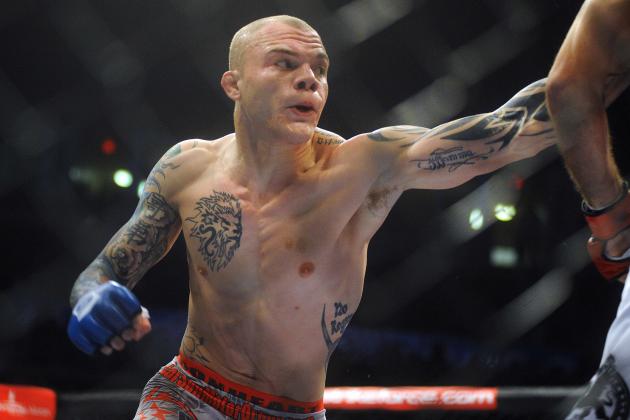 USA TODAY Sports

Can you believe that Smith hasn't gone to a decision in his entire MMA career?
That's 26 matches without a single fight going to the judges.
At a 17-9 record, that's pretty much worked out for him the long run, although his latest winning streak came to halt on Saturday against Roger Gracie.
Still, it took guts to call him out, and even in a loss, getting on the final Strikeforce card should still give Smith a notoriety boost on the regional circuit.