Creating All 30 MLB Teams' Blueprint to Reach the 2013 Postseason
Doug Pensinger/Getty Images

Every single MLB team has a chance to make the 2013 postseason.
The odds for some of those teams are astronomical, but the chance is still there.
For some, it requires a perfect storm of events. The Baltimore Orioles in 2012 literally had that perfect storm. They had a bullpen that performed far beyond expectations and they finished with a 29-9 record in one-run games.
The Oakland A's put together a blueprint that worked as well. Their young pitching staff matured quickly and they got key performances from several journeymen stars (Brandon Moss, Jonny Gomes), and young position players (Josh Reddick, Yoenis Cespedes) mightily contributed to the cause as well.
Each of the above teams were long shots in terms of their chances of a postseason appearance last year. Yet they stuck to their plan and executed it nearly flawlessly to find success.
For each team, it's the blueprint it sets up that gives it the best chance of success. Here is a suggested blueprint for each MLB team that can help it reach the 2013 postseason.
Begin Slideshow

»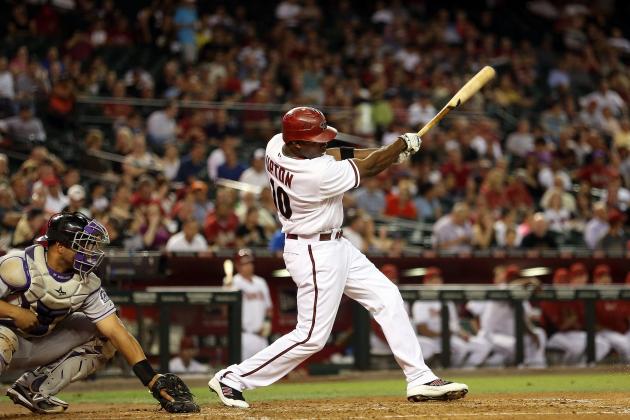 Christian Petersen/Getty Images

1. Trade Justin Upton for Impact Starter
It should be obvious to just about everyone on the planet that right fielder Justin Upton is not part of the future for the Arizona Diamondbacks. However, at just 25 years of age he can absolutely be a part of the future for another team.
Using Upton to attract an impact starter will go a long way toward increasing the Diamondbacks' chances for postseason success in 2013. Another quality starter to add to the trio of Ian Kennedy, Brandon McCarthy and Trevor Cahill will go a long way toward improving those chances.
2. Trade Jason Kubel for Bullpen and Bench Depth
The Diamondbacks still have six outfielders in tow (Upton, Kubel, Gerardo Parra, Cody Ross, Adam Eaton and A.J. Pollock). Trading both Upton and Kubel will clear up the logjam and allow them to strengthen themselves in other areas.
An outfield of Parra in left, Eaton in center and Ross in right will give the D-Backs a solid blend of power and speed. Eaton and Parra are both gifted defensively as well.
The pieces are clearly there for the Diamondbacks to make some noise in the 2013 season. The above two items could help them make even more noise.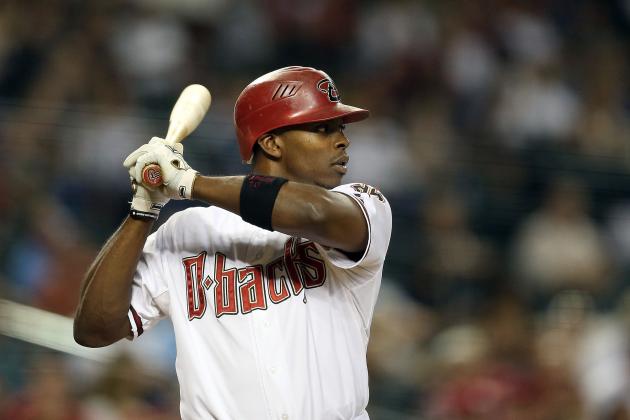 Christian Petersen/Getty Images
Adding Justin Upton to the Braves outfield gives them a powerful trio for years to come.
1. Trade for Justin Upton
It certainly appears that the Arizona Diamondbacks and right fielder Justin Upton are headed toward a nasty breakup. It also gives the Atlanta Braves a clear opportunity.
Adding Upton to team up with older brother B.J. and right fielder Jason Heyward would give the Braves a potent outfield combination for years to come. It also would allow the Braves to move Martin Prado to third base full-time to replace the retiring Chipper Jones.
It's still possible that third baseman Juan Francisco could be in the mix for the Braves as well. Francisco hit .307 with a .575 slugging percentage in the Dominican Winter League.
However, adding Upton would clearly give the Braves another potent option in a lineup already blessed with power.
2. Move B.J. Upton to Top of Batting Order
Upton is not a true leadoff hitter—his .255 career batting average and .336 on-base percentage are not ideal numbers to put in that position. However, Upton's speed at the top of the lineup would be a major plus and his power would be a major asset as well.
Projected Braves' Lineup:
B.J. Upton CF
Prado 3B
Heyward RF
Freeman 1B
Justin Upton LF
McCann C
Uggla 2B
Simmons SS
It's a formula that's worked well for the Texas Rangers. Second baseman Ian Kinsler is not a prototypical leadoff guy, yet he's led off for Texas in four of the past five seasons with success.
3. Trade for Impact Starter at Midseason Trade Deadline
The Braves have a solid starting rotation with Tim Hudson, Kris Medlen, Paul Maholm, Mike Minor and Randall Delgado or Julio Teheran. Either Delgado or Teheran could be used by the Braves as a chip to add Justin Upton, however. Brandon Beachy won't be back until June at the earliest following Tommy John surgery last year.
Quality starters will be available in late July as several teams start looking toward the future. The Braves' ability to add that quality starter could clearly help them down the stretch.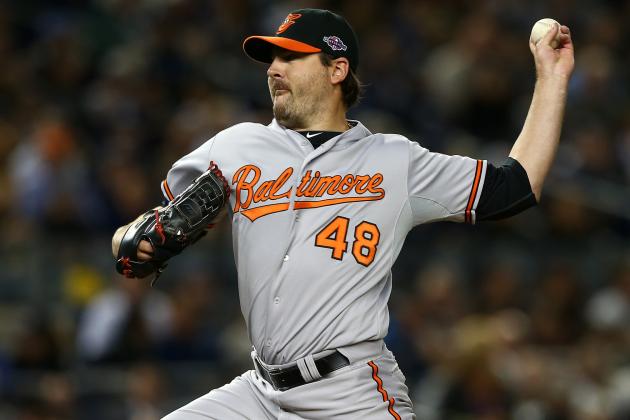 Elsa/Getty Images

1. Sign Joe Saunders
The Baltimore Orioles traded for left-handed pitcher Joe Saunders in late August, and the southpaw gave them exactly what they needed.
Saunders pitched well down the stretch and then gave up just two runs in 11.2 playoff innings, earning the Orioles' first postseason win in 15 years.
Signing Saunders gives the O's a solid veteran presence in their rotation to complement youngsters Miguel Gonzalez and Steve Johnson. Jason Hammel and Wei-Yin Chen proved to be solid additions as well.
2. Trade for Jason Kubel
Last year, the Baltimore Orioles were 29-9 in one-run games. Their stellar bullpen helped them mightily toward that cause. However, it would be a major stretch to believe they could be just as successful for a second year in a row.
Adding another impact bat to the lineup would greatly improve their chances of avoiding a setback in one-run games.
The O's have expressed interest in acquiring Kubel but are apparently balking at Arizona's demand for young pitching in return. However, Kubel's power from the left side would complement Adam Jones nicely in the middle of the O's lineup.
3. Do Whatever is Necessary to Keep Brian Roberts Healthy
Over the past three seasons, second baseman Brian Roberts has played in just 24 percent of his team's games. His latest setback was a torn labrum in his right hip that required season-ending surgery last year after just 17 games.
The Orioles have a contingency plan in place should Roberts be unable to fully recover by Opening Day. Alexi Casilla and Ryan Flaherty are the internal candidates to fill in if necessary.
However, it's clear that the Orioles are a better team with a healthy Roberts in the lineup, and they need to come up with a detailed plan to keep him fresh and available throughout the year.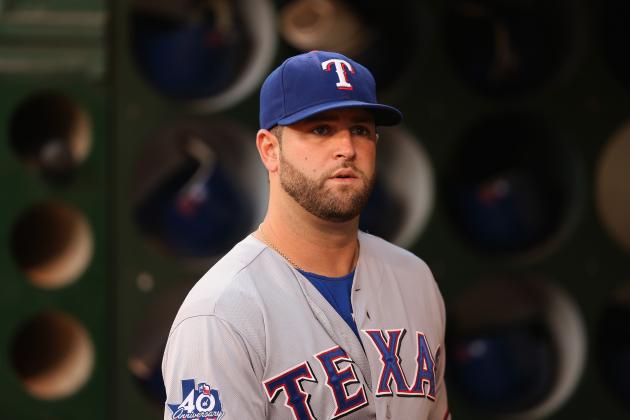 Ezra Shaw/Getty Images

1. Resolve Contract Situation with Mike Napoli
It's been over 40 days now since the Boston Red Sox and Mike Napoli came to agreement on a three-year, $39 million contract. However, Napoli's physical revealed a hip condition that clearly caused concern, and no deal is in place as of yet.
Napoli suffered through ankle, knee and quad injuries last year on his way to a .227 average and 24 home runs. Napoli had a career year in 2011, hitting .320 with 30 homers and 75 RBI.
There are simply no better options for the Red Sox at first base at this point. Coming to a resolution and getting Napoli on board is their best bet.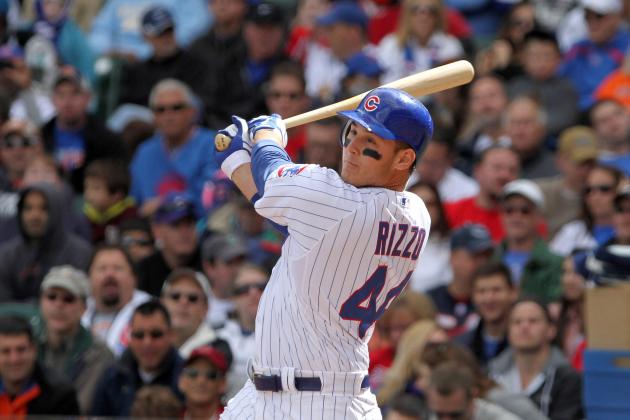 Tasos Katopodis/Getty Images

1. Stick to the Plan at Hand
It would be difficult to find anyone who believes the Chicago Cubs have a legitimate chance of contending for the playoffs in 2013.
However, Theo Epstein has a plan in place that includes developing from within and making prudent free-agent signings when necessary.
He's got a solid core in the infield already with Anthony Rizzo, Darwin Barney and Starlin Castro. The outfield future looks solid as well with Brett Jackson, Jorge Soler and Albert Almora.
Pitching prospects aren't nearly as well-defined in the Cubs organization. To that end, Epstein and Jed Hoyer will likely use discretion in free-agent signings. They've already started with the signings of Edwin Jackson, Scott Feldman and Carlos Villanueva. They nearly had Anibal Sanchez as well.
This is a Cubs team that should show improvement over last year's 61-101 finish. Even winning 10-15 more games would be considered a success.
Deviating from their plan simply won't get the Cubs any closer to a 2013 postseason berth, and it would clearly hurt their chances for long-term growth.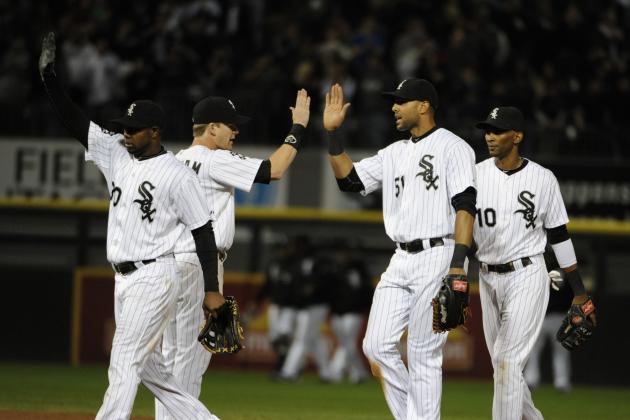 David Banks/Getty Images

1. Find a Setup Man
With Brett Myers out of the picture, the White Sox don't have a true setup man for closer Addison Reed. It's possible general manager Rick Hahn could go after a fill-in closer-type like Brian Wilson or Jose Valverde, but a traditional setup man would be preferable.
Matt Thornton and Jesse Crain are still in the mix, but one more reliable arm would give the Sox a much more versatile bullpen.
2. Find Another Left-Handed Bat
The White Sox have some pop from the right side with Paul Konerko, Dayan Viciedo and Alex Rios, but only Adam Dunn from the left side of the plate. Finding a left-handed bat that fits into their lineup would be a great complement.
3. Have Patience With Lineup and Use In-Season Additions
The White Sox have a strong starting rotation and bullpen and a solid core starting lineup. Alejandro de Aza and Viciedo both had solid 2012 seasons, and if Konerko can stay healthy for one more season the White Sox are a team capable of solid and consistent production.
General manager Hahn would be wise not to try and keep up with his AL Central counterparts and make moves that compromise an already-thin farm system. In-season additions helped the White Sox last season, so building as the season progresses might just be a better move at this point.
Jonathan Daniel/Getty Images

1. Be Flexible with Aroldis Chapman
The Cincinnati Reds' plan to move closer Aroldis Chapman to the starting rotation certainly doesn't come without an element of risk. Five relievers last year—Jeff Samardzija, Daniel Bard, Neftali Feliz, Chris Sale and Lance Lynn—made the transition from the bullpen. Three met with success, while two met with failure.
The Reds need to proceed cautiously with Chapman, who electrified baseball with his ninth-inning heroics last season. Going from 75-80 innings to throwing every fifth day at close to 200 innings is a drastic change. The Reds shouldn't hesitate to move Chapman back to the bullpen at the first sign of trouble.
2. Be Flexible with Outfield
As of right now, the plan for the outfield is to have Shin Soo-Choo start in center field. Choo is not gifted defensively and is moving to an unfamiliar position.
While Choo adds a terrific bat at the top of the order, the last thing the Reds want to do is sacrifice runs up the middle.
Choo is not the only option, as Jay Bruce logged 35 games in center during his rookie season. With this in mind, manager Dusty Baker may need to be flexible in setting up an outfield defense that makes sense as the season progresses.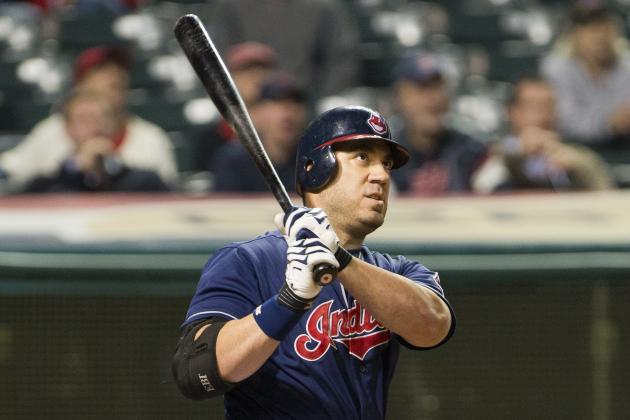 Jason Miller/Getty Images
Could Travis Hafner be back with the Tribe in 2013?
1. Find a Designated Hitter
Right now, the Cleveland Indians lineup on paper looks a lot scarier than the 2012 version.
Here's the projected lineup:
1 Michael Brantley LF
2 Jason Kipnis 2B
3 Asdrubal Cabrera SS
4 Nick Swisher RF
5 Carlos Santana C
6 Mark Reynolds 1B
7 Lonnie Chisenhall 3B
8 Drew Stubbs CF
9 Mike Aviles DH
The obvious problem is at DH. Aviles will be the utility man for manager Terry Francona, but he's not going to be an option as an everyday DH. Bringing back Travis Hafner remains an option at this point.
2. Do NOT Rush Trevor Bauer
The Indians are likely to go with a starting rotation of Justin Masterson, Ubaldo Jimenez, Brett Myers, Zach McAllister and Carlos Carrasco. However, newcomer Trevor Bauer is close to major league ready as well.
The last thing the Indians should be doing is rushing Bauer. General manager Chris Antonetti has clearly shown this offseason he's not averse to changing things up and being creative in keeping to a limited budget. In-season additions will clearly be in play for the Tribe—but bringing Bauer in before he's ready would be a big mistake.
The key for the Indians' success in 2013 lies in their rotation. Bounce-back seasons from both Masterson and Jimenez will be needed if the Tribe hope to compete in the AL Central Division. Look for Antonetti to make changes quickly if sufficient progress hasn't been made.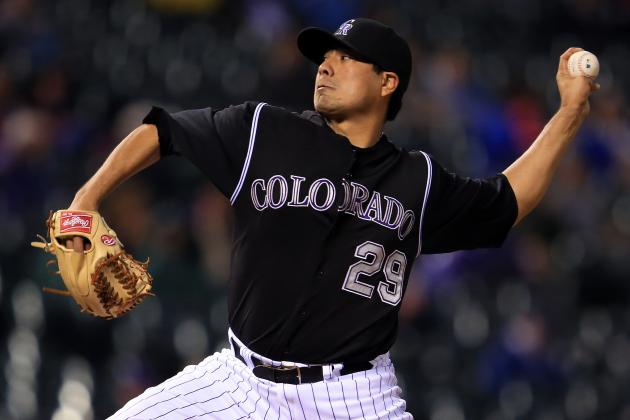 Doug Pensinger/Getty Images

1. Good Health with Returning Starters
Short of dropping Coors Field about 2,000 feet or so, the Colorado Rockies are facing a tough 2013 season.
The offense certainly isn't the problem—third in the National League in runs scored last year and tops in batting average, the Rockies provide plenty of production.
They just can't prevent runs from scoring. And they return a pitching staff virtually unchanged.
At this point, the best the Rockies can hope for is that Jorge De La Rosa, Jhoulys Chacin and Juan Nicasio can remain healthy. They are a trio that can certainly help to make a difference.
However, without them, the Rockies could very well be looking at the cellar in the NL West Division once again.
Considering their complete lack of success in attracting any solid pitching, that will be the biggest priority next season.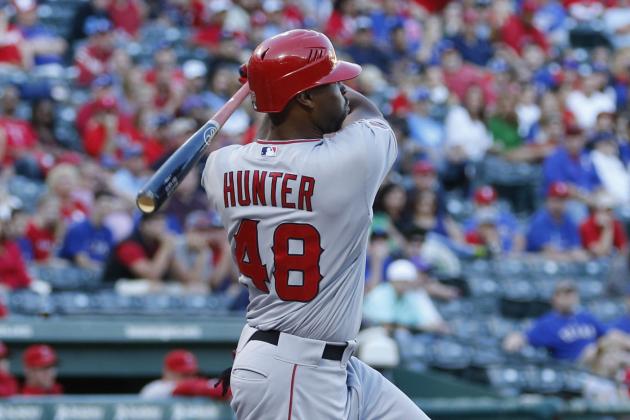 Jim Cowsert-USA TODAY Sports

1. Be Flexible with Left Field Options
The Detroit Tigers will sport one of the most potent starting lineups in the American League in 2013. With a healthy Victor Martinez and the addition of right fielder Torii Hunter, the offense is indeed scary.
Questions still persist about left field, however. Andy Dirks took a step forward last season, hitting .322 with eight HR and 35 RBI in 314 at-bats. He'll be given the opportunity to prove he can step up on an everyday basis.
Manager Jim Leyland also has speedy Quintin Berry and young Avisail Garcia at his disposal.
2. Don't be Closed-Minded About Closer
The Tigers appear to be set on giving prospect Bruce Rondon a shot to close next season. At just 22 years of age, Rondon very well could be the answer. He rose quickly last season, rising three levels and posting a 1.53 ERA with 29 saves in the minors.
However, if Rondon falters, expect general manager Dave Dombrowski to have his cellphone at the ready.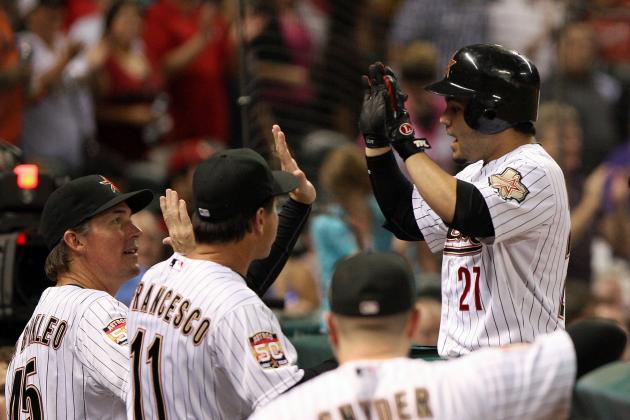 Troy Taormina-USA TODAY Sports

1. Wait 'til 2014
The Houston Astros will be moving to the American League West division next season, and they'll be doing it with a team loaded with youngsters and a projected payroll of $25-30 million.
Competition will rule the spring for the Astros as they work to try to figure out the best mix. General manager Jeff Luhnow simply won't be deviating from his plan of building from within—expecting help via free agency just won't be an option.
Much like the Chicago Cubs, Luhnow's plan is to build a team that can compete year after year. His hope is that the many young prospects the Astros have obtained over the past 18 months or will be the base of a solid future.
That future doesn't include next season, however.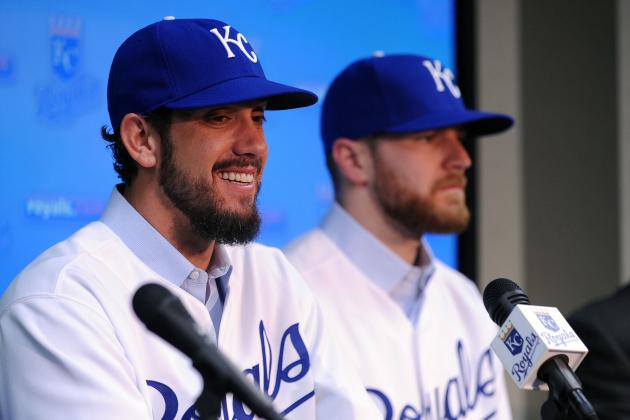 USA TODAY Sports

1. Improve Run Production
The Kansas City Royals had the third-most hits in the American League last season, yet they finished just 12th in the league in runs scored. Improving run production will be a big key to their success.
2. Keep Alex Gordon in the Leadoff Spot
Right now it appears the Royals' plan is to have Lorenzo Cain leading off. However, Alex Gordon is much more suited for the role.
In 81 games leading off last season, Gordon put up a .307/.379/.466 slash line with 39 walks. Cain hit .303 but with just a .333 OBP and only two walks. Gordon is simply a better fit, and with his ability to hit the gaps he gives the Royals a better option.
3. Be Flexible with Starting Rotation
The Royals have greatly improved their starting rotation with the additions of James Shields, Ervin Santana and Wade Davis. A full year of Jeremy Guthrie will make a difference as well. They'll be relying on Bruce Chen as their fifth starter.
General manager Dayton Moore needs to be ready to make a move if Chen or Luke Hochevar can't produce in the No. 5 spot.
4. Avoid a Slow Start
Last year, the Royals were undone by a 12-game losing streak that led to a miserable April in which they finished just 6-15. For the Royals to compete in the AL Central, they absolutely need to avoid a repeat. With a solid core of young position players and a revamped rotation, the Royals can make some noise quickly with a strong April.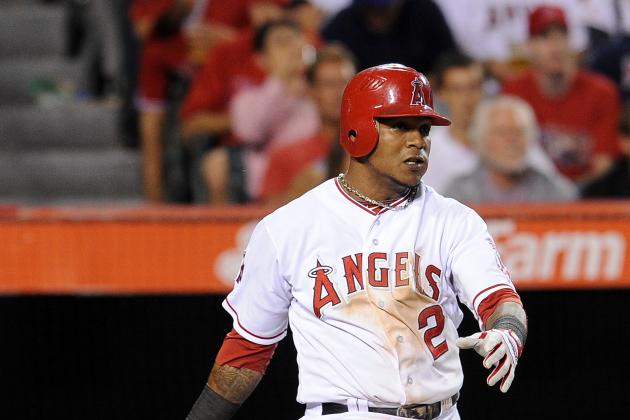 Jayne Kamin-Oncea-USA TODAY Sports

1. Have Erick Aybar hit Second in Lineup
With the addition of Josh Hamilton, the Los Angeles Angels have a trio of potent hitters in Mike Trout, Albert Pujols and Hamilton in three of the top four positions in the batting order.
Shortstop Erick Aybar was far more productive hitting second last season than in any other position in the batting order with a .432 average and .475 OBP in 10 games. Granted, this was a small sample size, but Aybar has hit .285 with a .330 OBP for his career in the No. 2 spot.
Aybar hitting second would allow second baseman Howie Kendrick to hit seventh, where he hit at a .322 clip last season.
2. Move Quickly to Find Another Starter if Needed In-Season
The Angels added Joe Blanton, Tommy Hanson and Jason Vargas to their starting rotation. But after losing Zack Greinke, Dan Haren and Ervin Santana, their rotation poses questions.
Blanton is an innings eater, but the effectiveness of those innings remains in doubt. Hanson is also coming off a down 2012 season. General manager Jerry Dipoto will need to closely monitor the starting pitching market as the season progresses.
3. Find Chemistry Early
The Angels fell behind early last season with an 8-15 start in the month of April. However, that came without Mike Trout in the lineup and with newcomer Albert Pujols hitting just .214.
The Angels need to find that chemistry right from the get-go and avoid playing catch up.
Jason Miller/Getty Images

1. Install Carl Crawford as Leadoff Hitter
Even after adding hundreds of millions of dollars in payroll, the Los Angeles Dodgers still face questions, one of the most important being who their leadoff hitter will be.
According to Dylan Hernandez of the Los Angeles Times, manager Don Mattingly had a conversation with left fielder Carl Crawford about filling that role:
When Mattingly asked Crawford about his reputed dislike of batting first, Crawford told him, "I don't know where that came from. I'll do whatever you want me to do."

"That being said," Mattingly said, "he feels he's had the most success hitting in the two-hole."
Crawford has hit .285 with a .319 OBP in the leadoff spot over 374 games throughout his career. He simply offers the Dodgers a better option than any other candidate.
2. Use Rotation Pieces to Build Depth
As of right now, the starting rotation for the Dodgers will be Clayton Kershaw, Zack Greinke, Chad Billingsley, Hyun-Jin Ryu and Josh Beckett. Chris Capuano, Ted Lilly and Aaron Harang are the odd men out. However, questions still abound about Billingsley's elbow and Lilly is also coming off shoulder surgery.
Still, general manager Ned Colletti has pieces to use to add depth in any area of his roster if the need were to arise during the season.
3. Keep Matt Kemp Healthy!
The Dodgers didn't fall apart last September with a compromised Matt Kemp in the lineup, playing through pain in his left shoulder caused by a crash into the Coors Field wall in late August. However, they only scored 3.5 runs per game in the final month of the season.
Kemp is the key to the Dodgers offense, plain and simple. Keeping him healthy all year could make or break the Dodgers, despite having the highest payroll in baseball.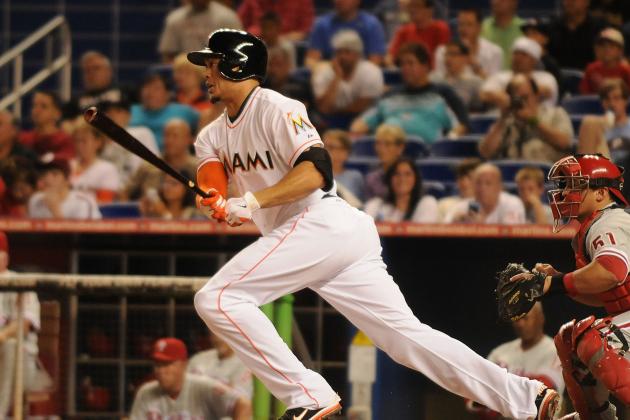 Jason Arnold/Getty Images

1. Work on the Foundation for the Future
The Miami Marlins gave it the old college try last year in spending to build a contending team. Obviously the results weren't there.
As a result, the team is now turning toward a mindset of building a better and deeper foundation to compete in the future.
Currently, Miami's reputation is clearly tarnished. The Marlins' recent fire sale will no doubt hurt their chances of acquiring attractive free agents in the future. They don't have much choice but to build a solid foundation and wait for their youngsters to develop.
Cheer up, Marlins fans—at least Giancarlo Stanton isn't going anywhere.
For now, that is.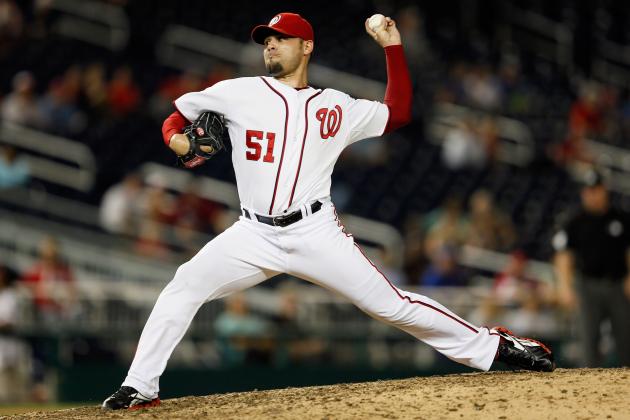 Rob Carr/Getty Images
The addition of Mike Gonzalez will help fortify a Brewers bullpen that faltered mightily in 2012.
1. Find Another Veteran Starter
The Milwaukee Brewers have Yovani Gallardo as their ace of the starting rotation, but experience is definitely lacking beyond that.
Marco Estrada, Mike Fiers, Wily Peralta, Mark Rogers, Tyler Thornburg and Chris Narveson make up the rest of the rotation. Narveson is returning from season-ending shoulder surgery.
While the Brewers aren't keen on adding payroll, general manager Doug Melvin will need to keep his options open as the season progresses.
2. Vast Improvement from Bullpen
Last year, Milwaukee's bullpen blew a league-leading 29 saves, nine alone from closer John Axford. Melvin added Mike Gonzalez, Tom Gorzelanny and Burke Badenhop to shore things up in the later innings. The revamped bullpen will absolutely have to return to 2011 form if the Brewers are to have a chance in 2013.
3. A Return to Form for Rickie Weeks
Second baseman Rickie Weeks suffered through a miserable first half last year as he battled through ankle pain that lingered from a 2011 injury. A healthy Weeks will make a huge difference in 2013.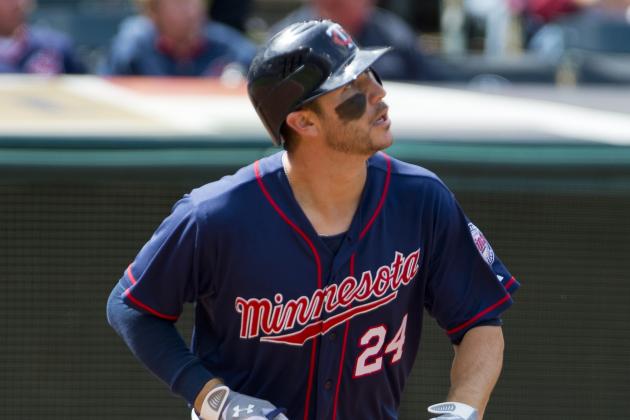 Jason Miller/Getty Images

1. Breakout Seasons from Trevor Plouffe and Chris Parmelee
Last year, infielder Trevor Plouffe was given the chance to play everyday. He responded by hitting 24 HR and 65 RBI in 422 at-bats. However, Plouffe was prone to streaky play as well, hitting just .235.
With the departures of Ben Revere and Denard Span, Chris Parmelee will be given the chance to prove he can produce in a full-time role. Parmelee impressed in his debut in 2011, hitting .355 with four home runs. However, he slumped to a .225 average and .671 OPS in 192 at-bats last season.
Plouffe and Parmelee will both need to show they're up to the task of aiding the Twins offense in 2013.
2. Solid Bullpen Support
The Twins have the ingredients for an effective bullpen. Glen Perkins has taken hold of the closer's role after a solid 2012 season (2.56 ERA, 16 saves, 10.0 K/9 rate). Jared Burton had a career year with a 2.18 ERA in 64 appearances and Casey Fien posted a 2.06 ERA in 35 appearances.
Josh Roenicke and Alex Burnett should also provide solid support.
With a starting rotation that has questions, a strong bullpen will be needed if the Twins have any shot at competing in the AL Central Division.
A lot is going to have to go right for the Twins in 2013. Newcomers Vance Worley, Kevin Correia and Mike Pelfrey will need to deliver in the rotation. Joe Mauer's continued good health and productive bat will be needed once again. So too for first baseman Justin Morneau.
A perfect storm of events will be needed in Minnesota for any chance of success.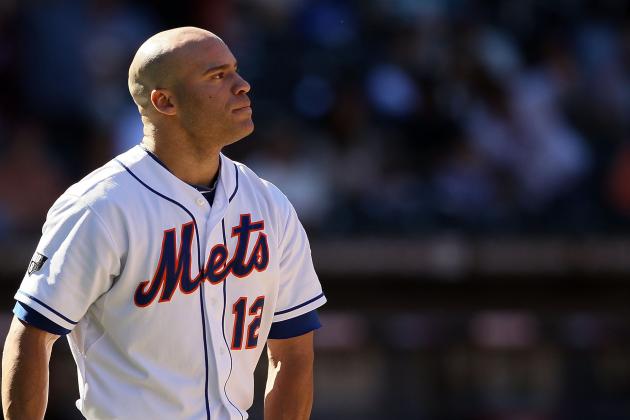 Alex Trautwig/Getty Images

1. Sign Scott Hairston
If there is any one need that stands out more than anything else for the New York Mets, it's the need for outfield help.
Singing Michael Bourn isn't an option for the cash-strapped Mets. But they could absolutely bring back Scott Hairston.
Hairston filled a valuable role last year for the Mets, hitting .263 with 20 HR and 57 RBI in just 377 at-bats. Hairston is particularly effective against left-handed pitching and can play all three outfield positions. With few options left on the open market, Hairston and the Mets are a fit.
2. Sign Brian Wilson
General manager Sandy Alderson watched reliever Brian Wilson in a private workout last week in California. Wilson is working his way back from a second Tommy John surgery.
Wilson could be invaluable to the Mets. With a 4.65 bullpen ERA that was the second-worst in all of baseball, adding Wilson and his penchant for winning certainly couldn't hurt.
Considering the moves, or lack thereof, the Mets have made thus far this offseason, it's a bit difficult to imagine achieving postseason success in 2013.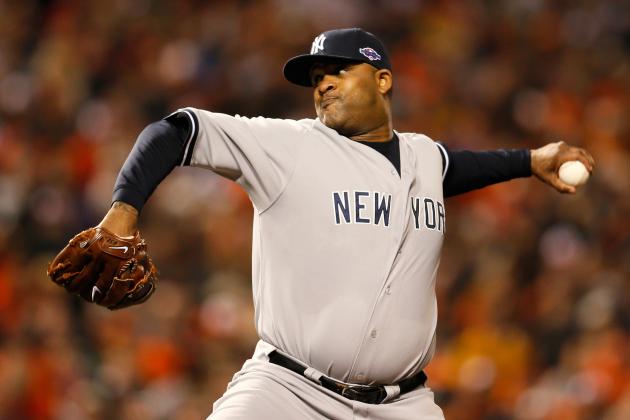 Rob Carr/Getty Images

1. Health, Health and More Health
The success of the New York Yankees in 2013 is going to largely depend on the health of their brightest stars.
CC Sabathia had offseason surgery to remove bone chips from his left elbow. Derek Jeter is rehabbing from a fractured ankle suffered in last year's ALCS. Closer Mariano Rivera is returning from a torn ACL suffered last May. First baseman Mark Teixeira is just hoping for a healthy year after suffering from a chronic cough, sore wrist and strained calf.
Their postseason hopes clearly rely on a healthy starting lineup.
2. A Return to 2011 Form for Brett Gardner
Left fielder Brett Gardner played in just 16 games last year because of an elbow injury. His speed and defense were clearly missed.
A healthy Gardner in the lineup every day will give the Yankees a powerful weapon. With 96 stolen bases in his previous two seasons, Gardner should give the Yankees an added element to their offense that was missing last year when New York finished 11th in the American League in thefts.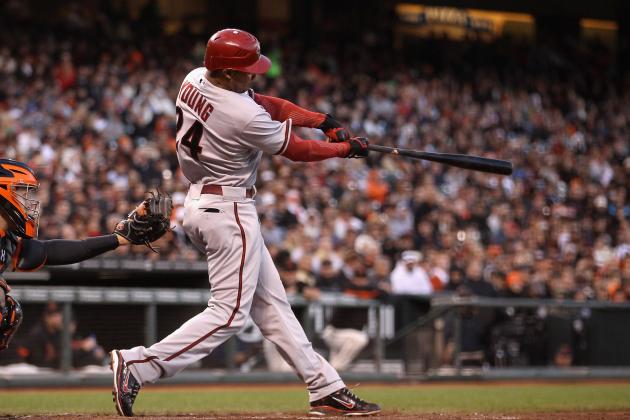 Ezra Shaw/Getty Images

1. Figure out Right Outfield Mix
With the trade that brought over Chris Young from the Arizona Diamondbacks, the Oakland A's have five quality outfielders on the roster—Young, Josh Reddick, Coco Crisp, Yoenis Cespedes and Seth Smith.
Smith figures to see most of his time at designated hitter and Cespedes and Reddick are likely candidates to play every day. Manager Bob Melvin will need to figure out the best mix to keep his outfield productive and happy.
2. Hope That Josh Donaldson Can Build on Strong 2012 Finish
Third baseman Josh Donaldson ended the 2012 season on a bright note, hitting .290 with eight HR and 26 RBI over the final two months. Carrying that finish into the 2013 season would be a huge plus.
3. Don't Listen to the Media
The A's captured the AL West Division last year and came within a game of the ALCS despite predictions to the contrary.
While the A's didn't make any bold moves this offseason, they've clearly shown they're a team that won't back down to anyone. Keeping that mindset and ignoring the naysayers will serve them well once again in 2013.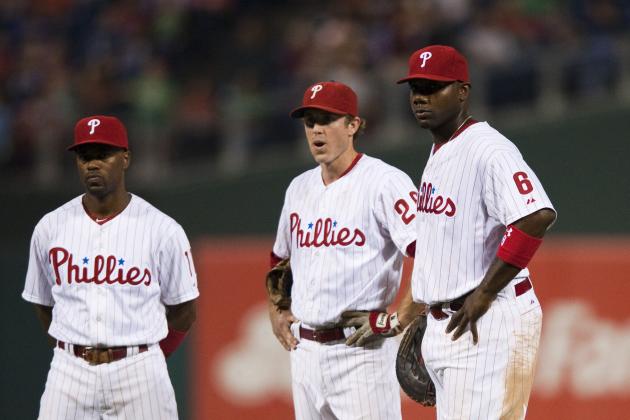 Howard Smith-USA TODAY Sports

1. Health, Health and More Health
If it feels like you just read the above, you're right.
Much like the New York Yankees, the success of the Philadelphia Phillies in 2013 depends upon the health of their stars. Ryan Howard, Chase Utley and Roy Halladay all missed significant chunks of time last season, and their presence in the lineup every day will be a difference-maker in 2013.
2. A Resurgent Year from Michael Young
The Phillies acquired Michael Young to be their everyday third baseman in 2013. Young had a disappointing season at the plate last year, hitting just .277 with eight HR, 67 RBI and a .682 OPS—numbers well below his career averages.
The Phillies will need Young to produce at or near his career levels in 2013.
3. Solid Production from Young Corner Outfielders
The Phillies appear to be going with 25-year-old Domonic Brown in right field and 26-year-old Darin Ruf in left to start the 2013 season. John Mayberry will likely figure into the mix as well.
The Phillies have been patiently waiting for Brown to mature, and he'll need to prove he's ready for prime time. Ruf and Mayberry will also need to provide quality at-bats.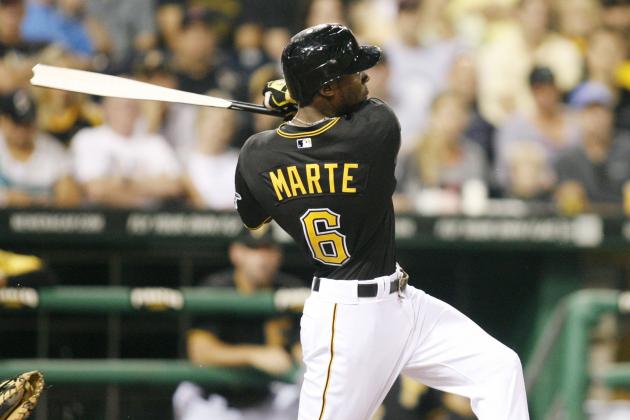 Charles LeClaire-USA TODAY Sports

1. Platoon Garrett Jones and Gaby Sanchez at First Base
Throughout his career, Garrett Jones has been excellent against right-handed pitching, hitting .279 with an .852 OPS. Against southpaws, however, Jones is woefully inadequate, sporting a .198 average and .590 OPS.
On the other end of the spectrum, Gaby Sanchez is solid against lefties, putting up a .291 average and .869 OPS. Against righties, Sanchez hits just .248 with a .712 OPS.
Seems like a pretty easy platoon situation to me.
2. Better Plate Discipline
The Pirates struck out 1,354 times in 2012, the second-highest total in the National League. Five players had 100 whiffs or more.
Their .304 on-base percentage ranked third worst in the league as well. The Pirates absolutely need to see more pitches and be much more selective if they're to have any hope of ending their record 20-year losing streak.
3. Jason Grilli Needs To Pitch Like Joel Hanrahan
Now that Jason Grilli has a new two-year contract and has been handed the closer's role, he needs to perform like Joel Hanrahan did the previous two seasons.
Grilli has been terrific in a setup role for the Pirates the past two seasons. Now, they need him to take on the mentality of a shutdown closer.
4. Starling Marte Needs to Emerge as Leadoff Threat
Left fielder Starling Marte has all the tools that can make him a threat in the major leagues. The 24-year-old Dominican showed some of that promise last year, hitting .257 with five HR and 17 RBI in 47 games.
In the leadoff spot, Marte hit .285 with 10 stolen bases. The Pirates were last in the National League in runs scored from the leadoff position last year. A full, productive year from Marte should change that.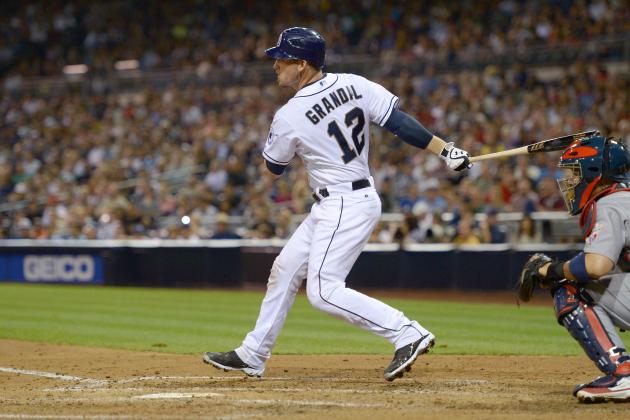 Jake Roth-USA TODAY Sports

1. Success from Starting Rotation
The San Diego Padres have a solid core of young starting pitchers. That core will be tasked with continuing to mature and develop in 2013.
Edinson Volquez and Clayton Richard are at the top, followed in no particular by Casey Kelly, Anthony Bass, Tyson Ross, Eric Stults and Robbie Erlin.
In addition, Cory Luebke, Joe Wieland and Andrew Cashner could all be ready to return from injury by midseason.
There's clearly no shortage of arms in San Diego—they simply need to deliver the goods.
2. Mirror the Oakland A's in Divisional Play
One of the biggest keys to the success of the Oakland A's last year was their play within their own division. Oakland was 33-24 when playing other AL West teams last year.
The Padres beat up on the Diamondbacks and Rockies last year, finishing with a 21-15 record against the two. However, they lost 23 of 36 games to the Dodgers and Giants.
That trend will need to change in 2013.
3. Overcome the Early-Season Loss of Yasmani Grandal
Catcher Yasmani Grandal was a pleasant surprise last season in his rookie year, hitting .297 with eight HR, 36 RBI and a .394 on-base percentage in 60 games.
However, Grandal will be unavailable for the first 50 games next season due to his positive test for elevated levels of testosterone.
In his absence, Nick Hundley will likely start the season. Hundley hit just .157 last year in 58 games. If he can somehow hold the fort down with an average above the Mendoza line and the rest of the Padres can pick up the slack, Grandal's absence doesn't have to spell doom.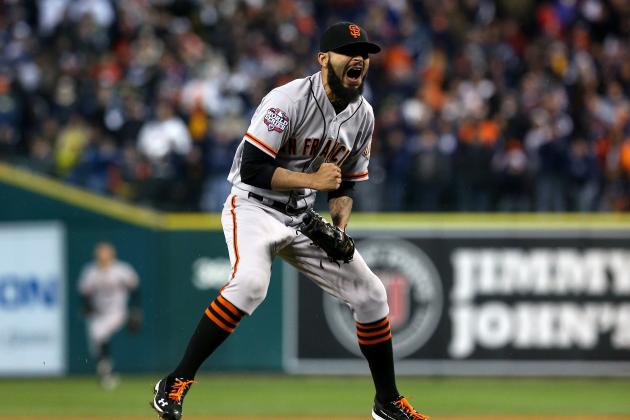 Ezra Shaw/Getty Images

1. Play Like Defending Champions
Until the San Francisco Giants prove otherwise, they are the team to beat in 2013.
The Giants return with a team largely the same, minus Melky Cabrera, Aubrey Huff and Brian Wilson. The addition of Andres Torres should help in partnership with Gregor Blanco in left field, and they re-signed free agents Marco Scutaro, Jeremy Affeldt and Angel Pagan.
If they can avoid catastrophic injuries, the Giants have a solid chance of defending their World Series title.
2. A Consistent Everyday Roster and Rotation
If there is one thing that breeds success, it's consistency.
The Giants will return with a starting lineup and rotation identical to the one that won the World Series. A full year of Hunter Pence and Marco Scutaro will certainly help in the regular season, and the addition of Torres will give manager Bruce Bochy additional outfield options as well.
If Tim Lincecum can somehow find the magic that defined his Cy Young seasons and Barry Zito can replicate his postseason success in the regular season, this is a team that will be hard to beat.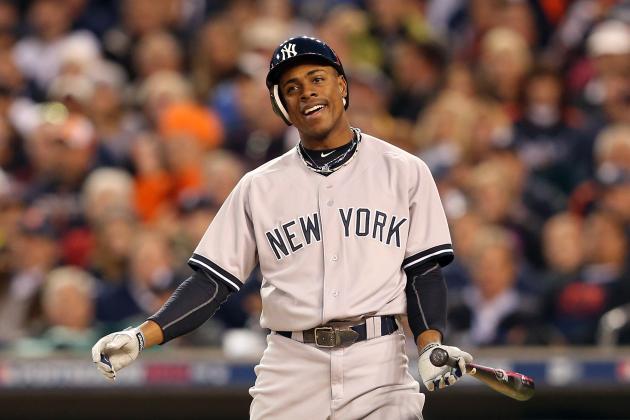 Leon Halip/Getty Images
Could the Mariners go after Curtis Granderson?
1. Find One More Impact Bat
The Seattle Mariners have added Jason Bay, Raul Ibanez and Kendrys Morales in an attempt to bolster an offense that has finished last in the American League in runs scored for four straight seasons.
It's simply not enough.
On Sunday, Jon Paul Morosi of Fox Sports offered up a possible solution:
The Mariners, rebuffed by trade targets and big free agents all offseason, might jump at the chance to get (Curtis) Granderson – even if it's only for one year. Or they could request a window to negotiate a contract extension as a condition of any deal for Granderson, as happened with R.A. Dickey and the Toronto Blue Jays.
An interesting proposal, indeed.
Granderson would offer a huge impact bat in the middle of Seattle's lineup, and with only one year remaining on his deal, the return package might not necessarily have to be a deal breaker.
In any event, another impact bat would be a major plus if the Mariners hope to contend in 2013.
2. Hisashi Iwakuma Needs to Flourish as No. 2. Starter
Starting pitcher Hisashi Iwakuma had a successful first season with the Mariners, posting a 9-5 record and 3.16 ERA in 30 appearances, 16 of them starts.
With Jason Vargas now with the Los Angeles Angels, the Mariners need Iwakuma to continue to thrive and provide a solid contribution in the starting rotation on a full-time basis next season.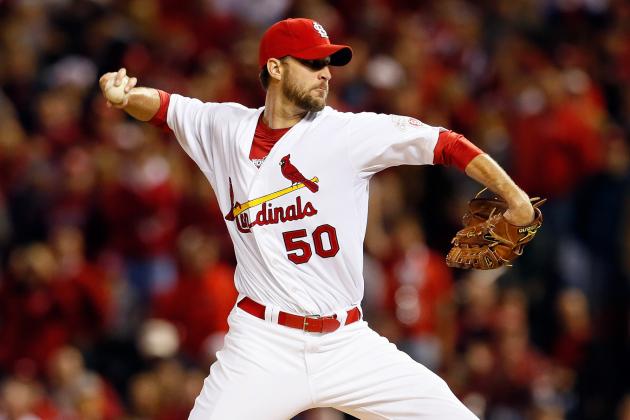 Kevin C. Cox/Getty Images

1. A Healthy and Consistent Performance from Veteran Starters Carpenter and Wainwright
In 2012, Adam Wainwright came back from Tommy John surgery to post a 14-13 record and 3.94 ERA in 32 starts. Wainwright was healthy throughout the year, but his performance was a far cry from his 2009 and 2010 seasons.
Chris Carpenter was out for almost the entire season with shoulder issues. He made three starts at the end of the regular season and three more in the postseason.
The Cardinals will rely heavily on both veteran starters for the 2013 season, and both will need to be healthy and consistent throughout the year.
2. Coax One More Healthy Year from Shortstop Rafael Furcal
Shortstop Rafael Furcal is entering the final year of his contract next season, and he's returning from a significant elbow injury that cut short his 2012 season.
The Cardinals need Furcal to stay healthy for just one more season. With shortstops in very short supply this offseason, the Cardinals had no other choice but to hold Furcal together with Duct Tape.
3. A Full Year of Consistent Production from Carlos Beltran
Last year, right fielder Carlos Beltran was lights out in the first half, hitting .296 with 20 HR and 65 RBI. However, he slumped badly after the All-Star break, hitting just .236 with 12 HR and 32 RBI.
A consistent and productive Beltran throughout the year will be a key for the Cardinals if they hope to catch the Cincinnati Reds in the NL Central Division.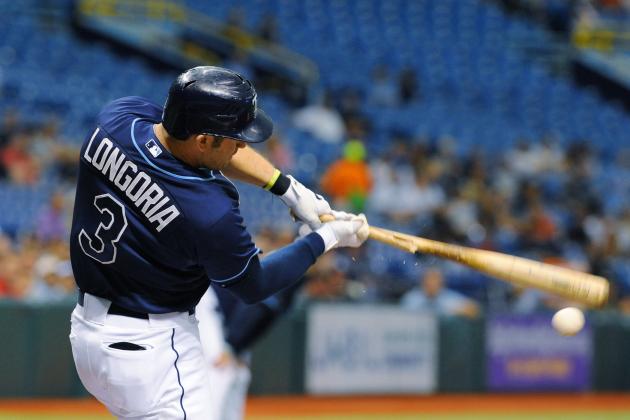 Al Messerschmidt/Getty Images

1. A Healthy Evan Longoria
A very telling statistic for the Tampa Bay Rays in the 2012 was the fact they were 20 games above .500 when third baseman Evan Longoria was in the lineup. Without him, they were two games under .500.
No player is as important to the Rays than Longoria. Missing 86 games last season likely cost the Rays a chance at a postseason berth.
2. Find a Designated Hitter
The Rays still don't have a legitimate DH for their lineup in 2013. It's possible that newcomer Wil Myers could impact the team at some point, at which time Matt Joyce could possibly see time at DH. But that can't be counted on at this point.
If there is one more move that GM Andrew Friedman should make before spring training, it's addressing this clear need.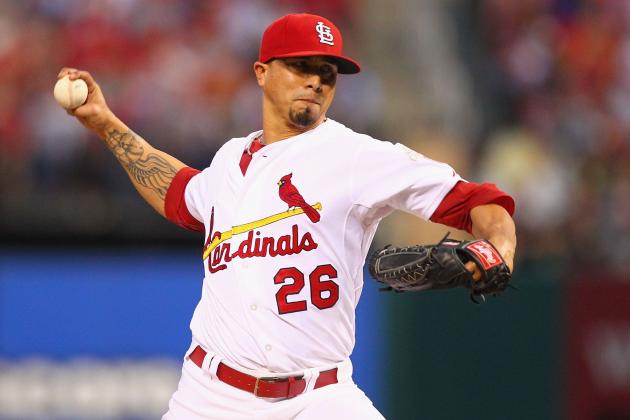 Dilip Vishwanat/Getty Images

1. Sign Kyle Lohse
The Texas Rangers lost out in their efforts to sign free-agent pitcher Zack Greinke. However, one darn good free-agent pitcher still remains unsigned—Kyle Lohse.
Lohse posted a 30-11 record and 3.11 in the last two seasons for the St. Louis Cardinals.
The Rangers will be without the services of Colby Lewis and Neftali Feliz for at least the first two months of next season.
Signing Lohse gives the Rangers more time to develop Martin Perez and adds a solid veteran to the mix.
2. Trade for Justin Upton
The Rangers have long been the subject of rumors concerning Arizona Diamondbacks right fielder Justin Upton. Maybe now they can make those rumors a reality.
With Josh Hamilton, Michael Young and Mike Napoli out of the lineup, the Rangers have added A.J. Pierzynksi and Lance Berkman to help replace the offense. But that duo isn't enough.
The Rangers have given indications that they're ready to move past the Upton talks, but posturing is part of the game of baseball. The Rangers clearly have the pieces that could restart talks.
Tom Szczerbowski/Getty Images

1. A Healthy Jose Bautista
Slugger Jose Bautista has led the majors with 124 home runs in the past three seasons, with 27 of those coming last year. However, Bautista's season ended with a wrist injury that required surgery to stabilize a tendon sheath in his left wrist.
A healthy Bautista returning in the middle of a vastly improved Jays lineup will go a long way in determining the success of their 2013 season.
2. R.A. Dickey Needs to be Dominant in the American League
Reigning NL Cy Young Award winner R.A. Dickey takes his game to the American League next season. Can he be as dominant?
Dickey fronts a rotation that includes Josh Johnson, Mark Buehrle, Ricky Romero and Brandon Morrow. If Dickey can be 85 to 90 percent of the pitcher he was last season, the Blue Jays would be delighted.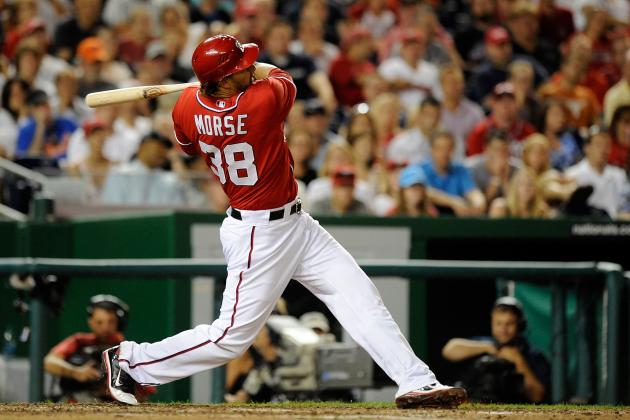 Patrick McDermott/Getty Images

1. Trade Michael Morse for Left-Handed Relief Help
The Washington Nationals lost both Mike Gonzalez and Sean Burnett to free agency, leaving them with no viable left-handed bullpen options.
Now that the Nats have re-signed Adam LaRoche, left fielder Michael Morse is the trade chip that can get the Nationals what they need.
With virtually no other serious needs, GM Mike Rizzo can afford to wait it out until he gets the deal he wants in return for Morse. Teams in need of a right-handed bat have just four weeks until spring training, so the urgency to make a deal is much more on their side at this point.
2. Avoid Injury and Play to Potential
The Nationals led the majors last year with their 98 wins, and they return a team largely intact. The addition of center fielder Denard Span certainly doesn't hurt.
If the Nationals avoid serious injuries and avoid potential slumps, there's no reason to think they can't be as least as good as last season.
Doug Mead is a featured columnist with Bleacher Report. His work has been featured at the Seattle Post-Intelligencer, SF Gate, CBS Sports, the Los Angeles Times and the Houston Chronicle.