Big-league scouts have been raving about Javier Vazquez's showing in the Puerto Rican winter league, and at least six teams are pursuing the free-agent pitcher. The Washington Nationals are among them, and according to Bob Nightengale (USA Today), they've shown "heavy interest" in signing Vazquez.
Last week, Nats GM Mike Rizzo traveled to Puerto Rico to scout Vazquez in person. Along with a crowd of other scouts, Rizzo watched him throw out of the bullpen, and then in a game on Wednesday night. Impressed with Vazquez's performance, Rizzo appears to be mulling a formal contract offer.
Last Wednesday, facing the Cangrejeros de Santurce, Vazquez tossed six innings of one-run ball and struck out 10 batters. His fastball sat 92-95 MPH, and his breaking stuff and command looked sharp. Though the opposing lineup wasn't nearly MLB-quality, it did feature past and present American pros like Yadiel Rivera, Jose Ruiz, Jeff Dominguez and Luis Matos.
After 18 seasons in professional baseball, 14 spent in the MLB, Vazquez stepped away from the game last spring. His career 4.22 ERA and 2,536 strikeouts through more than 2,800 innings—as well as his $100 million in accumulated salary earnings—would have been enough for most pitchers to call it a career with absolutely no regrets. Vazquez, however, never formally retired and always left the possibility of returning to the MLB open.
If they want to sign him, the Nationals might have to bid alongside the Red Sox, White Sox, Mets, Rays and Royals, and probably a couple of other clubs.
Even though he's been out of baseball for a year, the 36-year-old will not come cheap. Quality starting pitching is always scarce, and Vazquez has at least some juice left in his arm. Plus, similar redemption/reclamation stories of pitchers like Bartolo Colon and Ben Sheets should help create plenty of interest in him.
Should the Nationals sign Javier Vazquez?
On the free-agent market, starting pitchers have generally commanded between $4.5-$6.5 million in salary per fWAR (according to signings from 2007-2012). Vazquez averaged 3.2 fWAR over his final three seasons, and if you take away his flukey-bad 2010 stint with the Yankees, he's at a 4.9 mark. Now, accounting for one added year of age and attrition, let's say Vazquez drops to a still solid 2-fWAR player. In that case, he should command $9 or $10 million in salary from his newest contract.
Even after adding tens of millions in payroll this offseason, the Nats can afford to sign Vazquez. But how does he fit into their plans?
Right now, the Nats' starting rotation is arguably the best in the big leagues. At the top, Gio Gonzalez, Stephen Strasburg and Jordan Zimmermann are all ace-level pitchers, while Dan Haren, their No. 4 starter, is only a couple of years removed from Cy Young contention. At the No. 5 spot, they have lefty Ross Detwiler, who posted a 3.40 ERA through 27 starts last year.
Detwiler's 2012 performance has certainly earned him a spot in the Nats' vaunted rotation. However, the team is suddenly lefty-poor, and their bullpen lacks a single proven southpaw. The addition of Vazquez to the rotation could allow Davey Johnson to use Detwiler out of the bullpen, where his mid-90s fastball plays up. Detwiler has already succeeded in relief during his career, and he held left-handed batters to a .170 batting average and .513 OPS in 2012, making him a perfect candidate for the role.
One of the Nationals' biggest improvements from their 80-win '11 campaign to their sensational 98-win '12 performance was their left-handed pitching. While their effectiveness against right-handed batters was almost identical between the two seasons—a 3.35 team ERA in 2011 vs. a 3.29 mark in 2012—they lowered their ERA against left-handed batters by more than half a run—from 3.94 to 3.38.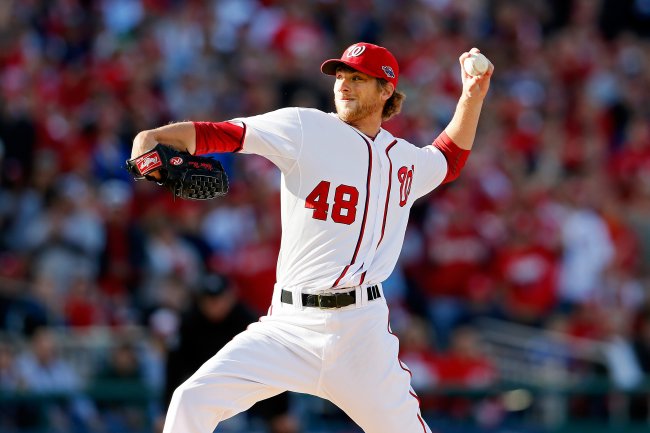 Rob Carr/Getty Images
Davey Johnson's knockout trio of southpaws, Sean Burnett, Tom Gorzelanny and Mike Gonzalez, were largely to credit for the team's stark improvement. The three lefties combined for a 2.73 ERA and held opposing southpaws to a .211 batting average.
But this offseason, the Nationals have lost all three of their lefty relievers, as well as left-handed starter John Lannan and Rule-5'd prospect Danny Rosenbaum. The exodus leaves the roster barren of quality southpaws, with little talent beyond Zach Duke prepared to compete for a spot in the bullpen.
Signing Vazquez would help fix the Nationals' pitching balance problem.
Vazquez could slide into the No. 5 spot in the Nats' rotation, a role that would ease the pressure on his aging arm and allow him to concentrate on his effectiveness over shorter stints. Then Detwiler would move into the bullpen, where his left-shredding ways and premium stuff will help make up for the loss of Burnett, Gonzalez and Gorzo. In this scenario, the Nationals could use Zach Duke as a left-handed long-man, a position that better suits his soft-tossing repertoire and his lack of experience as a reliever.
Detwiler has already proven himself as a dominant relief pitcher in his career. In 16 career games out of the bullpen, he's totaled a 1.11 ERA and held opposing batters to just 19 hits in 32.1 innings.
Of course, there's no telling how well Vazquez will pitch in the Nats' rotation if he does sign. After his tremendous 2009 campaign, when he posted a sparkling 2.87 ERA and tallied 238 Ks in 218.1 innings pitched with the Braves, his effectiveness declined over the next two years.
His ERA rose from 3.74 between 2007-2009 to 4.47 between 2010-2011, and his fastball velocity decreased sharply. Add in a year of sitting on the couch and only sparse work off the mound, and Vazquez is a question mark.
But if the scouting reports on Vazquez's 95 MPH velocity are accurate then there's plenty to be optimistic about. Even in his mid-30s form, Vazquez could still cut through opposing lineups like butter when he was healthy and on his game.
If his stuff really has returned, and if the Nationals can sign him at a discounted rate, then Vazquez looks like a very valuable addition. He's capable of performing at a near All-Star level, but the uncertainty concerning his game should suppress his salary to a sub-market rate—$6-$8 million. He also fits the team's needs well, and his one- or two-year deal won't lock up the club's payroll.