Toronto Maple Leafs Schedule 2013: 8 Games You Can't Miss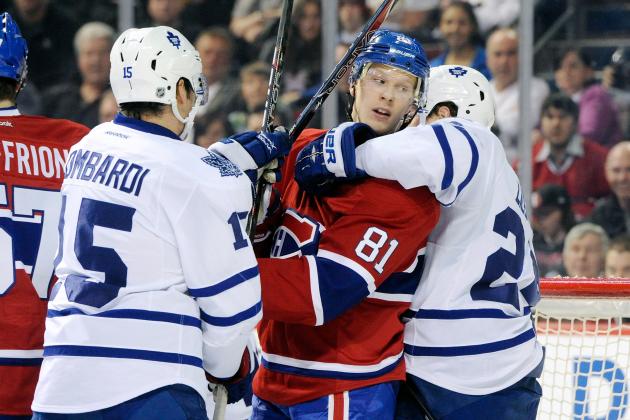 Richard Wolowicz/Getty Images

With the NHL regular season finally upon us, it's time for hockey fans to forget the dreary days of the NHL lockout and get excited to see their favorite teams finally lace up their skates and take to the ice.
For fans of the Toronto Maple Leafs, seeing their team back in action and attempting to make the team's first postseason appearance in nearly a decade will be especially rewarding.
Despite the 2012-13 season being shortened to 48 games (from the normal 82), Leafs fans will still see the buds square off with the arch-rival Montreal Canadiens and Ottawa Senators five times each.
In what will be a season without inter-conference play, Leafs fans will only be watching their team play against teams that are directly competing with it for a postseason berth and won't have to stay up late to watch games on the West Coast.
Here are eight games, in chronological order, that Leafs fans can't miss.
Begin Slideshow

»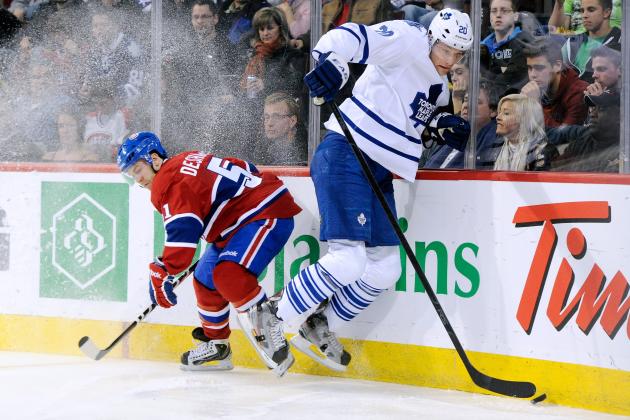 Richard Wolowicz/Getty Images

January 19th is pretty much a must-see kind of day for any hockey fan.
But for the Toronto Maple Leafs and Montreal Canadiens fans, is there any better way to end a lengthy hockey drought than with a good old Leafs-Habs Hockey Night in Canada matchup to open a brand new season?
After having no hockey for almost nine months, opening the year against the rival Canadiens is must-see TV for Leafs fans everywhere.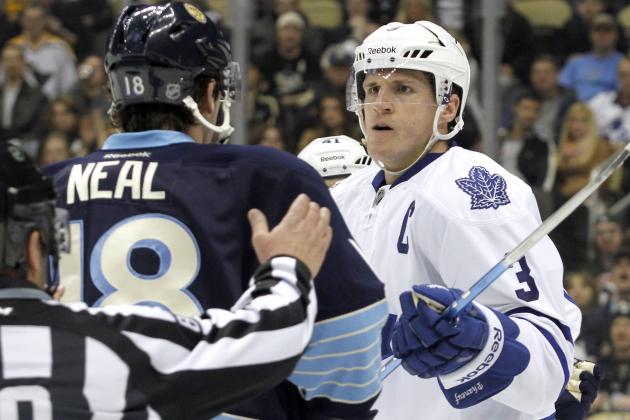 Justin K. Aller/Getty Images

The Toronto Maple Leafs and Pittsburgh Penguins aren't bitter rivals.
Nor are the Leafs expected to compete with the Pens for a high playoff seed.
Yet missing a game against the likes of Sidney Crosby, Evgeni Malkin, Marc-Andre Fleury and James Neal would just be silly.
Win or lose, this first meeting between Pittsburgh and Toronto is sure to be exciting and one you don't want to miss.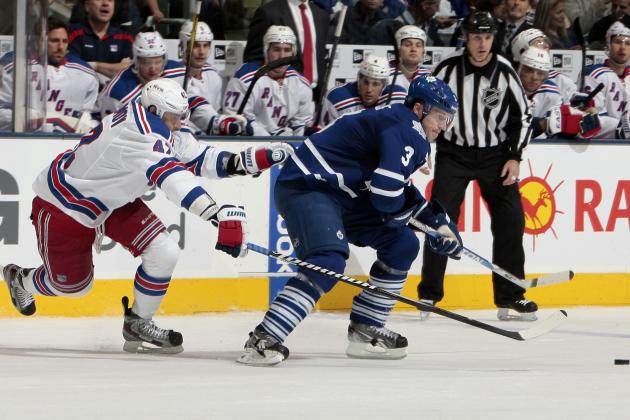 Abelimages/Getty Images

Last season the Leafs actually picked up five out of a possible eight points against the Blue Shirts, going 2-1-1 in the four-game season series.
In fact, three of the four games were decided by two or fewer goals, with one going to a shootout.
These two Original Six foes always seem to play tight, hard-fought games that are entertaining to watch.
The two will meet for the first time this season on January 26 at the historic Madison Square Garden.
It should be just as intense as most other Rangers-Leafs tilts.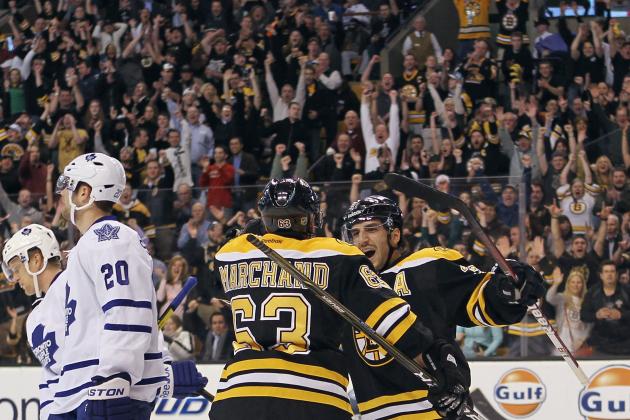 Bruce Bennett/Getty Images

To say that the Boston Bruins have had the Toronto Maple Leafs' number over the past few seasons would be an epic understatement.
Not only has Boston reaped the rewards of the now-notorious Phil Kessel trade, but they've owned Toronto on the ice as well.
February 2 will be Toronto's first look at this year's Bruins squad and will be its first chance at exacting revenge against a team that is quickly becoming one of the more hated hockey teams in Toronto.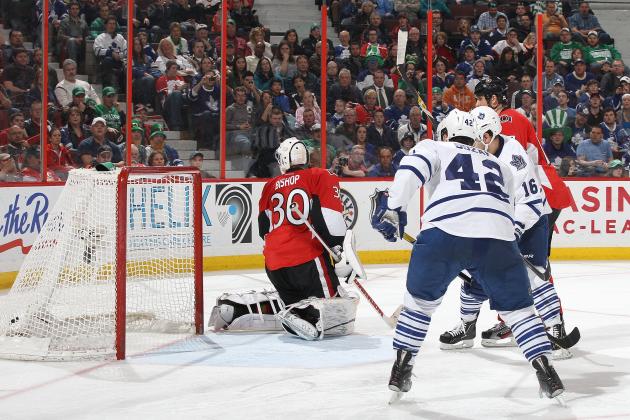 Jana Chytilova/Freestyle Photo/Getty Images

February 16 will mark the first of five games between the Toronto Maple Leafs and the Ottawa Senators.
In the last 10 years, the rivalry between these two Ontario-based clubs has grown exponentially, with the two teams and their fans developing a deep-seeded hatred for each other.
This game is sure to get both sides pumped up as they'll both look to set the tone for the five-game season series.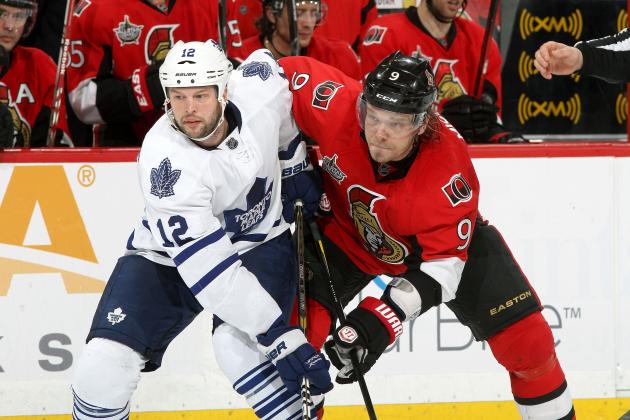 Jana Chytilova/Freestyle Photo/Getty Images

Just seven days after these two hated rivals meet for the first time in Toronto, they'll meet again, this time in Canada's capital city.
While games between these two in Toronto are always hotly contested and fun for those in attendance, they don't quite match the intensity level of the contests that take place at the Scotiabank Place in Kanata.
For those who have been to a Leafs-Sens game in Ottawa, you know just how intense these games get, with an equal number of Leafs and Sens fans in attendance at just about every game.
The game in Toronto will be a great one to watch, but the game the following week should be much more fun for the fans of both clubs.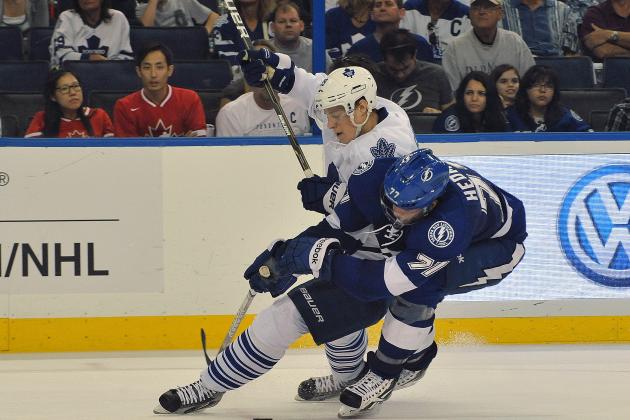 Al Messerschmidt/Getty Images

The Tampa Bay Lightning may not be a long-standing rival of the Toronto Maple Leafs, and they aren't one of the league's more historic teams.
Yet Tampa Bay is expected to be one of the teams competing for one of those final Eastern Conference playoff berths.
Toronto is also one of those teams.
If both teams live up to expectations in this shortened NHL regular season, this matchup in Tampa could be a critical one for both clubs, as they attempt to pick up two crucial points with just a few games remaining.
This could be one of the most important games of the season for both sides. That would make it an incredible game to watch.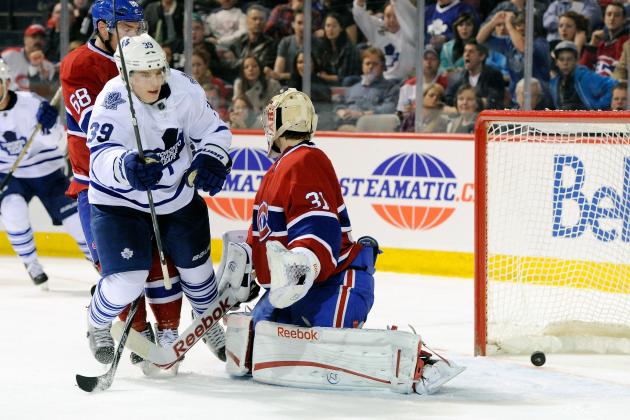 Richard Wolowicz/Getty Images

These Leafs-Habs rivalry matchups never do get old.
I would assume this is the reason that the NHL typically likes to have both of these storied franchises begin and end their regular seasons sparring with one another.
Not only will the Leafs wrap up their 2013 regular season against their nemesis, but if all goes according to plan, they'll be playing this game in an effort to lock up a playoff position.
If not, it will be their final game until next fall.
All things considered, there is absolutely no reason for any Leafs fan to miss this game.