Tim Tebow's Brother Peter Pokes Fun at Broncos on Twitter After Loss to Ravens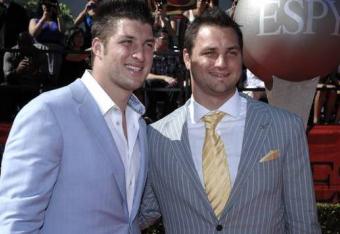 (Photo Credit: Dan Steinberg, AP)

The Baltimore Ravens stunned the Denver Broncos in double overtime on Saturday night, and it wound up being an especially sweet victory for one family that was spurned by the Mile High club.
UPDATE: Monday, Jan. 14, at 5:50 p.m. ET by Ryan Rudnansky

Peter Tebow, the brother of Tim Tebow, has since apologized for his remarks after the Denver Broncos' loss to the Baltimore Ravens in the AFC Divisional Round.
Peter Tebow tweeted on Monday:
My comment after the game was uncalled for. I may root for another team but I should never gloat about anyone's misfortune. I'm truly sorry.

— Peter Tebow (@petertebow) January 14, 2013
---End of Update---
As soon as the game ended, Peter Tebow—the brother of New York Jets QB Tim Tebow—took to Twitter with a snide question addressed at the city of Denver:
Am I the only one in Denver who's happy right now?

— Peter Tebow (@petertebow) January 13, 2013
According to Peter's Twitter biography, he is a current resident of the Colorado capital, but he was clearly one of just a few people in the area happy to see the Broncos falter.
Tim Tebow was initially drafted by the Broncos and played the first two years of his NFL career with the franchise before being jettisoned off in favor of Peyton Manning—a controversial move that obviously didn't pay off in the end this year.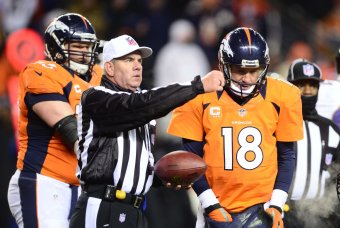 Mark J. Rebilas-USA TODAY Sports
Tebow's record as a regular-season starter during his time in Denver may be worse than Manning's, but he has a .500 playoff winning percentage (1-1), which currently works out to be better than Peyton's .000 (0-1) with the Broncos.
Considering the circumstances, it seems like a fair bit of karma that the Broncos didn't win with Manning under center.
After earning the starting job five games through the 2011 campaign, Tebow guided Denver to a miraculous 7-4 finish and an improbable AFC West victory.
The run wasn't over yet, as the Broncos battled the Pittsburgh Steelers to overtime of their matchup in the Wild Card Round and eventually won it with an 80-yard strike from Tebow to Demaryius Thomas on the first play of extra minutes. Things finally ended the following week when the New England Patriots demolished Denver in the AFC divisional round, 45-10.
John Elway, the team's VP of football operations, rewarded the former Heisman winner's winning ways by bringing in Peyton in the 2012 offseason. The signing was a direct shot to Tebow's pride and a slap across his face from the organization.
Which QB would you rather have?
The young man kept his chin up and eventually wound up with the Jets but suffered as a backup all season and never earned a proper shot to compete. He's currently hoping to be released or traded to a team that will give him a chance.
Adding all of those factors together, it's easy to see why Peter Tebow is happy that the Broncos lost on Saturday—in heartbreaking fashion at that.
Tim Tebow was left out to dry by the organization, and karma did its job in paying the Denver Broncos back for their actions on Saturday night.
This article is
What is the duplicate article?
Why is this article offensive?
Where is this article plagiarized from?
Why is this article poorly edited?