Questions Heading into UFC on FX 7: Belfort vs. Bisping Fight Card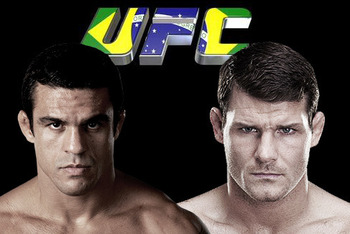 The UFC has been on a bit of a break early in 2013, with its last event taking place on December 29.
MMA fans who have been jonesing for some action will get their fill over the next few weeks as the promotion will be very active with five fight cards taking place before the end of February.
The UFC will open 2013 by traveling to Brazil to present a fight card that will be headlined by a middleweight scrap between Vitor Belfort and Michael Bisping. What follows are some questions facing the promotion as it heads into the January 19 event.
Does Anyone Envy Lucas Martins?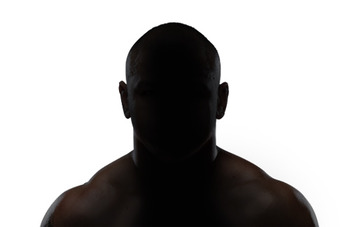 UFC.com's "headshot" of Lucas Martins
Lucas Martins is 12-0 heading into his UFC debut at UFC on FX 7.
Normally, that would raise eyebrows from those eyeing up the pre-fight stat sheet, but when you glance to the left of that stat sheet and see Martins' opponent is Edson Barboza, don't feel bad if you wince a little.

To say Martins was active last year would be a huge understatement.
Ten of his 12 wins came during 2012, and his two other victories were in the final four months of 2011. All but one of those wins came by way of stoppage. Again, those numbers would be something to take notice of if he wasn't debuting against Barboza.

Barboza is 10-1 with three "Fight of the Night" bonuses and one "Knockout of the Night" bonus to his name in five UFC bouts. He also recently walked away from the 2012 World MMA Awards with "Knockout of the Year" for his brutal head-kick KO of Terry Etim at UFC 142.
Many fighters dream of making their way to the UFC, but I doubt any would say that they wanted to debut against someone like Barboza.
Can Wagner Prado Show Something?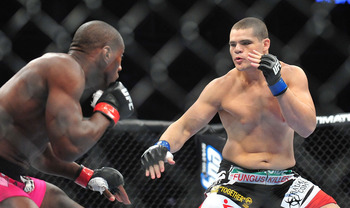 Gary A. Vasquez-USA TODAY Sports
Wagner Prado entered the UFC with a record of 8-0, with seven of those victories coming via knockout. The UFC's matchmakers did Prado no favors for his first UFC fight, throwing him into the Octagon against Phil Davis, a fighter who was coming off his first career loss prior to the Prado bout.

We didn't get to see much from either fighter during that bout, as an unintentional eye poke from Davis brought a halt to the fight at the 1:28 mark of Round 1.
When the two met in a rescheduled bout at UFC 153, we didn't see much more from Prado. Davis controlled the bout with his wrestling, earning the submission victory at 4:29 of Round 2. The only offense mounted by Prado were the two strikes he landed over the course of the contest.

When he faces Ildemar Alcantara in Brazil, the pressure will be on Prado to show something to both the UFC fans and the promotion's brass.
Can Khabib Nurmagomedov Continue His Rise Through the Ranks?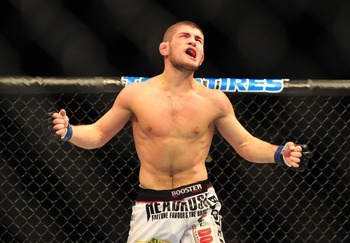 Don McPeak-USA TODAY Sports
Khabib Nurmagomedov has run up a record of 18-0 over the course of his professional MMA career; however, if you peruse his list of opponents, you will be excused if you wonder who some of the fighters are.
Sure, his last two wins came against recognizable UFC names in Kamal Shalorus and Gleison Tibau, but questions remain about the 24-year-old lightweight.

In Brazil, he will meet Thiago Tavares, who will serve as the biggest test of Nurmagomedov's career. If he can get past Tavares, Nurmagomedov will most likely gain the "for real" tag in a crowded and talented weight division.

If he fails to impress at UFC on FX 7, he'll have a long road to climb to get his name back in the mythical "mix" we so often hear MMA fans talk about.

Out with the Old of the UFC's Heavyweight Division?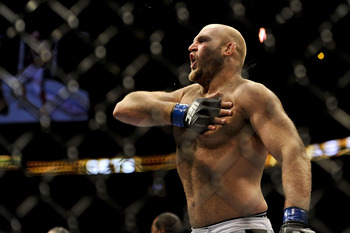 Paul Abell-USA TODAY Sports
The UFC's heavyweight division has seen its highs and lows throughout the years. Right now, we are in one of the high periods. As such, it may be time for an out-with-the-old and in-with-the-new period for the big boys.

Gabriel Gonzaga (13-6) and Ben Rothwell (32-8) are two fighters who could be considered part of the old group. Both of these fighters have some miles on them entering their contest in Brazil. Gonzaga made his professional debut in 2003, while Rothwell's first pro bout came two years earlier.

Gonzaga was out of the UFC for more than a year after going 1-3 between March 2009 and October 2010, but he was brought back after winning one fight outside the organization in October 2011. In his return bout, he defeated Ednaldo Oliveira via first-round rear-naked choke.

Rothwell is 2-2 in his last four fights, with his last win being a "Knockout of the Night" victory over Brendan Schaub at UFC 145.

Neither of these fighters is in danger of being cut, but the loser could very well see his stock drop within the heavyweight division. As a result, he could find himself dropping from the main card to the preliminary card.
So This Is Your Co-Main Event?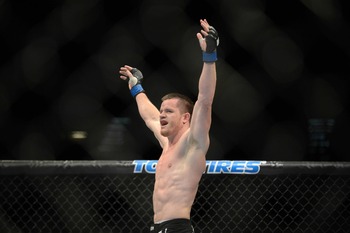 Ron Chenoy-USA TODAY Sports
If you don't think the UFC is overextending itself, ask yourself if it would have placed a fight between Daniel Sarafian and C.B. Dollaway as the co-main event on any fight card before the bump up to 30-plus fight cards per year.
I'm not trying to take anything away from Sarafian and Dollaway, but let's call this fight what it is: the second-to-last fight on the card, not the co-main event.

What Would a Loss Mean to Michael Bisping?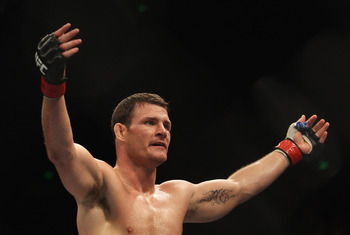 Mark Kolbe/Getty Images
In case you haven't heard, and it's very doubtful that you haven't, Michael Bisping very strongly believes he has deserved a shot at UFC middleweight champion Anderson Silva for quite some time. If he defeats Vitor Belfort in Brazil, expect him to up the volume of those requests.
But what if Bisping loses?

Bisping is a tireless self-promoter, and he isn't above pushing down on other fighters in the 185-pound division to make himself look better. In addition to kissing his title shot aspirations goodbye with a loss in Brazil, you can bet that many fighters who have taken verbal jabs from him will line up to voice their opinions on Bisping's performance and previous tongue lashings.

How Much Trouble Is Belfort in If the Fight Gets Past the First Round?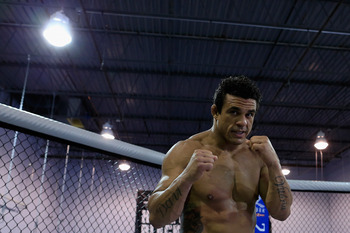 Chris Trotman/Getty Images
Vitor Belfort sports a record of 21-10, with all but four of his victories coming by way of stoppage. As for his 10 career losses, 50 percent of those have come by way of decision.

If you delve further into the numbers on Belfort, you'll find that of his fights that did not go past the first five minutes, he sports a record of 15-1. His lone loss in that category came to UFC middleweight champion Anderson Silva at UFC 126.

On the other hand, Michael Bisping has not had a fight go less than five minutes since he defeated Jason Day back in June of 2008. Since then, he has gone 7-3 with all but three of those fights going into the third round and six of them going the distance.

To sum it up, if Bisping gets through the first round, the odds of him claiming a victory over Vitor Belfort increase exponentially.
Will the Event Sell Out?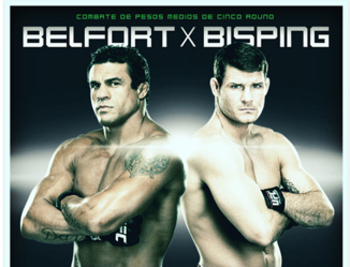 The UFC has been very aggressive over the last few years in presenting events in Brazil. And why not? Each of the four events it has held there as of late have done great numbers in live gate.
If the talk is any indication, that aggressiveness is only going to be ramped up in 2013.

The UFC on FX 7 card will be the first Brazil card of 2013, and according to Dave Meltzer (h/t to Bloody Elbow), tickets are not selling all that well at this point. There's still some time for the public to snap up the remaining tickets, so there's no reason to panic. However, if the 11,000-seat arena is not sold out on fight night, the UFC will be disappointed and may have to rethink the 2013 strategy for the Brazilian market.
Keep Reading