New Orleans Hornets vs. NY Knicks: Live Score, Results and Game Highlights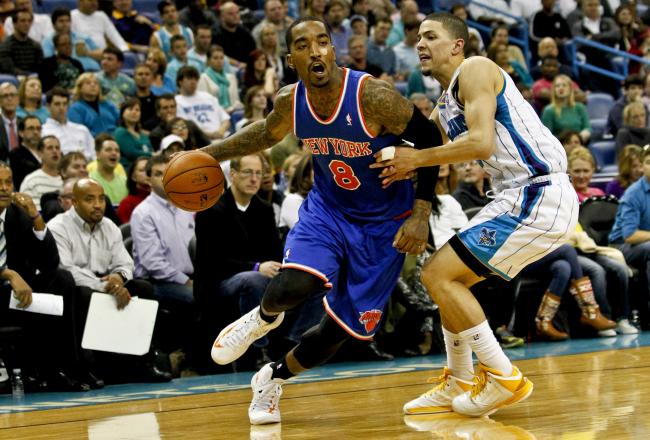 Derick E. Hingle-USA TODAY Sports
The Knicks came into this game trying to snap a season-high skid after a few awful games.
It wasn't always pretty, but that's exactly what they did.
The Knicks were losing after the first quarter, but thanks to good defense, great bench production and a fantastic performance from Chris Copeland, they took a 100-87 win over the Hornets at home. They now improve to 24-13 and will soon fly to London to take on the Pistons.
As for the Hornets, they were simply unable to put the ball in the basket all game long. The Hornets shot 40 percent from the field and just 17 percent from deep, and combine that with their 15 turnovers and you're practically handing the other team a win. The Hornets are now 11-26, and they will shake off this loss and get set to take on the 76ers on Tuesday.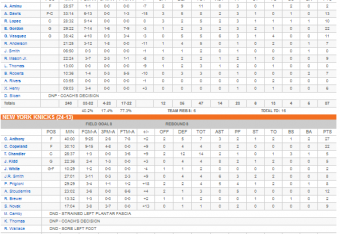 Here is the final box score, from NBA.com.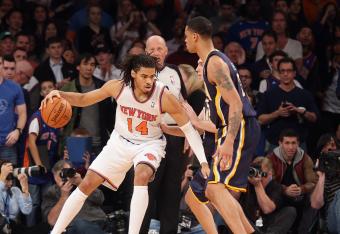 Top Performers:
Eric Gordon: 22 points, 3 rebounds, 7-of-14 shooting
Carmelo Anthony: 27 points, 7 rebounds, 9-of-25 shooting
Chris Copeland: 22 points, 4 rebounds, 9-of-15 shooting
Xavier Henry knocks down a jumpshot, but this one is over. The Knicks will snap their losing streak after this game.
Knicks 100, Hornets 87, end of game
The Hornets are down double digits with just a few minutes left, and the Hornets don't look like they're actually capable of making a comeback at this point.
Hornets trail Knicks, 92-81 with 3:19 left to play in the game. STATS: on.nba.com/UWNpKI

— New Orleans Hornets (@Hornets) January 13, 2013
Anthony Davis is having a quiet game. He has 11 points and 7 rebounds while shooting 5-for-12 from the floor, which isn't terrible, but the Hornets have been outscored by 17 with him on the floor. However, Damian Lillard continues to dominate the competition, and he's the favorite for rookie of the year right now.
Quiet game for Anthony Davis. Just give Lillard the ROY. #Hornets #Blazers #Knicks

— Danny Guerrero (@DannyG_NYC) January 13, 2013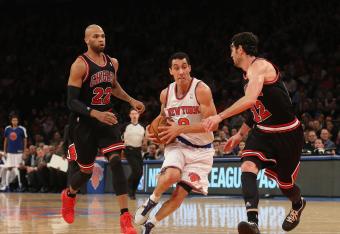 The Knicks are getting production from their bench, but not from the usual suspects. Stoudemire is 2-of-5 from the field, and Smith is 2-of-9. However, Steve Novak has knocked down three threes and Pablo Prigioni has eight points and three assists. The Knicks have outscored the Hornets by 19 with Prigioni on the floor, which is a team high in the +/- category.
Knicks 87, Hornets 73, 5:59 left in 4th quarter
Remember how I said the Knicks were being sloppy with the game and could turn the ball over a lot? Well, they still only have five turnovers, after giving the ball up three times in just the first several minutes of the first quarter. Meanwhile, the Hornets have 13 turnovers, a major reason they're so far behind.
Knicks 84, Hornets 70, 7:56 left in 4th quarter
Chris Copeland hits another three, and he now has 20 points in 25 minutes. The next play, Novak hit his second three of the game as well. This unit the Knicks have out right now is moving the ball and finding the open shot, which was a huge key to their success earlier in the season.
If they are aggressive, move the ball and stay away from the bad shots and isolation placy, they can run away with this game.
Knicks 84, Hornets 68, 9:03 left in 4th quarter
It's the end of the third, and the Hornets are still trying to fight their way back into the game. Eric Gordon and Anthony Davis have combined for 29 points, and they will continue to in the fourth. If a young team such as the Hornets can beat a veteran team like the Knicks, it would be huge. Still, the Hornets haven't had the lead since the second quarter.
Knicks 71, Hornets 66, end of 3rd quarter
This has been a very poor shooting day for two of the best three-point shooting teams in the league.
Both teams are struggling from distance in this game. #Hornets are shooting an abysmal 12% (2-16) and #Knicks are shooting 25% (5-20).

— Ivan Vassil (@KnicksNotes) January 13, 2013
J.R Smith is called for a technical foul, which is his 7th of the year already. Today has been a bad day for Smith, who has struggled from the field and has also made some questionable decisions.
Knicks 70, Hornets 66, 0:15 left in 3rd quarter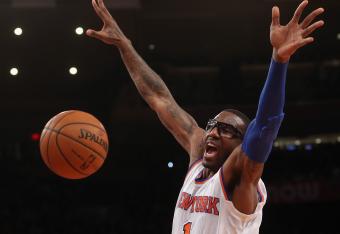 Amar'e Stoudemire is having a quiet night, too. Melo is putting the team on his back, but Stoudemire has just four points on 2-of-5 shooting in 12 minutes of play, and he also has three fouls. You have to think that if the Knicks could trade Stoudemire, they would.
Knicks 67, Hornets 61, 1:59 left in 3rd quarter
Here's a fun fact: It's almost the end of the third quarter, and Ryan Anderson is the Hornet who has scored off the bench. The whole bench is a combined 3-14, with just seven points.
Knicks 65, Hornets 59, 3:34 left in 3rd quarter
RT @nyknicks #Knicks lead Hornets 60-52 at the 6:11 mark of the 3Q. Smith just hit his 1stbucket w/ a step-back jumper. Melo has 22pts.

— Kimmy* M.(@Mmm_Kayyy) January 13, 2013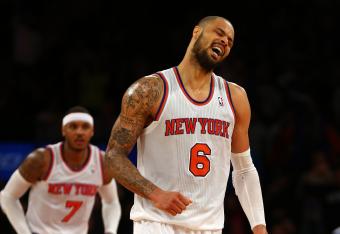 Tyson Chandler is just so valuable to the Knicks. He might only have five points, but he is the sole reason the Knicks have more rebounds than New Orleans right now. Chandler already has 13 rebounds today, and that number will only continue to rise.
Knicks 60, Hornets 52, 6:11 left in 3rd quarter
Greivis Vasquez, who had a quiet first half is now starting to heat up. He has six points and three assists, but the Hornets are still behind.
Knicks 57, Hornets 50, 8:20 left in 3rd quarter
#Knicks held Hornets to 4-for-18 shooting in the second quarter.
— Ian Begley (@IanBegley) January 13, 2013
Inconsistent defense from the Knicks was the story of the first half, as they allowed just 4-of-18 shooting in the 2nd quarter after allowing the Hornets to shoot 11-of-24 in the first.
Well, both of these two teams are trying to rely on three-point shooting. Unfortunately, that isn't working out for the Hornets. New Orleans is just 1-of-13 from downtown, while the Knicks are 5-of-14 from beyond the perimeter.
The Hornets will need to solve their shooting woes soon, because they really do need their shooters to be hot to win. After all, Robin Lopez isn't going to lead them to victory with his low post moves against reigning defensive player of the year Tyson Chandler.
#Knicks defense holds Hornets to 12 pts in 2Q as they lead at the half 49-41. Melo awakens from cold start, to score last 14 pts for NY

— Bobby Childs (@Openline_childs) January 13, 2013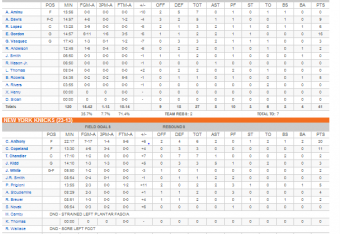 Here are the first half stats, courtesy of NBA.com.
Knicks 49, Hornets 41, end of first half
There they are. The first MVP chants for Carmelo Anthony are being heard at MSG, and Melo now has 20 points to go on 7-of-17 shooting. He also already has six rebounds.
Knicks 49, Hornets 41, 0:05 left in 2nd quarter
Pablo Prigioni has also done a great job for the Knicks as a facilitator.

Another assist for Pablo Prigioni. He's energizing #Knicks with 2 assists, 5 pts and a steal in Q2. #Knicks lead #Hornets 43-38, late Q2.

— Ivan Vassil (@KnicksNotes) January 13, 2013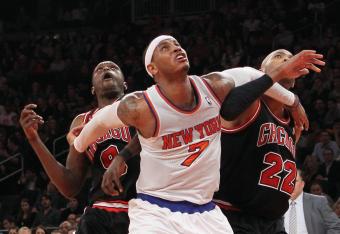 Alright, it's official. Carmelo Anthony is warmed up. He had to get some bad shots out of the way, but he's now 5-of-15 from the field with 14 points, and he's starting to drive into the lane, draw fouls and make free throws. That's exactly what you want to see from him when his three-point shot isn't falling.
Knicks 43, Hornets 38, 2:41 left in 2nd quarter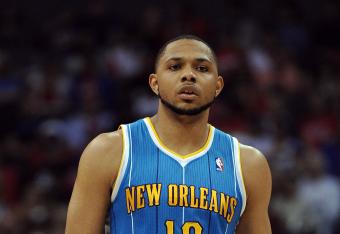 A lot of people forgot about Eric Gordon because he was injured for so long, but you can't count him out as one of the best shooting guards in the game. With Wade and Kobe starting getting up there in age, Gordon could be one of the NBA's elite guards in a couple of seasons. Right now, Gordon has a game-high 14 points on 6-of-10 shooting.
Knicks 41, Hornets 36, 3:23 left in 2nd quarter
After some hustle and defensive pressure, the Knicks are starting to look pretty good. The team is still struggling from the field and they aren't being agressive, but after some great defensive play, they have taken the league. Melo is starting to heat up too, but he's still only 3-of-12.
Hornets 34, Knicks 36, 4:30 left in 2nd quarter
This article is
What is the duplicate article?
Why is this article offensive?
Where is this article plagiarized from?
Why is this article poorly edited?

New York Knicks: Like this team?