Biggest Question Facing Each NHL Team During 2013 Training Camp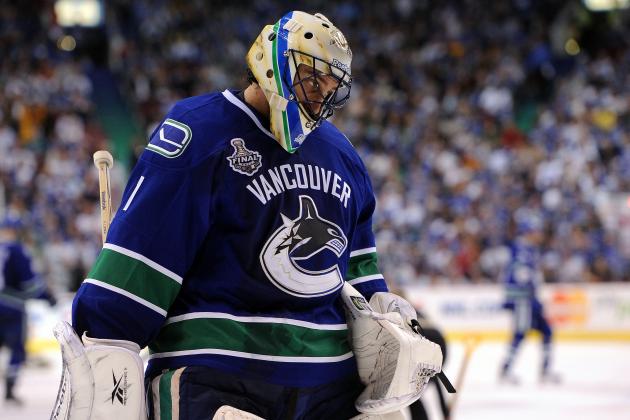 Harry How/Getty Images

NHL training camps began on Sunday, as players and coaches returned to practice in preparation for the lockout-shortened season.
There are many questions surrounding teams and players entering training camps.
Unfortunately for coaches and general managers, they won't have much time to answer these questions before the year begins because there are just six more days to evaluate players before the season starts.
Let's look at the biggest question facing each NHL team in training camp.
Begin Slideshow

»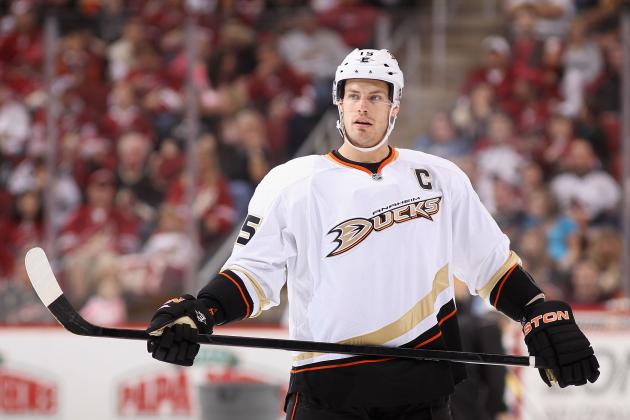 Christian Petersen/Getty Images

The biggest question for the Anaheim Ducks this season is if they can convince superstar forwards Ryan Getzlaf and Corey Perry to re-sign before they become unrestricted free agents on July 5.
The Ducks have plenty of room under the salary cap to sign these players to long-term contracts with high salaries.
Perry and Getzlaf will likely earn a yearly salary of at least $6 million when they do sign a new deal, but will they commit to the Ducks when the team is still a few years away from being a contender in the Western Conference?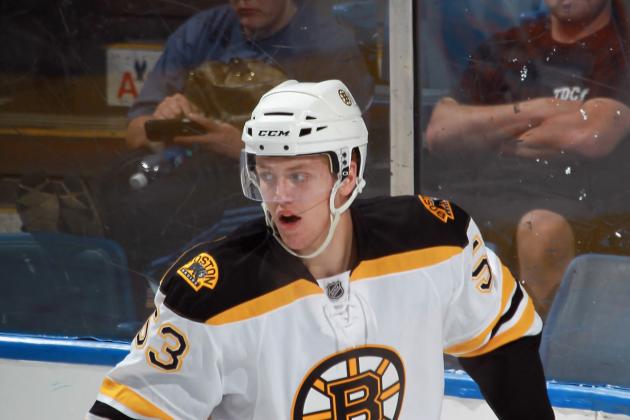 Bruce Bennett/Getty Images

Dougie Hamilton was at Boston Bruins practice on Sunday and was paired with veteran defenseman Dennis Seidenberg.
The 19-year-old prospect is an offensive defenseman, and head coach Claude Julien would be wise to pair him with a more defensive-minded player, like Seidenberg.
Hamilton needs to use his size and play more physically at the NHL level than he did in junior hockey, and since Seidenberg is one of Boston's toughest players, he should be paired with the young defenseman.
Bruins captain Zdeno Chara would also be a good partner for Hamilton.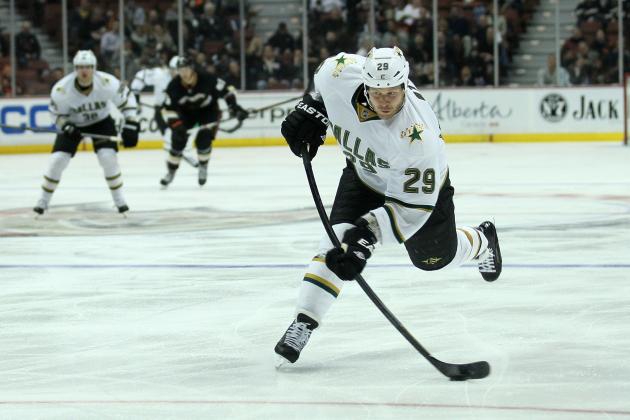 Stephen Dunn/Getty Images

Steve Ott has an opportunity to improve the Buffalo Sabres in a major way this season after being acquired via trade in the summer.
Ott is a power forward who impacts games physically. He bring leadership to the ice and the dressing room, and he's capable of scoring 40 points in a full season.
He scored 39 points last year in 74 games, which was the second-highest scoring total of his career.
The 30-year-old left winger is a durable player who will provide the Sabres with some much-needed depth and scoring on the wings.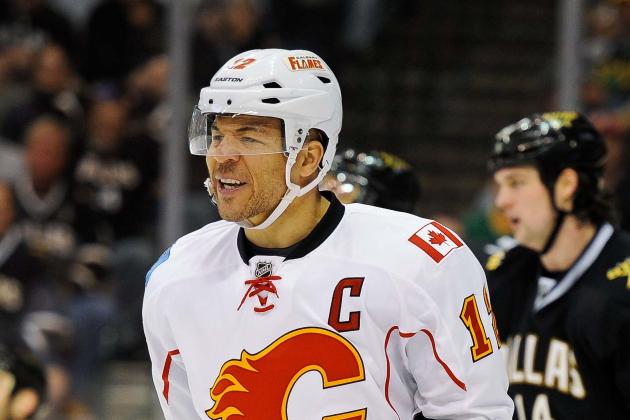 Jerome Miron-USA TODAY Sports

Jarome Iginla's upcoming free-agent status has already created plenty of discussion around the league even though training camps have barely started.
Despite being 35 years old, Iginla is still capable of scoring 30-plus goals and 70-plus points in a full season, especially on a contending team.
He keeps himself in great shape and should have at least four more productive years in the NHL.
Expect the Flames to address his future soon because it wouldn't be wise to have Iginla become a distraction from now until the April 3 trade deadline.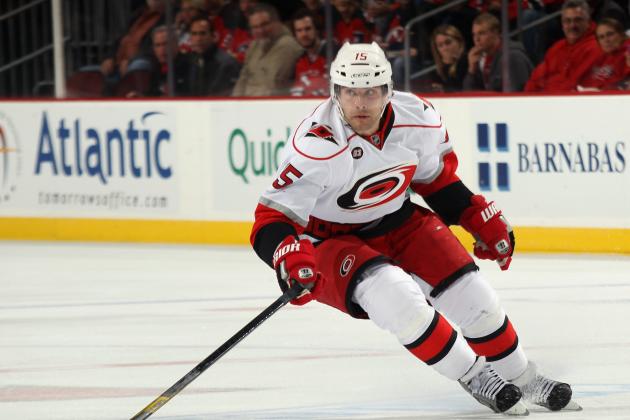 Bruce Bennett/Getty Images

After making some impressive offseason additions to bolster their forward depth, the Carolina Hurricanes will once again have to look for more top-six depth because of Tuomo Ruutu's injury (via Craig Custance of ESPN):
If season starts soon, Hurricanes will have to do it without Tuomo Ruutu. Told hip surgery will sideline him until May 1 at the earliest.

— Craig Custance (@CraigCustance) January 2, 2013
Ruutu was likely going to play at right wing on the second line if he was healthy, but now the Hurricanes will need players such as Jiri Tlusty and Zac Dalpe to replace him.
Carolina could also think about signing veteran free agent Jason Arnott, who would give the team another defensive forward, something head coach Kirk Muller needs.
Figuring out who will replace Ruutu on the second line will be one of Muller's top priorities during training camp.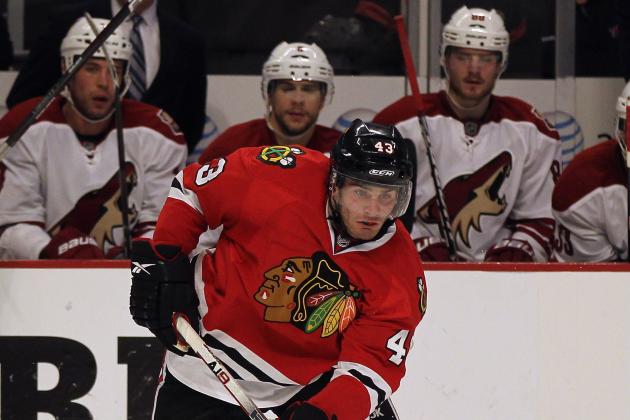 Jonathan Daniel/Getty Images

Brandon Saad is one of the Chicago Blackhawks' top prospects and will be expected to provide the team with some scoring and bottom-six depth.
Saad is a good two-way player who is responsible defensively and has an improving offensive game. The Blackhawks need to kill penalties better this season, and Saad is one player who could help.
He played in the AHL during the lockout for the Rockford IceHogs and scored eight goals with 12 assists in 31 games.
Saad will have an opportunity to impress the coaching staff and earn a decent amount of ice time in training camp.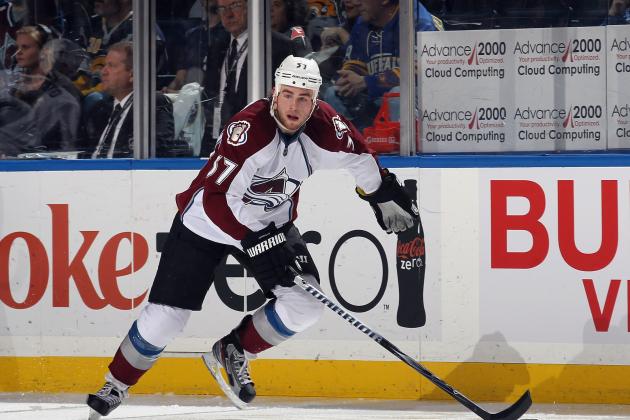 Bruce Bennett/Getty Images

Colorado Avalanche star forward Ryan O'Reilly had a career year in 2011-12 and is probably looking for a raise well above the $900,000 salary he earned last season.
Patrick Caisse of TVA Sports has the latest update on O'Reilly's contract situation:
Ryan O'Reilly's rep confirmed me that his client will stay in the KHL until he gets the contract that he wants with the Avalanche. #NHL

— Patrick Caisse (@PatrickCaisse) January 10, 2013
The Avalanche have plenty of salary cap space, but it's important that they don't overpay to sign a player with just one impressive season in the NHL.
This is an important negotiation for the Avalanche because if the they have to start the season without O'Reilly, it may be difficult for them to start the year strongly.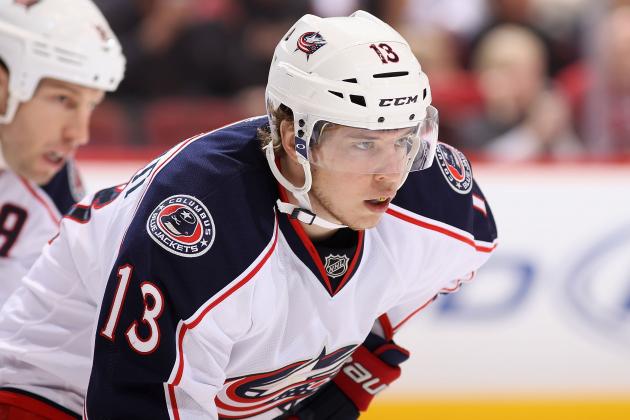 Christian Petersen/Getty Images

There are a lot of middle-tier forwards on the Columbus Blue Jackets roster following the Rick Nash trade last summer, and many of them have an opportunity to earn a top-six role to start the season.
R.J. Umberger, top prospect Cam Atkinson and veteran Artem Anisimov likely have a top-six role already secured, but the other three spots could be up for grabs.
Here is my top-six prediction for the Blue Jackets:
| | | | |
| --- | --- | --- | --- |
| Line | Left Wing | Center | Right Wing |
| 1 | Vinny Prospal | Derick Brassard | R.J. Umberger |
| 2 | Brandon Dubinsky | Artem Anisimov | Cam Atkinson |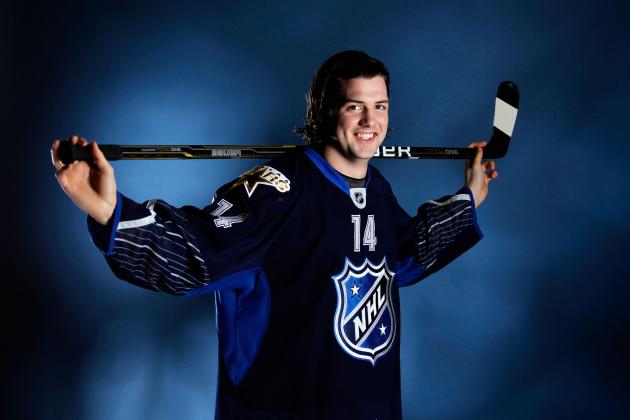 Gregory Shamus/Getty Images

The Dallas Stars have plenty of salary cap space to re-sign star forward Jamie Benn, who is the team's best and most important player.
Dallas need to sign Benn as quickly as possible to win back fans because if the Stars lose the 23-year-old left winger, their playoff drought will certainly continue.
Here is the latest update on Benn from Mike Heika of the Dallas Morning News:
Stars say they are not in any trade talks, and will not invite any free agents for camp tryouts. Just trying to get Jamie Benn signed

— Mike Heika (@MikeHeika) January 13, 2013
In a full 82-game season, Benn is capable of scoring 30 goals with 40 assists.
Newly-signed forward Damien Brunner has played well in the Swiss National A League for the last four seasons, and starting this year, he will bring his incredible offensive talents to the NHL as a member of the Detroit Red Wings.
In 33 games for Swiss team Zug during the lockout, Brunner scored 25 goals with 32 assists
Brunner will give the Red Wings some scoring depth and help make up for the offseason loss of center Jiri Hudler. He also played with Henrik Zetterberg during the lockout in Switzerland.
Brunner will likely play a top-six role and is a bit of a wild card heading into the 2013 season.
He could be an average forward, but the likely outcome is that Brunner will emerge as a star and an important member of the Red Wings' top-six.
David Maxwell/Getty Images

The Edmonton Oilers have enough scoring depth to compete for a playoff spot in the Western Conference this season, but there are great concerns about the talent and depth on the team's blue line, as well as the goaltending.
Rookie Justin Schultz and Ryan Whitney are two good defensemen, but the bottom two pairings on the blue line are not impressive.
Young goaltender Devan Dubnyk is expected to have a breakout season, but if he struggles to perform at a high level to begin the year, it's going to be very tough for the Oilers to make the playoffs.
Edmonton needs to determine what kind of defensive depth they have during training camp and make the appropriate signings or trades needed to strengthen the roster over the next few weeks.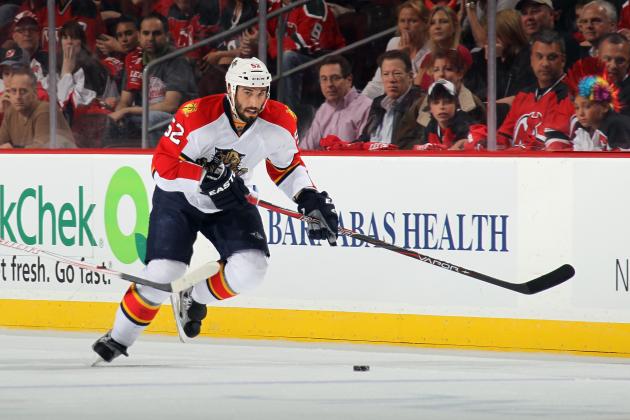 Bruce Bennett/Getty Images

Jason Garrison was second on the Florida Panthers in points among defensemen last season and finished third in the NHL in goals scored by all defensemen.
He signed with the Vancouver Canucks in the summer, and replacing his offensive production will not be an easy task for the Panthers.
Brian Campbell is now the only quality offensive defenseman on the Panthers roster, and he cannot be relied on to set a career-high in points for the second straight season.
Florida needs someone to step up offensively on the blue line in 2013. Who will that player be? Erik Gudbranson is one possibility because of his impressive offensive skill set.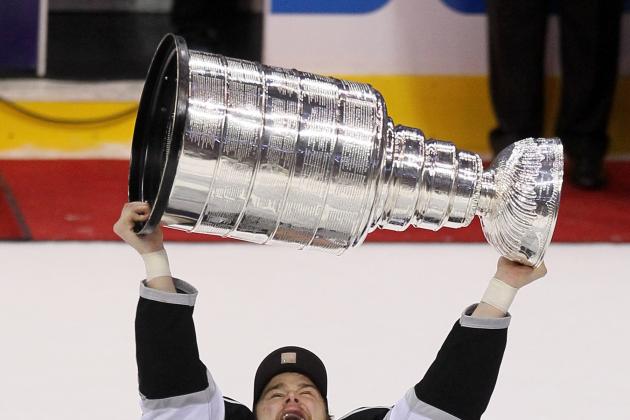 Jeff Gross/Getty Images

The Los Angeles Kings must to start the season with the same intensity as a team who has something to prove.
The Kings were lucky to make the playoffs last year after their offense struggled for so much of the season. The consistently strong goaltending performances from Jonathan Quick ultimately got the Kings into the postseason.
A similarly poor start to this season could ruin the Kings' chances of repeating as champions.
The last defending Stanley Cup champion to not make the playoffs the following season was the 2006-07 Carolina Hurricanes.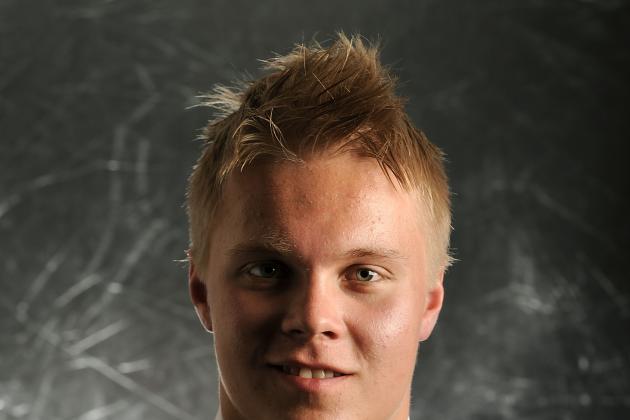 Harry How/Getty Images

Top prospect Mikael Granlund will finally make his NHL debut on Saturday, and the Minnesota Wild will likely have him play at center on the second line. His linemates will probably be Torrey Mitchell and Devin Setoguchi.
Granlund will be under a lot of pressure to shine right away because of his incredible offensive talent and the team's lack of center depth, but he is definitely ready to begin his NHL career.
The 22-year-old forward scored eight goals with 13 assists in 21 games for the AHL's Houston Aeros during the lockout.
Zach Parise's debut will steal many of the headlines in Minnesota next weekend, but Granlund's impact on the second line will be equally important to the Wild this season.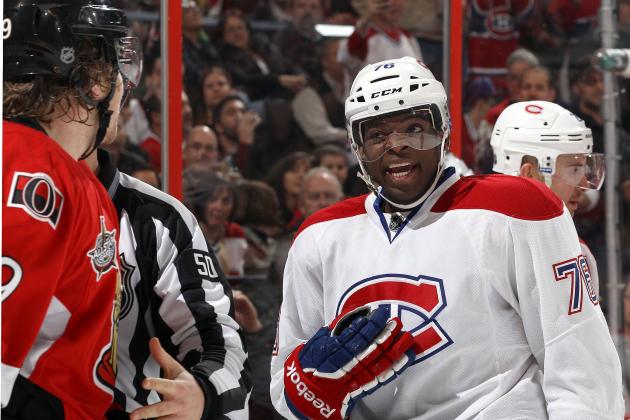 Jana Chytilova/Freestyle Photo/Getty Images

P.K. Subban's absence from Montreal Canadiens training camp on Sunday was not unexpected, but his agent and new general manager Marc Bergevin are running out of time to reach a new agreement before next weekend's season opener against the Toronto Maple Leafs at the Bell Centre.
Pierre LeBrun of TSN has the latest update:
Things can change on a dime, but told things aren't close on the Subban contract front

— Pierre LeBrun (@Real_ESPNLeBrun) January 13, 2013
It will be interesting to see how long Subban decides to fight for the contract term and salary he wants.
Being paid a fair salary is certainly important, but not having many practices before having to jump into an intense season would not be an ideal situation for Subban.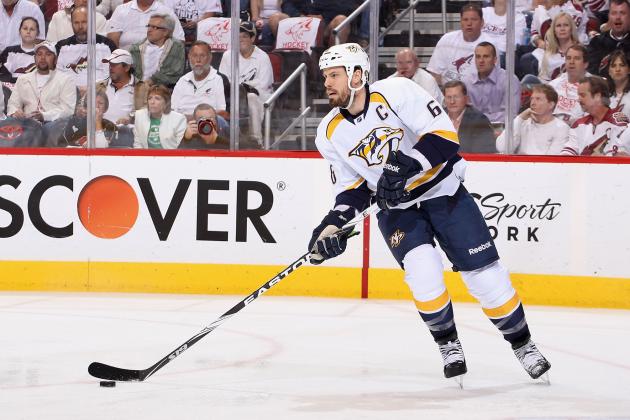 Christian Petersen/Getty Images

Finding the best defense partner for Shea Weber will be a top priority for Nashville Predators head coach Barry Trotz at the team's training camp this week.
Weber has played with Ryan Suter over the last few years, but he left in the offseason to sign with the Minnesota Wild.
There are a few possible candidates to play alongside the Predators captain, but the most intriguing one is Roman Josi. He's one of the team's top defensive prospects and would learn a lot from playing with Weber.
If Trotz wants to pair Weber with a veteran, Hal Gill is the best option.
Jerry Lai-USA TODAY Sports

The New Jersey Devils need to find a new captain following the offseason departure of star forward Zach Parise, and according to Tom Gulitti of The Record, the team has no immediate plans to name a captain.
@devilsnjd Lamoriello said a captain would be named at the appropriate time. No discussion of who and exactly when.

— Tom Gulitti (@TGfireandice) January 13, 2013
There are a few possible candidates for the next captain of the Devils, including Ilya Kovalchuk. The Russian star was the captain of the Atlanta Thrashers before he was traded to New Jersey in 2010 and wore an "A" last season.
Other candidates include rising star Adam Henrique and first line center Travis Zajac. Veteran forward Patrik Elias has served as captain before, but since he's nearing the end of his NHL career, it doesn't make too much sense to give him the "C."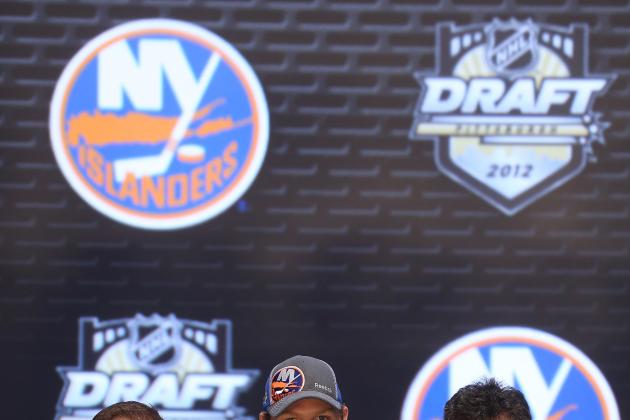 Bruce Bennett/Getty Images

Griffin Reinhart is a future star, and the New York Islanders will see if he's ready to make his NHL debut this season when he arrives to training camp.
Reinhart was taken with the No. 4 overall pick in the 2012 NHL draft and has played with the Edmonton Oil Kings of the WHL this season. In 32 games, he has scored four goals with 10 assists.
At the moment, Mark Streit is the only defenseman on the Islanders roster who is capable of playing well defensively. There is not a lot of talent or depth on New York's blue line.
Reinhart's size, toughness and offensive skill would really help the Islanders' blue line, and unless he is awful during training camp, expect him to make the NHL roster.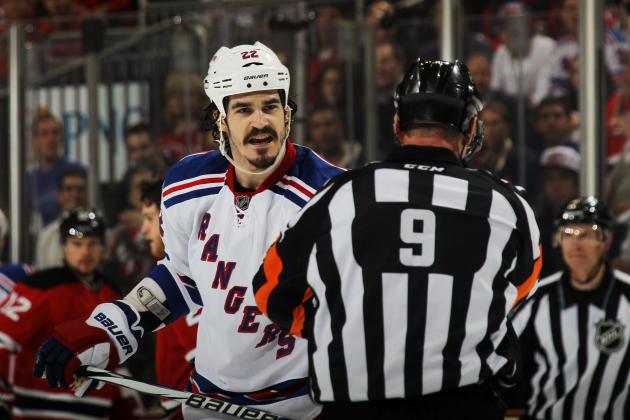 Bruce Bennett/Getty Images

The New York Rangers have one of the best top-six forward groups in the NHL, but they don't have a lot of offensive talent in their bottom-six.
Players such as Brian Boyle, Mike Rupp, Arron Asham, Jeff Halpern cannot be relied on to play well offensively on a consistent basis.
Head coach John Tortorella will need his blue line to play more of a role in the offense this season to make up for his lack of scoring on the third and fourth lines.
If the Rangers' bottom-six doesn't perform at a high level at the start of the season, don't be surprised if general manager Glen Sather makes a move for a scorer before the trade deadline.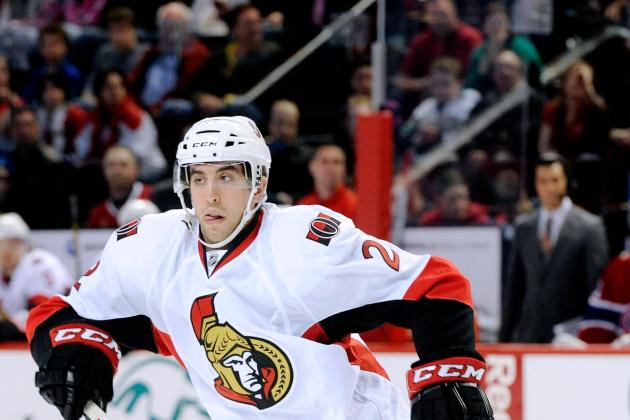 Richard Wolowicz/Getty Images

The Ottawa Senators ranked fourth in goal scoring last season, which was one reason they made the playoffs despite finishing 24th in goals-against.
The Senators will need their offense to be just as productive this year because without top-four defenseman Jared Cowen, who is currently injured and won't be ready for the start of the season (via TSN's Bob McKenzie), the team doesn't have much defensive depth.
There isn't a lot of toughness on the Ottawa blue line, especially after the offseason departure of veteran defenseman Matt Carkner.
Head coach Paul MacLean will need a spectacular season from starting goaltender Craig Anderson if no major changes are made to his blue line before the trading deadline on April 3.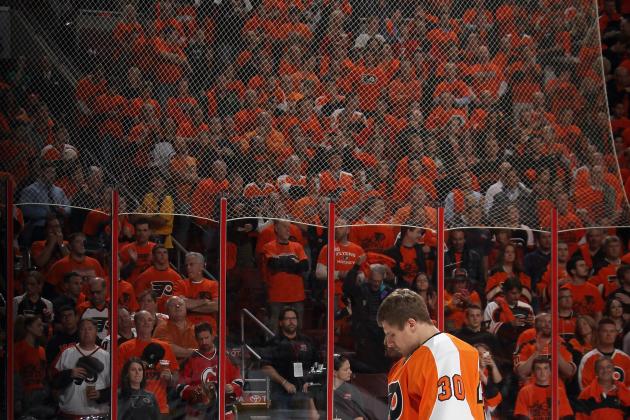 Bruce Bennett/Getty Images

The Philadelphia Flyers acquired another goaltender on Sunday whey they completed a deal for Brian Boucher (via TSN's Bob McKenzie).
Boucher has spent four seasons with the Flyers throughout his NHL career and will now give the team two players for the backup goaltender position along with Michael Leighton.
There's no guarantee that starting goaltender Ilya Bryzgalov will play a high level in his second season in Philadelphia, so head coach Peter Laviolette has to make sure he chooses the right backup.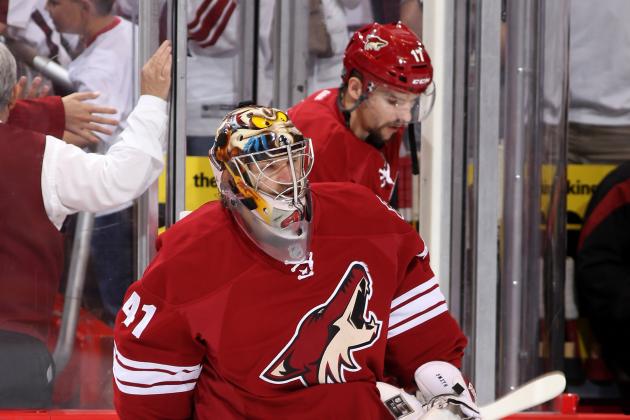 Christian Petersen/Getty Images

Starting goaltender Mike Smith is very important to the Phoenix Coyotes' success and was the team's most valuable player last season.
He had a 38-18-10 record last year and led the Coyotes to their first-ever appearance in the Western Conference Finals.
Smith is eligible to become an unrestricted free agent in the summer, and it's important that the Coyotes re-sign him.
Phoenix isn't a high-scoring team, so they cannot lose a huge part of their defensive success by allowing Smith to leave in the summer as a free agent.
The Coyotes should re-sign Smith to a long-term deal as soon as possible.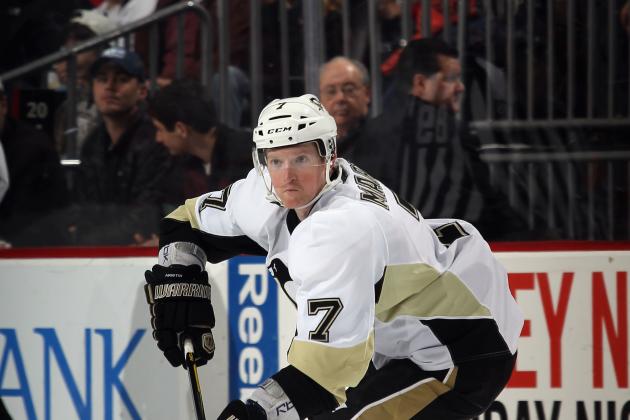 Bruce Bennett/Getty Images

Paul Martin has never scored more than 27 points in two seasons with the Pittsburgh Penguins, and the veteran defenseman has to improve this season or he could possibly be bought out in the summer if general manager Ray Shero cannot trade him before then.
Martin's contract has a $5 million salary cap hit for three more seasons, and he has not played like a $5 million player throughout his Penguins career.
The Penguins need Martin to improve; Kris Letang cannot shoulder too much of the scoring burden on the blue line.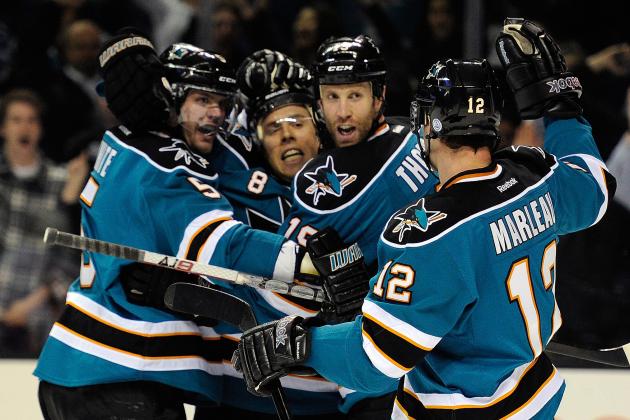 Thearon W. Henderson/Getty Images

The San Jose Sharks have a solid veteran core of captain Joe Thornton, Patrick Marleau, Martin Havlat, Michal Handzus, Dan Boyle and Brad Stuart.
However, another early playoff exit this season could result in the end of an era for San Jose. If the current core of veterans cannot make another deep playoff run, it may be time for general manager Doug Wilson to make the tough decision to rebuild this team.
The team doesn't have many young stars or top prospects to build around for the future, and if the Sharks fail to prove they are legitimate contenders in the Western Conference this year, Wilson should consider moving some of his veterans while they still have value on the trade market.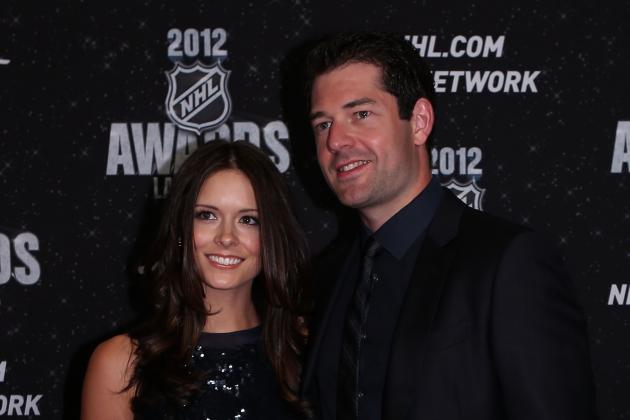 Bruce Bennett/Getty Images

The St. Louis Blues had the best goaltending duo last season with Jaroslav Halak and Brian Elliott combining for the lowest GAA in the NHL.
However, Elliott was not able to perform at a high level in the playoffs and comes into this season with a lot to prove.
He has never won 20 or more games in back-to-back seasons in his NHL career.
Since the lockout-shortened season will prevent one goaltender from making a lot more starts than the other because there will be 48 games in just 99 days, Elliott will get plenty of chances to prove last year's impressive regular season wasn't a fluke.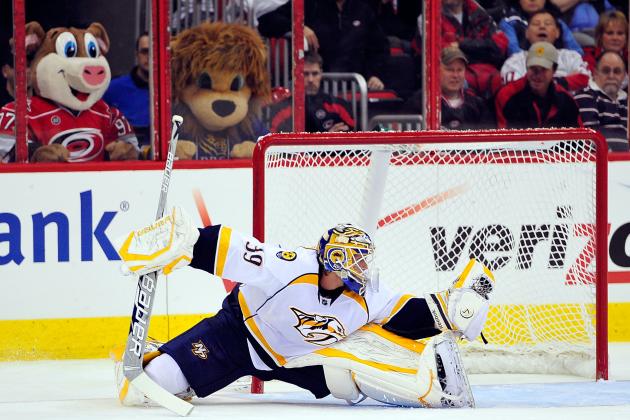 Grant Halverson/Getty Images

Anders Lindback has a great opportunity to prove to the Tampa Bay Lightning coaching staff and front office that he is the goaltender of the future for this franchise.
He was acquired over the summer from the Nashville Predators after the Lighting finished 30th in goals-against last season.
The 24-year-old won't feel too much pressure from backup goaltender Mathieu Garon, but if Lindback fails to impress this season, the team may decide to give former first-round pick and top prospect Andrey Vasilevskiy a chance to win the starting job during the 2013-14 season.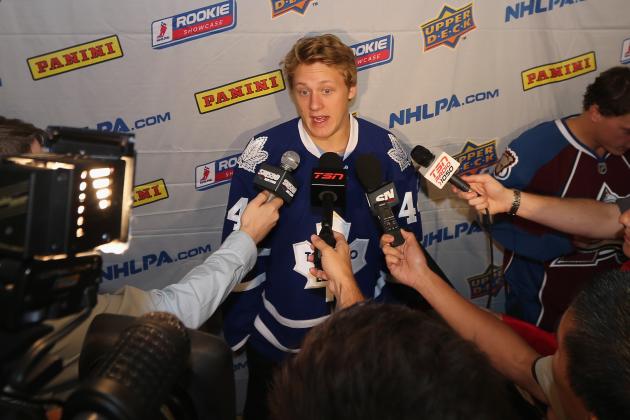 Bruce Bennett/Getty Images

Morgan Rielly is participating in Leafs training camp, and he could make his NHL debut on Saturday versus the Montreal Canadiens if he impresses the Toronto coaching staff.
Arash Madani of Sportsnet has the latest update on Rielly's situation:
Nonis: "Morgan Rielly will be given a chance." #Leafs

— Arash Madani (@ArashMadani) January 13, 2013
If Rielly proves to head coach Randy Carlyle that he can be responsible defensively, he should have a good chance to make the roster because his offensive skills and power-play ability are already impressive for an 18-year-old player.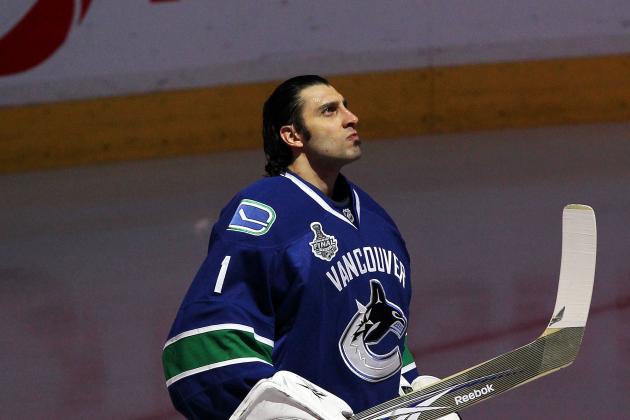 Bruce Bennett/Getty Images

General manager Mike Gillis doesn't have to trade star goaltender Roberto Luongo before the season, even though many people expect him to.
Cory Schneider should and will start the season as the Canucks' No. 1 goaltender, but in a 48-game schedule, head coach Alain Vigneault cannot play his starter too many games.
The Canucks finished first in GAA in 2010-11 and fourth in 2011-12 because the Schneider/Luongo tandem between the pipes was fantastic.
The best option for the Canucks is to keep Luongo because the team is still a Stanley Cup contender and the salary cap doesn't go down to $64.3 million until next season.
Not many teams have two top-tier goaltenders, so Gillis should just wait until the summer to determine Luongo's future in Vancouver.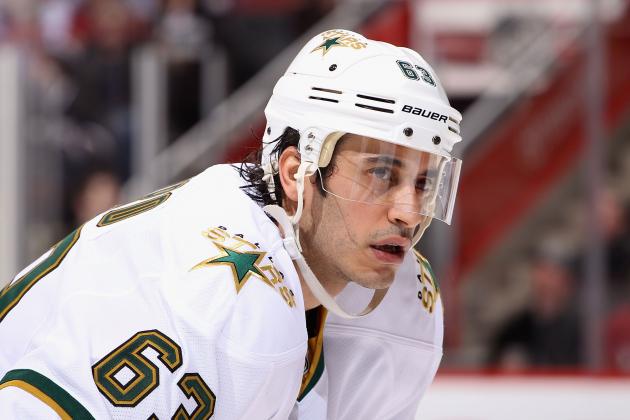 Christian Petersen/Getty Images

The Washington Capitals offense will have to adjust to a number of changes made in the offseason to have success in a competitive Southeast Division this year.
Those changes included star winger Alexander Semin leaving the team in free agency over the summer, trading for veteran center Mike Ribeiro from the Dallas Stars and hiring power-play specialist Adam Oates as head coach.
Ribeiro gives the Capitals a playmaking center on the second line, which was a weakness last season, but general manager George McPhee did not add a top-six caliber forward to replace Semin on the wings.
Washington finished 14th in goals scored and ranked 18th on the power-play last season, and both must improve for the Capitals to reach the Stanley Cup Final.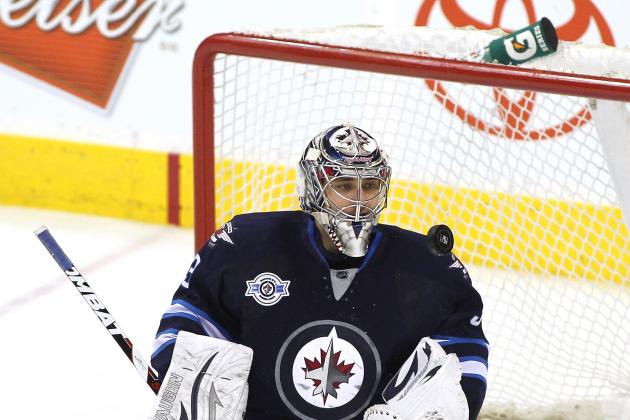 Marianne Helm/Getty Images

One of the reasons the Winnipeg Jets missed the playoffs last year was because their goaltenders did not perform at a high level consistently.
Winnipeg finished 26th in goals against, and if they rank in the bottom third of the NHL in this category in 2013, the Jets won't make the playoffs.
For the team to improve in this area, starting goaltender Ondrej Pavelec must live up to the new five-year, $19.5 million deal he signed in the offseason.
Pavelec had a record of 29-28-9 last season and finished the year 2-5-2 in his last nine starts. He must play better toward the end of the season to help the Jets earn a playoff spot in 2013.
Nicholas Goss is an NHL Columnist at Bleacher Report. Follow him on Twitter.